Most of us have grand plans to exercise while on vacation. Most of us don't do it, of course, but Disney Cruise Line makes it easy to keep up our fitness goals as well as work off some of the calories from eating more than one chocolate souffle' at Palo! Working out in the fitness center on the cruise is one of the free things you can do while on the ship, as well as the jogging paths on board (deck 4). However if you're looking for fitness classes or seminars, then you can take some specialty classes. There are some complimentary classes as well as some where fees apply. For all classes you must sign up in advance at the gym beforehand.
Complimentary Fitness Classes
The complimentary classes include Pilates, yoga, and spin classes. Each of these is held a few times throughout the course of your cruise. You can sign up and pick up a schedule at the gym or check your Navigator app or paper for times. Checking the schedule on embarkation day is one of the best things you can do so you can sign up for a spot early- they do tend to fill up quickly!
Morning and afternoon classes are held so if you're not an early bird you can still catch a class.
One of my favorite complimentary classes is the Wake Up Stretch- it's not even held in the fitness center, it's on the upper pool deck, but it's so nice to get outside and feel the amazing morning air. Sometimes this class even coincides with the ship docking time so you can see some really awesome views of a city or port as you pull in.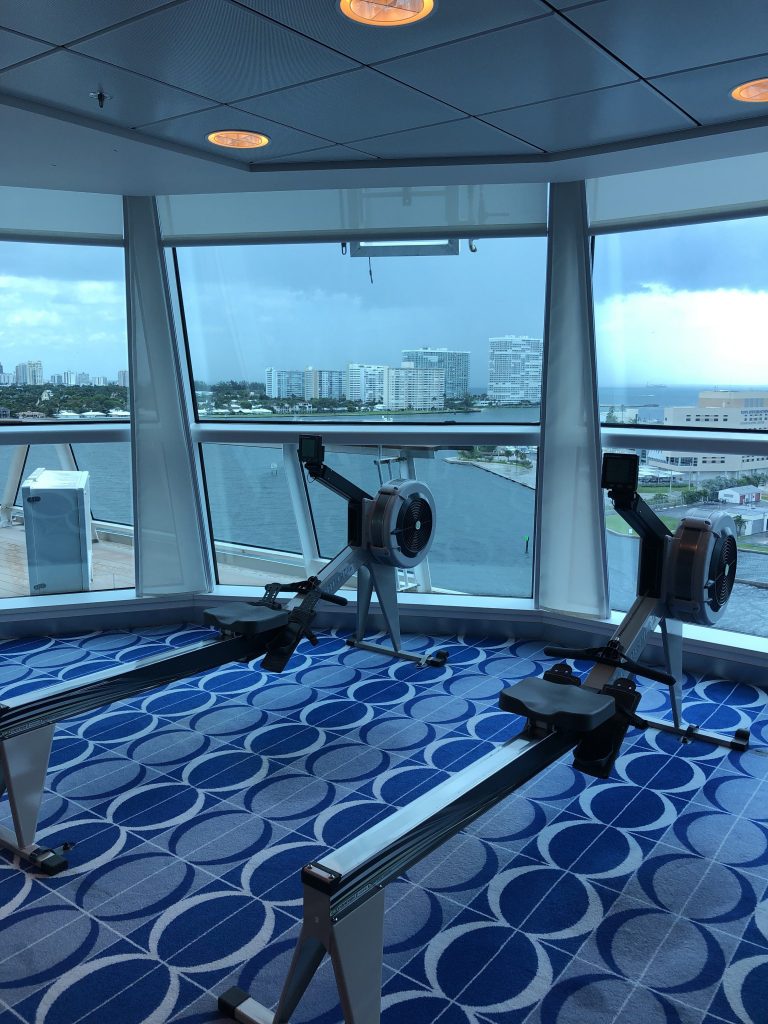 Specialized Fitness Classes
Body Sculpt Boot Camp is one of the only classes on Disney Cruise Line where a fee applies, but it is a very popular option. The price starts at about $30 per 30-minute class (plus gratuity). The class includes the workout itself and also a metabolism test with body composition analysis.
In addition to the boot camp you can get a more thorough body composition analysis to find out about your metabolism and how your body is functioning.
And of course no gym would be complete without personal training! This is the most expensive of the specialized options, but it's a one-on-one experience and the instructors can help with all of the equipment so you know what to do. It also comes with the body composition analysis! Prices start at about $70 per hour when you buy 3 sessions.
Seminars
The Disney Cruise Line fitness seminars are a fun way to learn more about the treatment options onboard. These are all about looking and feeling better, from anti-aging to skin treatments to losing fat. They also have Chinese remedies and acupuncture on board. One of my favorite seminars is CoolSculpting- where they show you how this technique will freeze the fat in your body to stop it from growing.
While these seminars are at no cost, they are advertising for the products, so be prepared for the hard sell as you are leaving. But if you're interested anyway this is a good way to find out more about these treatments and ask questions about them.
Tip- take a seminar as early in the cruise as possible so you have plenty of time to sign up for treatment.
Have you ever taken a class or seminar on Disney Cruise Line? Let me know if you have and what was your favorite!
LOVE DISNEY VACATIONS?
Don't miss any of our DPP vacation tips. Plus get a free gift instantly!