Here at Disney Park Princess we love us some Halloween, and no Disney destination goes more all out than Disneyland. Halloween at the Disneyland Resort is something all Disney fans should check out, and we were there this weekend to have some fun.
Halloween at Disneyland
Several attractions get Halloween themed overlays. The most popular is of course the Haunted Mansion Holiday. Jack Skellington and crew from The Nightmare Before Christmas have taken over the Haunted Mansion to bring Christmas to the 999 happy haunts. There are silly, sinister presents for every resident of the mansion, and just try to get the theme song out of your head! Plus, it's always a fun surprise seeing what they come up with every year for the massive gingerbread house in the dining room scene.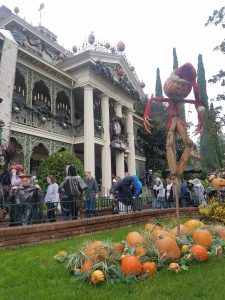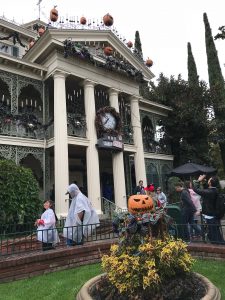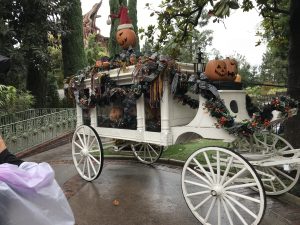 Over in Tomorrowland, Space Mountain becomes Ghost Galaxy and this is NOT for the faint of heart. Intergalactic demons have taken over Space Mountain and the ensuing chase will leave you breathless! The ride feels darker and faster than the standard iteration, and is 100% terrifying. Fair warning – children should not ride, and if you scare easily you may want to sit this one out as well.
Across the esplanade in Disney's California Adventure (DCA), for the first time ever Guardians of the Galaxy: Mission Breakout becomes Guardians After Dark. Starting at 5 pm every evening and going until close, it's your job to help Rocket save Groot from the Collector's fortress – and all of the crazy monsters that are now loose inside. Rocket has some new jokes, and there are new thrilling motions in the lift to keep you coming back to this incredibly fun ride. This special overlay is only here until October 31st.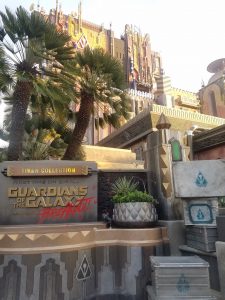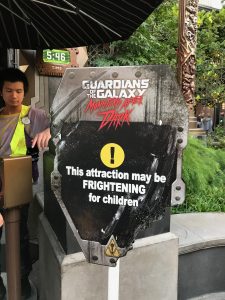 Be sure to stop by Cars Land where they're celebrating Haul-o-Ween. In addition to Halloween music on the rides, the decorations are fantastic. Everything is made out of car parts, and even the characters get in on the act dressing in their Halloween costumes.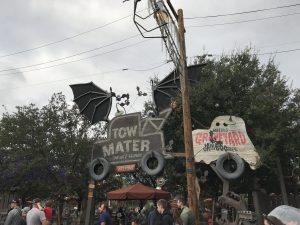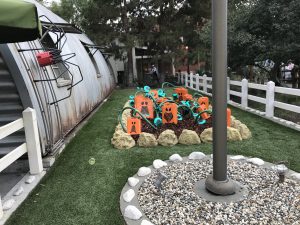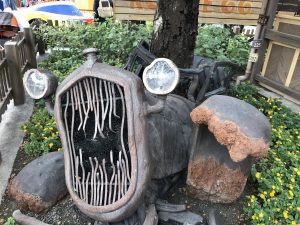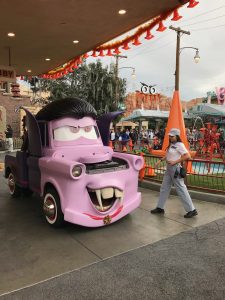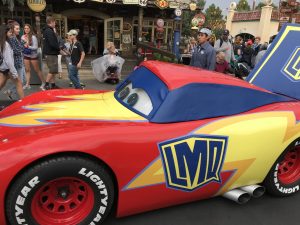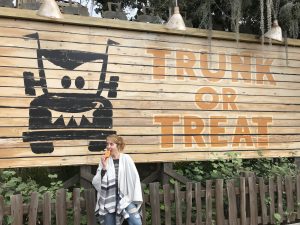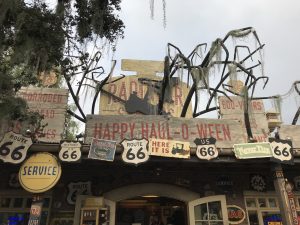 Halloween Snacks
The rides are definitely fun, but really, we came for the snacks (literally. We had a list). What the Disneyland Resort does best is snacks and special menu items for a celebration, and they go all out for Halloweentime. Most restaurants have special entrees, cocktails or desserts to celebrate and we tried as many as we could.
At Disneyland Park we started with the adorable Poison Apple Cake Pop from Candy Palace on Main Street.  This little guy is chocolate cake covered in white chocolate decorated to look like the poison apple from Snow White. The cake itself is super gooey and really rich – almost like a brownie. The chocolate lover in our group enjoyed this one a lot.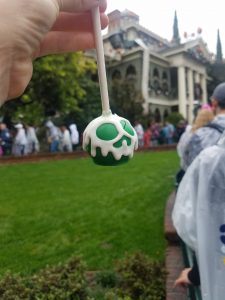 At the Golden Horseshoe Saloon we found our absolute favorite seasonal treat. This bit of heaven was so delicious we considered giving up our taste testing of all other treats and just have 5 or 6 of these. It starts with cookie dough ice cream. Then it's smothered in cookie butter sauce, caramel, and topped off with two mini churros. We're drooling now just thinking about it.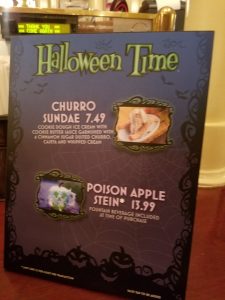 At DCA we had to try the Coco Cake at Paradise Garden Grill. Not only is it pretty, it comes with churro cream! But to be honest, this one fell short. There was almost no churro flavor. In fact, there was no flavor at all, other than cream. Even though it looks gorgeous with the bright colors, I'd skip this one in favor of all the other yummy things to be found.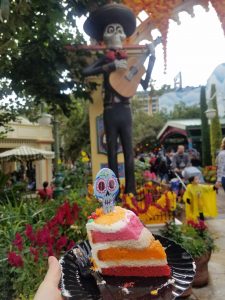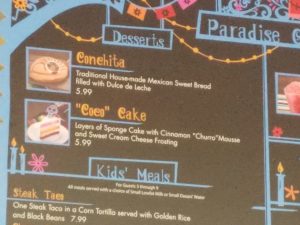 Next up was our second favorite treat of the day – Pumpkin Spice Funnel Cake Fries from Award Wieners. Yup. You read that right. Funnel cake made into the shape of French fries, then covered with caramel sauce, pumpkin pie spice and topped with whipped cream. They are a complete dream. Really, the only thing that could make this better is a gingerbread version (yeah, that exists, too. Come on November!!!!).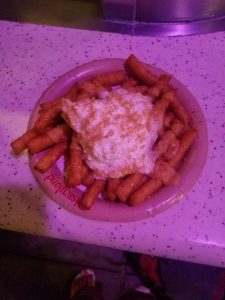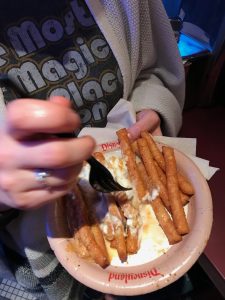 Over in Cars Land you'll find two frighteningly good options. First up, the Spoke-y Cone Macaron. This macaron is shaped like an orange traffic cone with a slightly spooky face printed on top. Inside you'll find a gooey marshmallow cream dotted with candy corn. This is so good we absolutely brought a second one home with us. You can find these little guys over at the Cozy Cone.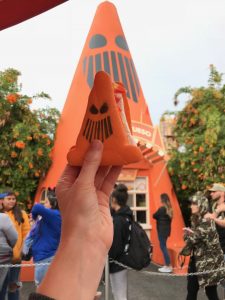 Across the street at Flo's Café, make sure to stop in for a Pumpkin Spice Milkshake. Okay, so we love us some pumpkin spice this time of year (but is there anything wrong with that?) and Flo's doesn't disappoint. This pumpkin spiced vanilla shake is topped with graham crackers and whipped cream. It's way thick, so grab a spoon. P tip: don't try to order this ahead on the mobile app – ice cream can only be purchased at the register.
Now, don't be fooled by all of our taste testing. There are also MANY savory options for Halloweentime that we didn't stop to try. Two interesting options: the Firecracker Chicken Sandwich at Carnation Café and the Anti-Vampire Pizza (think: ALL the garlic) at Paradise Pizza & Pasta.
Our biggest regrets of the day? That we didn't make it to Schmoozies in time to try the Mummy Donut (a cronut stuffed with PB&J!!!) before it sold out, and that we missed the purple poison apple cake pop and glow cube over at Carthay Circle Lounge. Oh well, guess that means we need to go back!
Do you have a favorite Halloween treat? Let us know in the comments below!