Disneyland will reopen on July 17, 2020! For more information, check out this post. 
A few weeks ago I started my series on planning your trip to the Disneyland resort with an overview. This week, let's get down to the details! And what's the most important aspect of your trip? Where to stay of course! Where you choose to stay is really personal preference, but I'm going to give you a few things to consider so you can make the most informed decision for your travel party.
ON SITE VS. OFF SITE
If you visit Walt Disney World often, this isn't really a question you ask yourself, right? You know that you get the best perks by staying at a Disney resort. But at Disneyland, this is a really valid question. There are only three Disney resorts, but there are dozens of Good Neighbor Hotels to choose from. Plus, a lot of them are really close to the parks so they're a viable option when planning your trip.
But how do you know which is going to be a better option for you? While it's true that the Good Neighbor Hotels are close by the park, they are not closer than the Disney resorts. So if you want fast, easy access to the parks, you'll want to stay on site. However, if you don't mind a 10 – 20 minute walk each way, then a Good Neighbor hotel could work for you. Just keep in mind how tired you tend to be at the end of a day in the parks!
Perks
Remember those perks that you love at Walt Disney World? You can find them at the Disney resorts at Disneyland, too! There are Extra Magic Hours, resort shipping, purchases using your room charge – all little conveniences that we're used to as Disney fans. I think the biggest perk are those Extra Magic Hours (EMH), where each day one park opens an hour early to resort guests. Imagine being able to get all of the Fantasyland rides done with hardly any wait! Or getting right on Radiator Springs Racers without the hours long lines!
Those are good enough reasons for me, but now with Rise of the Resistance open I saw first-hand how important those EMH's are. While I was casually walking into Disneyland an hour before the park opened, the line for non-resort guests was all the way through Downtown Disney! I was in the park, rode three attractions and had gotten a latte before it was time to get my Rise boarding pass. I don't even think half of the guests in the regular line had even made it into the park, which unfortunately means they didn't get on the attraction.
Disney Bubble
Have you heard of the term 'Disney Bubble'? You know, how when you're at the parks or one of the resorts everything is beautiful and perfect and all details are taken care of? There are Disney characters popping up around every corner, beautifully themed pools to relax around, a slate of activities to do throughout the day, and an atmosphere that feels of a different world, reminding you that you're on vacation? That it's okay to slow down and relax and enjoy doing nothing?
That's what the Disney resorts offer, while the Good Neighbor Hotels unfortunately do not. A lot of them are very much motels with square swimming pools in the middle of the parking lot. This doesn't mean they're not clean or nice, it just means they don't offer the same type of resort atmosphere. So if it's important for you to feel whisked away to another place on vacation, or it's important that you feel like you're in a resort atmosphere, you might want to consider a Disney resort.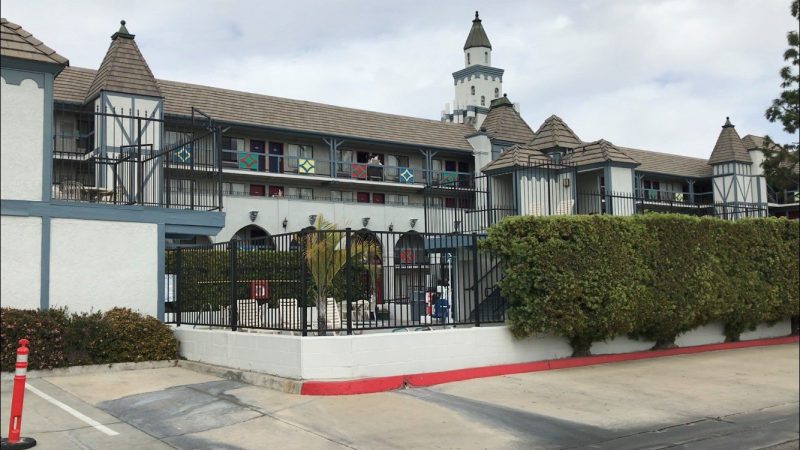 Pricing
Let's talk pricing. This is where the Good Neighbor properties really shine. There's no two ways around this – the Disneyland Resorts are expensive. You certainly get a lot of benefits for staying at one, so the value is incredibly high, but if you're on a budget they might not work for you.
The Good Neighbor Hotels are usually 25% – 50% less than the Disney resorts. And some even include a complimentary breakfast! If the single most important factor of your trip is the cost, then you'll definitely want to choose a Good Neighbor Hotel. You'll have a lower price point, while still having a clean place to rest your head at the end of the day.
OFF SITE HOTELS
You've thought about all of the above, and you think a Good Neighbor Hotel might be the best fit for your needs. Great! Here are some more things to consider.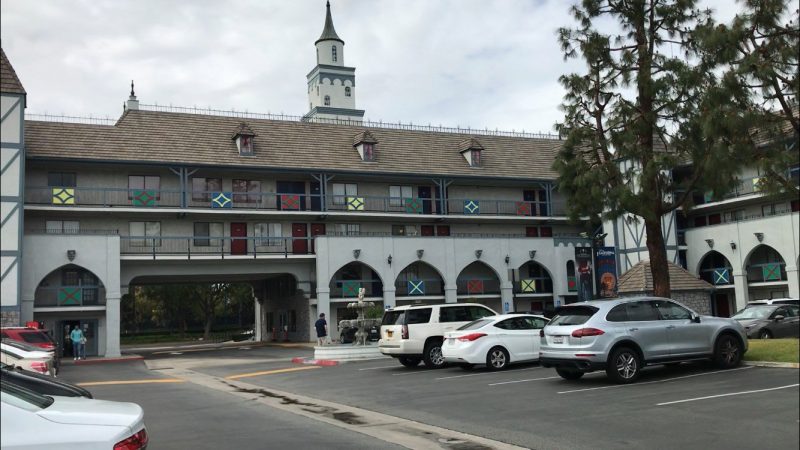 Not all of the Good Neighbor Hotels are created equal. Again, you need to consider what's most important to you and your travel party. If being within walking distance to the parks is important to you, be sure to do your homework and find one of the hotels that are near the Esplanade entrance to the Disneyland resort. There are several right across the street, or a few blocks away, giving you a 10 – 20 minute walk each way. Other Good Neighbor Hotels can be located a mile or more away, and while that lower price tag looks enticing, consider whether or not you're going to want to walk a mile each way in addition to what you'll be doing in the parks.
Anaheim Resort Transportation (ART)
Another option would be to add the Anaheim Resort Transportation (ART) to your reservation. This takes you from your hotel right to the entrance of the resort and really saves on a lot of walking! The drawbacks are that you do have to wait for the shuttle to arrive (so if you're impatient like me and don't like waiting, it might drive you a little nuts!), and not every Good Neighbor Hotel offers the service. So again, be sure to do the research on each hotel and what they offer.
Other Considerations
What other options are there to consider beyond distance and transportation? There's that complimentary breakfast I mentioned. Some Good Neighbor Hotels offer a complimentary continental breakfast. If you like to eat lightly, you may want to look for one that includes that in your rate as it'll save you some money each day. Beware, though, that these are usually yogurts, small muffins and fruit, so if you prefer a bigger breakfast, this may not be relevant to your travel style. Don't forget to think about parking – some hotels charge for parking, others do not. If you'll be driving in it's important to see what your hotel does in this situation, so you're not surprised with an additional charge when you check in!
Finally, even though the Good Neighbor Hotels don't have access to Extra Magic Hours, they DO have access to some called Magic Mornings. The first important thing to know is that you MUST have a 3 day or above ticket included in your reservation. As long as you have that, you can use Magic Morning! The details can get a little confusing for those of us who know about Extra Magic Hours, but here's the breakdown:
– You can only have ONE Magic Morning per person
– Magic Morning is ONLY available at Disneyland Park (no California Adventure early access!)
– It is only available certain days of the week (at time of writing that's Tuesdays, Thursdays, and Saturdays)
– Disneyland park will be open one hour early to guests with the 3 day and above tickets on the days listed
So while it's not as extensive or flexible as Extra Magic Hours, it's certainly a nice little perk, so make sure you take advantage!
ON SITE HOTELS
Have you decided that a Disney resort is the way you want to go? Fantastic – they're my favorite, too! I've never had a bad time at one of the three Disneyland Resort hotels. But how do you decide which one is perfect for your family? The guidelines are the same as above, but let's look at them.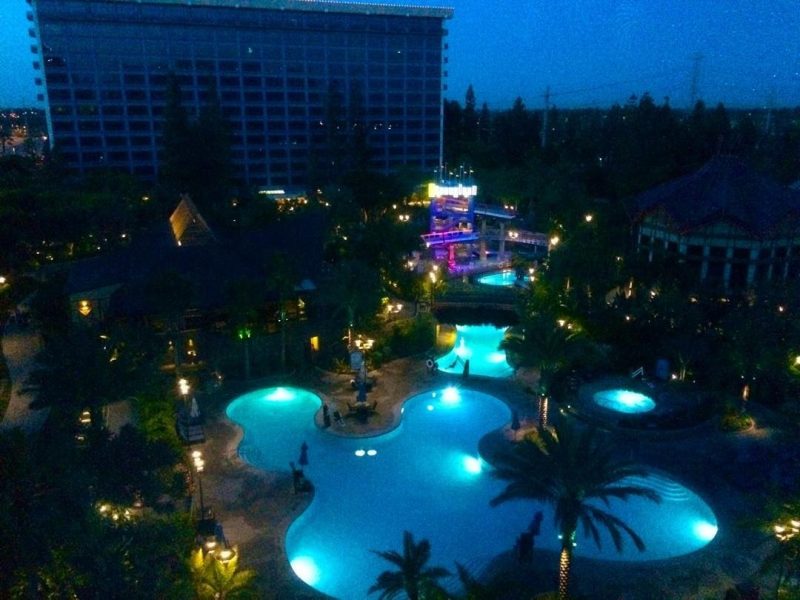 Location
How important is location to you? If you want to be closer to the theme parks then you have to go with the Grand Californian. It has its own private entrance into Disney's California Adventure theme park, making the time from your room to park entrance less than 5 minutes. Have a toddler that needs an afternoon nap? This resort makes it so easy to do! Plus, it's only a 7 minute walk from the resort to the entrance of Disneyland.
Disneyland Hotel will be the next closest. You're looking at a 12 minute walk to California Adventure, but my favorite perk of this hotel is the monorail station located right next to the hotel which gets you right into Tomorrowland without having to wait in the entrance lines at the main gate! Paradise Pier will be the furthest of the three properties, with a 15 minute walk to both parks. Still totally manageable, but not as convenient as the other two.
Other Amenities
Parking fees and breakfast aren't factors at the Disney resorts as none offer a complimentary breakfast and all three charge a nightly parking fee ($25/night self parking, $35/night valet at time of writing). However, you might want to consider the restaurants available at each. All three offer a character meal, but depending on what characters are at each may dictate where you'd like to stay. Do you like options? You might want to consider Grand Californian or Disneyland Hotel, as they each have 5 different dining options, including Signature, table service and quick service dining. Paradise Pier only has one buffet restaurant, and a lounge in the lobby that offers coffee and grab and go snacks. If you're the type who gets bored eating the same thing every day, you might want a resort with more dining options.
All of the above is certainly important, but I think the single most important factor of choosing your Disneyland Resort hotel is the atmosphere! Let's break down what each hotel has to offer so you can make the best choice for your party!
Disney's Grand Californian Resort and Spa
The Grand Californian is the flagship resort at Disneyland, and as such it's the most magnificent. You'll walk into the lobby and your eye is drawn up at the soaring ceilings. You'll find a piano player in the evening, a roaring fire with rocking chairs to relax in, and bar service in the evening around the cozy lobby lounges. A lot of people think the Grand Californian is reminiscent of the Wilderness Lodge, and there are certainly similarities. But this resort is actually a nod to the California Craftsman movement. You'll find a huge pool with a Redwood tree slide, poolside entertainment in the evenings, and also Villa properties available as well. Bonus – if you love a balcony to relax on, this is the only property that offers them!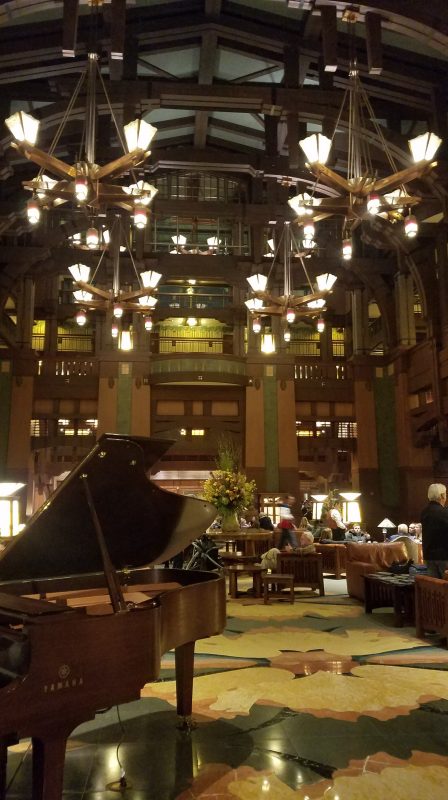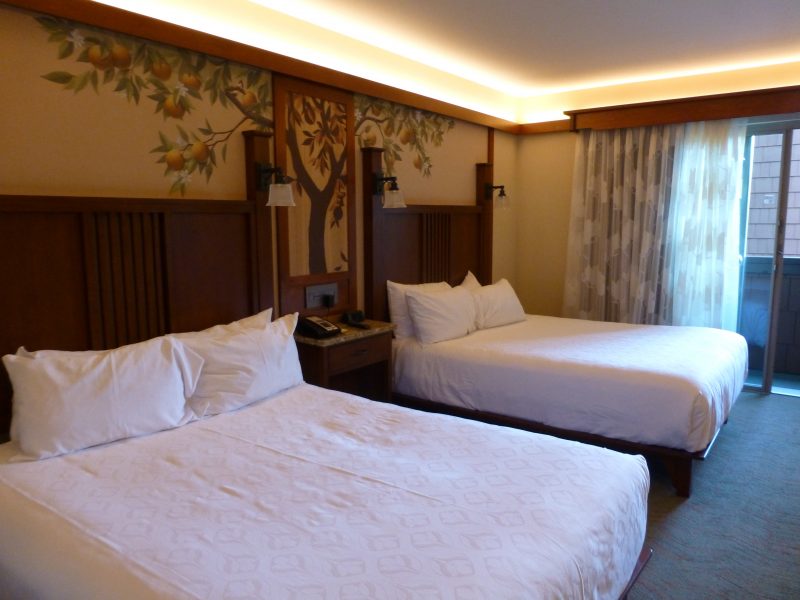 Disneyland Hotel
The Disneyland Hotel is the most 'Disney' of the three and I can't help but be charmed by its whimsy every time I stay here. This is where you'll find giant teacups in the lobby, Disney characters just wandering around, and of course, my beloved Trader Sam's tiki lounge. The rooms are the largest at this resort, with touches of Mickey everywhere you look. That's especially nice if you're a family of 5 and just want a little extra space.
There are also wandering grounds with plenty of lounge areas to relax and hide away – don't be surprised if you see Cinderella's carriage meander by with a bride inside on her way to meet her prince. If you want to be fully immersed in Disney magic, then book yourself one of the Signature Suites – themed after the lands of Disneyland park where little magic touches come to life as you move about your suite.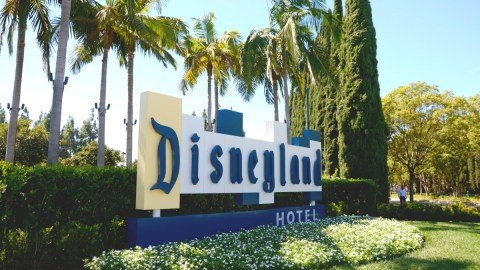 Paradise Pier
Paradise Pier is the lowest priced option of the Disney resorts. As such, you'll find it doesn't have the same amenities as the other two properties, but it still offers that Disney feel that we all love. The theme park view rooms here are easily the best of the three properties (and honestly? Better than any at Walt Disney World, too!). You'll find yourself looking out on top of Pixar Pier at California Adventure – which is fantastic at night as you watch World of Color from your room in your pj's (my dream!). If you still want all the perks of staying on Disney property, but your budget is on the smaller side, this is the perfect option!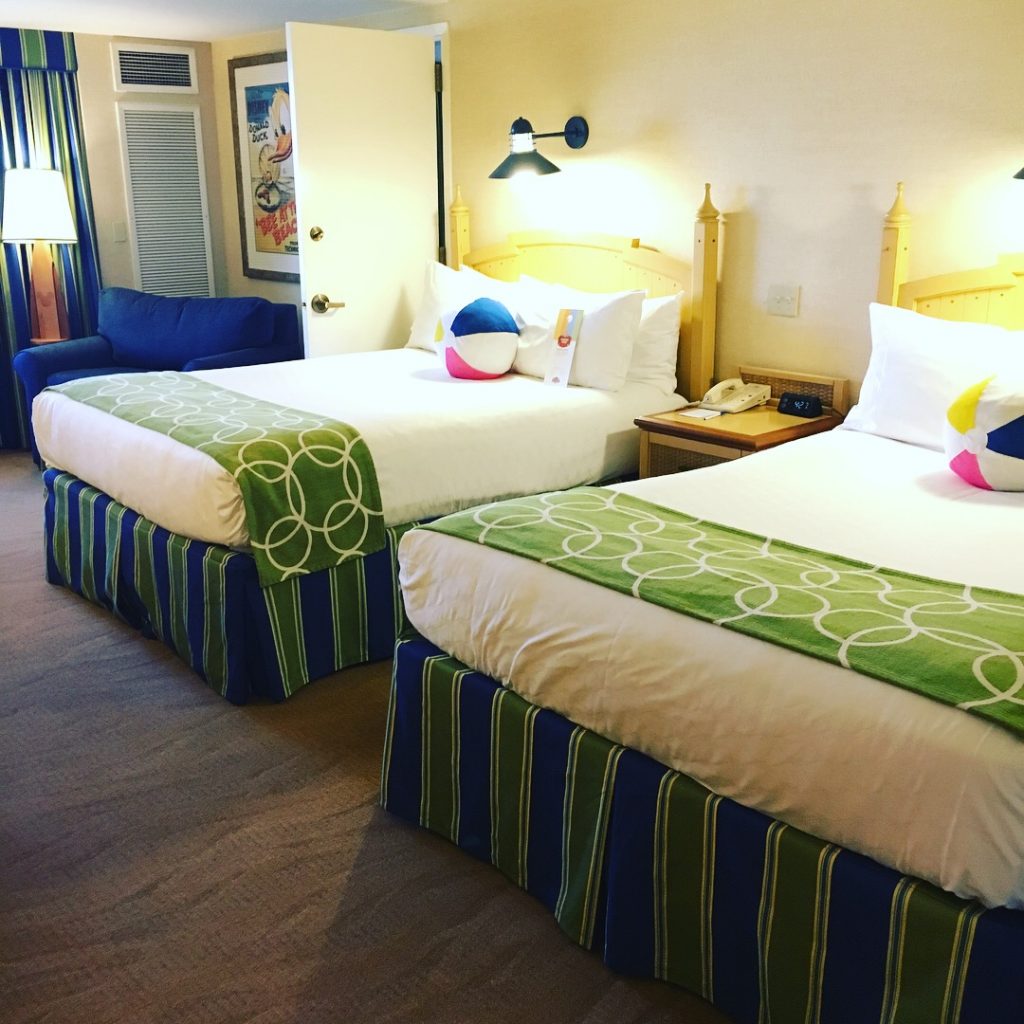 So there you have it! All the things you should consider when trying to decide where to stay when you visit the Disneyland Resort. I hope it helps in your planning – let me know in the comments below! I'll be back soon with the next article in the series – how to choose your park tickets and everything you need to know about MaxPass!
P.S. Now that you've found us, be sure to subscribe to our newsletter by taking our quiz or in the link on the side! You can also check us out on YouTube, Facebook, and Instagram!