What if you can't decide on which Walt Disney World Resort hotel is best for your trip? What if you have a Value or Moderate budget but have your heart set on a Deluxe resort? Then a split stay might be the best thing for your trip!
Split stays at Walt Disney World are pretty popular, but are they smart? A few years ago, they were a lot less complicated than they are now, mainly due to the new date-based tickets at Walt Disney World. But, fear not, this post will help you decide if a split stay is what's best for your trip!
Deciding Where to Stay (And In Which Order)
With so many different hotels at Walt Disney World, it can be quite difficult to pick a resort. There are a lot of factors involved, including room size, proximity to the theme parks, budget, and amenities. Or it might be that you love one particular hotel so much you want to keep going back there!
If your reason for a split stay is budgetary, consider staying at the more expensive resorts during the week and at the less expensive resorts on the weekends. Sunday though Thursday nights tend to be cheaper overall, so you'll get the most best bang for your buck if you can make it work to stay at a more expensive resort during the week. For example, on a random Friday-Sunday in March, Disney's Contemporary Resort Garden Wing room is about $450 per night with the Spring Discount. If you change the dates to Monday-Wednesday, it's about $390 per night.
Another thing to consider is in which order you'd like to stay at each hotel.  I personally prefer the order of staying at a Value Resort first, and then moving "up" to the second resort later. If your second, third, or even fourth, resort is a Deluxe resort, you have something to look forward to later in your trip. If you start at the Deluxe resort, you might not have as nice of a time if you have a smaller room, or less amenities later in the trip.
Lastly, I most often split my stay if I am going to arrive later in the evening. One particular trip, our flight did not get in until almost midnight, so we opted to stay at a value resort before moving on to the Polynesian for our longer stay. We didn't see much of a point in paying for the whole night at the Polynesian when we weren't going to be there to enjoy it.
Ticket Complications
Dated-based tickets are a relatively new concept at Walt Disney World, and they coincide with your dates of stay. For example, if you're staying 6 nights, you can only purchase as much as a 7-day ticket. If you're staying 3 nights, you can only purchase up to a 4-day ticket. (This is only true if you are buying a Walt Disney Travel Company Package.)
To get around this, book tickets separately through Disney or through an authorized Disney retailer such as Undercover Tourist (affiliate link). Make sure you choose an authorized reseller, though, and not just the random people on the side of the interstate that sell tickets.
And, of course, using a travel planner to help navigate all of these complications is really your best bet, as they can walk you through the process.
Dining Plan
While the Disney Dining Plan is currently unavailable, once it comes back it's very easy to add a dining plan on to room reservations (with or without tickets). All you have to do is book two ticketless packages and add dining, or book your first stay with tickets and dining, and your second stay without tickets and with dining.
Again, a good travel planner can help you navigate the complications here.
What About My Stuff?
Have no fear- this is one of the easiest parts of your Walt Disney World split stay! All you need to do is pack your things back into your luggage and take the luggage to bell services. Let them know you're changing resorts and the luggage will be transported to your new resort in just a few hours. You can feel free to go enjoy your day at a theme park or Disney Springs, and pick it up from your new bell services desk when you arrive at your new resort.
If you need help with your luggage, just hit that bell services button on your in-room telephone and they'll send someone to your room to help. Don't forget to bring a few dollars in cash for this.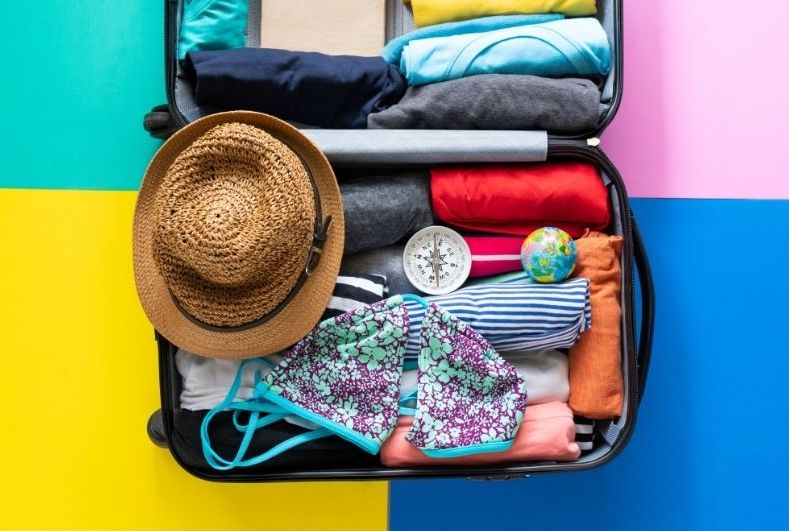 There you have it- the ins and outs of a split stay. Now you decide- genius or madness? What kinds of split stays have you done while at Walt Disney World?
P.S. Now that you've found us, be sure to subscribe to our newsletter below or in the link on the side! You can also check us out on YouTube, Facebook, and Instagram!