The Disney Park Princesses love a gorgeous hotel. One of the most luxurious Disney resorts in the world is the Disneyland Hotel at Tokyo Disneyland. Nestled just steps from the entrance to Tokyo Disneyland Park, this is one of Disney's grandest resorts in size and beauty.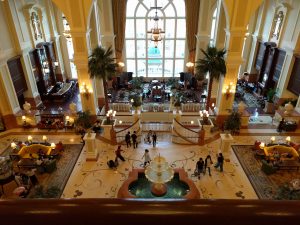 The Hotel is similar to Disney's Grand Floridian Resort at Walt Disney World, but it is quite a bit nicer overall. The lobby is over the top too, including an adorable dollhouse with too many Disney characters to count!
Dining
There are a few options for dining at the Disneyland Hotel. One is the Dreamer's Lounge. It is located on the main lobby level and overlooks the Disneyland Park entrance. You can make online reservations in English up to 30 days in advance if you are staying at one of the Disney Hotels, though we didn't find reservations were necessary for the Dreamer's Lounge for dinner. At the Lounge they do have afternoon tea which is quite charming!
The Sherwood Garden Restaurant has a full buffet so this is the perfect restaurant for a nice meal before or after your park day. There are a lot of choices, including "western" foods for those who don't want to try more Asian specialties.
The third restaurant is CANNA- it's the signature restaurant open for lunch and dinner. We did not dine there on this trip but it's on the must-do list for next time!
Lastly, on the bottom level of the hotel there is a convenience store that is perfect for a quick breakfast or snacks for the room. It's not a restaurant but there is a microwave if you want to heat up a quick meal there. We found this little store a perfect option to bring snacks to the room and to grab a quick pastry on the way into the theme park.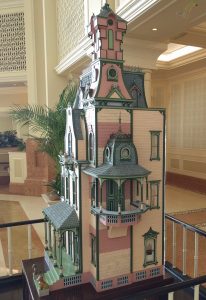 Rooms
The rooms are very large as well, with standard rooms measuring in around 480 square feet. One of our favorite things about the Disneyland Hotel in Tokyo Disneyland is that it offers character-themed rooms such as Cinderella, Tinker Bell, Alice in Wonderland, and Beauty and the Beast. While we had a superior (non-character) room, even our room was completely charming with lovely attention to details.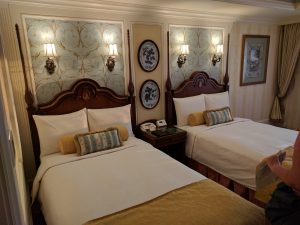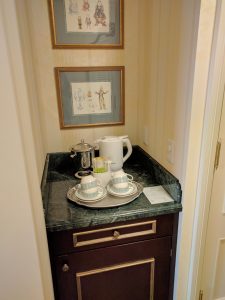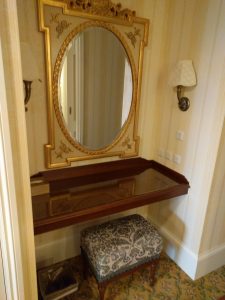 Perks
At Disney resorts around the globe, guests receive special perks. The Tokyo Disneyland Hotel is no exception! Guests receive amenities such as 15 minutes early entry into each park (that 15 minutes is crucial for getting the best Fastpasses!), indulgent pajamas and slippers for each guest, and complimentary passes for the Disney Resort Line monorail that circles Tokyo Disney Resort. This pass allows Guests to ride the monorail as often as they like for the duration of their stay. (The complimentary pass is exclusive to guests of the Disneyland Hotel and not available to other Tokyo Disneyland Resort guests.)