A few weeks ago, I wrote about my favorite quick service restaurants at Disneyland. This week I'm back to let you in on my top five favorite counter service locations at Walt Disney World. Because sometimes you don't want to spend an hour or two on a meal. You have attractions to ride, honey, so here are the spots I'm always running to while I'm in the Florida parks.
Disney's Animal Kingdom Quick Service Options
SATU'LI CANTEEN
This is one of the newer quick service locations at Walt Disney World, and I was instantly in love the second I ate here. I'm usually found in the nearby Nomad Lounge for lunch and cocktails, but sometimes I'm looking for something a little healthier, and this is where Satu'li Canteen comes in.
Located in Pandora, the menu is inspired by 'Pandora's natural abundance'. I don't know about all that, but I do know the food is healthy and delicious and I never leave feeling heavy and weighed down (a huge plus in that Florida humidity).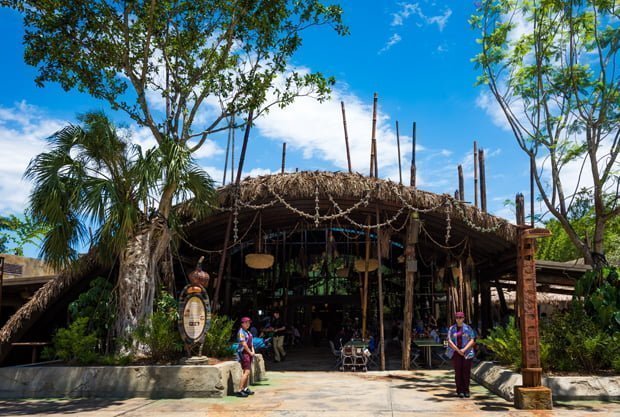 The menu is mostly rice bowls, which I love. The Chopped Wood-Grilled Chicken Bowl was my favorite. It includes chicken thighs marinated with garlic and olive oil topped with vegetable slaw and then you choose your choice of base (meaning what kind of rice you'd like) and sauce. Who doesn't love customizing their lunch? But I say it was my favorite because now I have a new one. The new plant-based bowl – Chili Spiced Crispy Fried Tofu Bowl – is out of this world! There's just a hint of heat that makes my heart happy, and I'm slightly sad that I'm sitting at my desk describing this to you instead of eating it.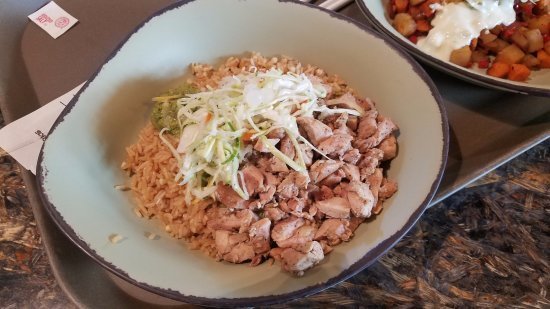 FLAME TREE BARBECUE
Animal Kingdom has an overabundance of great quick service locations. I've yet to have a bad meal at any of them. But what I love about Flame Tree is not only the great menu that will appeal to everyone, but also the beautiful seating area. It is all outside, which can be a bit much in the hot summer months, but there are so many little hidden outdoor pavilions with beautiful fountains and statues that just transport you to another place. It's honestly one of the most peaceful restaurants to dine at – plus there are seats with a gorgeous view of Expedition Everest in the distance.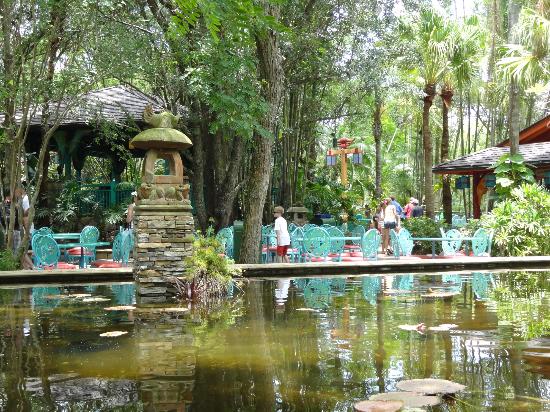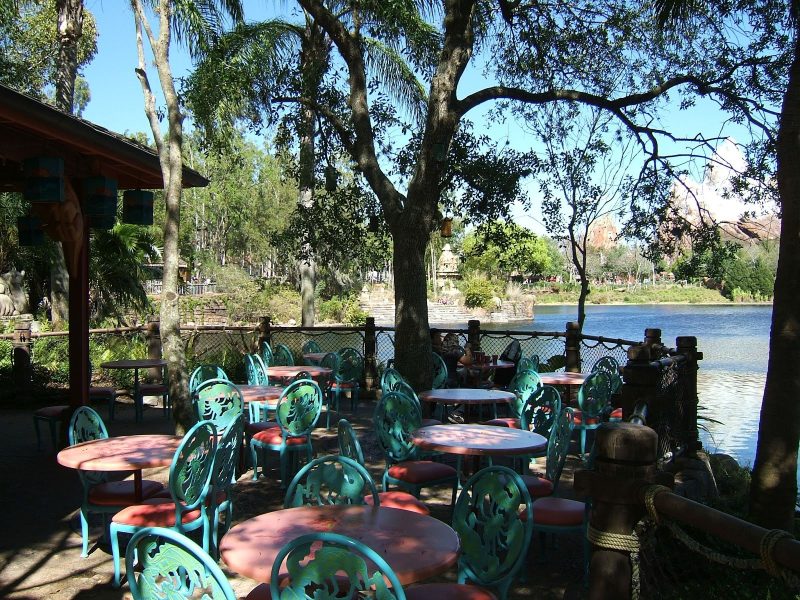 There's obviously plenty here for the barbecue eaters in your party – ribs, chicken, pulled pork. They're all seasoned with Flame Tree's special seasoning rub and then smoked. Everything is fall off the bone tender and so flavorful. But even if you have guests in your party that don't love BBQ, they'll have plenty of options here. There's a great chicken salad, a baked macaroni and cheese, and my favorite item – a smoked turkey sandwich that's currently off the menu but I'm hoping they'll bring it back.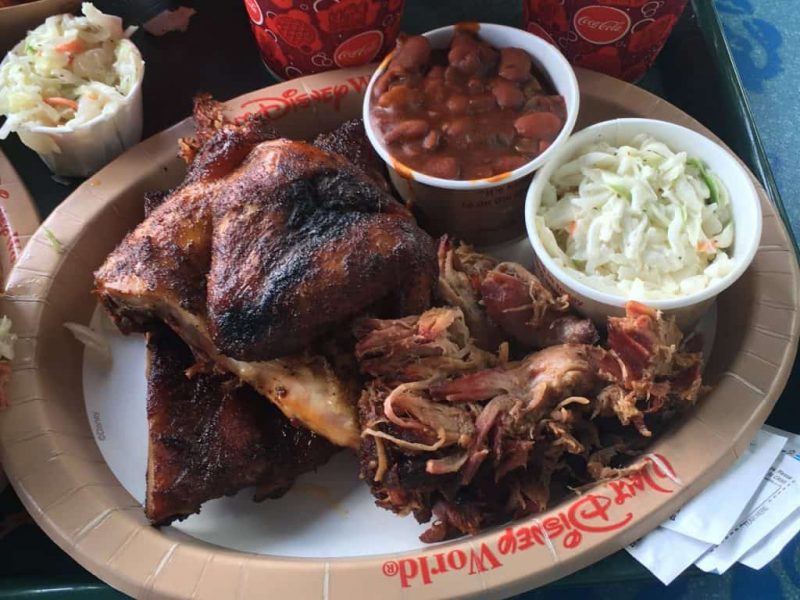 There's even a new plant-based option that I cannot wait to try. It's a plant-based sausage topped with a tangy mustard barbecue sauce, slaw and crispy onions on a New England style roll. It's making my mouth water just thinking about trying it.
The Magic Kingdom
BE OUR GUEST
This restaurant is solely on this list because of their lunch menu. The breakfast, in my opinion, is way overpriced and not that great. Dinner is a full-service restaurant. But their lunch!
Once you enter Beast's castle and order (or if you've mobile ordered, which you can do here) you get to choose your dining room. You can dine in the grand ballroom made famous by Belle & Beast and their little waltz. It's perpetually snowing outside this room and it lends such a cozy vibe to a room that's otherwise noisy. But I'm always going to try and grab a seat in the West Wing. It's dark and scary and the enchanted rose is in there, and I LOVE it.
No matter what dining room you sit in, though, you're going to love the food. It's delivered to your table through 'magic' and you get REAL plates and utensils, which makes it feel so fancy. You are eating in a castle, right? There's a great croque monsieur and Tuna Niçoise salad. But what I get every single time is the Carved Turkey Sandwich. This REAL turkey – no cold cuts here. It's served on a baguette that's just perfectly soft and a Dijon mayo that brings out the roasted flavors of the turkey. It just melts in your mouth. If you don't get this sandwich, you're doing it wrong.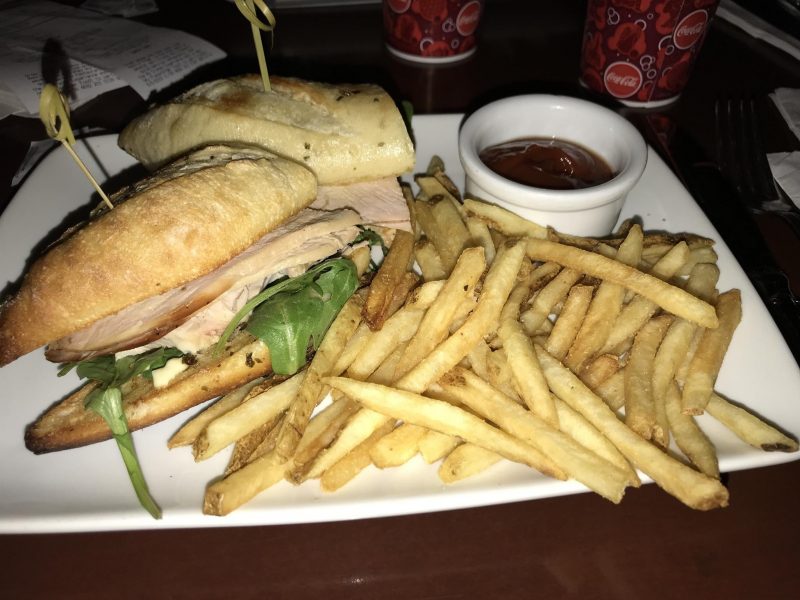 Also treat yourself to dessert here. There are all different kinds of cupcakes, but you want the Master's Cupcake. It's a chocolate cake topped with that oh-so-famous 'Grey Stuff'. I hear it's delicious!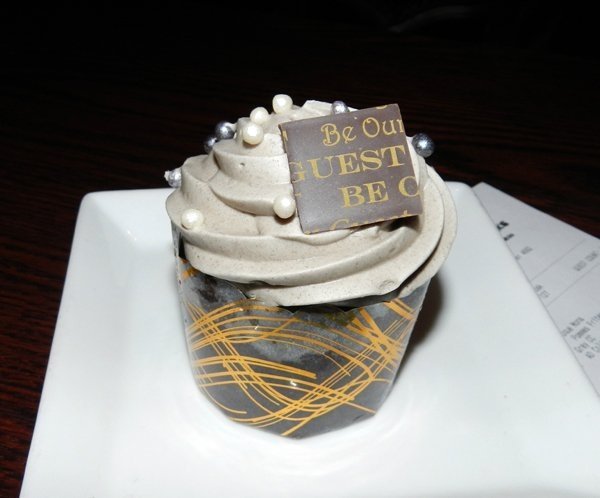 SLEEPY HOLLOW
If you're rushing to the Haunted Mansion you might just run right past this little spot and never know it's here. Sleepy Holly is tucked into a brick cottage as soon as you pass through the Liberty Square gates from the Hub. You'll find funnel cakes here – their seasonal versions are especially delightful – and also really excellent iced coffees if you don't want to wait in the crazy lines at Starbucks.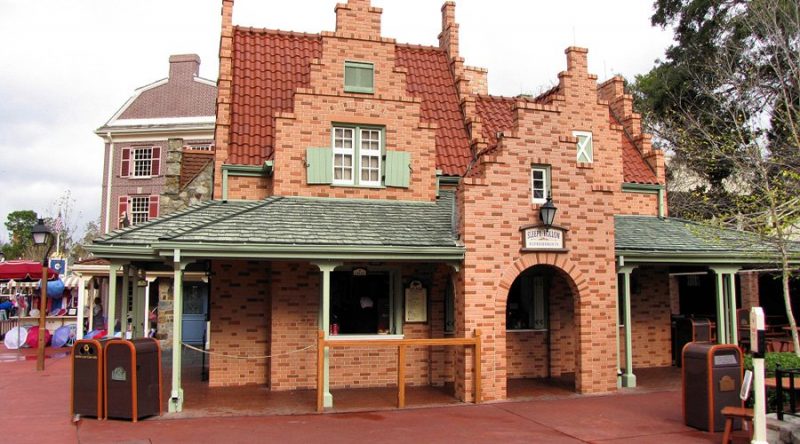 But my favorite menu items here are the waffle sandwiches. Fillings folded in between a giant Belgian waffle? Yes, please. There's a breakfast version with egg and cheese. It's like all your favorite breakfast items in one little handheld meal. The most popular sandwich is the fruit & chocolate-hazelnut spread, but my favorite is the Sweet & Spice Chicken Waffle sandwich. It's exactly what it sounds like – fried chicken with a sweet and spicy glaze that makes you feel like you're eating chicken and waffles. It's SO good and SO filling. Simple, satisfying, and perfect for a quick lunch.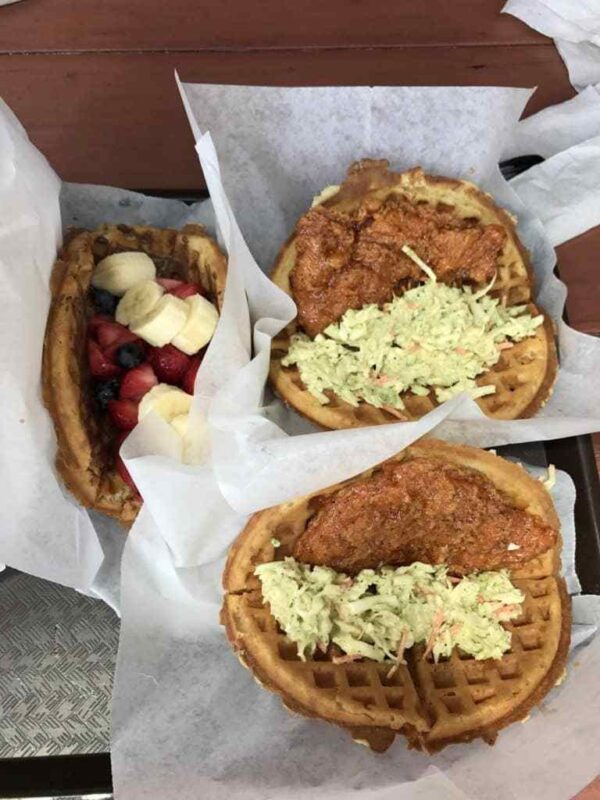 Epcot
SUNSHINE SEASONS
For some reason, I always find myself racking my brain for a good, quick service place to have lunch in Epcot. I don't know why – there are so many great places there! But sometimes I can just never find a place that inspires me to start salivating. And then I remember Sunshine Seasons.
This food court type situation is located at the bottom of The Land pavilion, sandwiched between Soarin' and Living with the Land. It's loud, it's chaotic, and it's not the most peaceful atmosphere. But the food is excellent and it's a lot of fun watching people rush past you on their way to a ride while you're just there chowing down on something yummy.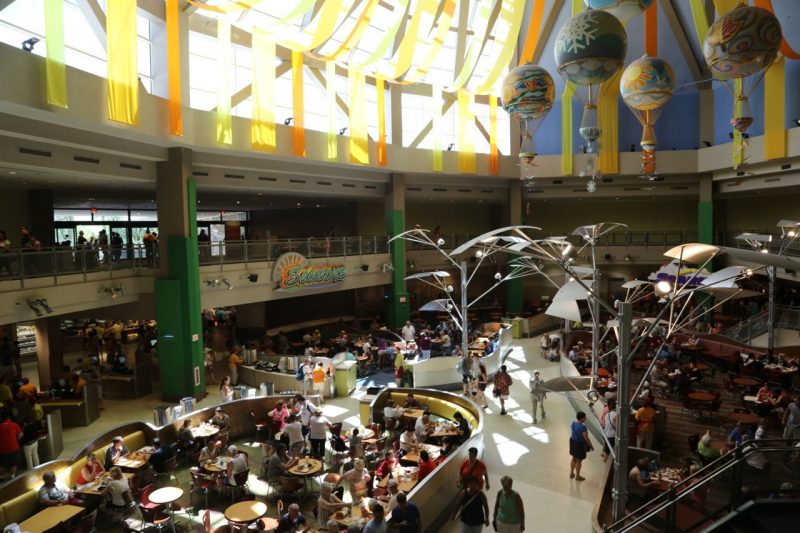 The menu changes often here, but what I think is so great is that the focus is always on fresh, delicious food, with many of the options usually being sourced directly from the greenhouses of the pavilion. If that doesn't epitomize the definition of farm to table eating, then I don't know what does! There's a breakfast menu, but I usually pop in here for lunch. There's an Asian station with stir-frys and fried rice, but when they have noodles on their menu, I am over the moon! Their sandwiches are huge and always so good. I'm usually going to go for whatever turkey selection that's on the menu, but I've had pulled pork there and it's incredible, too.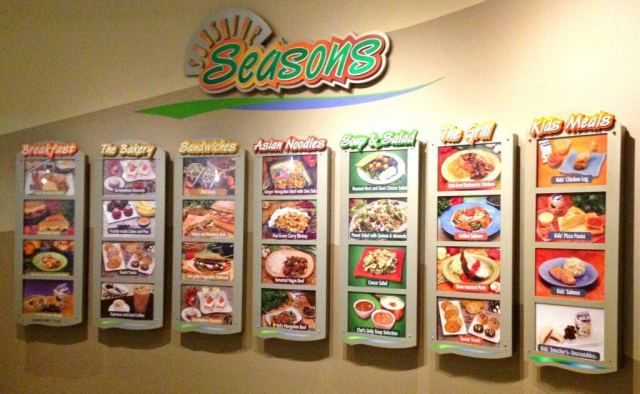 It's Unique!
Something you don't see at many quick service theme park restaurants is a grill section, and Sunshine Seasons has that. You'll find a grilled fish, or rotisserie chicken, and I know currently there's a pork loin with mashed potatoes that looks fantastic. But further, there is a dessert section that continuously turns up some of the most creative cupcakes in all of Walt Disney World. Plus, I've had some really great luck with their grab and go section, finding a turkey and cheese pinwheel option that was so good I shared it with Copley while we were waiting for friends to get off Soarin. So bottom line, you're always going to find something fresh and delicious and good for you here, which is why I love it so much.
WHERE'S THE EARL LOVE?
A quick disclaimer. I REALLY wanted to include Earl of Sandwich on this list. It's easily my favorite at Walt Disney World. But I included it on my Disneyland list and I figured I should offer up some different options for the Florida parks. But don't worry, you'll still find me at Earl here, and I always get a couple of Holiday Sandwiches to go!
So, what do you think? Do you love these restaurants, too? Did I give you a few new options to add to your list for your next trip? Or did I miss your favorites? Let me know in the comments below!
P.S. Now that you've found us, be sure to subscribe to our newsletter by taking our quiz or in the link on the side! You can also check us out on YouTube, Facebook, and Instagram!