Disney's Animal Kingdom has so many things to do and see that food almost seems like an after thought. (Gasp! Who said that?!) But in reality, there are some delicious things to eat at Disney's Animal Kingdom! Here are my top 5 favorite things to eat at Animal Kingdom. 
I am always happy for an excuse to spend more time at Disney's Animal Kingdom. And just like with the attractions, the food at Disney's Animal Kingdom encourages you to explore and enjoy. Wandering the pathways near the Tree of Life while enjoying any of the items below all but guarantees a perfect afternoon!
My Favorite Things to Eat at Disney's Animal Kingdom – Buffet Edition
I love a buffet. And Tusker House may very well be my favorite buffet not just in Walt Disney World, but anywhere! So I know I am supposed to pick just one thing but I simply cannot. Because that's what a buffet is all about – not having to pick just one thing!
I will happily eat at Tusker House for breakfast, lunch, or dinner. But for me the sweet spot is that magical time of transition from breakfast to lunch! Making a dining reservation for around 10:45 usually assures me that I can make a pass through the buffet for breakfast items such as eggs and bacon, and then make another pass for lunch foods like roast, Israeli couscous, incredible salads, and more.
The fact that Tusker House is also a character meal cements this location on my permanent list of favorite restaurants at Walt Disney World!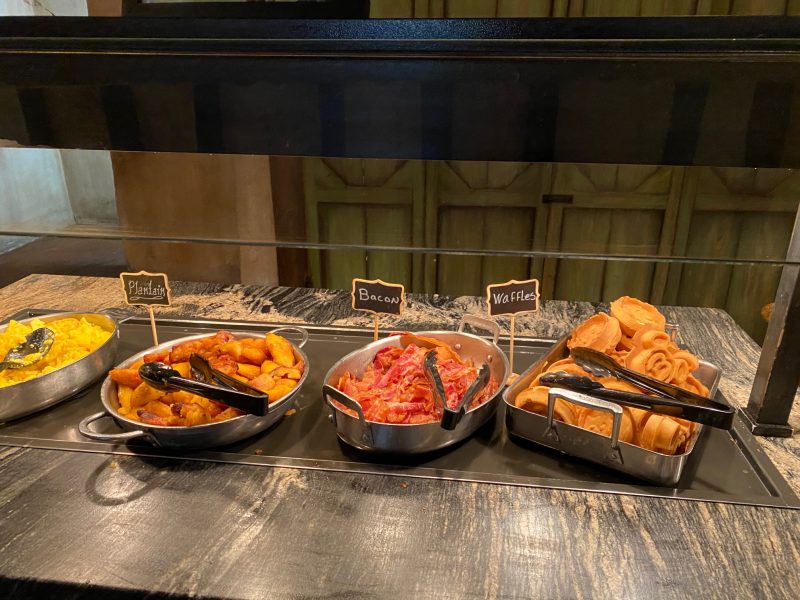 My Favorite Snack Thing to Eat at Disney's Animal Kingdom
Yes, ok. I have already extolled the virtues of a Mickey shaped pretzel in the Hollywood Studios post. But this is different! The pretzel that I love at Disney's Animal Kingdom has the cheese INSIDE. That's right – it is a jalapeno cheese stuffed pretzel. Sadly it is not Mickey shaped and I don't have a photo of it. (Bad blogger…)
In all honesty, this absolute star is not always available. It has a tendency to pop up and then disappear with alarming regularity. Sometimes it can be found at Hollywood Studios, occasionally at the Magic Kingdom. But since Animal Kingdom is the only place I have actually ever had it, it goes on this list! If you would like to check it out in all it's glory at various locations, I recommend Disney Food Blog.
Bottom line if you can find this anywhere in Walt Disney World, you should order it. Salty, Cheesy, with just a bit of spice from the jalapeno, I will love it forever.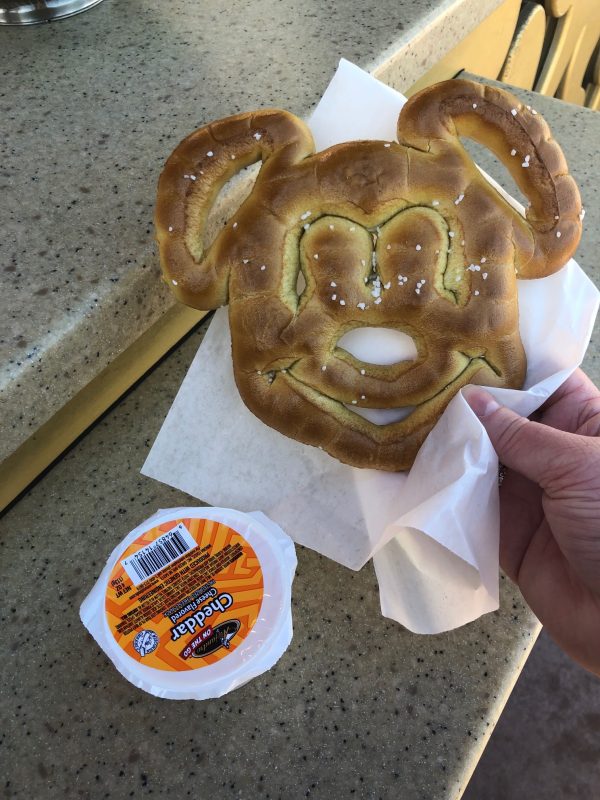 My Favorite Refreshing Thing to Eat at Disney's Animal Kingdom
I have admitted to rarely even stepping foot in Dinoland USA, but besides DINOSAUR, the only thing that may lure me to this part of Disney's Animal Kingdom is the TriloBites Twist. A Citrus Swirl by any other name still tastes as sweet!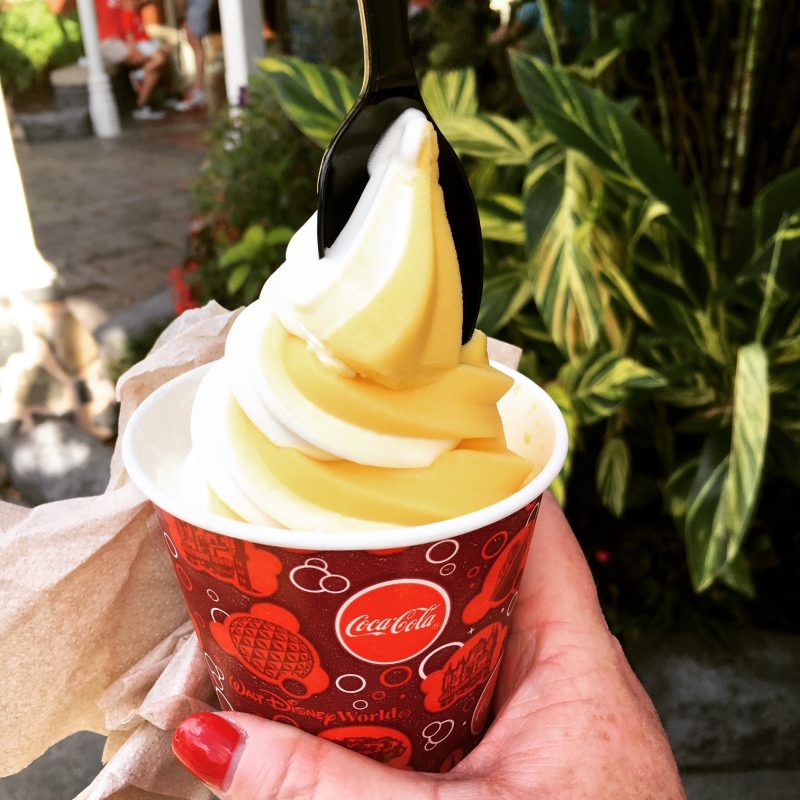 My Favorite Thing to Eat From Asia in Disney's Animal Kingdom
Spoiler alert! This will not be the last time you see dumplings in this series. I have a serious addiction to dumplings and potstickers in all forms. The Chicken Dumplings from Mr. Kamal's in Asia are just the ticket! This is a frequent stop for my family on our way to or from Expedition Everest.
The dumplings are deep fried creating a crispy exterior which gives way to the slightly spicy chicken filling. Dip them in the soy-based dipping sauce! There are only three dumplings in a serving so I recommend ordering at least two orders! (I am greedy when it comes to dumplings.)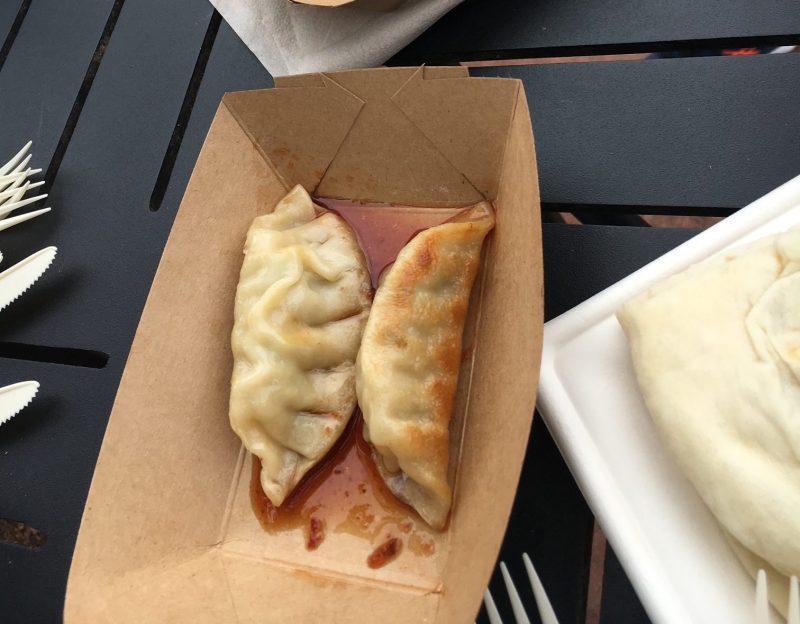 My Favorite Plant-Based Thing to Eat at Disney's Animal Kingdom
I am a devoted carnivore but clearly Sharla and Heather have begun to rub off on me because I have begin incorporating more plant-based foods into my diet. The Impossible Sliders at Nomad Lounge are perfect regardless of dietary choices!
Let's start with the fact that they are sliders. I think we can all agree that almost every food is better in miniature form! But add to that the chipotle aioli and the yucca fries and you have a meal that pairs perfectly with your favorite beverage or cocktail! (I will be enjoying the Annapurna Zing.)
Plus the Nomad Lounge is a fantastic spot to get away from the crowds in Disney's Animal Kingdom and lounge on one of the comfy sofas.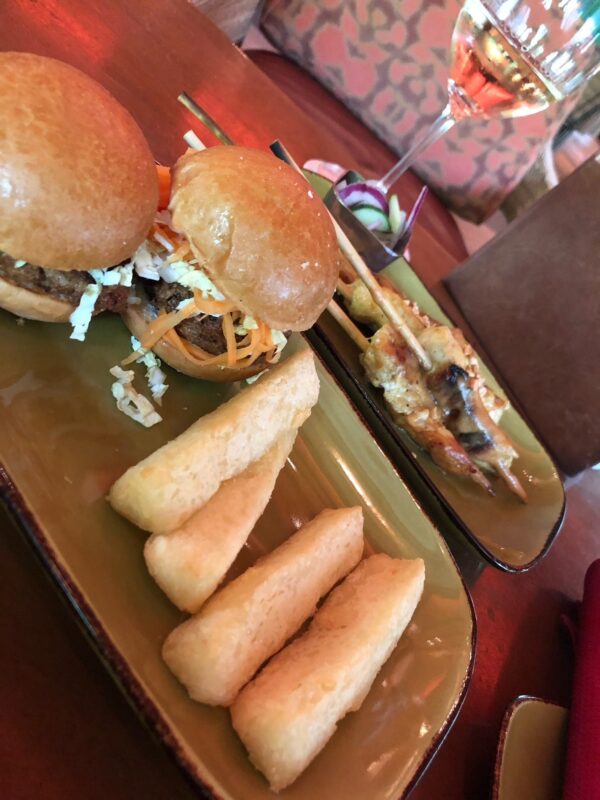 What are your favorite things to eat at Disney's Animal Kingdom? Let us know in the comments!
Up Next: My Top 5 Favorite Things to Eat at Epcot!
P.S. Now that you've found us, be sure to subscribe to our newsletter below or in the link on the side! You can also check us out on YouTube, Facebook, and Instagram!