What is the first thing you picture when you imagine walking into the Magic Kingdom at Walt Disney World? Is it Cinderella Castle? For me, it is that classic Disney treat – a Mickey Bar! And I am not alone. The Mickey Bar versus Dole Whip debate has passionate fans on both sides. Here are my Top 5 Favorite Things to Eat at the Magic Kingdom!
It is no surprise that long before you get to any attractions at the Magic Kingdom, you pass by countless types of food. You could spend your entire day snacking your way down Main Street, U.S.A! For me, food is as big a part of the theme park experience as rides.
In no particular order, here are my top 5 favorite things to eat at the Magic Kingdom!
My Favorite Refreshing Thing to Eat at the Magic Kingdom
When it is hot and humid at Walt Disney World (aka most of the time…), you can keep your Dole Whips! My favorite refreshing thing to eat in the Magic Kingdom can be found at Sunshine Tree Terrace in Adventureland. The Citrus Swirl is a combination of orange and vanilla soft serve. It is light and refreshing. The taste is reminiscent of a Creamsicle, evoking memories of chasing the ice cream truck down the street, dollar bill in hand. Fine – that was last week but still!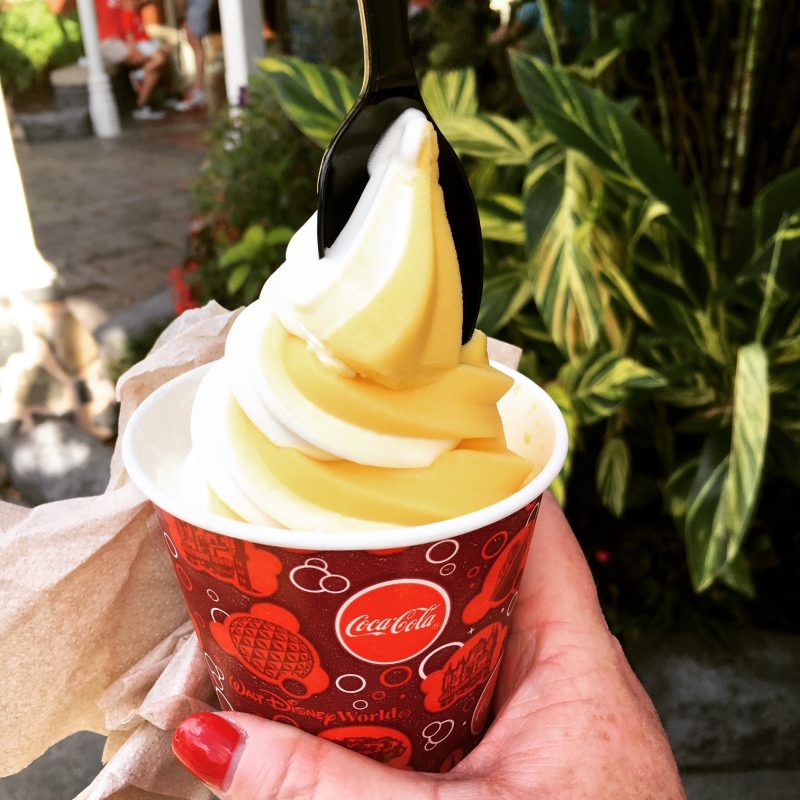 My Favorite Sweet Thing to Eat at the Magic Kingdom
Asking me what my all-time favorite thing to eat is at Walt Disney World is like asking a mother to choose her favorite child. But feet to the fire? The Mickey Rice Krispy Treat from the Main Street Confectionary wins! I am not talking about the pre-packaged stick-free krispy treats that you can find at many food locations. No, I am talking about the freshly made Rice Krispy Treats that are dipped in various toppings and served on a popsicle stick!
My personal favorite is the M&M treat but they come in countless combinations from sprinkles to sugar to peanut butter chips – you name it! I have been known to purchase MANY of these on the first day of my trip. And then on my last day, I buy even more to bring home. It is a rare flight from MCO to BDL that does not have me happily snacking away on a rice krispy treat from my carry on bag. (You didn't think I checked them did you?! Precious cargo!)
Seriously – if you try one thing from this list, make it the Rice Krispy treat.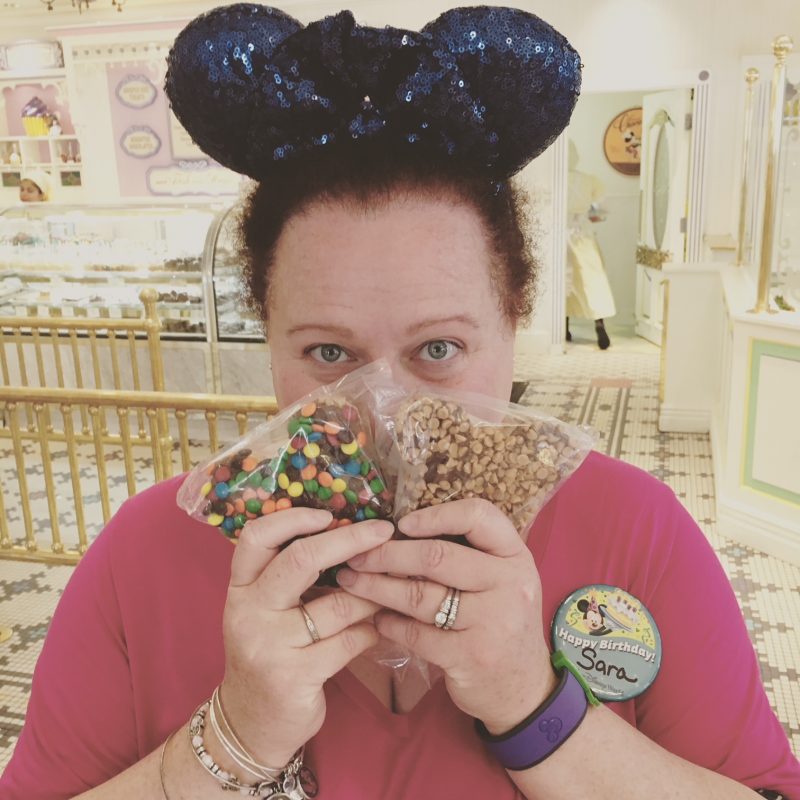 My Favorite Spicy Thing to Eat at The Magic Kingdom
This sandwich was a revelation to me on a recent trip with Sharla! The Sweet & Spicy Chicken Waffle Sandwich from Sleepy Hollow in Liberty Square will be my go-to lunch or quick dinner at the Magic Kingdom from now on.
As the name suggests, it is the perfect balance of not just sweet and spicy, but also soft and crunchy. The fried chicken is well battered and slathered in a sticky sauce. The heat is offset by a cool coleslaw topping. Anchoring it all is a perfect not-too-sweet waffle.
We made the mistake of splitting it and lived to regret it. Don't make the same mistake – get your own and refuse to share!!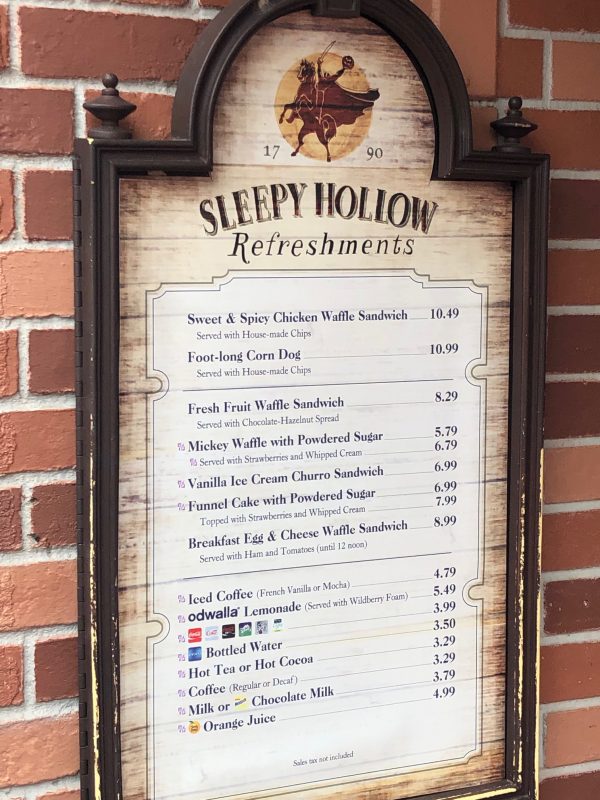 My Favorite Holiday-Inspired Thing to Eat at The Magic Kingdom
I have spent years at the holidays trying to recreate the Patriot's Platter at Liberty Tree Tavern. At Liberty Tree Tavern, it is Thanksgiving every day! For someone like me who is thoroughly obsessed with holiday meals, it is basically a dream come true.
The Patriot's Platter includes All-You-Care-To-Eat Roasted Turkey Breast, Pot Roast, and Oven-roasted Pork with Mashed Potatoes, Seasonal Vegetables, Herb Stuffing, and House-made Macaroni and Cheese. And let is not forget the rolls and gravy! I don't eat much pork so I typically ask for extra turkey or roast instead. It also comes with a salad and Ooey Gooey Toffee Cake for dessert!
Available at lunch or dinner, I typically reserve this meal for dinner as it can be just a teensy bit heavy. Ok fine it leaves me needing a very long nap! Which is fine since it is located directly across from the Hall of Presidents!
Will you be visiting Walt Disney World during the holidays? Liberty Tree Tavern is the perfect spot for your holiday meal! But plan to book your dining reservation ASAP when the window opens – this restaurant books quickly for holiday meals!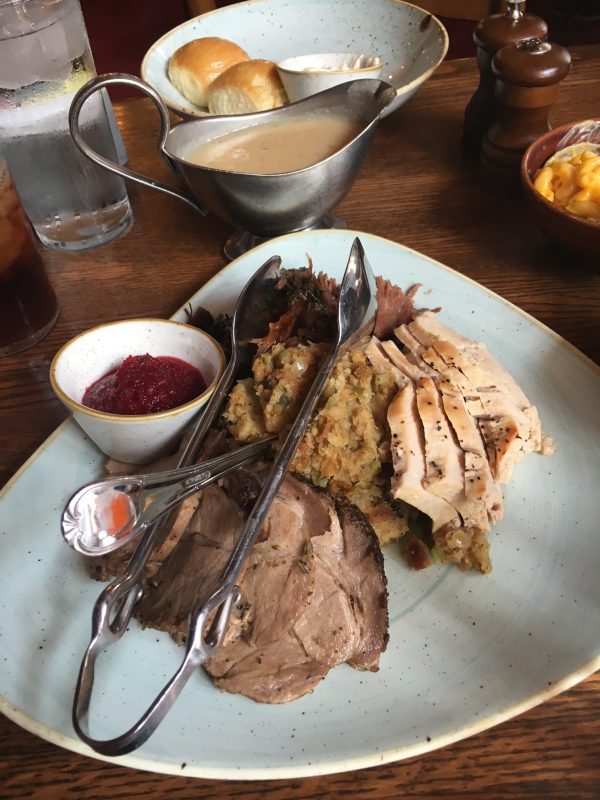 My Favorite Classic Thing to Eat at The Magic Kingdom
You didn't think I would forget the Mickey Ice Cream Bar did you? In the age old Dole Whip versus Mickey Bar debate, I am firmly Team Mickey Bar. Available at any ice cream cart in the Magic Kingdom, the classic Mickey Bar is a must have for any first-time visitor to Walt Disney World.
What's that you say? You saw Mickey Bars for sale at your local grocery store recently? It is true that "A" Mickey Ice Cream Bar has recently become available in the Frozen Foods aisle of many grocery stores, but I assure you IT IS NOT THE SAME THING. The authentic Mickey Ice Cream Bar found in the theme parks is slightly larger and, to my mind anyway, has a better chocolate coating.
Plus you cannot beat the feeling of racing to consume your precious ice cream before the ridiculously hot Florida sun turns it into a melting mess in your hands. It's all part of the charm! (But grab napkins – trust me on this one.)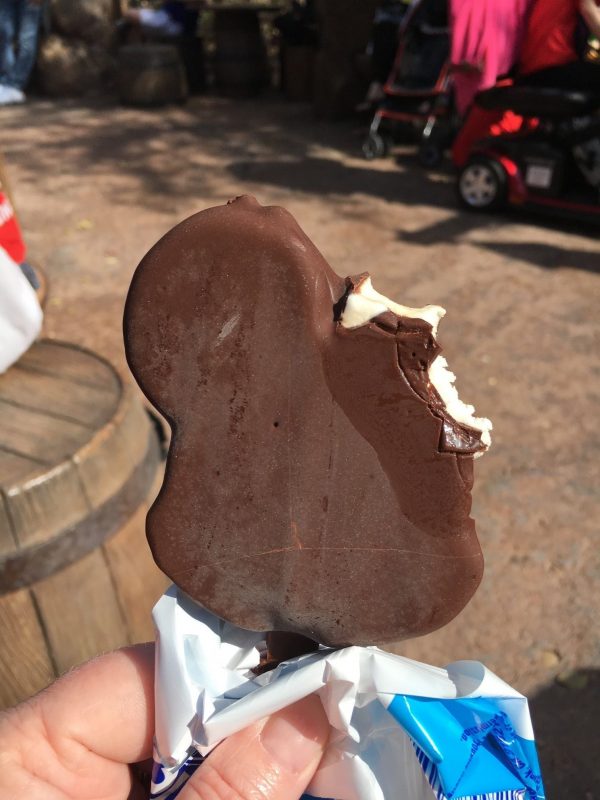 What are your favorite things to eat at the Magic Kingdom? Have I missed one of your must eat treats? Let me know in the comments! I am always on the lookout for a new favorite indulgence.
Up next: My Top 5 Favorite Things to Eat at Disney's Hollywood Studios!
P.S. Now that you've found us, be sure to subscribe to our newsletter below or in the link on the side! You can also check us out on YouTube, Facebook, and Instagram!