I love the food at Walt Disney World. Here are my Top 5 Favorite Table Service Restaurants at Walt Disney World!
I'm so excited because in about three weeks I'll be heading back to Walt Disney World for the first time in almost a year! I've missed it so much, and I know so many of you have, too. What I always dream about is the FOOD. You know me – I'm a foodie, and Disney food is my happy place!
A few weeks back I wrote a blog about my Top 5 Favorite Table Service Restaurants at Disneyland, but how have I not written this about Walt Disney World!? It's not right! So here I am to correct that oversight and give you all my Top 5 Favorite Table Service Restaurants at Walt Disney World!
My 5th Favorite Table Service Restaurant at Walt Disney World: 50's Prime Time Café
This has been a favorite table service restaurant of mine since I was a child and I'm still loving it today. It's a combination of both the atmosphere, the cast member interaction, and the food. It just never gets old for me.
For those of you who aren't familiar with it, 50's Prime Time Café is themed after a 1950's sitcom. You enter into the restaurant in what looks like a mid-century living room, and once you're at the table you'll be sitting in an old looking kitchen with 1950's television sets playing clips of old sitcoms.
Throughout your meal your server will refer to you as 'kids' and every cast member is a member of your family – cousin, aunt, dad, mom. The more you go along with the game, the more fun you're going to have. They'll feed you your vegetables via the 'airplane method', make you set the table and don't even THINK about putting your elbows on the table (I speak from experience). Kids especially love watching their parents get treated by children. And don't forget – eat all your vegetables or you're not getting dessert!
Food here is classic American comfort food – think chicken pot pie, fried chicken and macaroni and cheese. But my absolute favorite dish is the pot roast. It's melt-in-your-mouth tender and comes with mashed potatoes and the most wonderful brown gravy. It reminds me of Sunday dinner at Grandma's when it's cold outside but cool and cozy inside with family all around laughing.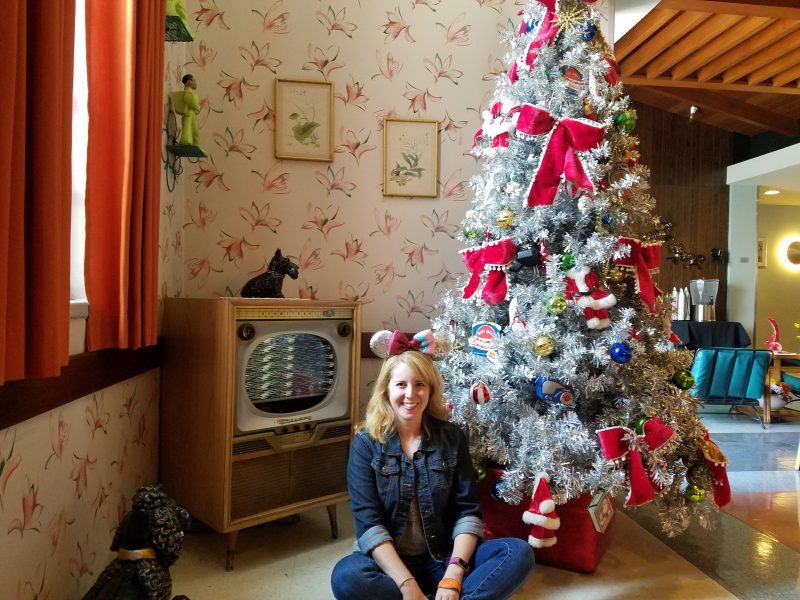 My 4th Favorite Table Service Restaurant at Walt Disney World: Biergarten
I must be honest and say I couldn't decide between Rose & Crown and Biergarten for this spot, but Biergarten won out. The food is fantastic at both, but the entertainment at Biergarten is wonderful. Plus, after I visited Bavaria in Germany last year and got to visit an authentic beer garden, it made me appreciate Epcot's version even more for the ability to make it seem so real!
Set 'outside' at a traditional German beer garden you'll enter an entirely different world from the Florida humidity you just left behind. Suddenly it's evening, with a full moon overhead and houses all around you looking down onto a dance floor. You'll be surrounded by picnic tables where you'll sit with other guests, all getting to know each other.
After awhile the show starts and the Oktoberfest Musikanten begin playing oompah music and the dance floor fills with children so excited to run around. Sometimes they play an alpine horn, sometimes the bells. Sometimes they'll even call guests up to perform with them, which is exactly what happened to Justin on his first visit there when he was brought up to compete in a beer drinking contest. No matter what happens at that particular show, every single one is fun and leaves you laughing.
The food is just as good as the atmosphere – think schnitzel, mac and cheese, sausages and (of course!) apple strudel. I'm a sucker for the pretzel roll and potato soup that you'll usually find. And if you're into chocolate, I hear the Black Forest cake is incredible.
Traditionally, Biergarten was a buffet. However, since Covid-19 Disney has converted it to family-style dining. They've taken the favorites from the buffet and will bring them to your table (as much as you want, so ask for seconds!) to eliminate the need for guests to walk around the restaurant. You'll also find that they've spaced groups out to accommodate social distancing, so for the time being there is not sitting with other parties.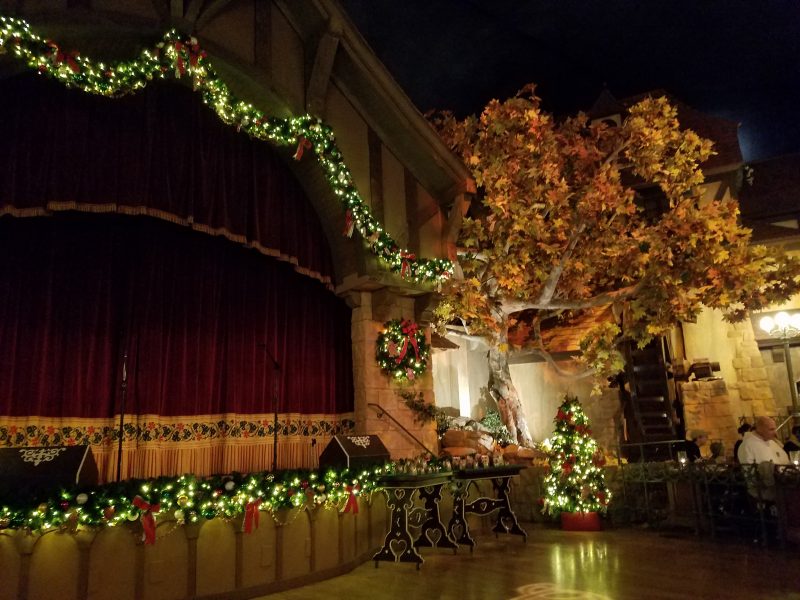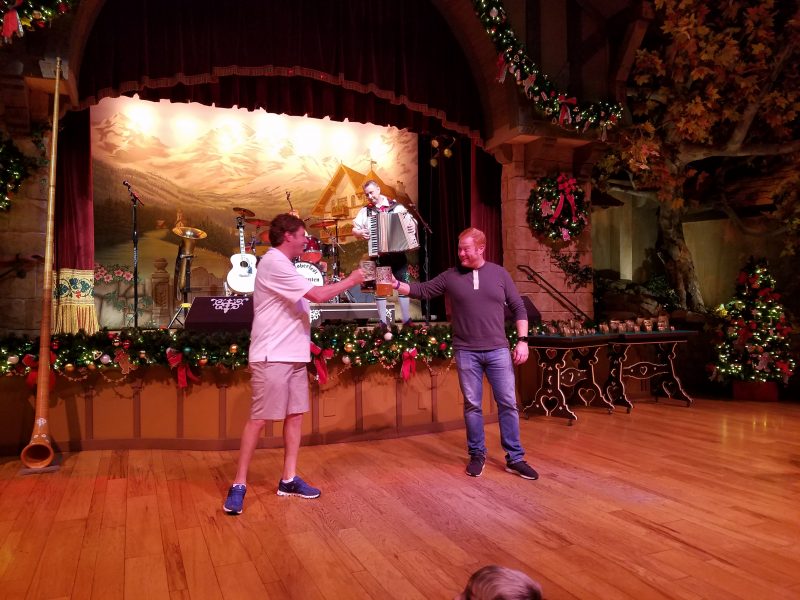 My 3rd Favorite Table Service Restaurant at Walt Disney World: Beaches & Cream
How can you not love Beaches & Cream!? Located at Disney's Yacht & Beach Club resorts it is themed after a mid-century soda fountain. Think juke boxes and poodle skirts, and I am SO there for it. It used to be a very small little shop, but last year Disney expanded the location so thankfully a lot more guests will get to enjoy it.
The menu is simple – there is grilled cheese, chicken soup and some wraps. But you want to go here for the burgers. These remain my very favorite burgers on Disney property. I don't know what they do differently, but my mouth waters the second I start dreaming of their cheeseburger with a side of crispy fries. That, and a vanilla coke (the kind with real vanilla syrup, not the kind you can buy in the can at the store).
But you're not really here for burgers, are you? You're here for the ice cream! There's the legendary Kitchen Sink – with 8 scoops of ice cream, every topping in the place, and a whole can of whipped cream (say it with me: A Whole Can!?) – served literally in a kitchen sink. Meant to share, but if you can get through that beast on your own then it's free!
However, that's not what you'll find me order. No. I'll be at my table every single time with the glorious No Way Jose – chocolate and vanilla ice creams (though I get mine with only vanilla), chocolate and peanut butter sauces, chocolate and peanut butter chips and topped with whipped cream it's like a frozen peanut butter cup and it is EVERYTHING to me.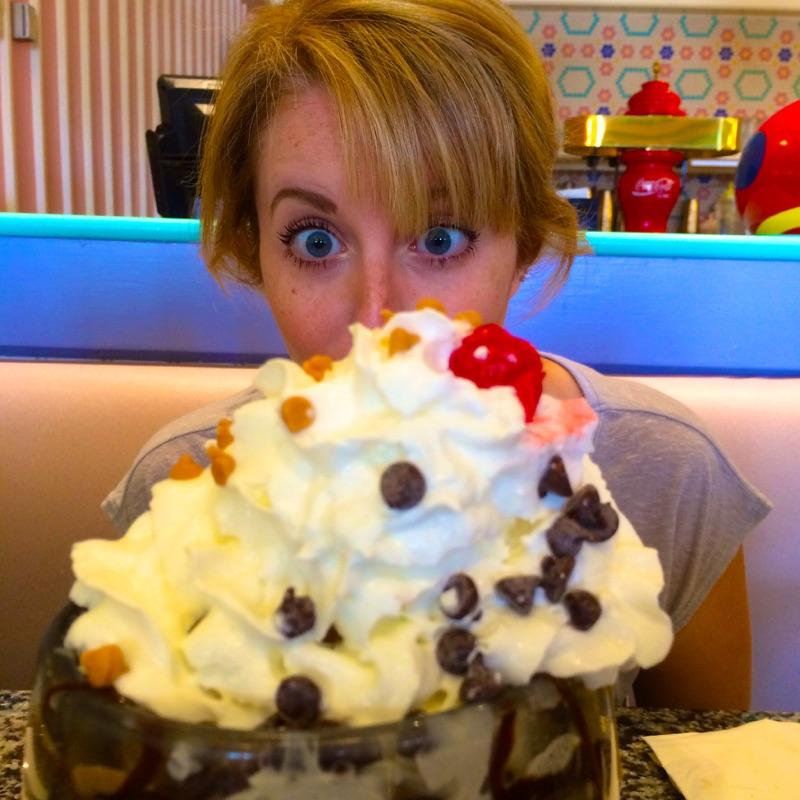 My 2nd Favorite Table Service Restaurant at Walt Disney World: Via Napoli
Pizza is my favorite food. And there's nothing like pizza from Italy. Naples, Italy to be specific – the birthplace of pizza. And Via Napoli comes pretty close to replicating the real thing. Set in an old Italian villa with faded frescoes on the walls (meant to replicate some of the homes found at Pompeii that were excavated and still have artwork painted on the walls) the ceilings are soaring, the stucco is cool and it is LOUD in there. Just like I'd expect it to be in an Italian restaurant!
Though there are other options on the menu, the real reason to come here is the pizza. It's amazing! Via Napoli sources their ingredients – flour, tomatoes, mozzarella – from Naples. They even get their water from a source in Pennsylvania that has the same pH balance as Naples! They even studied pizza making at Da Michele in Naples (the literal birthplace of pizza, and my personal Mecca). That's why the pizza tastes so amazing. Then they're fired in wood-burning ovens that you can see along one wall, cleverly framed with faces representing the three active Italian volcanoes – Mount Etna, Mount Vesuvius and Stromboli.
I am a fan of their simple Margherita pizza, but any topping you choose to try here is excellent. Everything from sausages, vegetables and different cheeses to their really wonderful prosciutto and melon pizza that sounds a little odd but is truly delicious. Get them all! I unabashedly order the Mezzo Metro size – that's a full meter – and I almost never have a slice left over!
My Favorite Table Service Restaurant at Walt Disney World: California Grill
I cannot count for how many years this has been my favorite restaurant at Walt Disney World (possibly even the actual world). This is where I celebrate special occasions, take first time visitors, and visit at least once every trip just to enjoy a wonderful meal.
Located at the very top of the Contemporary Resort, this table service restaurant has almost full 360-degree views over Bay Lake, Seven Seas Lagoon and the Magic Kingdom. With floor-to-ceiling windows sunsets here are the stuff of dreams. And when the fireworks come back to the Magic Kingdom watching them from the two observation decks with the music piped in and a glass of wine in hand is stunning. Fun fact: If you can't get a reservation for later in the evening, simply return at the time of the fireworks with your California Grill receipt from that evening and they'll bring you up to the deck to watch!
As the name implies, the menu here reflects California Cuisine, with fresh, seasonal ingredients and a menu that rotates with what's in season. There are a few favorites that are always on the menu, and I'm so grateful for that because they're some of my favorite dishes anywhere! I'm talking about the Spicy Kazan Roll, Sonoma Goat Cheese Ravioli and the Pork Tenderloin with cheesy polenta. I usually wind up over ordering because I just want to have everything!
The wine list here features a huge array of California wines, so don't be afraid to ask your server to recommend something new. I personally like to head up to the restaurant a little early for my reservation, grab a glass of wine at the bar or in the small lounge, and relax before what I know is going to be an amazing meal.
California Grill is considered a Signature restaurant and as such has a business-casual dress code. That means no shorts or t-shirts, bathing suits, cover ups, etc.
All of these table service restaurants require Advanced Dining Reservations, which you can do from your My Disney Experience account.
And those are my favorite places to eat at Walt Disney World! Did your favorite make the list? If not, please let me know what it is – and more importantly, what you order there! I'm always in the market to find my next favorite restaurant!
P.S. Now that you've found us, be sure to subscribe to our newsletter below or in the link on the side! You can also check us out on YouTube, Facebook, and Instagram!