Want to plan the perfect Disney Day? VIP Tour Guides are the way to go! 
It's no secret that we love to be pampered on vacation. So when we want the ultimate VIP treatment at the Disney parks, we splurge on a VIP Tour guide. We've hired a VIP guide in four out of the six Disney destinations worldwide and have loved every single one of them!
If you've ever seen these plaid clad cast members leading around a group of people and wondered who they were, what they were doing, and what other secrets they hold, look no further. We've got you covered. Let's look at all the perks you'll receive!
COMPLETE CUSTOMIZATION
Imagine being able to do almost anything you want, whenever you want. You're in charge and you can tell your tour guide what you'd like to see and they'll figure out the best, most efficient way to make that happen. You'll be picked up in a private vehicle either at your hotel or a location of your choosing and be whisked away to start your tour. Private security screening and entering the parks through secret doors means more time spent enjoying!
Want to visit multiple parks in one day? You can do that. Want to ride your favorite attractions over and over again? You can do that, too! The entire day is completely up to you! You will be sent a form to make requests in advance of your trip so that your Guide can plan your day.
TIME EFFICIENCY
In addition to being picked up in a private vehicle, your guide will also park your car as close to each attraction as possible. That means there's no walking through parking lots or waiting in line for bag check and at the turnstiles. You'll enter through private backstage entrances and be on your ride in no time – allowing you to see and do more throughout your day!
VIP ACCESS
Your VIP Tour Guide acts like a 'human FastPass' getting you expedited access to your favorite attractions – with hardly any wait! Not having to wait two hours for Flight of Passage? Sign us up! Plus, you'll also have front row access for any show or parade you'd like to see. Your guide can even set up private meet and greets with your favorite characters! (Note – VIP Tour Guides do not have FastPass access to rides that do not have FastPass+ service, such as Rise of the Resistance in Galaxy's Edge!) 
VIP GUIDES
The VIP Tour Guides themselves are part of the experience. They've been handpicked and expertly trained to plan your perfect itinerary. Throughout the day your guide will share insight and anecdotes about the parks. And maybe even throw in some extra Disney magic!
Details
VIP Tours can be booked starting 180 days in advance of your trip. They're very popular – so book early! Tours are booked for a minimum of seven hours, and can accommodate up to 10 guests. (Groups over 10 will need to have two guides, and yes, infants count towards the group numbers!). Pricing varies between $425 and $750 per hour, depending on the season. Valid theme park admission is required and not included in the price of the tours.
VIP Tours are available at Walt Disney World Resort in Florida, Disneyland Resort in California, Tokyo Disneyland (in Japanese only), Disneyland Paris, Hong Kong Disneyland, and Shanghai Disneyland.
Have you used a VIP Tour Guide? Would you like to? Tell us about it in the comments!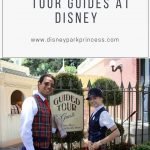 Save this article to Pinterest!