We here at Disney Park Princess love a luxury hotel. There's just something about being pampered on vacation that really speaks to us, but when you're at the Disneyland Resort it's tempting to consider a Good Neighbor hotel for their lower room rates. However, when you want to vacation like royalty the absolute best option is to stay ON-SITE at a Disneyland Resort hotel. Here's why:
LOCATION, LOCATION, LOCATION!
One of the nicest things about the on-site hotels of the Disneyland resort is how close everything is – and when you stay at a Disney resort you're as close as you can be to the magic. You're just steps from the theme parks and Downtown Disney so you can be at the parks within minutes to start your day. And in the middle of the day when the parks get crowded and the weather is warm you can be back at your room in no time for a dip in the pool or a nap.
But even better? Guests staying at Disney's Grand Californian Resort & Spa have their own private entrance into Disney's California Adventure. That means you can bypass the long lines at the main gate and be on your way to having fun that much quicker!
SPECIAL PERKS OF STAYING AT AN ON-SITE DISNEYLAND HOTEL
If there's one thing we love it's feeling special, and being the guest of the on-site Disneyland hotels comes with some special perks. Our favorite perk is Extra Magic Hour – where one of the theme parks opens one hour early for Disney resort guests. You get an entire hour to ride your favorite attractions before the park opens to the public, usually without any wait at all! Another bonus is the package shipping.
If you like shopping as much as we do then you're not going to want to carry all of those purchases around all day. Instead, Disney resort guests can have their packages shipped back to their hotel to be picked up later, and can go on enjoying the parks without being weighed down by all those fantastic new t-shirts and Mickey ears.
LUXURY ACCOMMODATIONS AT ON-SITE DISNEYLAND HOTELS
You already know we love to be pampered, and our choice in hotels is certainly no exception. There's just something about a beautiful hotel room that warms our hearts and the three Disney properties certainly meet our standards. The rooms are spacious with great little details like charging stations built into the bedside tables, Keurig coffee machines and high end toiletries.
When you get a room with a view you're in for an even bigger treat – you can look out into Disney's California Adventure park, or maybe take in a view of the resort pool or the hustle and bustle of Downtown Disney. There's just something about sipping a coffee in the morning while watching the park wake up that lets you really feel like you're on vacation.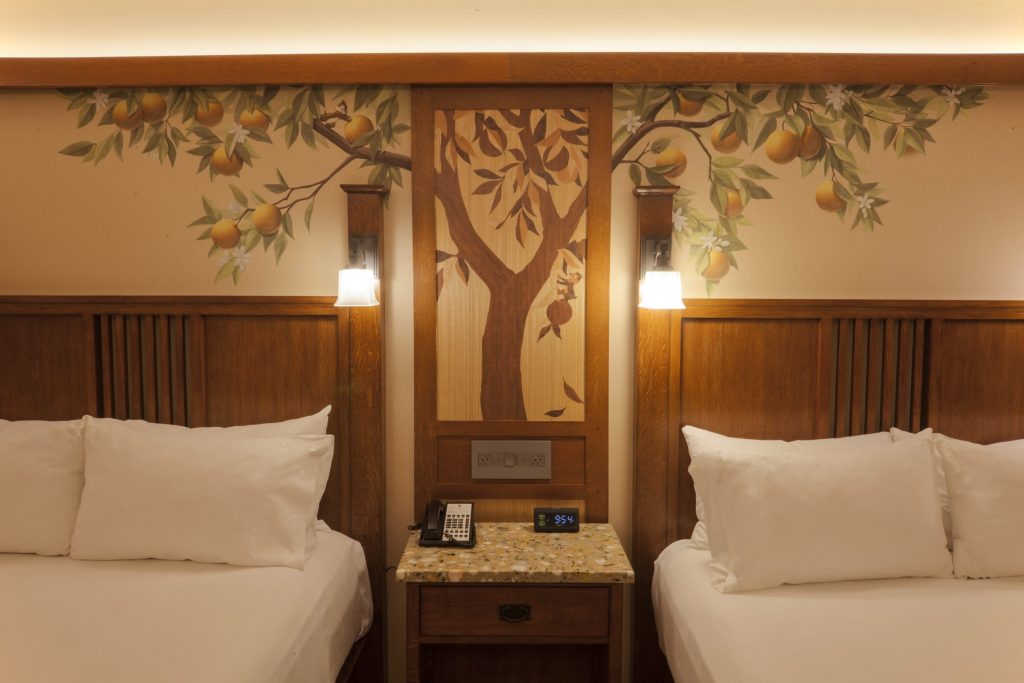 RESORT LIVING
One of the most noticeable benefits of a Disney resort is the space – they are built on beautifully landscaped grounds. There are so many places to find a rocking chair or couch in front of a fire pit where you can unwind and chat about your day. Instead of a small pool in the middle of a parking lot, you'll find themed pool areas with water slides and plenty of lounge chairs and cabanas to relax on.
There are winding paths to meander and explore. And while it may not be in your top 5 needs in a hotel, there's something so pleasant about being able to slow down, relax and enjoy the atmosphere around you that really contributes to your Disneyland vacation.
MAGICAL SURROUNDINGS
We all visit the Disney parks to escape reality and enter a magical space. Why have that end when you go back to your hotel for the evening? When you stay at one of the onsite Disneyland hotels, you are always immersed in the magic. Not only are the resorts whimsically themed, with little nods to Disney films and characters throughout, but you never know when you may meet a familiar face – such as Goofy or Mickey himself – in the lobby just waiting to say hello!