Guest Blogger Kim Ringlever recently sailed on the Disney Wonder to Alaska. Read on to learn while this will she will definitely cruise to Alaska again with Disney Cruise Line! 
Four years ago, a friend asked me if I would ever consider taking an Alaskan Cruise. It was at that moment a seed was planted to visit America's 49th state. Picking the right cruise line was easy, committing to the price tag was a little harder, and COVID made me almost give up.
The stars eventually aligned and years of prep became a reality on the 4th of July! All I can say is that I loved this experience more than I ever thought I could, and while each person in my party loved different aspects of the trip, here are 10 things that made me glad I finally said, "YES" to taking a Disney cruise to Alaska aboard the Wonder.
1) The Glaciers in Alaska
I wasn't exactly sure what a glacier would look like. In my mind, I think I was expecting it to be similar to the Greenland scene in Soarin'. While that was not the case, it was definitely spectacular and the highlight of the trip for me.
The glacier we traveled to by ship was the Sawyer Glacier (rather than the Dawes Glacier). The journey toward Sawyer was just about as exciting as seeing it. The passageway is narrow for much of the journey and lined with evergreens and mountains. The water is dotted with icebergs.
Once we arrived at Sawyer, the ship remained there for hours to allow guests to take in the view. There were so many choices of how to do this. The top deck provided wide open space and hot chocolate, the promenade deck had cozy lounge chairs and blankets, those with verandahs had a private spot to see the sights, and the kids loved sitting in the large inside window seats.
For those who signed up for the excursion, two ferry-size boats brought guests up close and personal. And yes, every so often a large chunk of ice would break away and crash into the ocean. The crew even scooped up a small iceberg to bring on board for guests to see in person.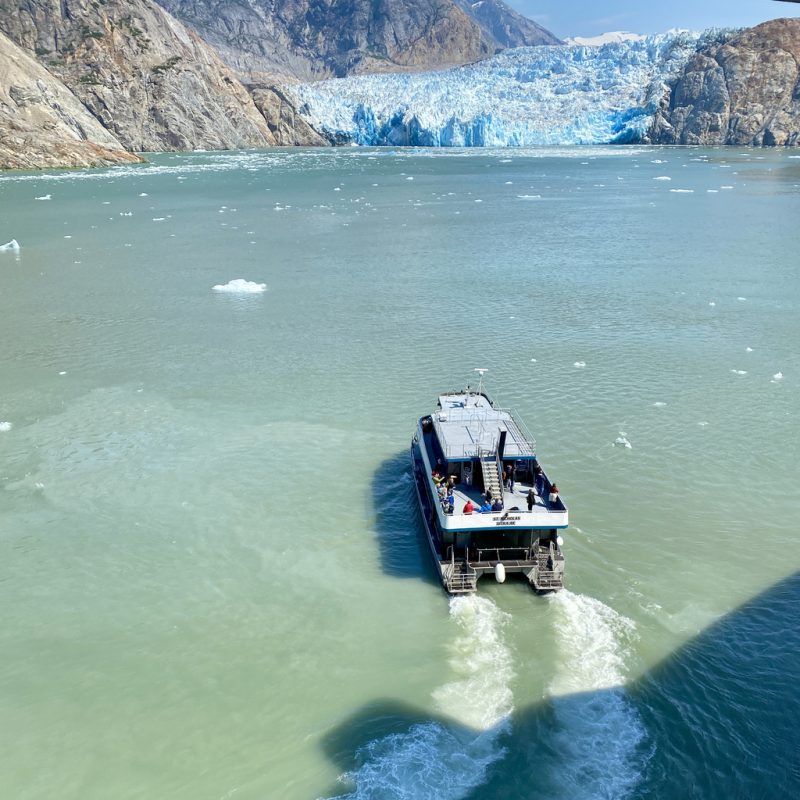 In Juneau, a few excursions included the opportunity to see the Mendenhall Glacier. It too, was a breathtaking place for photos and walking. Trails near the glacier ranged from a quarter mile in length to 3.5 miles and included both easy paved walkways and more challenging loops.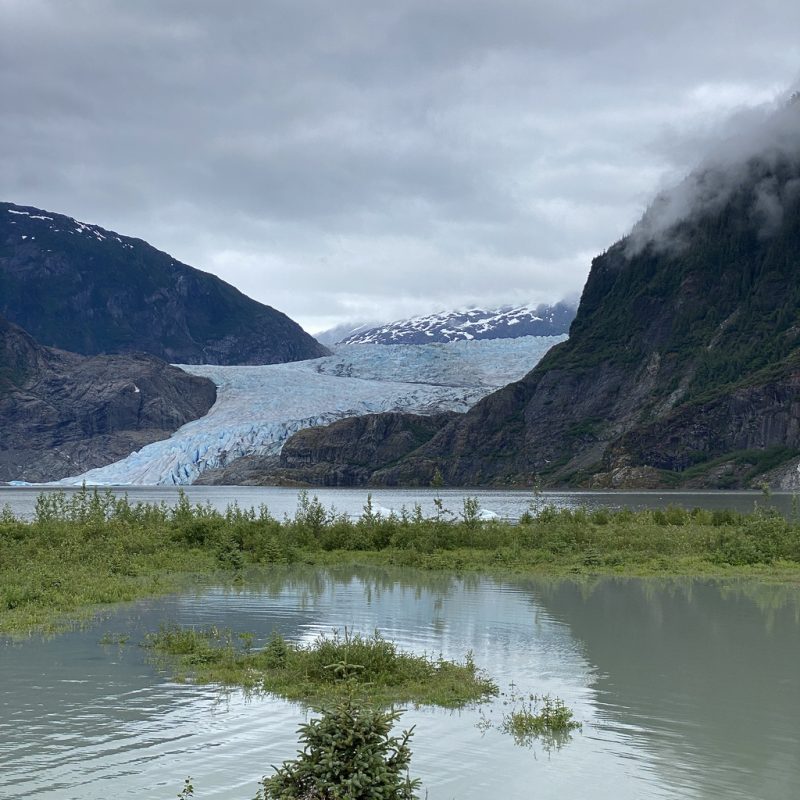 2) The Verandah On Our Disney Cruise Stateroom
Many veteran cruisers told me a verandah was a "must-do". I did take that advice and was very glad to have a verandah for reading, enjoying some wine, and of course for viewing those glaciers.
While I loved my verandah and spent many hours there, I feel like it should be said that the Wonder had plenty of top-notch seating all over the ship and no one was deprived of great views during the voyage.
3) The Wildlife in Alaska
Our travel group encountered seals, bald eagles, and whales (which are very difficult to photograph well), one high-climbing porcupine, and a whole camp of Alaskan musher dogs. We even got to hold some 5-week-old pups. We were on the lookout for orcas and bears, but never had a sighting. Had we arrived a week or so later, we were told that we would have seen the salmon spawning.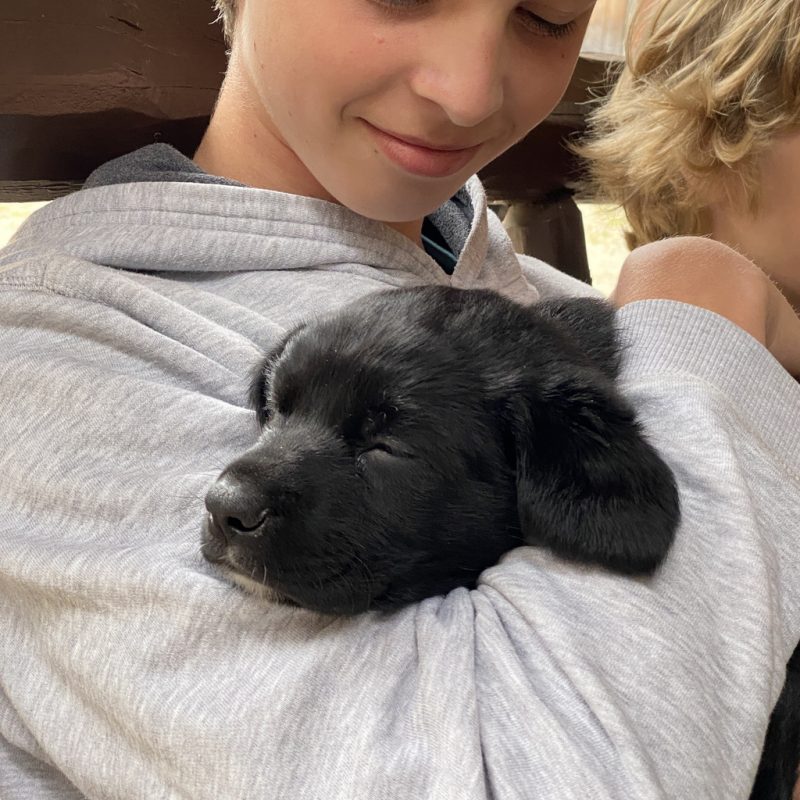 4) The Service on Disney Cruise Line
The Wonder had an endless string of attentive, graceful, and competent cast members. I saw so many cast members going that extra mile – doing magic tricks so parents could have a few more minutes to finish up their coffee, moving a couple to another stateroom due to issues with seasickness (the cast member said moving midship should help lessen the problem), and making sure a copy of Thor: Love and Thunder was onboard for an early-bird showing.
5) The Atmosphere in Alaska and on Disney Cruise Line
The luxurious atmosphere of the Wonder was somewhat expected, but the literal atmosphere of Alaska was unanticipated. The air feels so clean. Whether I was on deck or in the woods, it was delightful to just breath in the air.
If you live in a place that swelters in the summer, Alaska is perfect for taking a break from the heat. By my count, four and half days during the trip (July 4-12) were partially sunny with mild temperatures.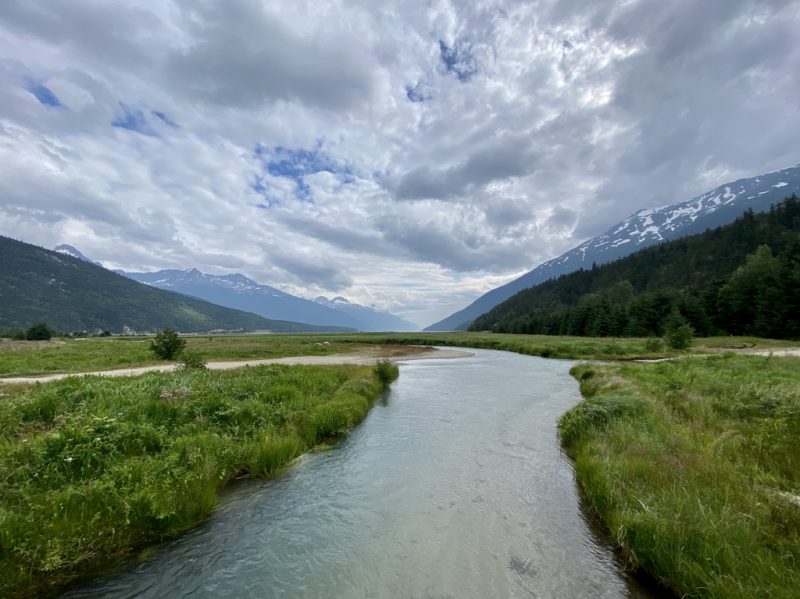 6) The Movies On Disney Cruise Line
Catching a movie at the Buena Vista Theater was my favorite Day at Sea activity. Since seeing movies at the theater hasn't been that easy these past two years, it felt awesome to watch a flick with an audience bigger than four people!
Movies were on the top of my kiddos' favorite things to do as well. However, they preferred watching from their bunkbeds. The stateroom TV was set up with Disney+ and I believe they watched every Star Wars film on it.
You can also catch movies on the FunnelVision on the pool deck!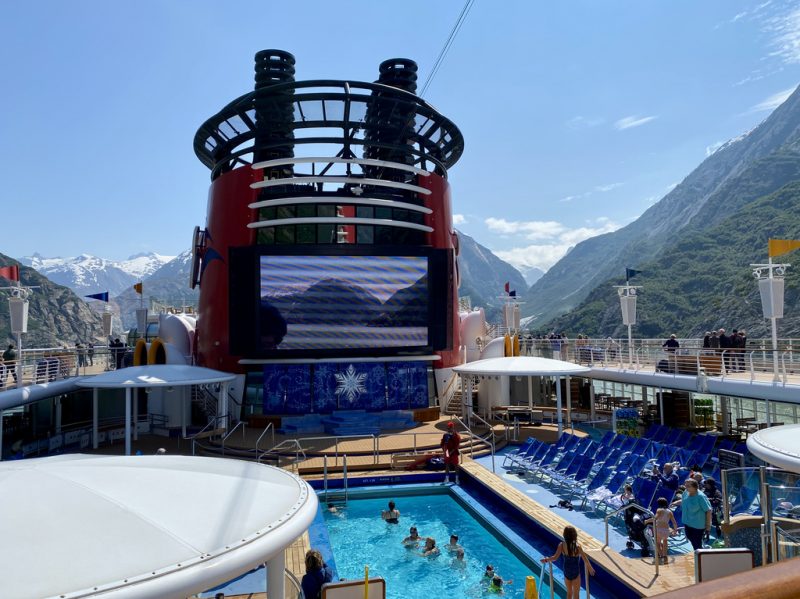 7) The Artwork On Disney Cruise Line
Like all the Disney ships, the Wonder is full of Disney artwork. Our stateroom had the most dapper vacation photo of Walt and Lilly. Vintage Disney sketches decorated the stairwells. The Little Mermaid themed mural in Triton's restaurant had a beauty similar to the mural in Cinderella Castle. And I never forgot to look up! The red glass chandelier in the atrium, the decorative ceilings, and even the stars to Neverland painted above the kids' beds were all details not to be missed.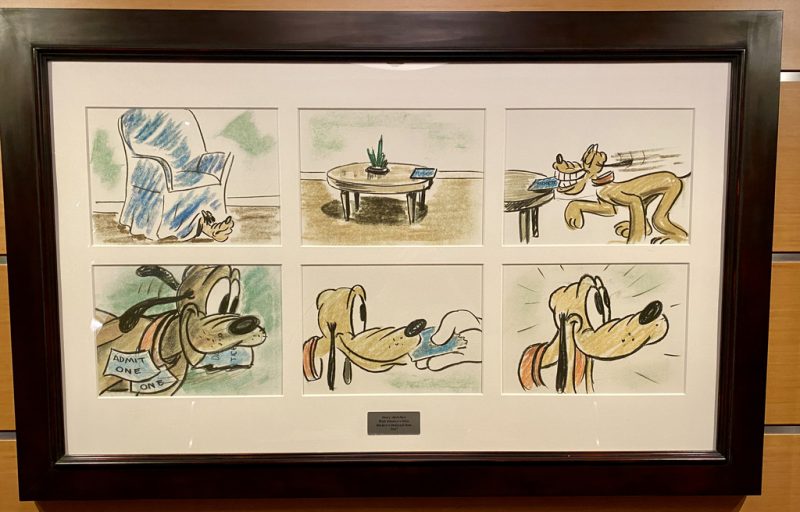 8) The Spa On Disney Cruise Line
If you are a vacationer that loves a good massage, the options offered at Senses were top-notch. I signed up for a Stone Therapy Massage and a Bamboo Massage, and both were incredible.
If you need a manicure or pedicure, the room is all windows, so you won't miss a minute of the view. The rainforest room was okay, but I honestly preferred using the sauna in the locker room shared by the spa and workout room. In fact, the locker room was rarely occupied, which I could not understand because it had two giant showers!
9) The Beignets
The food was great on the Wonder and certainly plentiful. I had several outstanding meals, but the one item that topped everything for me was the beignets at Tiana's Place. I loved them so much our server gave me a second plate to take back to my stateroom for later.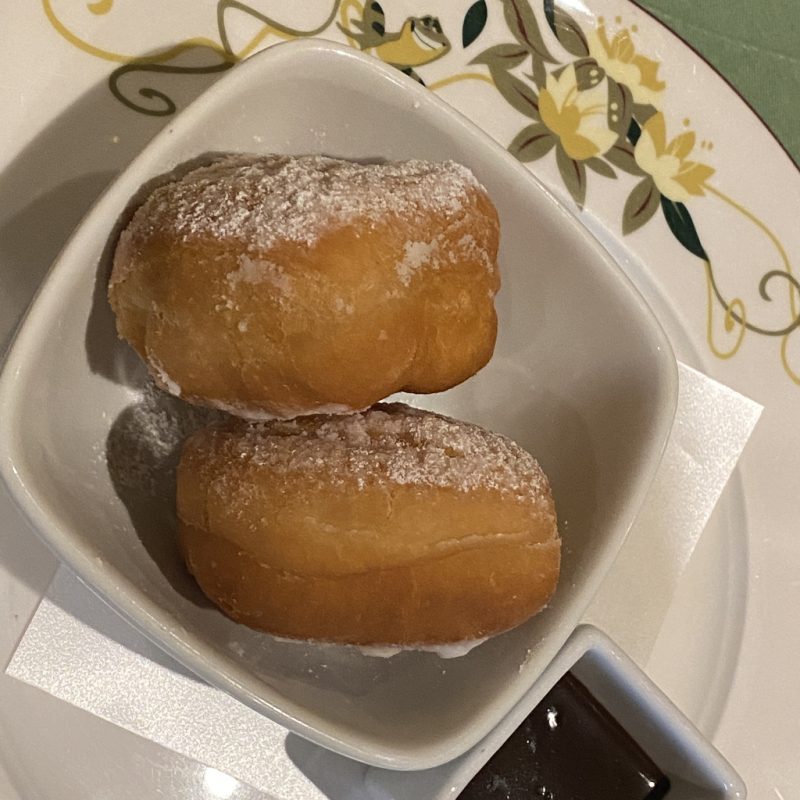 10) The Fireworks on Disney Cruise Line
Alaskan cruises don't have fireworks, right? That's what I was told.
But, as we left Ketchikan, a family living along the shore set off a display of fireworks specifically for those aboard the Wonder to enjoy. After the grand finale, the port side of the ship erupted into cheers and cries of thank you. It was an unexpected bit of magic.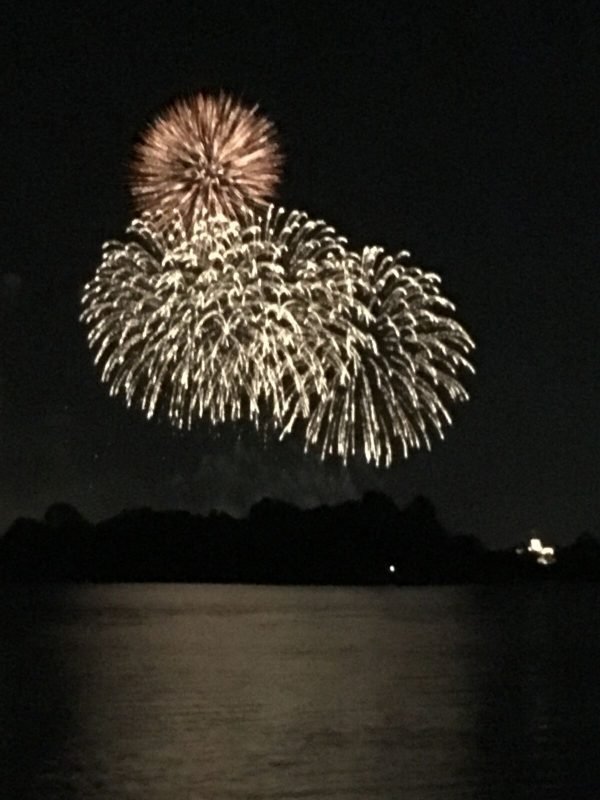 Just like I am a person who can return to the Magic Kingdom again and again, I now know that I am also someone who will need to see Alaska again. There was just too much left undone on this trip (like the Dawes Glacier) and an equal number of things I want to do again (like whale watching).
And those beignets!
P.S. Now that you've found us, be sure to subscribe to our newsletter below or in the link on the side! You can also check us out on YouTube, Facebook, and Instagram!
Bio: Kim is the creator of www.mainstreetpopin.com. As a Disney fan located 1,220 miles from Walt Disney World, her blog allows for a "Pop In" whenever the mood strikes—with photos, stories, quotes and answers about all things Disney.