Today I will begin a series on my favorite hidden gems in each park. I'm talking about things that you may not realize are there unless you do some serious exploration, things that are off the beaten path. We'll start today with Epcot.
There are so many hidden gems at Walt Disney World! I love finding them out either on my own through exploration or hearing about them from friends and family and making a note to find it on my next trip. I do prefer finding things on my own because it's just more fun that way, but I'll take any suggestions for ways find new things to do and see (and bonus points if it has air conditioning!
Odyssey Pavilion- The Epcot Experience
One of the newest hidden gems at Epcot is inside the Odyssey Pavilion. This building formerly housed a restaurant, and sometimes has festival booths at any of the many Epcot special festivals, but is generally not one of those places you will make a special trip for on your visit to Epcot.
The current attraction inside this Pavilion is "The Epcot Experience", where you'll find highlights of current and upcoming attractions at Epcot. There is a model of Epcot in the center of the room and they use projection mapping technology to highlight the model, as well as a 360 degree screen and music. You can stay for just a few minutes, or you can stay through the whole "show" which will last about 15 minutes or so. It's continuous so you can just pop in and see what is happening at any point throughout the day. My current favorite highlights include Journey of Water, Inspired by Moana, Remy's Ratatouille Adventure, and the PLAY! Pavilion.
Pro tip- the Odyssey Pavilion walkway provides a shortcut between Test Track and World Showcase, and is also the home of Epcot's First Aid and Baby Care Center.

China- Terracotta Warriors
Did you know that in the China Pavilion there is a model of the Terracotta Army made by Qin Shi Huang, the first Emperor of China? While the one in the actual China is quite large, the one in the China Pavilion is still quite impressive!  You have to head toward the back of the pavilion to find it, but you can hang out in there for as long as you want (another bonus air conditioning!).
Pro tip- If you'd like to learn more about the fascinating real Terracotta Army, you can watch this really cool PBS documentary before or after your trip.
Edit- I have been told that these are no longer at Epcot, which is a shame, it was so cool!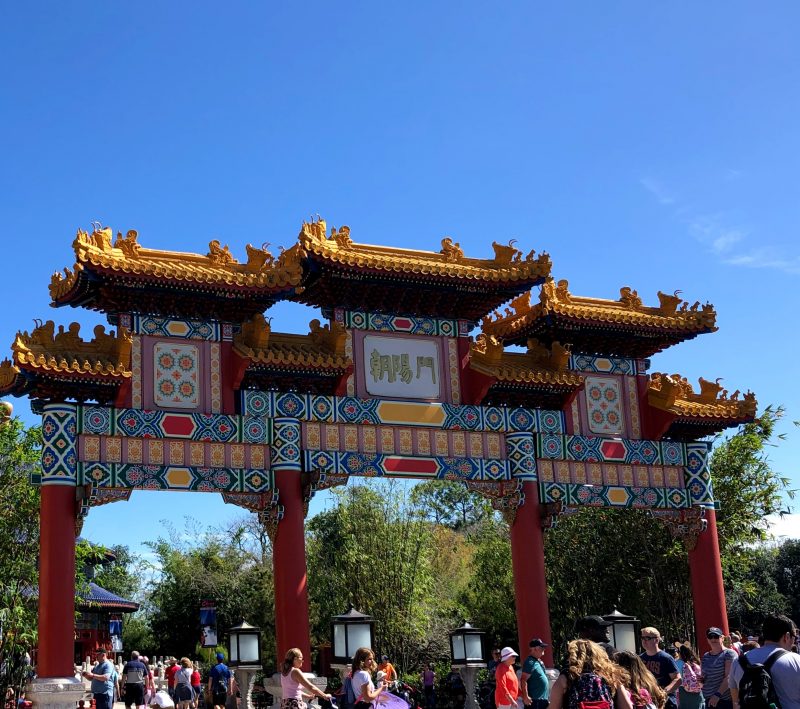 Morocco- History and Art Museum
The Morocco Pavilion not only has some really great restaurants, it also has some very neat shopping on both sides of the walkway. But if you head to the very back of the pavilion, past the restaurants, there is a lovely hidden gem- a museum featuring pottery, crafts, jewelry, music, and technology native to Morocco. It's one of the most fascinating places in all of Epcot, because you can see some really interesting history as well as take some time away from the crowds.
Japan- Gardens and Stream
Not only does the Japan Pavilion have 4 restaurants, an expansive shop, and a sake bar, it has some beautiful gardens and a small stream running down the hill. You can find this garden and stream just below the Katsura Grill on the left hand side of the pavilion. While this isn't necessarily hidden, it's definitely a gem! Most people walk right past this area to get up to the restaurant and they don't take the time to really enjoy the scenery and the serenity (and koi fish!) right in the middle of this very busy pavilion.


Gardens in UK
The gardens behind all of the shops in the UK pavilion are such a neat little place to take a relaxation break (assuming there is no show at that time). Behind the tea shop you'll find my last hidden gem- a tiny little hedge maze and some seating areas. This is a nice place to go (and possibly even meet some characters) while stepping away from it all. A lot of people believe that this area is closed if there isn't a show, but that is not true! Just head back behind the tea shop and voila- nice quiet spot to hang out!
Conclusion
There are so many hidden gems at Walt Disney World, and these are my favorite ones at Epcot! In my next post I'll discuss my favorite gems in the Magic Kingdom. If you have any favorite hidden gems let me know in the comments.
P.S. Now that you've found us, be sure to subscribe to our newsletter below or in the link on the side! You can also check us out on YouTube, Facebook, and Instagram!