While we think Disney Cruise Line is the perfect family vacation, even we have to admit that Disney Cruise Line is not perfect! Here are five things we think Disney Cruise Line could improve!
If you're reading this you know that we here at Disney Park Princess absolutely love Disney Cruise Line. It's one of our favorite ways to travel and if we could cruise all the time, we would! But it's not perfect.
Cruising itself can have some issues– rough seas, illness, missing ports of call, but in general Disney Cruise Line handles all of these things with perfect aplomb. There are many things that set Disney Cruise Line apart from other cruise lines that I absolutely love!. But there are just a few things that Disney doesn't do as well as other cruise lines. Read on to see how I think Disney Cruise Line can improve!
Internet on Disney Cruise Line
The number one thing Disney Cruise Line is lacking is Internet. I'm not saying they don't have Internet on their ships- they do! But it's not very fast, and they do not sell an all-cruise Internet package like most cruise lines do. Royal Caribbean Cruise Lines has Voom Internet- you can pay per day for unlimited streaming. And you can stream videos from Voom! Norwegian Cruise Line also has a per-sailing package for internet. But with DCL- you can only get per MB packages. And if you do buy the 1000 MB package and don't use it, you're out- no money will be returned.
One thing Disney Cruise Line does offer is 50 MB free if you claim it on the first day of your cruise- it must be claimed on the first day. 50 MB doesn't last very long, but it's free so why not take it? You can also use the Navigator app including chat for free- just make sure to log out of your paid Internet session first! Login.com and Logout.com will be your best friends when using DCL Internet to avoid overages.
Wave Phones on Disney Cruise Line
The Wave Phones in the staterooms are another thing Disney Cruise Line could improve upon. These were intended to be basically small phones that guests could use to keep in touch on board. This goes along with the Internet issues- the Wave Phones in the room are one of the newest additions to the staterooms- and they were outdated when they were introduced!
The good thing about them is that you can carry them around with you and call or text other members of your room or party. But the texting is the very old T9 texting format! So your best bet in this case is to use the Navigator app. (We suspect the Wave Phones will go the way of the Dodo very soon.)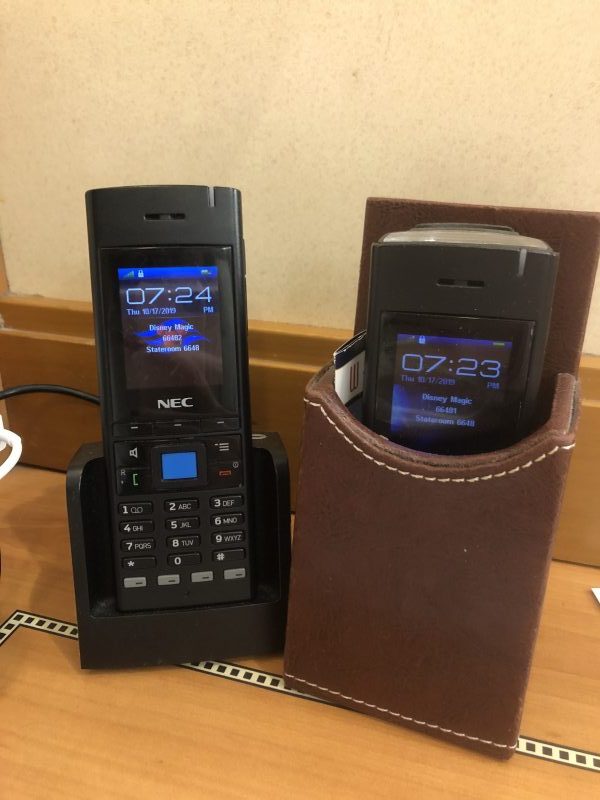 Castaway Club on Disney Cruise Line
Disney Cruise Line's Castaway Club needs an overhaul! The Castaway Club is Disney Cruise Line's repeat cruiser program. The current reward structure caps out at 10 cruises- once you sail 10 cruises with Disney you can't get any additional perks.
The perks with the Platinum Castaway Club membership are pretty cool- you get first dibs at Cabanas, Excursions, Specialty Dining reservations (including a free meal at Palo), and you also get early booking benefits. But what about people who have been on 15 cruises? 20? Royal Caribbean's Crown and Anchor Society rewards its members after just a few nights- and with many levels of loyalty they can give out many different levels of perks.
UPDATE! Disney Cruise Line has announced a new tier for Castaway Club members. Pearl is for cruisers who have sailed with Disney Cruise Line 25 or more times. Perks have yet to be announced but we are thrilled they are recognizing their most loyal cruisers!
A few more perks would not hurt the Castaway Club program. Onboard credit, reduced rate upgrades, priority access on stateroom upgrades, and exclusive onboard events for those who have sailed more than 10-15 times would be a fantastic change to the Castaway Club program. I'm hoping Disney Cruise Line does this overhaul before the new ships come out in a couple of years.
Animator's Palate on Disney Cruise Line Dream Class Ships
Animator's Palate is such a fun restaurant, but it could certainly be improved! On the Magic and Wonder-  I wouldn't really change anything! The two classic ships did it right! But on the Dream and Fantasy, I feel like they got lazy. This restaurant is much too much like Turtle Talk with Crush at Epcot. While I do love Turtle Talk, it pales in comparison to the classic ships' version of Animator's Palate!
However if you're lucky enough to be on a sailing where you get to dine at Animator's Palate twice, don't miss the second round! All of the ships have the best show the second time around, where you get to be the animator! It's a really great version of the show at Animator's Palate, and I prefer it to the first version on the Dream Class ships.
And do yourself a favor- eat ALL of the black truffle pasta appetizer! Except save some for me!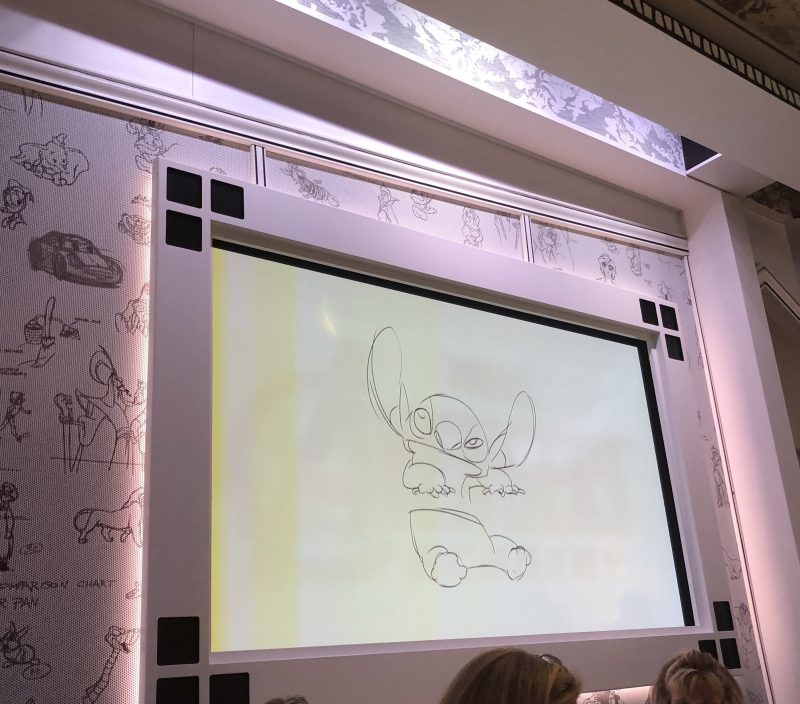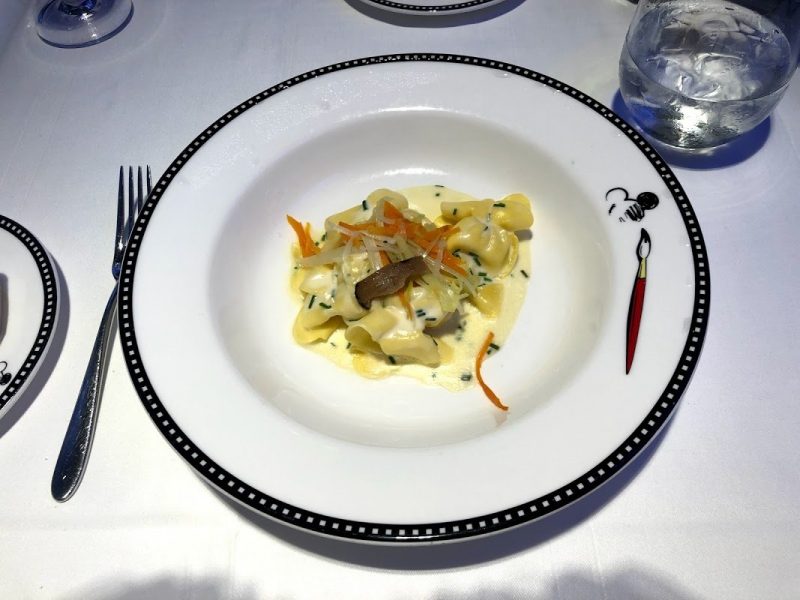 Suites on Disney Cruise Line
Let's talk suites. I would stay in a suite on every cruise if I could, but Disney Cruise Line makes that hard. They have only two "true" suites on each ship, and they're so expensive it's prohibitive to stay in them. Why can't Disney Cruise Lines be like other lines that have a variety of suites? Junior Suites, Loft Suites, 1 Bedroom Suites – I'd love a variety of options.
I'd also like suites with a butler that will bring me fancy coffee on my balcony in the mornings. And maybe a robe and slippers to relax in. That's not too much to ask, is it? If DCL improved their suite product to compete with other lines I'd be so happy! I miss not being in a suite when I'm on one of their ships.
That's my list! Do you agree? Is there anything you'd like to see DCL improve upon? Let me know in the comments!