We all know that Disney Cruise Line is perfect for families! Disney is known for its family friendly parks, hotels, and cruises. But Disney Cruise Line is also perfect for adults, with or without kids tagging along! There are quite a few areas on the ships and Castaway Cay that are solely for adults- no one under 18 is allowed here. Whether you're traveling with your family or on an adults only getaway, these spots are great places to relax while you're on a Disney Cruise!
Senses Spa & Salon
My favorite getaway is the Senses Spa on the ship. One of the best ways to pamper yourself is a spa treatment on Disney Cruise Line! The Senses Spa and Salon is on every Disney cruise ship, located in the forward on deck 11 (and also on deck 12 on the Fantasy and Dream). There are a wide variety of treatment options at the Senses Spa so you can pamper yourself in many ways, including hair and nails, several massage treatment options, even facials and other skin treatments. If you don't see what you want online before your cruise, ask on board on embarkation day! I always head to the spa soon after I board the ship. There is also a raffle just after the lifeboat drill so it's possible to win spa credit toward your treatments!
Rainforest Room
The pièce de résistance of the Senses Spa is the Rainforest Room! This area has a few different sauna/steam room options as well as heated-tile lounge chairs and showers with different temperatures and water settings. While not included in your treatment, the price is reasonable for a day or the whole cruise. The cost is about $16 per person per day, or it's less if you get a pass for the entire cruise. They can sell out so it's good to get one on the first day or two of the cruise.
Tip- This is co-ed so bathing suits are required.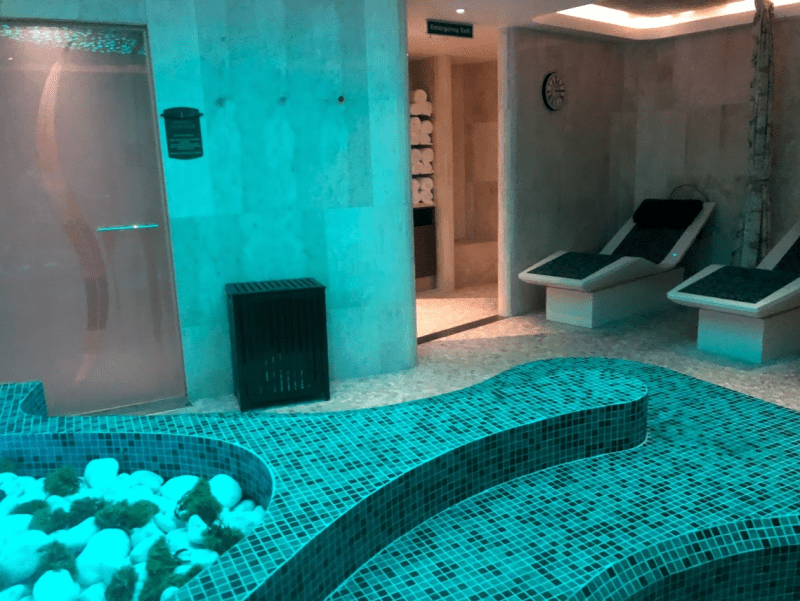 Quiet Cove/Satellite Falls
If you're looking for a quieter area to sunbathe, read, or soak, try the adult only pool areas! The Signals Bar is there as well for all of your drinking needs. But if you're looking for a fancy coffee or warm beverage, try the Cove Cafe, located behind Signals. The Cove Cafe has both indoor and outdoor seating, so no matter the weather you can get a great premium drink and enjoy some peace and quiet.
Adult Dining – Palo and Remy
Recently Sara shared Why Palo Is The Best Restaurant Onboard Disney Cruise Line. And she is completely right! Full disclosure- I have never dined at Remy, but I'm sure it's on par with Palo! Besides the always amazing atmosphere, food, and service, these premium dining locations are adults-only, so there will be no children around to make noise or ask you for things or any of the other things kids are likely to do at dinner!
On most sea days, Palo has brunch available. I'm excited to try brunch for the first time in a few weeks!
Palo reservations can be booked online in advance on the Disney Cruise website and opens for everyone 75 days prior to your sailing. (Previous Disney Cruise Line guests can book between 90 – 120 days in advance, depending on how may times they have sailed.) Brunch goes fast, so be sure to secure that first if you're interested.
Nightlife Onboard Disney Cruise Line
Each ship has a bar/ nightclub area that is adults only in the evenings. These venues might be open for kids during the day, but at night it's adults only! There are quite a few different types of bars- sports bar, Champagne bar (my favorite), lounges, etc. Entertainment varies on each voyage, but could be comedy, magic (or both), or different games such as DCL's version of the Newlywed Game. The best part about this area is that you can stay for as little or as long as you want. It's not a theater show where it's difficult to move from your seat, but it's a true casual atmosphere that you can enjoy for 10 minutes or the entire evening! And it's open late, usually until 2 am so you don't need to rush off to bed.
Serenity Bay at Castaway Cay
Castaway Cay is Disney's private island in the Bahamas. Most Caribbean/ Bahamas cruises make at least one stop there, and it's a true pleasure to visit! At the far end of the island lies Serenity Bay, the adults only beach. It seems like Serenity Bay is one of the best kept secrets on Disney Cruise Line. It's almost never crowded and it's almost always quiet. There is also a restaurant down by the beach so you won't have to leave your spot to grab a bite to eat! Bikes and floats can also be rented or returned here so you don't even have to go up to the family beach for such things. Almost everything you'll need on the island can be found close by. You can visit Serenity Bay by walking, biking, or taking the tram! It's easy to get there so why not drop the kids off at Scuttle's Cove and relax for a bit?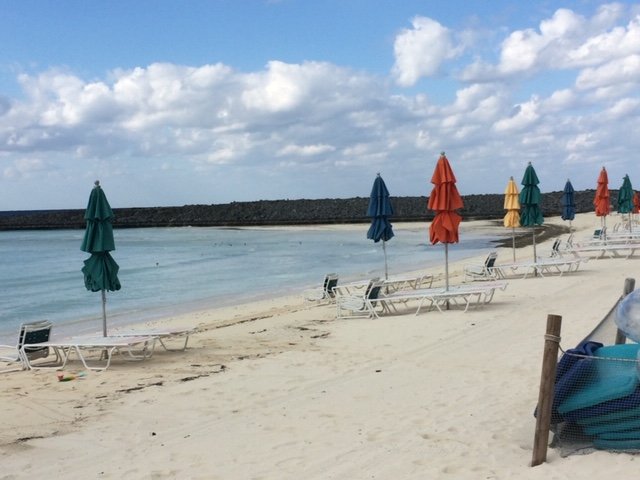 Do you have a favorite adult area of Disney Cruise Line? What is your favorite thing to do with no kids in tow?
P.S. Now that you've found us, be sure to subscribe to our newsletter by taking our quiz or in the link on the side! You can also check us out on YouTube, Facebook, and Instagram!