When you sail on Disney Cruise Line, there are so many things to do it's hard to narrow down a daily schedule. But there are at least 6 things I make sure to do on each and every cruise. Read on to find out my must dos every time I sail on Disney Cruise Line!
I love cruising! I have said many many times that I would live on a cruise ship if possible. I have been fortunate to be able to cruise a couple of times per year on several different cruise lines (2020 excluded), and I always come back to Disney Cruise Line. It's one of my favorite cruise lines bar none. As many times as I have cruised, there are still many things I haven't done. But, there are several things I make sure to do on every single trip!
Palo Restaurant on Disney Cruise Line
We at Disney Park Princess make it very well known that we absolutely LOVE Palo on Disney Cruise Line! It's the best restaurant onboard in our opinion! Palo is a premium dining option on all of Disney Cruise Line ships featuring Italian cuisine. It serves dinner every night of your cruise as well as brunch on days at sea. Reservations are required and can be made online in advance of your cruise, or on the ship. I definitely advise you book your Palo reservations as soon as you can and don't wait until you get onboard. This is ESPECIALLY true for brunch!
I have been fortunate enough to eat at Palo on every single Disney Cruise I have been on. And I don't plan on stopping! But don't make me choose between brunch and dinner- they have unique offerings at each meal. The chicken parmesan at brunch is absolutely amazing, and the chocolate soufflé at dinner is out of this world! It's too bad I can't have one meal that serves both, so since I can't I will just continue to go to Palo as many times as possible.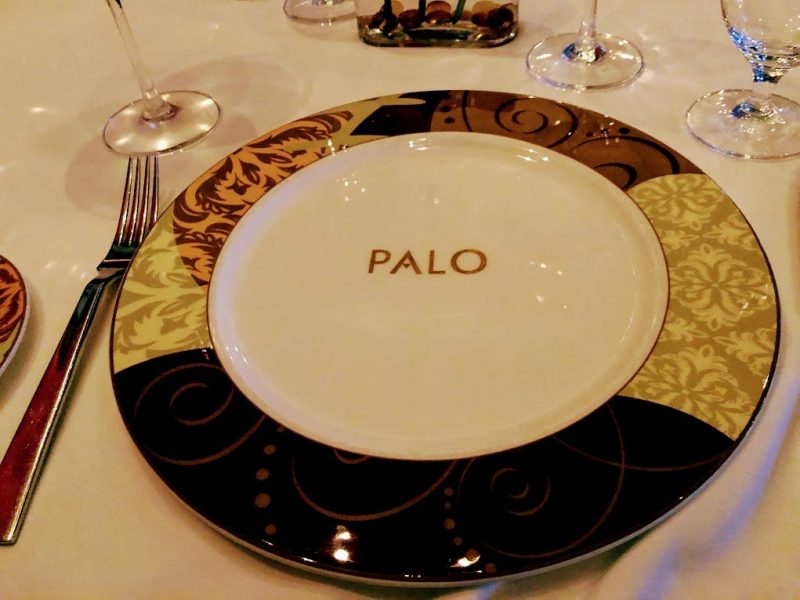 The Spa On Disney Cruise Line
No cruise is complete without at least one trip to the Senses Spa and Salon! From massages to facials to acupuncture they have just about everything! If you're not sure what treatment you'd like then feel free to ask at the front desk, or even better go for a spa tour and they'll give a quick overview of most treatment options.
My general plan of attack is to book a "common" treatment such as a Swedish or hot stone massage online before I even board the ship, but if I want to have another treatment I always ask for recommendations. One of the strangest yet most satisfying treatments I ever had was the Ionithermie Cellulite Reduction Treatment- they put a green clay mask paste on me and then put electrodes in the mask which then dried while the electrodes pulsed. (I'm not sure if this worked to reduce cellulite but it was a lot of fun to do!)
I admit I've never had a hair treatment while onboard, I have had different nail treatments. One of the best times to have a nail treatment is during sail away from any port- you have a great view from the very front of the ship as you leave port! They offer a lot of different nail services and it's a nice relaxing way to enjoy yourself!
Champagne at Sail Away
Every cruise line has some type of sail away deck party- and Disney Cruise Line is no exception! An entire dance party happens on the pool deck with the Cruise Staff team and lots of Disney Characters! But because it's crowded and usually hot, I have an alternative! One of my must dos at sail away is to grab some champagne and watch sail away from somewhere else on the ship. It can be on the verandah in my stateroom or from anywhere else outside, but it must be champagne and I must have it!
Dominate at Disney Trivia
I don't just play Disney trivia, I dominate Disney trivia! Trivia is one of the best things to do on land or at sea, and it just do happens that I am the type of person to be pretty good at it. The amount of completely useless information in my brain is endless. Well it's not completely useless because it helps me dominate at trivia and get a little medal or keychain or pin for my junk drawers at home!
Disney Cruise Line hosts different types of trivia each day- you can check the Navigator for schedules. They have Disney music trivia, movies, Pixar-themed trivia, etc. There are even non-Disney trivia options like TV theme song trivia. Some are family friendly, and some are adult only, but they are all fun! One of my must dos is to win at least once per sailing. I'm not mean about it, I'll even help out the teams nearby, but this is all about bragging rights and I want them! (And when Sara and I are together, we're definitely unstoppable!)
Meet Mickey Mouse
Mickey Mouse is my favorite Disney character, and usually on the cruise ships he's dressed up as a Captain or a pirate, or in beachwear if you're on Castaway Cay. If you're lucky enough to be on a Halloween or Holiday cruise, you can even meet him in festive garb! I'm not picky- I'll meet him at least once per cruise. Some planning is required, like arriving at the atrium at the right time, but he's generally quite easy to find and meet.
Meet the Captain
Another person I need to meet each cruise is the Captain of the ship! This is pretty simple to do, usually on a few evenings per cruise the Captain and Officers are in the Atrium meeting guests. It's easy to spot the Captain, he is dressed the fanciest! (Hopefully one day soon Disney Cruise Line will hire a female captain such as on Celebrity Cruises.) There is also usually a time in one of the shops where he'll sign Disney Cruise Line pictures and models, so he's pretty easy to find there. I don't need anything fancy, just a quick hello and I'm good!
What are your must dos on each Disney Cruise? Let me know in the comments!
P.S. Now that you've found us, be sure to subscribe to our newsletter below or in the link on the side! You can also check us out on YouTube, Facebook, and Instagram!