I am an over-packer. There, I said it. I spend a lot of time thinking about my packing lists and what I should bring on a cruise. Some things are more obvious such as a swimsuit and sunscreen, and plenty of shoes, clothes, and various electronic charging accessories.
But there's a lot to be said on what NOT to bring with you on a Disney Cruise! Disney Cruise Line has a comprehensive list on their website. Beyond the actual prohibited items there are some things that are just not practical or necessary. Packing space is precious so you don't want to waste it on what you don't need!
If you do bring some of these items in your checked luggage, DCL security will remove them and give you a receipt to pick up the item when you get back into your debarkation port. I made the mistake of bringing regular-sized scissors with me one time and received a note to pick them up later. I ended up not picking them up- I decided that it wasn't worth waiting in the line for $3 scissors!
Every electronic device you own
My family is 100% guilty of this! On our last cruise we not only brought two laptops, a tablet, an e-reader and two phones, we also brought a portable video game console (and cords to hook it up to the stateroom television!). It was definitely overkill, but we did use all of these items. On the other hand, if we didn't have the game console or the tablet we could have read or played one of the several board games we brought along (I already admitted I have an overpacking problem!).
Clothes iron or steamer (prohibited)
Irons and steamers are prohibited by Disney Cruise Line for safety reasons- they are a fire hazard if left on and unattended. If you do need to iron your nice clothes (or your socks, no judgement!) there are public irons in the laundry rooms about the ship.
In case you don't want to iron or you despise ironing as much as I do, you can send your wrinkled clothing to be professionally pressed by DCL laundry services for a fee. Wrinkle release spray is also something to consider bringing, just make sure to put it in a small travel bottle since space is precious!
Pocket knife or multi-tool (prohibited)
DCL states that you cannot bring "knives regardless of blade length" onboard their ships, so that does include even the smallest of knives or multi-tools. It's best to leave anything with a blade at home or in your car to avoid having it confiscated at security. If you do feel the need to carry a multi-tool with you, you can get ones without knives, but you'll have to make sure it is TSA approved or you might spend time arguing with the security team.
Pool accessories (prohibited)
Personal floats are not allowed on DCL, and neither are other items such as boogie boards, pool noodles, surfboards, or wave boards. You can rent floats or tubes when you're on Castaway Cay, but in the pools there is just no room for them!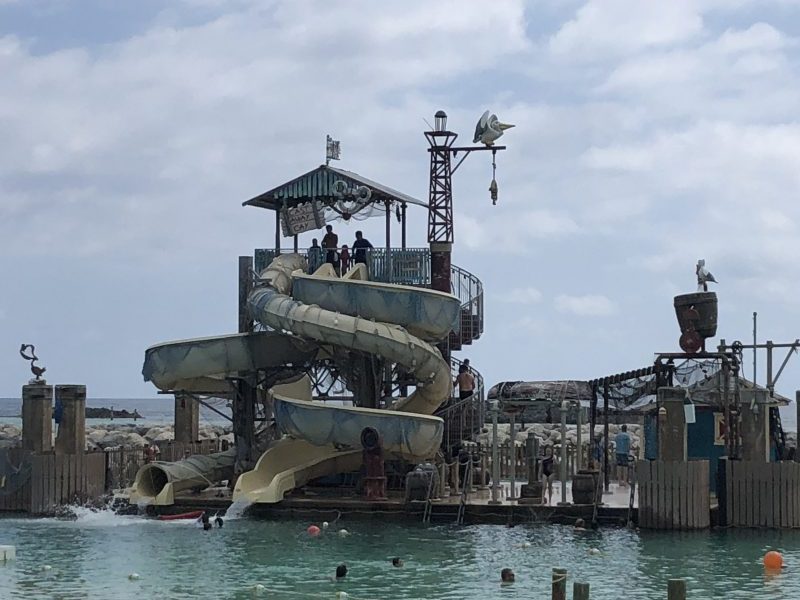 Over-the-door hangers (prohibited)
Many people like to decorate their stateroom doors on cruises. It's fun! But you're not allowed to hang anything over a door, including a hanger for shoes. When you decorate your stateroom door it's best to use magnets- the doors are magnetic. Tape is also not allowed because it could damage the paint on the door. People get pretty into door decor, sometimes even covering the entire door, which is completely fine as long as there is not a hanger that can go over the top of the door.
Beach Towels
Lastly, I'll mention beach towels. You may be thinking "But I'm going to the beach, so clearly I need a towel!" And you do need a towel- but DCL will provide towels on the pool decks and at Castaway Cay, so save that precious packing space and don't bring them!
If you're going on a Port Adventure that is water based outside of Castaway Cay, you can still bring one of the Disney towels they will provide. DCL does sell beach towels on the ship, and I even have a couple of old Castaway Club towels that I received as a stateroom gift, so you can certainly get towel souvenirs, but you don't need to bring any from home.
Pro tip- when you get off the ship at Castaway Cay, go ahead and grab two towels per person. If one towel gets very sandy or very wet it's not easy to find extra towels without going all the way back to where the ship is docked! There are a lot of bins for used towels on the island so it's easy to drop one or two off before moving to your next spot.
What do you think? Did I miss something superfluous or banned from cruising? Let me know!