Some of the most unique Disney World water activities aren't pools, rides or water parks. With acres of sheltered waterways, placid lakes, and a huge aquarium complex, it's easy to get on and in the water. Whether it's floating cars or scuba diving, you can do it at Disney World.
How do you build a city-sized resort in swampy Central Florida? Embrace the water!
It's almost impossible to avoid a waterway at Walt Disney World. Lakes and canals frame almost every theme park, and many resort hotels sit directly on the waterfront. With over a half-dozen marinas on the property, lake and river activities are easy to access for any adventurous visitor.
6 Unique Walt Disney World Water Activities
1) Rent a Pontoon Boat
Get out on the water and explore Bay Lake, Crescent Lake, or Seven Seas Lagoon on your own private pontoon boat. Hourly rentals are available at the marinas at the Contemporary, Grand Floridian, and Yacht & Beach Club resorts.
The boats are easy to drive and seat up to 10 guests with you as captain. Seek out hidden coves, visit other lakeside resorts, or just enjoy a magnificent drift on Seven Seas Lagoon in front of Magic Kingdom. There's nothing quite as relaxing as being on the water and this is the perfect antidote to theme park excitement.
Advance reservations are not required. More info on Disney's website.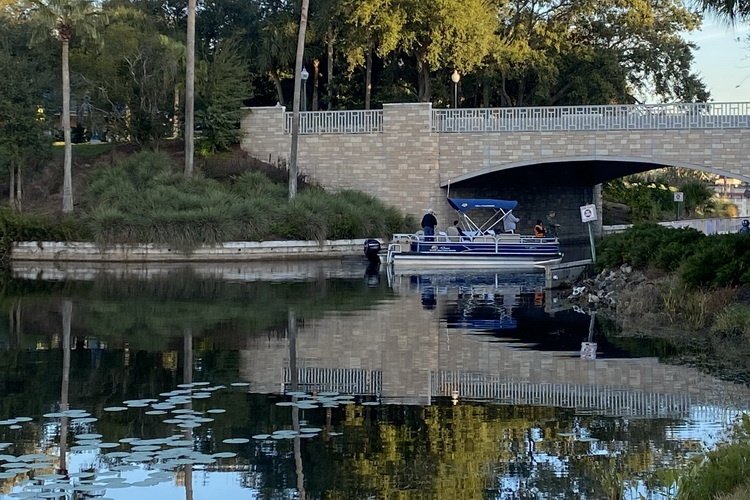 2) Catch-and-Release Bass Fishing at Walt Disney World
Whether you're a hard-core fisherman or it's your first catch, consider adding a guided bass fishing excursion to your Disney World vacation. Bass fishing is available from nine different Disney marinas including Fort Wilderness, Caribbean Beach, Old Key West, and Yacht Club.
You'll spend two or four hours on your own private fishing tour of Disney World's extensive waterways. Rod and reel, tackle, and bait are all provided for up to five guests per boat. Between your expert guide and the well-stocked lakes, everyone on board is sure to have a fun fishing experience.
Advance reservations are highly recommended. More info on Disney's website.
3) Take A Walt Disney World Fireworks Cruise
Reserve the best seat in the house for the Epcot or Magic Kingdom nighttime spectacular when you charter your own private fireworks cruise. Bring up to nine other friends for your evening adventure on a 25-foot boat, which comes complete with captain, snacks, soft drinks, banners, and balloons.
For the Epcot fireworks you'll set sail from the Yacht & Beach Club marina. Magic Kingdom fireworks cruises depart from the Contemporary, Fort Wilderness, Polynesian, and Grand Floridian docks. This is an unforgettable way to celebrate a special occasion or top off a very magical Disney day.
Advance reservations are required. More info on Disney's website.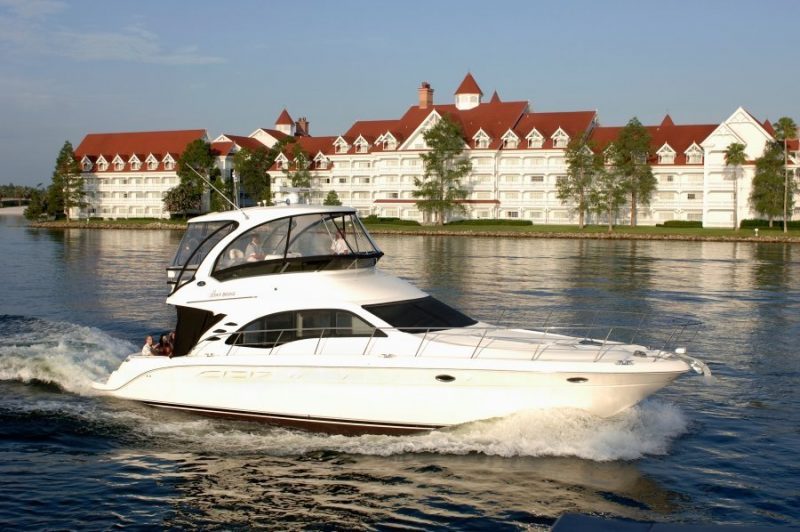 Photo Courtesy of Disney
4) Skipper a Kayak or Canoe at Fort Wilderness
You won't believe Magic Kingdom's only a few miles away from the shaded canals around the Fort Wilderness campground, where you can rent a kayak or canoe and enjoy a slow paddle around some of Disney World's most scenic waterways.
Bring a friend or go solo for a refreshing workout. Advance reservations are not required. More info on Disney's website.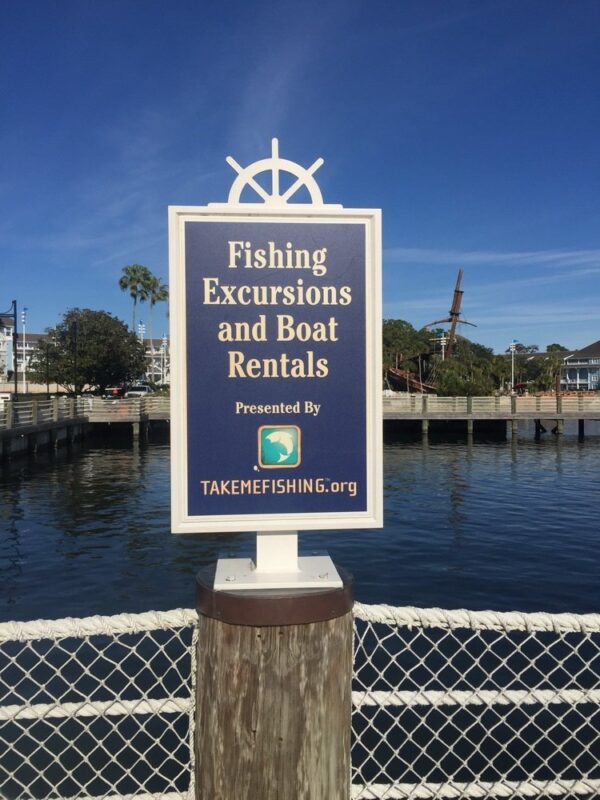 5) Dive or Snorkel In The Living Seas at Epcot
Literally dive in with the aquarium creatures on the Epcot Seas Adventures DiveQuest and Aqua tours. Featuring one of the largest aquarium tanks in North America, Epcot's coral reef is home to a menagerie of tropical fish, rays, sharks, and turtles. Both the DiveQuest and Aqua tour offer guests the chance to get right into the water with Mickey's fishy friends.
The DiveQuest tour includes a 40 minute scuba dive in Epcot's coral reef tank. Participants must be certified divers, and all equipment is provided.
For non-divers, the Aqua Tour includes a 30 minute snorkel in the coral reef tank. Disney provides the snorkeling gear and instruction.
Both tours also include a comprehensive backstage tour of the aquarium infrastructure. You'll meet some of the cast members who care for the animals, learn about how the massive aquarium works, and get to see the tanks from a unique top-down perspective.
Swimming inside the aquarium tank is peaceful and surreal. The fish are very comfortable with people and even the sharks are docile and well-fed. Watching other guests through the windows adds to the wonder of the moment. Since the tank is just 25 feet deep, even snorkeling on the surface provides fantastic views and lots of close-up animal encounters.
Advance reservations are required. You don't need an Epcot park ticket to do the DiveQuest or Aqua tour.
More info on the DiveQuest tour on Disney's website.
More info on the Aqua tour on Disney's website.
Note that these tours are currently suspended.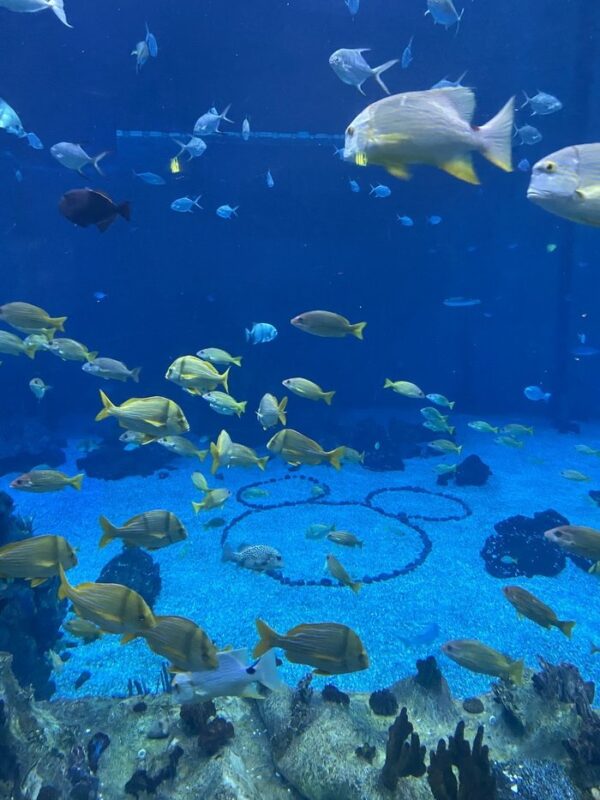 6) Go For An Amphicar Ride at Disney Springs
At Disney Springs you can experience one of the most unusual watercraft voyages anywhere. Take a ride in a vintage Amphicar on Lake Buena Vista.
An Amphicar is exactly the crazy thing it sounds like: a car that's also a boat. These quirky vintage vehicles have been lovingly restored and deployed for your enjoyment on the waters of Disney Springs. You will drive from land into the lake on your 20-minute captained ride around Lake Buena Vista, the only place in the world with a fleet of operating Amphicars.
Amphicar rides are coordinated through the neighboring Boathouse restaurant on a first-come first-serve basis. More info on the Boathouse website.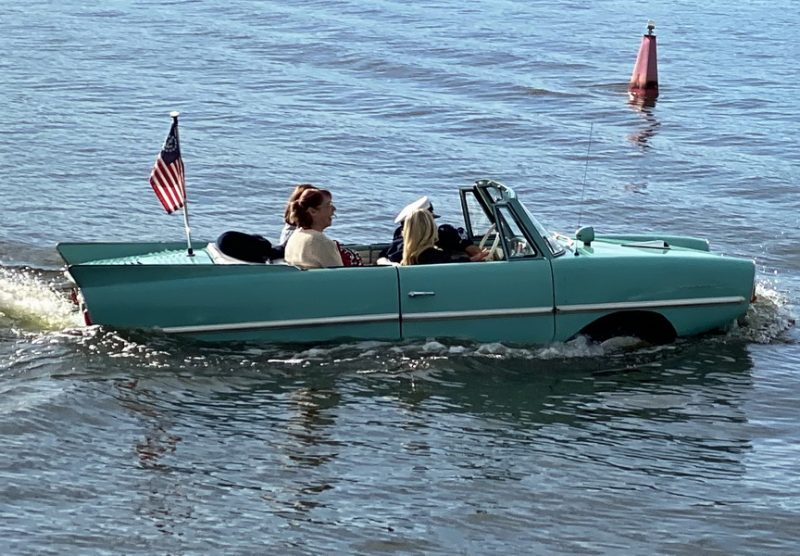 Walt Disney World Water Activities Are Perfect for Non-Park Days or Non-Park People
Getting into nature is a nourishing way to escape the excitement of a theme park vacation. Whether it's a short kayak excursion or a day of fishing, there are a lot of great alternatives to park touring at Disney World. Consider these options for your break day, or for that person in your group who wants some time away from Mickey.
Have you ever tried any of these unusual Disney World water activities? Let us know in the comments!
Author Bio:
Sue Winter, travel blogger and host of the Go Informed podcast, is on a mission to improve your vacation. When she's not snorkeling in the Epcot aquarium, Sue seeks out actual tropical seas and anything Harry Potter (especially butterbeer). Click here to get her guide to getting ready to walk at the Disney and Universal parks.
P.S. Now that you've found us, be sure to subscribe to our newsletter below or in the link on the side! You can also check us out on YouTube, Facebook, and Instagram!