It is no secret that the Disney Park Princesses are partial to Disney Cruise Line. But why are we so passionate about Disney Cruise Line? What really makes Disney Cruise Line better than other cruise lines?
I sailed on another cruise line last week with my family, and while we had a great time, it was impossible not to draw comparisons with Disney. Here are the top eight things that really sets Disney Cruise Line apart!
1) Disney Cruise Line Does Not Offer Dining and Beverage Packages
On my cruise last week, we were bombarded at every turn by crew members hawking the specialty dining and beverage packages. It was relentless! Especially frustrating considering, we had already purchased these items in advance of our cruise.
Unlike most other cruise lines, Disney Cruise Line does not offer an unlimited beverage or alcohol package. In fact, one thing that really sets Disney Cruise Line apart is that soda and soft drinks are included in your cruise fare! There are drink stations on the pool deck with soda, coffee, tea, etc. Soft drinks are also included at meal time!
Disney Cruise Line does offer some limited beer or wine packages that can be purchased onboard. But as opposed to other cruise lines, you almost have to hunt to find these options. They are usually located at a table in the lobby on Embarkation Day.
And of course, Disney Cruise Line does have adult-only specialty dining with Palo and Remy. But these restaurants have a set per person fee, there is no package.
2) No Casinos
Disney Cruise Line does not have casinos on any of their ships! (This is one reason why Disney Cruises are sometimes a bit more than their competitors.) Disney Cruise Line made the decision to forego the revenue from casinos in favor of expanded Kids Programming. Which says a lot about their priorities!
Which brings us to…
3) Youth Activities
The youth activities for kids, 'tweens, and teens onboard Disney Cruise Line is the best in the industry. Period. From the "it's a small world" nursery for the smallest cruisers, to the Oceaneer's Club/Lab for kids, and up to the Vibe Teen Club for teens, there is truly something for every age group!
Disney Cruise Line offers an incredible counselor to kid ratio and activities from day to night. And each ship has slightly different offerings, so no matter how many times you have cruised, kids will find something new to explore onboard!
4) Larger Staterooms
Disney Cruise Line has staterooms that are 25% larger than the cruise line industry standard. And they have more staterooms that sleep five, giving families more options to choose from when picking a stateroom!
5) Split Baths
I have never wished for a split bath more often than last week when sharing a teeny tiny cruise ship bathroom with my husband and hulking teenage son. I would have happily paid a king's ransom for the split bath on Disney Cruise Line!
One room has the commode and a sink. The other room has the shower and a second sink. Which means that TWO PEOPLE can be getting ready at the same time! Game. Changer.
6) Dining Rotation
On most cruise lines, there are one or two Main Dining rooms, and a few specialty restaurants. This means that if you want variety for your meals, you are forced to pay extra for the specialty restaurants!
Disney Cruise Line offers rotational dining. This means that you will dine in a different stateroom each night of your cruise. On longer cruises, you will repeat the dining rooms, but they show and the menu will change completely! So even if you decide to skip Palo and Remy entirely, you will still have plenty of variety in both your menu and your experience each night of your cruise. The one thing that stays the same? Your server team! They will be with you each night.
7) Entertainment
While I enjoyed the performers on my cruise last week, finding a story line for the original shows was… umm… challenging. With Disney Cruise Line, you have the magic of Disney storytelling. This is what Disney does best!! The performers are incredible and the sets and the costumes are equal to anything you would see in a Disney Broadway production.
But the entertainment doesn't just take place in the theater on Disney Cruise Line! Character Meet & Greets, game shows, movies, and more make up the entertainment offerings onboard the Disney Cruise Line. Even Bingo is WAY more fun than on other cruise lines!
8) Castaway Cay
I've already dedicated an entire post to my love of Castaway Cay. While other cruise lines do have private islands, in my opinion, none of them can compare to Castaway Cay!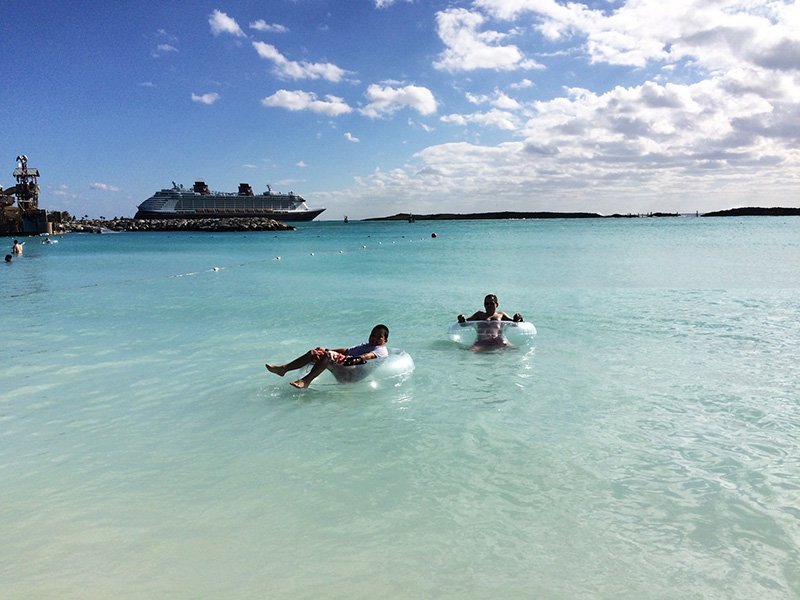 Will I still sail on other cruise lines? Absolutely! But will Disney Cruise Line always be my first choice? Definitely.
Have you sailed on other cruise lines? What differences did you notice? Let us know in the comments!

P.S. Now that you've found us, be sure to subscribe to our newsletter below or in the link on the side! You can also check us out on YouTube, Facebook, and Instagram!