Are you considering a visit to the Hong Kong Disneyland Resort? (If not, you definitely should – it's so much fun!) There are three resort hotels located next to the Hong Kong resort. Today we're going to talk about the flagship hotel – the Hong Kong Disneyland Hotel.
Overview
Located closest to the park, this resort very much resembles the Grand Floridian in Florida. The towering white building evokes feelings of Victorian finery with ornate balustrades and a striking red roof.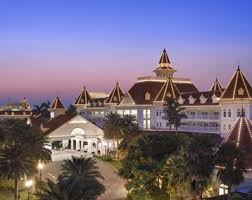 Walking into the lobby you'll be greeted by massive crystal chandeliers and a wall of windows overlooking the beautiful resort gardens. The result is bright and airy, with a palette of pale greens, white and muted reds. There's also a beautiful caged elevator, reminiscent of simpler times. A time when elevator operators would greet you with a smile and ask about the family.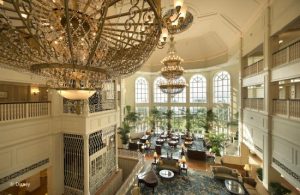 A very special event that takes place daily in the lobby is Tai Chi with Master Goofy. A distinctly Chinese flare, this is a super fun way to start your mornings.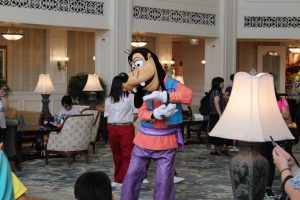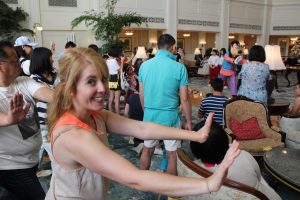 Rooms
Rooms at the Hong Kong Disneyland Hotel are spacious and continue the Victorian theme. You'll see the lobby color palette repeated, and the bathrooms have beautiful cream marble. There are special amenities provided that we don't get here at the US Disney resorts. You'll receive complimentary slippers (even themed around special events happening in the parks!) daily for each guest, as well as toiletry kits in collectible tins.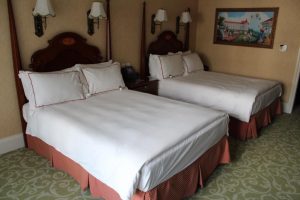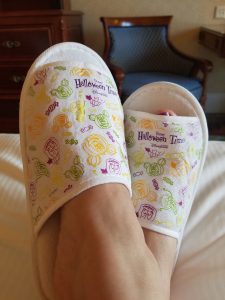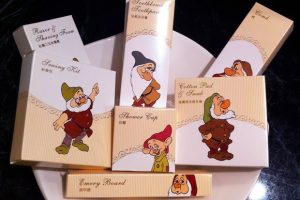 For a true Disney Park Princess experience you'll want to book a stay in the Kingdom Club, Hong Kong's version of the concierge level. You'll be treated like royalty, staying in a room or suite on the top floor of the hotel. You'll have access to the club lounge with snacks and beverages throughout the day. Kids even have their own Kingdom Club – with daily crafts, bedtime stories with milk & cookies, andd pajama clad Disney friends in the evenings.
Perhaps what makes this resort the most stunning, though, is the view. Located on the South China Sea, it is unique from all other Disney resorts in the world. Stepping out the back of the lobby, you'll take in the stunning view of water and mountains, accented by the elegant Victorian hedge maze in the gardens.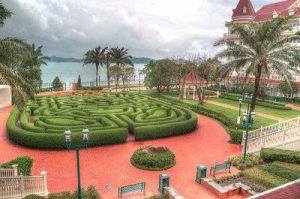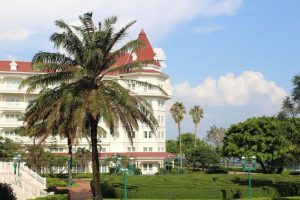 Dining
By now you all know that here at Disney Park Princess we love to eat, and the restaurants at the Hong Kong Disneyland Hotel do not disappoint! There's Walt's Café located off the lobby, which serves dishes inspired by the times and tastes of Walt Disney himself.
For character meals head to the Enchanted Garden, perhaps the best, most diverse buffet we have ever been to. There are both American and Chinese options, with everything from eggs and mickey waffles, to dim sum and noodles. Use this as an opportunity to expand your taste buds by trying something you wouldn't find at home. You may walk away pleasantly surprised!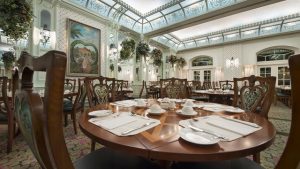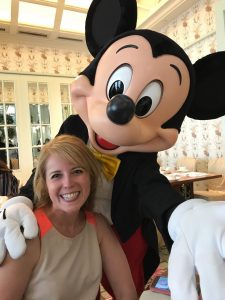 But perhaps the best restaurant anywhere at the Hong Kong Disneyland resort is located here in the hotel – the Crystal Lotus. The restaurant is elegant, inspired by the five elements (wood, metal, earth, fire and water). Be sure to look for the lotus design echoed throughout the restaurant. Here you'll experience traditional Chinese flavors and wow, you will not be disappointed! I had one of the best noodle dishes of my entire trip to China here. There's also an incredible short rib fried rice you must try.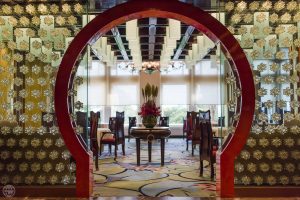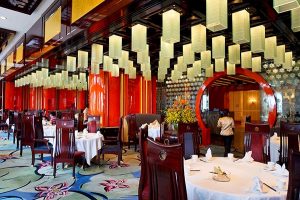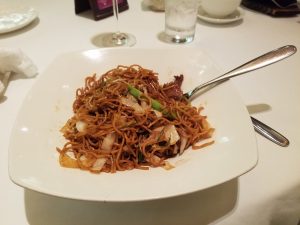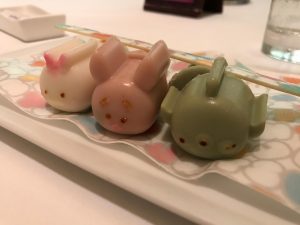 On weekends, Crystal Lotus serves a VERY popular Disney dim sum, where all of the food is shaped to look like Disney characters. You'll find Baymax, Olaf and Little Green Men steamed buns, just to name a few.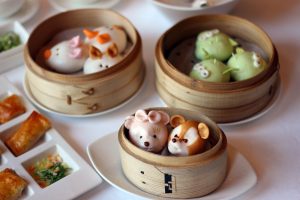 It's important to note that the Disneyland Hotel is missing a few things western visitors are accustomed to in our hotel stays. For example, there is no quick service restaurant here. That means no place to grab a quick breakfast or coffee in the mornings. There is also no lounge, so if you'd like a glass of wine or cocktail in the evenings you'd have to do so with your dinner. However, both neighboring Disney resorts offer both quick services restaurants and lounges just a quick walk or bus ride away.
Amenities
The Hong Kong Disneyland Hotel is about a 10 minute walk to the entrance of Disneyland Park. As a bonus for being a resort guest you'll have your own private entrance once you arrive at the park. No waiting in lines to enter? How very Park Princess! If you'd prefer not to walk, there is complimentary bus transportation that loops between all three hotels and the park.
Another benefit not available at the US resorts – guests staying at the Disney resorts receive priority admission passes to select attractions each day of their stay. (Similar to FastPasses.) If you're staying in a Sea View room you'll receive passes to three attractions, and guests staying in the Kingdom Club will receive passes to four attractions (all the more reason to vacation like royalty!).
In future posts we'll explore the other hotels of the Hong Kong Disneyland resort, but for now, we hope this inspires you to plan your visit to the first China park!