Walt Disney World has announced that the popular Magical Express airport shuttle service is being discontinued in 2022. This caused wide spread panic throughout the Disney fan community, who has gotten used to free airport transfers! But in reality, there are many alternatives to the often-frustrating experience that is Magical Express. 
I'll admit it. I have always had very mixed feelings towards Disney's Magical Express service. While I appreciate the fact that it is included on the cost of your Walt Disney World on-site resort stay, and I LOVE the luggage delivery service, in reality I usually find it way too time consuming to be practical. I routinely spend anywhere from 90 minutes to two hours to get to my resort when I ride Magical Express.
As a notoriously impatient person – ain't nobody got time for that! I want to get my Walt Disney World vacation started as soon as possible, which has led me over the years to explore alternatives to Magical Express. And while most of these options do involve an additional expense, in most cases the pros outweigh the cons!
Here are the Top 5 Alternatives to Disney's Magical Express at Walt Disney World!
1. Uber/Lyft Instead of Magical Express to Walt Disney World
Once ride share services became popular in Orlando, the days of Magical Express were numbered. The ease and relative affordability of these services means that they are real competitors in the transportation market! Both Uber and Lyft are readily available from MCO (Orlando International Airport). But even better – using Uber or Lyft means that other airports such as Sanford are a possibility! And this can mean potential savings for your Walt Disney World trip.
Pros of using Uber/Lyft: 
While you may wait a few minutes for your car to arrive, there are usually MANY drivers available. You will be out and on your way faster than with Magical Express!
You can go directly to your resort, unlike Magical Express which visits multiple resorts.
You can opt for a private ride, to minimize your contact with others. Especially important right now!
You have multiple options ranging from basic cars up to luxury vehicles.
Cons of Using Uber/Lyft:
Pricing fluctuates based on demand. Depending on when your flight arrives, surge pricing can drive the cost up.
Car Seats may not be available. While Uber does have a car seat option under the Uber X category, there is an additional surcharge and usually only one car seat is available. This can be tricky for families with young children.
Requires using the Uber or Lyft app. Not everyone is comfortable with this or has a smart phone.
2. Town Car or Limo Instead of Magical Express 
Feeling fancy? A town car company can be a great alternative to Magical Express to get to Walt Disney World! While this is definitely the priciest option, it actually may be more affordable than you think. Plus many town car companies offer perks such as a free 15 minute stop at a grocery store to pick up some last minute items!
Pros of Using a Town Car/Limo:
You decide when you want to be picked up and dropped off. No waiting around for an Uber driver or having to leave three hours prior to your flight for Magical Express!
Car seats can be arranged in advance. This is great peace of mind! (They are usually an additional cost.)
Your driver can help with luggage.
Some companies offer a free grocery stop.
The experience! There is nothing liked being greeted by a uniformed driver, escorted into a comfy vehicle equipped with cold bottle water, and whisked away to your resort.
Cons of Using a Town Car/Limo:
Cost! This can be a pricey option.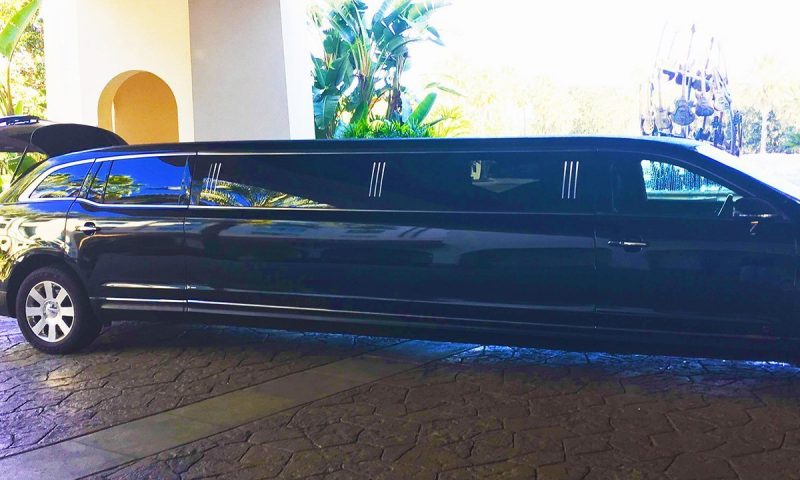 3. Taking a Taxi Instead of Magical Express
Yup – taxis are still a thing! If you want to convenience of a ride share service, without having to use their app, then taxis are the way to go. Taxis are available right outside the baggage claim areas.
Taxis are also an option for getting around Walt Disney World that many people overlook!
Pros of Using a Taxi:
Convenience. Taxis are ready and waiting right outside baggage claim! They are also usually available at Walt Disney World resorts. Just ask Bell Services!
Cons of Using a Taxi:
Your price can fluctuate. Time = Money when it comes to taxi fare. Stuck in traffic on I-4? Your cost will increase. You won't know your true cost until you arrive!
In general, taxis tend to be less comfortable than the other options.
No car seats. Taxis are not quipped with car seats, ruling this option out for families with young kids!
4. Renting a Car Instead of Magical Express
Do you prefer to be in control? Rental car options are plentiful at Orlando-area airports. (White cars as far as the eye can see…) Virtually every major rental car company is represented at MCO. Pro tip – choose a rental car company that is located on-site!
Pros to Renting a Car:
You are in the driver's seat – literally!
You can choose what type of vehicle you want. Big family? Get a minivan or SUV! Want to be environmentally friendly? Rent an electric or hybrid car!
Cons to Renting a Car:
Navigating Orlando! The Orlando roads can are ALWAYS under construction. Traffic and detours are common!
Parking fees and tolls. Walt Disney World resorts charge a nightly parking fee. Tolls are frequent in Orlando. These fees add up!
Unfamiliar vehicle
5. Drive Yourself to Walt Disney World
Many guests are opting to drive to Walt Disney World right now! The pros and cons are similar to renting a car, but there is a bit more to consider. Depending on how long your drive will be, you will need to consider if you will need to stop overnight to break up the trip. Then of course, you need to know what the restrictions are in each state that you will drive through or stay in on your trip.
Pros of Driving Yourself:
You have complete control! You decide when to leave, where to stop, and even what tunes you listen to.
You can pack as much as will fit in your vehicle!
You have the advantage of driving a vehicle you are familiar with.
Cons of Driving Yourself:
The cost of gas!
Wear and tear on your vehicle.
Navigating Orlando
Parking fees and tolls
Which of these methods will you use for your next Walt Disney World vacation? Let us know in the comments!
P.S. Now that you've found us, be sure to subscribe to our newsletter below or in the link on the side! You can also check us out on YouTube, Facebook, and Instagram!