Walt Disney World on-site resorts are our go-to option when planning a Walt Disney World vacation. But some of the benefits of staying at an on-site resort have changed recently. Is it still worth it? Let's break it down! 
We admit it – typically we don't even consider staying off-site for our Walt Disney World trips. But since the pandemic, and the removal of certain perks, even we have begun to question whether or not staying on-site is "worth it." So it seems like a good time to break it down. Let's get into it!
Cost of On-site Walt Disney World Stay versus Off-site Good Neighbor Hotel
Before we can begin to compare the two options – on-site versus off-site – we need to know how the prices compare! We did a comparison of two Walt Disney World resorts and two Good Neighbor hotels for a stay in October 2021. This is comparing "rack rate" which means there are no discounts applied.
October 26 – 31, 2021 (5 nights)
2 Adults
4-day base tickets (no park hopping)
Walt Disney World Resorts
Pop Century
Standard Room: package price $2122.20
Caribbean Beach
Standard Room: package price $2699.32
Good Neighbor (off-site) Hotels
Wyndham Garden Lake Buena Vista
Standard Room: package price $1926.44 (plus $24 plus tax daily Resort Fee)
Hilton Orlando Lake Buena Vista
Standard Room: package price $2243.70 (plus $35 plus tax daily Resort Fee)
As you can see, there is a difference of less than $200 between Pop Century and the Wyndham Garden Lake Buena Vista. And hey, $200 is $200! But keep in mind, that is BEFORE the $24 plus tax daily resort fee. For a five night stay, that adds over $125 to your hotel stay. Which means that really, there is a less than $75 difference.
Are you surprised? Many people are shocked to learn how little difference there can be between staying on-site and off-site once you compare apples to apples!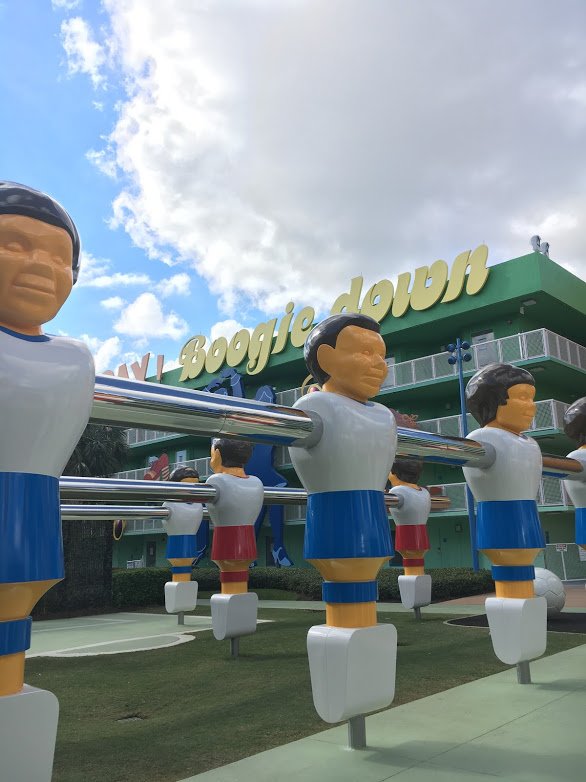 Benefits of Staying At An On-site Walt Disney World Hotel
So now that we have determined that staying at a Walt Disney World Resort may be a bit more expensive (though not as much as you may have assumed!), what are the perks that come with staying on-site?
Location, Location, Location
We can't stress this enough – staying on-site puts you in the middle of the magic 24 hours a day! Even the furthest resorts from the theme parks are still closer than off-site hotels. Walt Disney World is 40 square miles. Which means you need to be careful of hotels that advertise themselves as "located less than a mile from Walt Disney World!" From which part of Walt Disney World?! That could still put you a 30-minute ride from the Magic Kingdom!
Transportation
Guests of Walt Disney World resorts have access to all of the available transportation options to get around. Depending on the resort you choose you could have access to the bus system, boat shuttles, monorails, Skyliner, or even be within walking distance! There is no arguing that staying on-site makes getting to a theme park in the morning much easier than staying off-site.
Take the bus system – easily the least popular method of park transportation. The Walt Disney World resort bus system drops guests at the entrance to the Magic Kingdom. Staying off-site? You can expect to be dropped off at the Ticket & Transportation Center. Which means you will still need to take the shuttle or the monorail to actually get to the park! Adding time and frustration to your morning.
Early Theme Park Entry
Recently Walt Disney World announced "Early Entry" as a new perk for Walt Disney World resort guests. On-site guests will now get into ANY theme park, EVERY day 30 minutes prior to the official park opening time! (This is an update to the previous Extra Magic Hours which gave either an hour early entry in the morning OR two hours extra after closing, but was only at one park per day.)
Park Pass Availability
A Park Pass reservation is now required to visit a Walt Disney World theme park each day. Guests staying at a Walt Disney World on-site resort have access to an exclusive availability calendar. This means that even when Park Pass reservations are "sold out" to the general public, Walt Disney World guests may still find availability. This is especially important during peak season such as Christmas Week!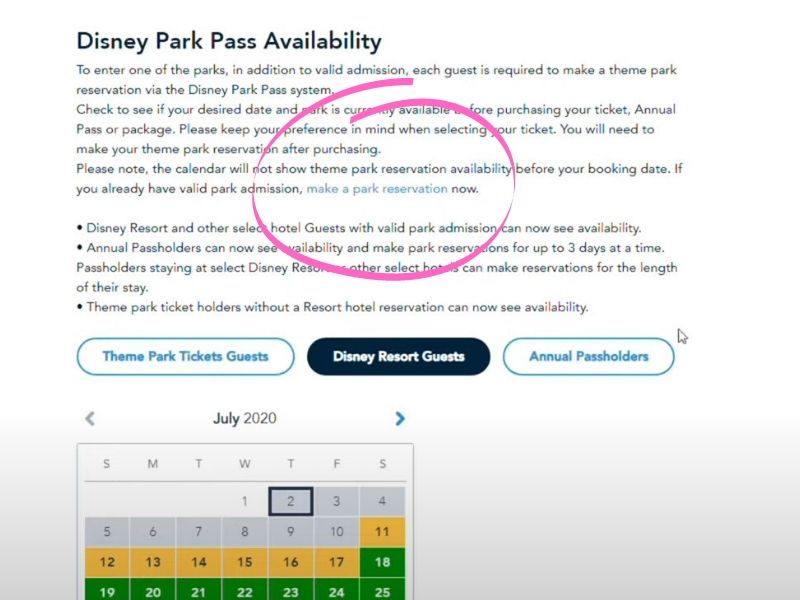 Early Access to Advanced Dining Reservations
Walt Disney World visitors can now book advanced dining reservations up to 60 days in advance. Staying off-site? This means that you must make your dining reservations one day at a time. 60 days before your first dining reservation, then again the next day for your second day, and so on.
But if you are staying at an on-site Walt Disney World Resort? You can make your dining reservations for your entire stay 60 days in advance! This means that you will have early access to popular restaurants such as Be Our Guest, Cinderella's Royal Table, and other hard to get dining reservations.
Early Access to Disney Genie+ Reservations
The new Disney Genie system will change the way Disney Guests plan their day! Guests staying at a Walt Disney World resort can make their daily Genie+ reservations at 7:00 am. (Off-site guests must wait until they arrive at the park and it is officially open!)
Free Parking at Theme Parks
While Walt Disney World Resorts so charge a nightly parking fee (we're still salty about this one, we won't lie…), they do give their guests free parking at the theme parks. And at $25 per day, per vehicle, this can add up quick! Especially when you combine it with the daily resort fee that many off-site resorts charge. (A parking fee by any other name will still cost you…) If you will be driving to the parks, this alone can save you a boatload, errr carload of money!
Disney's Magical Express (Not available in 2022)
While Disney's Magical Express will not be returning in 2022, it IS available to guests traveling in 2021! This free airport shuttle service provides transportation to and from the Walt Disney World Resort hotels.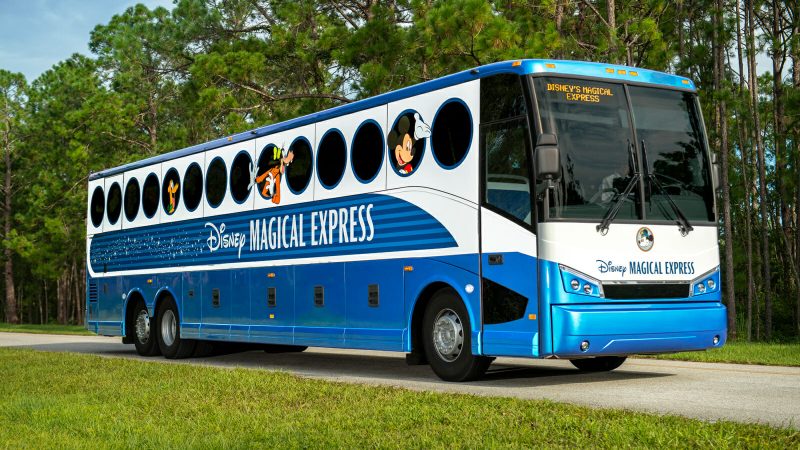 What Walt Disney World Resort Benefits Have Changed
We need to acknowledge that there used to be more benefits associated with staying on-site at Walt Disney World. And for some guests, the loss of these perks has them seriously reconsidering the value of an on-site stay.
Here are some of the benefits that have been either removed or suspended.
FastPass+ (Hopefully this will return in the future)
Dining Plan (Ditto)
Disney's Magical Express (Luggage delivery service has been suspended, entire service not returning in 2022)
Extra Magic Hours (This one hurt. I love getting an extra hour in the morning! 30 minutes is just not the same.)
Free MagicBands
Is It Still Worth It?
Only you can determine whether the potential additional cost of staying on-site is worth it to you. For me, the answer is "Yes!" I still firmly believe that the benefits have great value. Maybe not as much as they used to, but it is still worth it for me.
What do you think? Will you stay on-site for your next Walt Disney World vacation or will you stay off-site? Let me know in the comments!
P.S. Now that you've found us, be sure to subscribe to our newsletter below or in the link on the side! You can also check us out on YouTube, Facebook, and Instagram!