Guest Blogger Christy Shula recently sailed on the Disney Cruise Line ship, Disney Fantasy. She was able to experience a few of the SUPER popular beverage tastings onboard! 
This past June, my daughter and I sailed on our first Disney Cruise. It was truly a dream come true, but before I go on and on about our magical experience, I'm here to tell you about one of the highlights of my cruise, the beverage tastings. Various beverage tastings are offered multiple times per day onboard the Disney Cruise Line. These need to be booked in advance when your online booking window opens, much like excursions, adult dining experiences, etc.
Beverage Tastings on Disney Cruise Line's Disney Fantasy
Being a first time cruiser, I was a little nervous about not being able to score one of these coveted reservations, but many online posts reassured me that there are usually spots available when you board the ship.  Since our cruise was delayed two years, by a little thing called Covid-19, I had the pleasure of booking onboard activities at midnight 75 days in advance not once, not twice, but three times before we actually sailed!  Surprisingly, my most recent experience was the most difficult, but I persevered.
When I signed on to book my onboard activities in March, all of the beverage tastings for our 7-night cruise on the Disney Fantasy were booked, except for the Cognac tasting. So, of course, I grabbed it! What is Cognac you might be asking?  I'm not ashamed to admit that at the time I didn't know either, but I was determined to give it a try. Luckily, my persistence paid off and by checking the DCL Navigator app daily, when I had a moment, I was able to find an open spot for Chocolate and Liquor tasting, Mixology, and finally Tequila and Margarita tasting. So goodbye Cognac, I canceled that tasting and it was promptly grabbed by another lucky cruiser.
Tequila Beverage Tasting
Finally our cruising dreams came true and we were aboard the Disney Fantasy. After an exciting day in Cozumel, my daughter was off on a scavenger hunt with Edge and I was off coincidentally to taste my favorite Mexican export, tequila! My DCL Navigator app sent me to the Skyline Bar where each of us were greeted by three tequila shots, a fresh margarita, and a "secret recipe" mixed drink. These were served along with tortilla chips, salsa, guacamole, orange slices, cinnamon, and a bottle of Evian.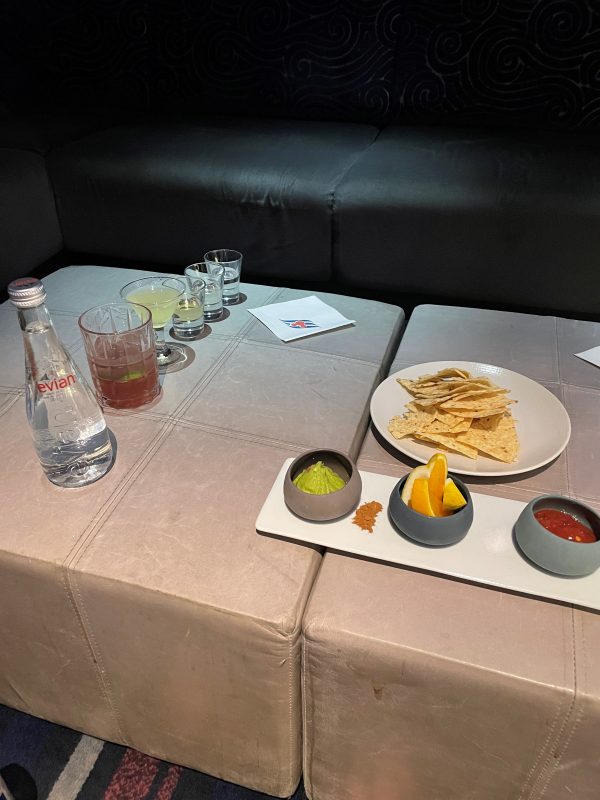 Overall, the presentation was lots of fun and very informative. We were instructed to start with the shots and our bartender explained the aging process and why one type of tequila is better for margaritas versus another for shots. He also encouraged us to try them with the orange slices dipped in cinnamon, which he prefers to salt and lemons or limes. Surprisingly, it was a great combination and there was no salt needed, even for the delicious fresh margarita that we tried next. Finally, we ended on his "secret recipe", which was actually a pomegranate tequila mule.
Mixology Beverage Tasting
My next beverage tasting was a few days later when I re-boarded the ship from Jamaica. I will admit that sea day beverage tastings were a little more difficult to get, but for me 4:00 pm on port days was an incentive to get back on the ship in time! I have heard that Mixology used to be a lot of fun prior to Covid-19 and that you were taught to make your own drinks. Unfortunately, that is no longer the case, but it was still a lot of fun and as a single I was placed with some new friends.
Initially, we each had three mixed drinks set out for us, which may differ depending on your bartender. We started off with a layered shot, then a fruity rum drink, and again the tequila mule drink I had tried at my previous tasting. We then finished with freshly made dessert martinis and champagne cocktails featuring Moet Ice, which we were also offered a glass of since many of us had never tried it before. While our bartender shared the recipe for each mixed drink with us, it would have been nice to be given a printed copy to take home with us, especially after drinking all of those cocktails!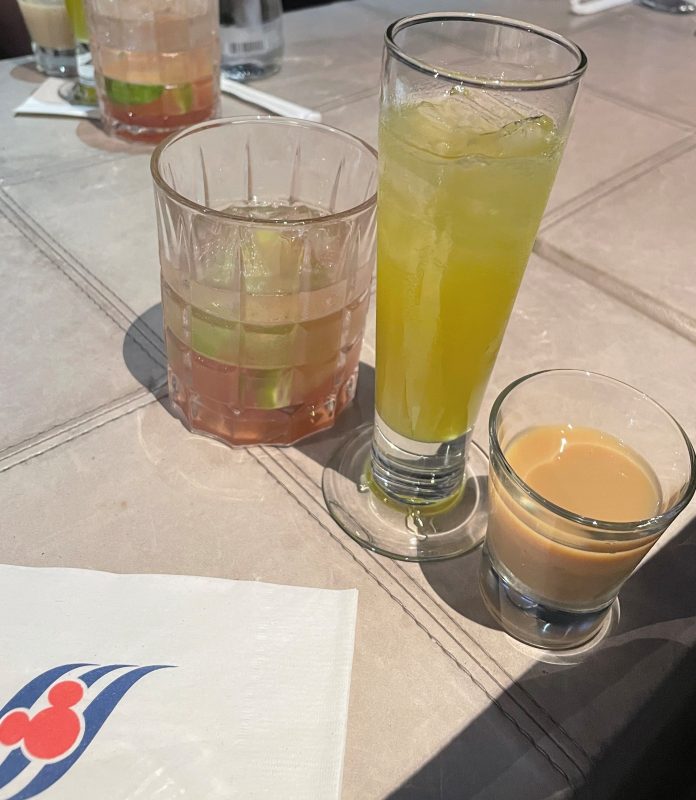 Chocolate & Liquor Beverage Tasting
On my final sea day, I saved the best for last, chocolate and liquor tasting at Ooh La La. This was the best by far and featured a variety of chocolates paired with Moet & Chandon Rose, Lasseter Family Winery Paysage (a red blend), Noval 10 Year Old Tawny Port, and Macallan Highland Single Malt Scotch Whisky Enigma. We tried each of the pours by themselves and then paired them with the recommended chocolate including white, milk, dark, or even sipping chocolate; as well as fresh parmesan cheese with the port. The Valrhona chocolates were delicious and so were each of the wines. I didn't care for the scotch, but apparently it was a very expensive scotch for those who appreciate it.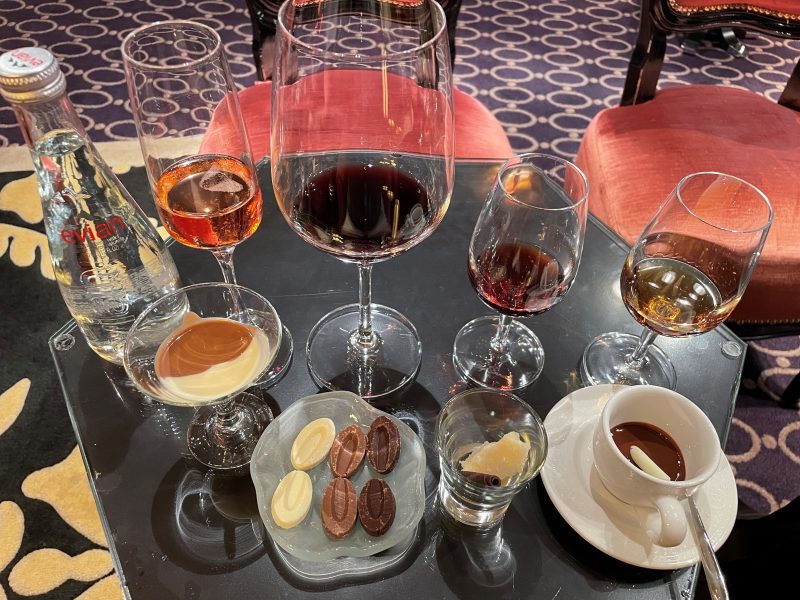 Overall my impression of the beverage tastings on the Fantasy was very good. They did raise the prices on the beverage tastings, so while I paid the previous pricing for my chocolate and liquor tasting ($38, now $50) and Mixology ($25, now $40 I believe); I did have to pay $40 for my tequila and margarita tasting since it was booked after the price change. I feel that these prices are actually still very reasonable given the quality of the drinks and the actual cost of the wines and liquors. For example, I paid $50 for the chocolate and liquor tasting, and while the portions are small, the actual price of a bottle of any of the wines or (just a shot of the scotch!) is more than $50.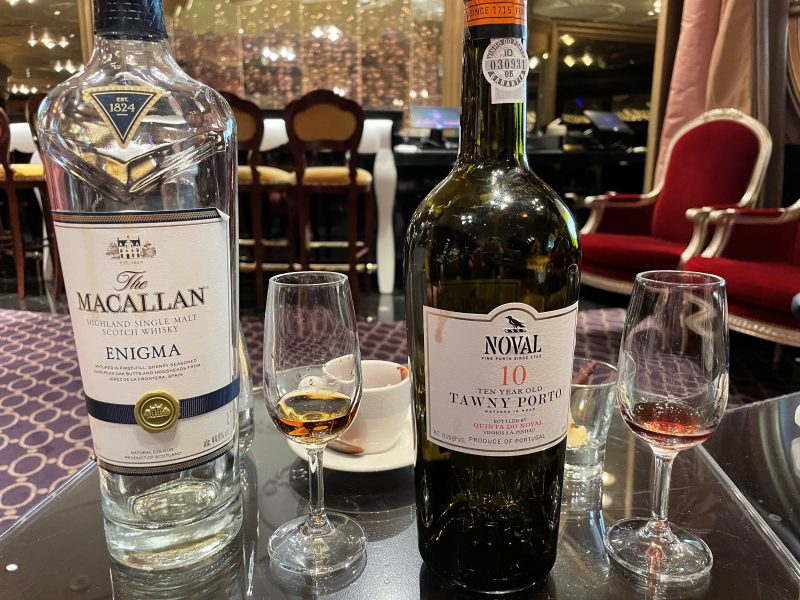 Secondly, as a single traveler, or if your travel partner doesn't care for beverage tastings and you're on your own like me, these experiences were much more comfortable than venturing into a bar or one of the nightclubs on your own. You might even make a new friend! Finally, if you do struggle getting into one of the beverage tastings, many of the bars and nightclubs on the ship offer a flight or a duo, such as the Ring of Bubbles at Ooh La La. So if you are an adult sailing on any of the Disney ships I highly recommend trying at least one beverage tasting. Cheers!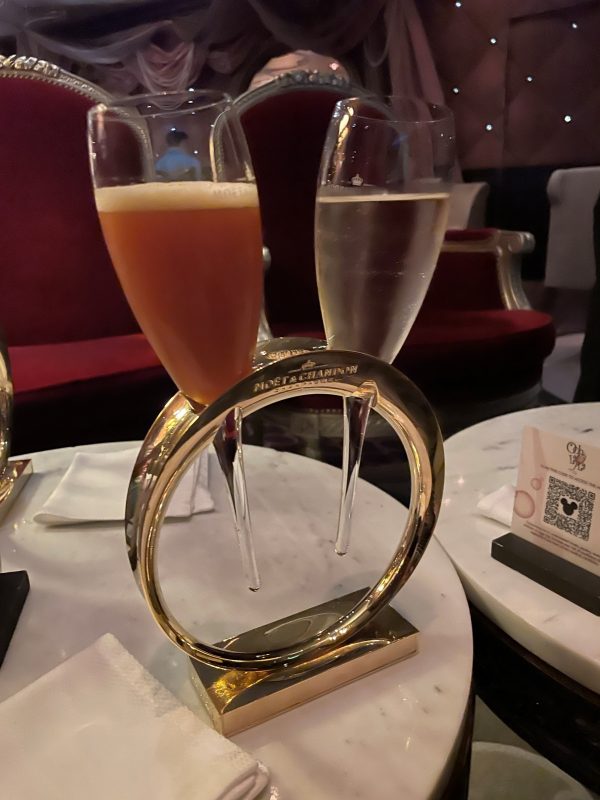 P.S. Now that you've found us, be sure to subscribe to our newsletter below or in the link on the side! You can also check us out on YouTube, Facebook, and Instagram!
BIO:  Hi, I'm Christy Shula, an elementary school librarian, gymnastics judge, and single mom who loves Disney!  Since there's nothing more I love to do than plan a Disney trip, I'm also an avid listener and fan of Disney Park Princess!