It's time for Christmas in July! Yes, I know the holidays are months away. But what better way to beat the summer heat than to think about lights, trees, hot chocolate, and holiday shopping?
(Links in this article contain affiliate links. Disney Park Princess may earn a percentage of the proceeds from anything purchased through these links! For full details, please visit our Privacy Policy and Affiliate Disclosure.)
This week I'm taking a break from my series on "hidden gems" to bring you Christmas in July- now you have absolutely no excuse to slack on your decorations, gifts, or overall holiday cheer! Holiday decor (mainly Christmas decor) is a big time favorite around here. We would keep a Christmas tree in the house all year long if we had a way of keeping it alive. My husband is very anti fake trees, so he is stuck waiting until late November to put up a tree.
While my husband loves the tree, I love everything else! Ornaments, tchotchkes, tea towels, basically anything I can put up to signify that it's the holidays. And because our house is pretty much decked out in Disney all the time, it makes sense to do even more Disney decor for the holidays.
Read on for my top 5 favorite items to celebrate Christmas in July!
1- The Nightmare Before Christmas Trinket Jar Set
The Nightmare Before Christmas Trinket Jar Set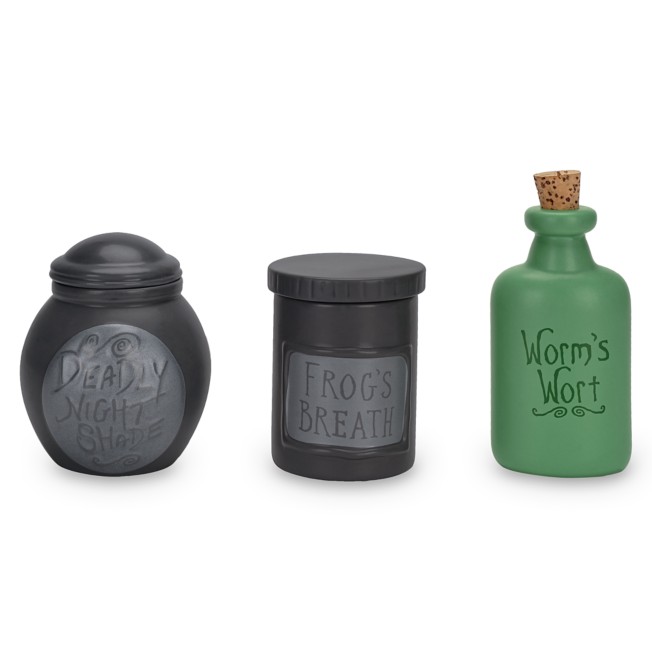 "Not sure how you actually get hold of "Frog's Breath" but once you do, we have the perfect place to store it. Inspired by Sally's soup making scene in Tim Burton's The Nightmare Before Christmas, this set of three ceramic jars, each labeled for a specific potion, comes straight from Dr. Finkelstein's lab."
I love this so much I might just buy it and keep it in my bathroom year round! It's so cute and looks like it can hold cotton balls, swabs, and maybe even soap or lotion.
2- Disney Mickey Mouse A Year of Disney Magic Snowman
Disney Mickey Mouse A Year of Disney Magic Snowman
One of the many great things my mom has done for me is buy me at least one ornament every single year with the year on it. This little guy is so cute with the snowman and the year to boot. And it's a Hallmark Keepsake, which means that I am 100% buying this for my tree (or sending this link to my mom!).
3- Disney Mickey and Minnie Mouse Holiday Pajamas for Dogs
Disney Mickey and Minnie Mouse Holiday Pajamas for Dogs
Yep, I'm going there. I have two dogs and they need this for sure! I mean it has Mickey and Minnie gingerbread and one of my dog's names is Ginger! So it's definitely a must buy.
Welcome to Our Home Sign with Interchangeable Holiday Mickey
This item is awesome because it will work for every month of the year and you can change it up as you see fit, but it works well for Christmas in July since you can just put up the Santa hat right after the 4th of July. I just think it's adorable and will look great on my front door.
Holiday Magic at the Disney Parks: Celebrations Around the World from Fall to Winter
Lastly we have this fantastic coffee table book. I actually already have this, I bought it last year and it's just a stunning look at so many different holiday traditions at the Disney Parks, not just Walt Disney World but Disneyland and the international parks. There are almost 2,000 photographs of so much holiday decor you'll be sure to love this book year-round just like I do.
There it is, my favorite Christmas in July items. I already ordered the Nightmare Before Christmas jars and I will definitely be ordering the other items that I don't already own soon. In two weeks I'll be back with my "hidden gems" series. Happy Holidays!
P.S. Now that you've found us, be sure to subscribe to our newsletter below or in the link on the side! You can also check us out on YouTube, Facebook, and Instagram!