Now that you know why Castaway Cay is my favorite place on Earth, you want to book a Disney Cruise, right? But with four ships and many itineraries to choose from, how do you decide WHICH Disney Cruise itinerary to take? There are a variety of factors to consider when choosing which cruise is the right cruise for your family.
How Much Free Time Do You Have For Your Disney Cruise?
Disney Cruise Line has itineraries from 3-nights to 15-nights. So whether you are looking for a quick weekend getaway, or a true break from real life, there is an itinerary for you. Shorter cruises are typically 3- and 4-night cruises to the Bahamas. These cruises visit Nassau, Bahamas, and Castaway Cay. If you want something a bit longer, there are 7-night cruises to the Caribbean (Eastern and Western), or to Alaska. Looking for a long vacation? Longer cruises range from 9-15 nights and include Southern Caribbean, Mediterranean, Northern European, Trans-Atlantic, and Trans-Panama Canal cruises.
For first time cruisers, I recommend the 4-night Bahamas itinerary. I find that three night sailings simply aren't long enough for first time cruisers to experience enough of the options, or even find their way around the ship! The day at sea that the 4-night sailing offers is where many guests truly fall in love with cruising. There is just something about a day at sea! You can enjoy all the ship has to offer while enjoying the ocean breeze.
Why not a 7-night sailing for a first time cruiser? Seven nights is a long time if it turns out that cruising just isn't for you. But it is perfect for a second cruise! Most guests disembark the ship on the last day wishing they had had more time.
Which Disney Cruise Line Ship Do You Prefer?
Disney Cruise Line currently has four ships. The "Classic" class ships are the Disney Magic and the Disney Wonder. The "Dream" class ships are the Disney Dream and the Disney Fantasy. The Classic ships are older and smaller but have been beautifully maintained and a frequently "reimagined" with up-to-date features. The Classic ships can hold up to 2700 passengers in 875 stateroom. The Dream class ships are newer and larger. The Dream class ships can hold up to 4000 passengers. (While this sounds like a lot of people, this is nothing compared to some of the new ships being built by other cruise lines, which hold upwards of 6600 people!)
But just wait! Because beginning in 2021, Disney Cruise Line is introducing three new ships at the rate of one per year, for three years. We don't have many details on these ships but we know that they will be similar in style and size to the Dream class ships. We anticipate booking for the first new ships to begin in late 2019 or early 2020.
Which Ports of Call Do You Want to Visit On Your Disney Cruise?
The Classic ships tend to travel around more than the Dream Class ships. The Wonder spends its summers on the West Coast doing Alaska cruises. The Magic spends its summer in Europe doing Mediterranean and Northern Europe cruises. In the winter months, the Wonder moves to ports such as Galveston, while the Magic can be found in Miami, and San Juan, as well as other locations. The Magic moves to NYC in the Fall when it returns from Europe and sails Canada and Bahamas cruises out of Manhattan.
The Dream class ships stay based in Port Canaveral. The Dream sails 3-, 4-, and occasionally 5-night Bahamas cruises. The Fantasy sails 7-night Caribbean cruises, alternating between Eastern and Western Caribbean cruises.
Remember how I made you fall in love with Castaway Cay? If this is a must-do port for you (and it should be), then a Bahamas or Caribbean sailing if what you are looking for. Almost all of these sailings include a stop at Castaway Cay.
(U.K. Residents – Disney Cruise Line will be sailing special cruises out of the United Kingdom in the Summer of 2021! Check out our friend CruiseMummy's blog for more information.)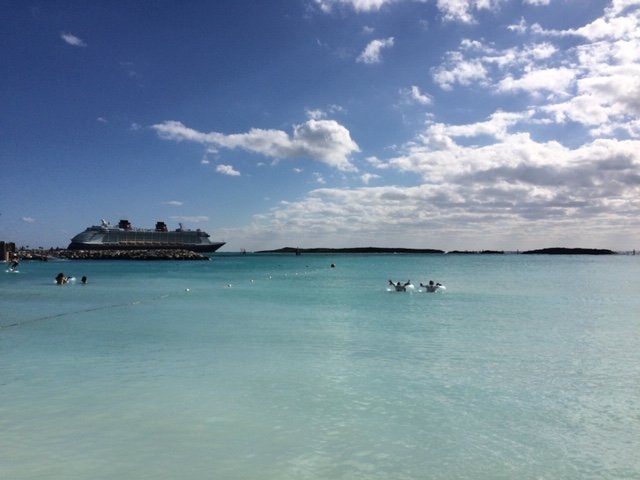 Are You a Star Wars or Marvel Fan?
Disney Cruise Line hosts Star Wars Day at Sea and Marvel Day at Sea on select sailings from January – March! Star Wars Day at Sea is held on the Disney Fantasy on select 7-night sailings from Port Canaveral, Florida. Marvel Day at Sea is held on the Disney Magic on select 5-night sailings from Miami, Florida.
On one of the days at sea on each sailing, the entire day is filled with themed activities, menus, character meets, and even menus based on the blockbuster franchises. And of course – they show the movies in the Buena Vista movie theater onboard! (And sometimes even in the massive Walt Disney Theater!) Where else can you sail with Spider Man or Darth Vader?
The Choice Is Yours
Every family has different priorities when choosing a cruise. Maybe you really want the small ship experience that the Disney Magic or Wonder brings you. (And not for nothing, if you are stopping as Castaway Cay? 2700 people is a LOT less than 4000 people. I'm just saying.) Or maybe you want all of the options that the Disney Fantasy has to offer! No matter which Disney Cruise you choose, you are going to have a fantastic time.
Next week, I will cover how to choose a stateroom!
Which Disney Cruise would you choose? Let us know in the comments!
P.S. Now that you've found us, be sure to subscribe to our newsletter below or in the link on the side! You can also check us out on YouTube, Facebook, and Instagram!