It is time for your Disney Cruise! Now that you've chosen an itinerary, and booked your stateroom, let's get to Port Canaveral for your Disney Cruise! But how? There are a number of options for getting to the port. Which one is right for your family will depend on a variety of factors such as party size, amount of luggage, and how much control you want to have over your schedule.
Disney Cruise Line Transfers To Get To Port Canaveral
Disney Cruise Line offers transfers from either Orlando International Airport (MCO) or Walt Disney World Resorts to Port Canaveral. The transfers are on motor coaches similar to Magical Express. Transfers can be added up until about a week prior to your cruise. However, unlike Magical Express, there is a charge for Disney Cruise Line transfers! Currently the cost is $39 per person, one way. (Subject to change!) At $78 per person round trip, this can add up fast for families.
That said, I find Disney Cruise Line transfers to be a very convenient start to a vacation! You will receive luggage tags to put on your checked bags prior to leaving home, and your bags will be delivered to your stateroom. No need to go to baggage claim! In addition, there is a fun video to watch on the hour-ish drive to Port Canaveral. It really gets you excited for your cruise!
Another bonus if traveling with infants or young children is there is no need for a car seat. Car seats are not allowed on motor coaches in Florida. One less thing to lug around! (If you have brought a car seat for the flight, it will be loaded under the bus for your ride to the port.)
Pros: Seamless experience, Disney touch
Cons: Expensive for large families
Get to Port Canaveral By Minnie Van Service
Minnie Van service has recently been expanded to include transportation to and from Walt Disney World and Port Canaveral. For $240 one way for up to six people, this service is essentially the same price as Disney Cruise line transfers IF you have six people. It comes out to $40 per person one way versus $39 per person one way for Disney Cruise Line transfers. Disney has customized Chevy Suburbans for this service to accommodate the luggage associated with cruising. This transportation option must be booked in advance with Disney Cruise Line Embarkation Service by calling 800-395-9347.
Rolling up to Port Canaveral in one of these will definitely start your vacation off on a Disney note!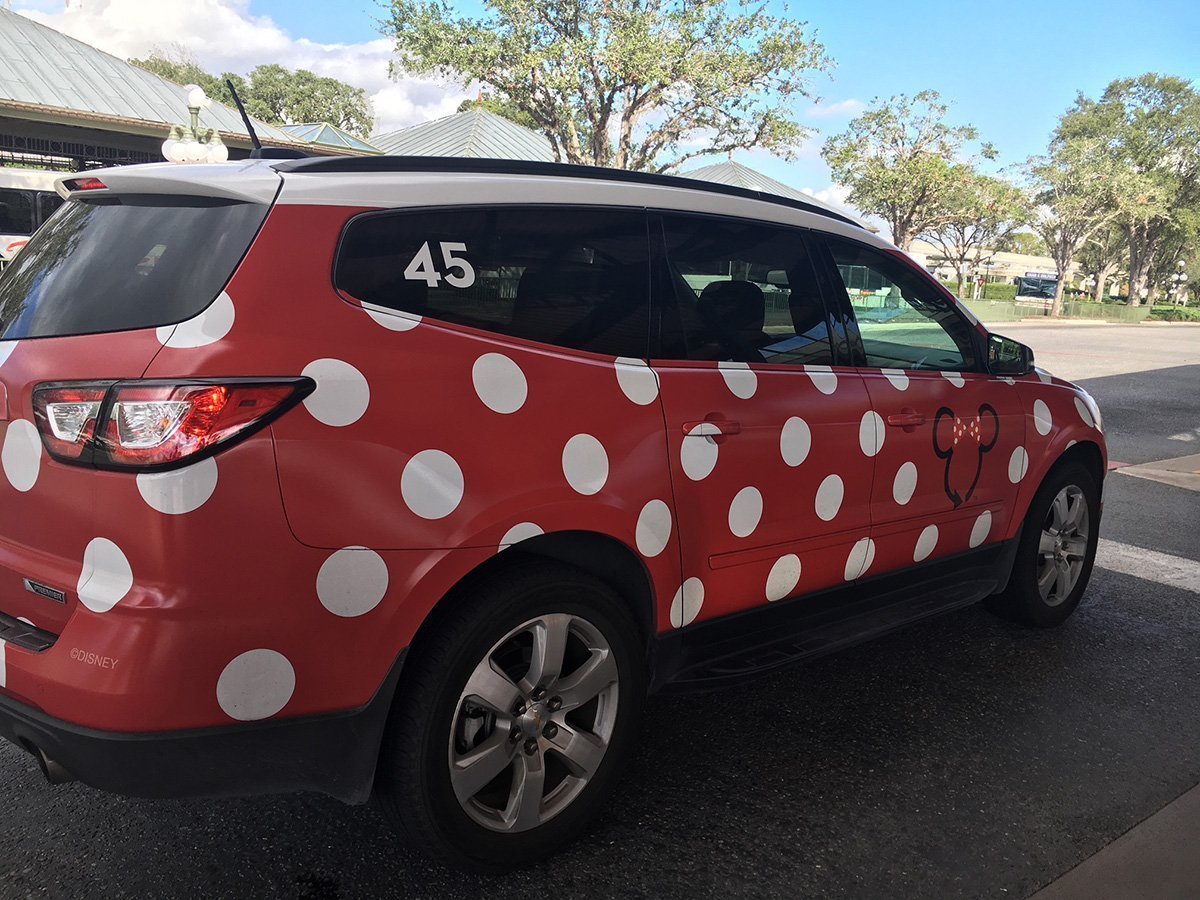 Pros: Adorable! Comfortable ride on your schedule.
Cons: Expensive for smaller families. Limited capacity of six people.
Town Car Company
If you want the ultimate in luxury transportation, you can book a town car or limousine for your ride to and from Port Canaveral. Town Car companies are plentiful in the Orlando area and pricing is competitive. For larger groups in particular, private transportation can offer a savings over Disney Cruise Line transfers. You can choose from town cars to stretch limousines to passenger vans, and even stretch SUVs!
Many companies also offer a complimentary 15-minute visit to a grocery store so that you can pick up any essentials or wine and beer to bring on board with you. (Disney Cruise Line does limit the amount of alcohol guests may bring on board.)
For me, the biggest perk to town car service is the freedom to choose my pick up time. It is such a relaxing start to my vacation to have a driver waiting for me at the airport, help with the luggage, and get us to the port while we ride in style.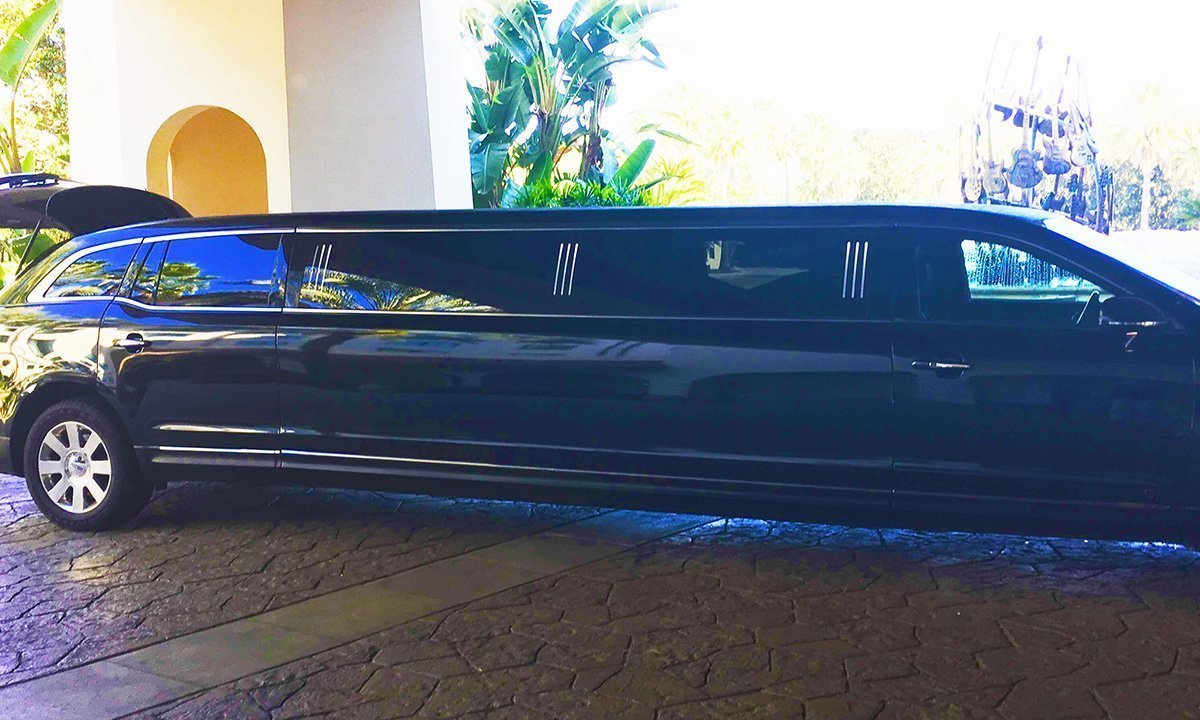 Pros: Ride in style, on your own schedule
Cons: Cost
Rental Car
Do you like to be in the drivers seat? If so, getting a rental car may be for you. There are many options for rental car companies at MCO (Orlando International Airport). Choosing a rental car gives you the flexibility to choose a vehicle that fits your party size and luggage. Be sure that you have good directions or a navigation app on your phone or in your chosen car to get you to Port Canaveral!
You can choose from a one-way rental or round-trip. (Keep in mind that if you choose round-trip, you will need to pay for parking at Port Canaveral!) If you book a one way rental, be sure that the rental company you choose has a location in Cape Canaveral/Cocoa Beach, as well as a shuttle to the cruise port. You will need to drop the car off and then make your way to the Port.
Pros: Affordable, Flexible
Cons: Traffic, directions, parking or rental car return hassle
Ride Share or Taxi
Oh no! You forgot to make arrangements for transfers! Or maybe you just prefer complete flexibility and don't want to be tied to a particular form of transfers. In this case, ride share services such as Uber and Lyft, or taxis are available.
Keep in mind that Port Canaveral is about an hour away from Orlando so this option will get expensive VERY quickly. And depending on the size of your party and the amount of luggage you have brought, you may need more than one vehicle. This option also requires you to have the address of the cruise terminal at Port Canaveral so be sure to have this ready to go when you request your ride!
Pros: Does not have to be booked in advance
Cons: Cannot be booked in advance, price fluctuates, long distance
Regardless of how you choose to get to the Port, be sure to arrive in plenty of time to board the ship. You will be assigned a Port Arrival time during Online Check In. Keep that time in mind when making your arrangements! (If you are using Disney Cruise Line transfers, this port arrival time does not apply to you.) You don't want to miss a moment of the excitement that is waiting for you when you board your Disney Cruise Line ship!
Next week: What to Expect When You Arrive at Port Canaveral…