It is finally embarkation day! Time to board the ship for your Disney Cruise. Now you can rest and relax and enjoy your cruise, right? Not so fast… you still have a few things to do before you can sail away!
Board the Ship
Once your boarding group is called, proceed through the Mickey Ears entrance. You will be greeted by Disney Cruise Line photographers offering embarkation photos. This is a great time to get a group or family picture. (You can also choose to skip the photo op if you simply cannot wait another second to get onboard your ship!)
As you board the ship itself and enter the atrium, you will be greeted by a ship's officer who asks for your family name. Then as you enter the atrium, your party will be announced over the speaker system, "The Disney Fantasy welcomes the Varney Family!" while crew and officers cheer and wave as you pass. It is quite the greeting!
Lunch After You Board the Ship – Cabanas versus Dining Room
Now that you are onboard, it is time for lunch! Guests can choose between two lunch buffets – Cabanas or one of the main dining room (Tiana's Place, Rapunzel's Royal Table, or Enchanted Garden, depending on which ship you are sailing). Personally, I prefer Cabanas as it seems to have more choices available as well as the option to sit outside! I want to be outside and enjoying the sea air as soon as humanly possible. Keep an eye out for the Shrimp Cocktail and Stone Crab available in the seafood section. They are amazing!
(If any of your family members have food allergies, check out this post on dining on Disney Cruise Line with allergies!)
Be sure to explore the entire buffet before making your selections. There are different stations and everything from Sushi to Carved Meats are on offer.
Register for Activities / Explore Kids Clubs
Most activities (Port Adventures, Palo and Remy reservations, spa treaments, etc.) can be booked during the Online Check In Process prior to sailing. However, if you were not able to book something in advance or it cannot be booked in advance (such as the Castaway Cay 5k), now is the time! Check your Navigator to see where to go – typically the Port Adventure Desk. When in doubt, ask a crew member for assistance! They will be happy to direct you to the correct location for your activity.
On embarkation day, the kids and teen programs have Open Houses. This is a great time to tour the clubs and meet the counselors! Open House is the only chance adults will have to explore the Clubs. During regular operating hours, it is kids only! There are a couple Open Houses during the course of the cruise so check your Navigator for other opportunities. The kids areas are really something to see, even if you are not cruising with children!
When Are Rooms Are Ready Once You Board the Ship?
By the time you have boarded, enjoyed some lunch, and explored the ship, it should be 1:00 pm or later. This means your room is ready! You can proceed to your stateroom to get settled. Acquaint yourself with your room and all of its features! Your stateroom TV is interactive. You can watch On Demand Movies, view your stateroom account, and more. (DPP Tip: The Disney Cruise Line ships are energy efficient! The lights in your stateroom will only work if your key or another card with a strip is in the reader next to the door. Bring an old hotel key or ID with you to use for this.)
Check the desk for tickets with your dining rotation and table number on them. Bring these to dinner on your first night where they will escort you to your table. On the desk you will also find your room service menu, information for any shore excursions you may have booked, and any other important communications.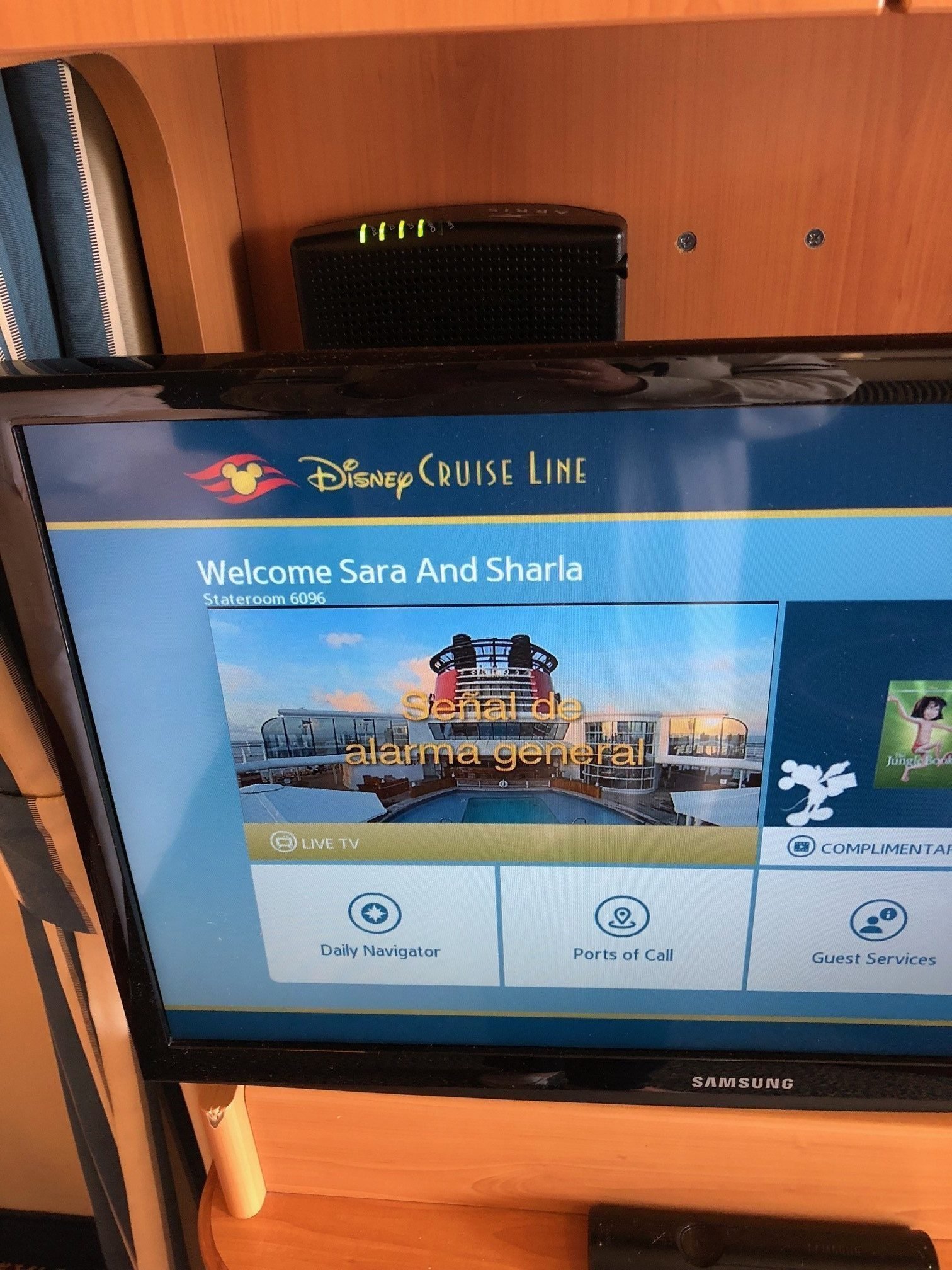 Luggage delivery occurs throughout the afternoon so your bags may not have arrived when you get to your room. The bags will be left right outside your stateroom door and should arrive by the time you return from the Safety Drill. Once you have unpacked, the luggage can be stored under the bed!
Safety Drill
It is time for the safety drill! On your Key to the World Card (room key) and on the back of your stateroom door, you will find your assigned Muster Station. When the announcement is made for the mandatory safety drill, please proceed to your muster station. Some are inside, some are out on deck. There will be crew members wearing life jackets to direct you to your station. (Guests should NOT wear life jackets to the safety drill.) Please note – all services are suspended for the drill. Attendance at the drill is MANDATORY.
After you board the ship, as much as I know you never want to leave, it is important to learn what to do in an emergency. This drill is critical to safety!
The drill consists of instructions from your Muster Captain. They will explain the process in the event of an emergency, take attendance, and do a test of the emergency horn. This is LOUD so warn kids as this can be a bit scary! Once the safety drill is complete, you will be dismissed and it is time for the fun to begin! Safety is critical onboard a ship so please pay close attention and give this drill and the hard working crew members the respect they deserve.
Sail Away
It is time to Sail Away with Mickey! At 4:30 pm, following the Safety Drill, make your way to the pool deck for the Sail Away Party. This dance party features Mickey and all his friends, accompanied by high energy cast members who will get you dancing and singing along as the ship prepares to set sail! If you want to be a part of the action, the pool deck is the place to be. Want to watch from a safe distance and wave good bye to those 'poor unfortunate souls' back on land? The upper deck above the pool is the perfect spot!
Bon Voyage! 
And that's it! After all of the planning and booking, it is time to relax and enjoy your cruise. Have a great time!