Let's get a little business out of the way, shall we? This post contains affiliate links for shopDisney. Disney Park Princess may receive a portion of your sales when purchased through these links. For more information please visit our Privacy Policy and Affiliate Disclosure.
Okay, we're all Disney fans here, right? And we all LOVE going to the parks, don't we? But sometimes we need a little magic at home! I know I do, so today I'm going to share with you all of my favorite things you can currently find on the ShopDisney website. I personally own all of these things, or they're on my wish list about to make their way home very soon! Happy Shopping!!!
1. Cogsworth and Lumiere Tank Top for Women
I mean, look at how adorable these little guys are! Plus, it's perfect paired with a pair of jeans and heels for a casual weekend outfit. And I love that you really have to look hard to see that there are Disney characters all over the shirt – it's like a secret little nod to your Disney fandom!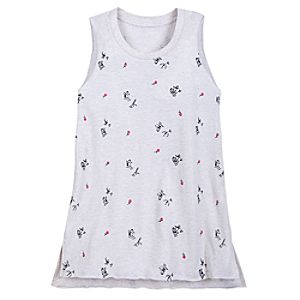 Cogsworth and Lumiere Tank Top for Women – Beauty and the Beast
2. Aurora Mesh Top
I am obsessed with this top. Put a little camisole under it, pair it with some jeans, and you have the perfect date night outfit. The pattern is so delicate and girly – you can't help but feel super feminine in this outfit! And again, if you want a subtle Disney nod, the only thing that gives this away as being a Disney shirt are the little hidden spindles near the shoulders.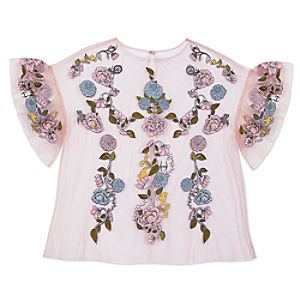 Aurora Mesh Top for Women
3. Maleficent Jacket for Women
I'm not even a huge fan of Sleeping Beauty, but she's celebrating her 60th anniversary this year (and she looks GOOD!), and the line Disney Store did for adults is incredible. I want so many things from it (like that mesh top, above). There's just something about a metallic pink faux-leather motorcycle jacket that has my heart fluttering. We all need this jacket.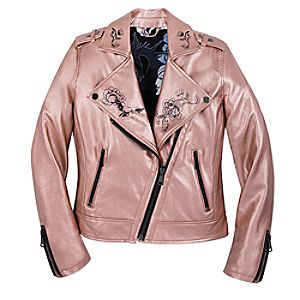 Maleficent Jacket for Women
4. Aurora Cowl Neck Pullover
Okay, so one last thing from the Sleeping Beauty 60th line. Because it is the coziest sweatshirt ever and I love wearing it around the house during these Southern California 'winters'. Also, this is basically what I mumble to myself when my alarm goes off on Monday mornings. #goals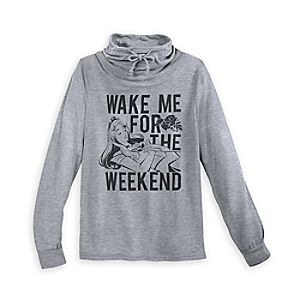 Aurora Cowl Neck Pullover for Juniors – Sleeping Beauty
5. Disney Prince Wall Calendar
Have you been seeing the Oh My Disney collections for Disney Store over the last year? I lose my mind on pretty much every single one! But their newest one focuses on the Disney Princes (it's about time the boys get some love!), and probably the funniest, most fantastic piece in the collection is this calendar. Think of a fireman's calendar, but with our favorite Disney leading men. It is brilliant and hysterical and we all need a copy! And be sure you check out the rest of the collection – there are Prince Eric and Aladdin pillowcases that look as if you're laying on the pillow next to them. SQUEE!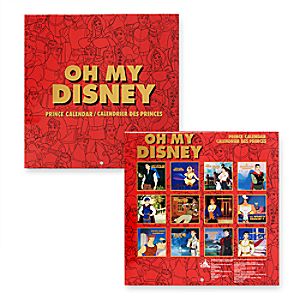 Disney Prince Wall Calendar – Oh My Disney
6. Cogsworth and Lumiere Mug Set
I love mugs. I 100% admit I have a problem buying them. Justin has instituted a rule in our house that if I buy a new mug I have to get rid of an old one because we're simply out of room. I ignore that rule, especially for this set because LOOK AT IT!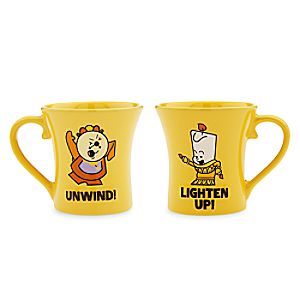 Cogsworth and Lumiere Mug Set – Beauty and the Beast
7. Alice in Wonderland Travel Mug
Speaking of that mug addiction… Here's another one! And as you'll see in the next few items, I am also addicted to Alice in Wonderland. I love Alice so much and need ALL of the things with Alice on them. I include this mug and it's absolutely sitting in my cabinet right now.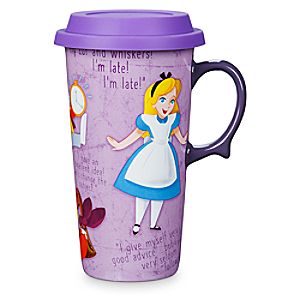 Alice In Wonderland Travel Mug
8. Alice at the Mad Tea Party POP! Vinyl
If you listened to our last podcast you heard Sharla and I talking about this. How cute is Alice on the Mad Tea Party attraction, hair flowing in the wind!? I saw her at Disneyland last week and let me tell you, this figure is HUGE. Definitely twice as big (or more) than other POP! vinyls. I need to clear some serious shelf space for her.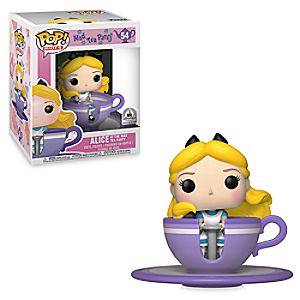 Alice at the Mad Tea Party POP! Vinyl Figure by Funko
9. Alice in Wonderland Sleep Set for Women
I love these so much and wear them almost every night!!! The shirt is so soft and comfy, and you will not overheat in these. Plus, all of the sayings make me giggle. Even if you're not an Alice fan, grab a few of the other characters. I literally bought these as they were coming out of the box at my local Disney store. They couldn't even hang them on a rack before I took them out of their hands.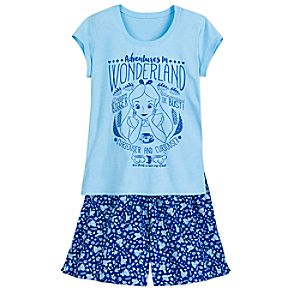 Alice in Wonderland Sleep Set for Women
10. Alice in Wonderland Necklace by RockLove
I promise this is my last Alice item (at least for this post). But how gorgeous is this necklace with the red roses? But mostly I love the saying because the Queen of Hearts was right – all ways here ARE my way!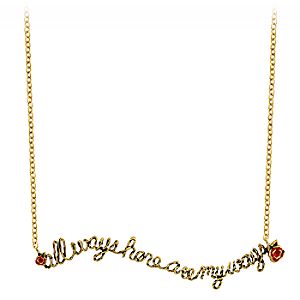 Alice in Wonderland Necklace by RockLove
11. Minnie Mouse Potion Purple Ears
I definitely treated myself to these last week when I was at Disneyland for my birthday. They are purple and they are sparkly and that's basically my two requirements for anything in life. I love them so much, and you will, too.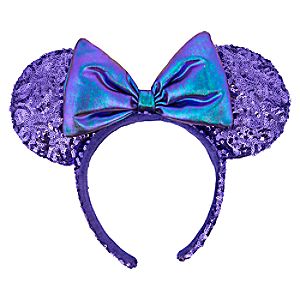 Minnie Mouse Potion Purple Ear Headband
12. Minnie Mouse Potion Purple Sequined Mini Backpack
See! More purple! More sparkles! The amount of happy this bag makes me I cannot describe. I'm sure you all saw the rose gold version that was around the parks in 2018. Well this year it's all about the purple and we all need to be on board with this bag. I already am, and it's the perfect size for a day at the parks. Or a day darting around running errands. Either way, you're going to look super cute!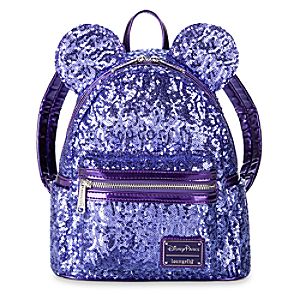 Minnie Mouse Potion Purple Sequined Mini Backpack by Loungefly
13. Mickey Mouse Plush Kit
I'm sorry, but how adorable is this!? I was so excited when I saw this at my local Disney Store. You basically get to make your very own Mickey plush! It's a fun project for little ones on a rainy day. Or for Heathers just because. I love me a good arts and crafts project and I'm going to make this little guy and have him hang out on my desk where he'll make me smile while I'm working.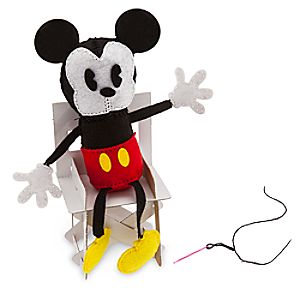 Mickey Mouse Plush Kit
14. Haunted Mansion Hobo Bag by Dooney & Bourke
You knew this was coming. Much like Sara (check out her post HERE), I cannot get enough of these handbags. I think the only thing I would love more is a Disney/insert any fancy shoe designer here collaboration. I have to seriously limit how many of these I am allowed to buy because I would have them all if I could. But this Haunted Mansion bag has made the cut. It's the perfect size to carry everything you need day to day without being too big so you just throw everything in there. Plus, the famous Haunted Mansion wall paper print is everything.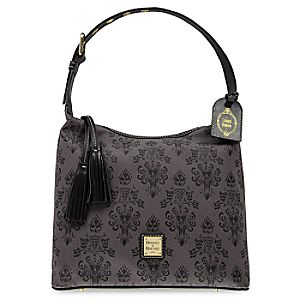 The Haunted Mansion Hobo Bag by Dooney & Bourke
So there you have it! My current list of all the Disney things I just NEED or already love. I have a feeling this will change weekly, because Disney definitely knows how to keep making products I very obviously have to have! I hope this helped fill the void of being away from Disney – and now you can add a little magic to your home with all of this fun stuff!