When Walt Disney World announced they'd be starting the new Disney Genie+ service in the middle of my most recent trip, I knew I had to try it for at least one day.
If you listen to our podcast, you know I've been on the fence about this new planning option. Sure, I loved MaxPass as much as the next person, but I HATED that we had to pay for it. So I really wasn't head over heels for the new system.
But you can't make any firm opinions until you try it for yourself, so that's how I found myself at the Magic Kingdom and Epcot last week shelling out dollars to test drive Genie+. Read below for my impressions and all of the details that are still sticking out in my brain a week later.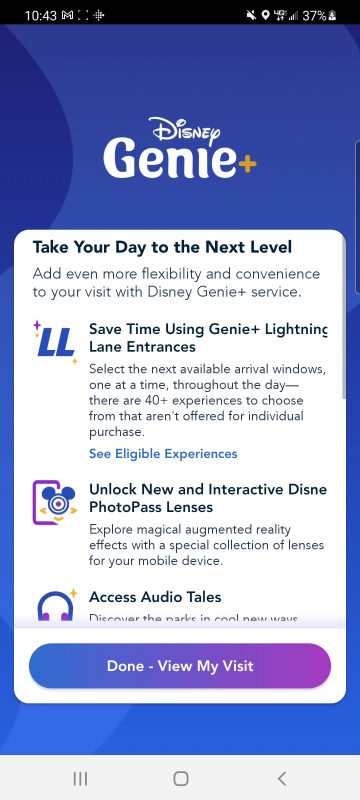 Booking Options for Disney Genie+
There are two ways for you to purchase Genie+: you can add it to the entire length of your tickets before you head out on vacation, or you can choose to add it one day at a time for as many or as few days of your tickets as you'd like.
If at all possible, I cannot stress enough how much I recommend adding it for the length of your tickets. Here's why. If you choose to add it day by day you cannot do so in advance – you'll need to wait until you've arrived at Disney and add it each morning you want to use it. You cannot add it the night before.
So that means you're going to need to wake up earlier than 7 am every morning to complete your purchase so you'll be ready to book your first Lightning Lane return time (think the old FastPass return windows) right when the clock turns 7. That's exhausting! I don't know about you but I really don't want to do that much work first thing in the morning on vacation.
Alternatively, adding it for the length of your tickets ahead of time eliminates all of that work. You can just wake up at 7 am, book your first attraction return time, and then start your morning the leisurely way. Plus, there's the added benefit of paying for the Genie+ access ahead of time with the rest of your package, which really eliminates that sticker shock every day.
Wait Times With Disney Genie+ (And Without It!)
Here's what I was most curious about. Before Genie+ launched at the beginning of my trip wait times were relatively short. I walked onto Soarin' after waiting only 20 minutes. When does that ever happen!? So I was wondering what would happen when Genie+ started slowing down those standby lanes.
Surprisingly, not much! Soarin' was still 20 minutes the night I walked by. Seven Dwarfs Mine Train still had a crazy long wait. Genie+ really didn't seem to have much of an impact during my visit, which is a huge surprise to me. And if I'm honest, that makes me really happy because now if I don't want to spend the money on Genie+, I know I won't have to wait all that long.
Of course, this might not always be the case as people get more comfortable with paying for the old FastPass system, but if the majority of guests choose NOT to buy into Genie+ then those standby lines will remain relatively short.
But here's where I was surprised: some of the Genie+ lines were REALLY long. I'm looking at you Seven Dwarfs Mine Train who was wrapped around the side of the attraction. Or what about Haunted Mansion that was consistently backed up towards Columbia Harbor House? Was this growing pains? Or is this just what we can expect? I don't know. And it wasn't every attraction, but it's something to be aware of.
Booking Windows for Disney Genie+
Here's where I found myself getting a little annoyed with Genie+. With FastPass you knew that you would be given a span of time you could return to your selected attraction, and that's still the same with Genie+.
But with Genie+ I was finding (at least during the middle of the day) that the return times were hours and hours in the future. For example, I was having lunch and was looking for an option to do within the next 30 minutes before I headed out of the park. I didn't have any specific attraction in mind, just anything. The earliest I could find was an hour and a half in the future – with some as far out as 3.5 hours! That's not convenient!
Add to the fact that you can't book a second attraction until 2 hours from the last time you booked (or you use your current pass, whichever comes first) and you're wasting a lot of time not being able to book any Genie+ passes.
I feel like FastPass never had that big of a gap being able to book return times. Now, this doesn't account for the Individual Lightning Lane attractions that you have to pay separately for, though I did see a few of them sell out by early evening. And maybe it will change the more familiar we all get with Genie+, but even a week later I still feel like I didn't get my money's worth out of Genie+.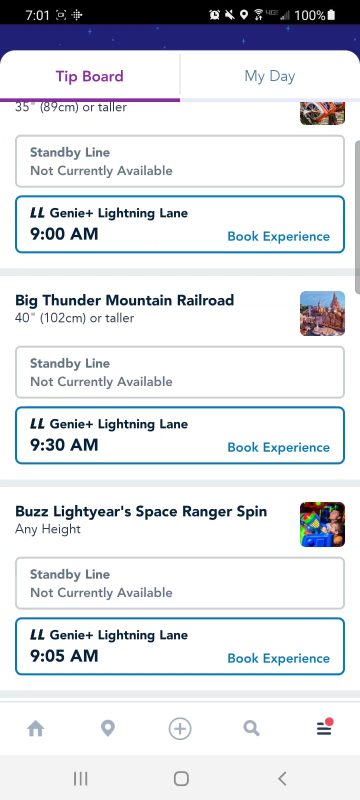 Lightning Lane Individual Access
As I mentioned above, there's something called Individual Lightning Lane attractions. These are attractions (there are two or three in each park) that AREN'T included in the cost of your Genie+ system. And of course these are the most popular attractions in each park. Thanks, Disney.
You can choose to purchase these in addition to your Genie+ access, or you can just purchase the Individual Lightning Lane access that you'd like. The choice is yours. Here's what's not your choice: you're only allowed to purchase 2 Individual Access per person, per day. And even worse, you can only use the Individual access once per attraction. So there goes the idea of purchasing two access passes to Rise of the Resistance one day.
My best advice? Plan accordingly and use those Individual Access options wisely.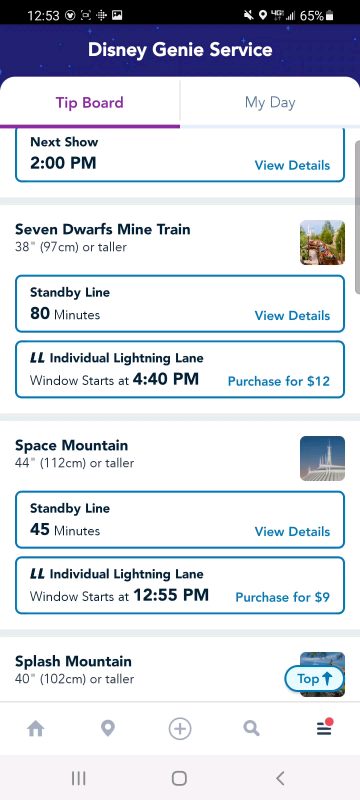 PhotoPass Lenses
If you're at all familiar with the old MaxPass system at Disneyland, then you know it used to come with all of your PhotoPass downloads for that day. So when Genie+ was announced for Walt Disney World and it didn't include PhotoPass downloads my first thought was, are they serious? Why not???
Then it came out that they'd be including PhotoPass 'lenses'. Excuse me? What does that even mean? Turns out, it's a fancy term for fun photo frames and backgrounds you can put on photos you take of yourself. Oh. That sounds… fun.
I'm still annoyed I didn't get any PhotoPass downloads from my time at the parks. I'd have loved to see my ride photos or stopped for some cute photos in front of the newly decorated castle. But I did try out the lenses (minus a couple that are only available while you're in specific parks and I completely forgot to stop and try) and I have to admit I had a lot of fun with them. There are videos and different things that alter your appearance. I probably spent a good 20 minutes on the balcony of my hotel room laughing and trying out every option.
Is it a good substitute for PhotoPass downloads? Not at all. But they are cute. If you remember to use them.
I also want to note that the Genie+ service at Disneyland WILL include PhotoPass downloads. Why couldn't Walt Disney World be the same? I guess we'll never know.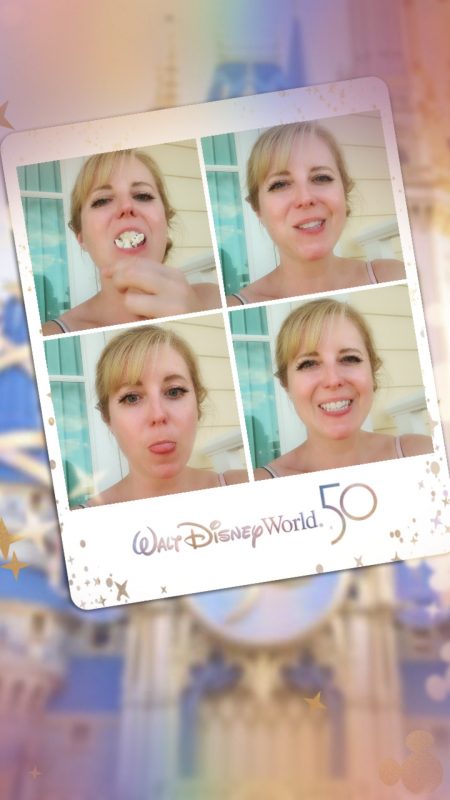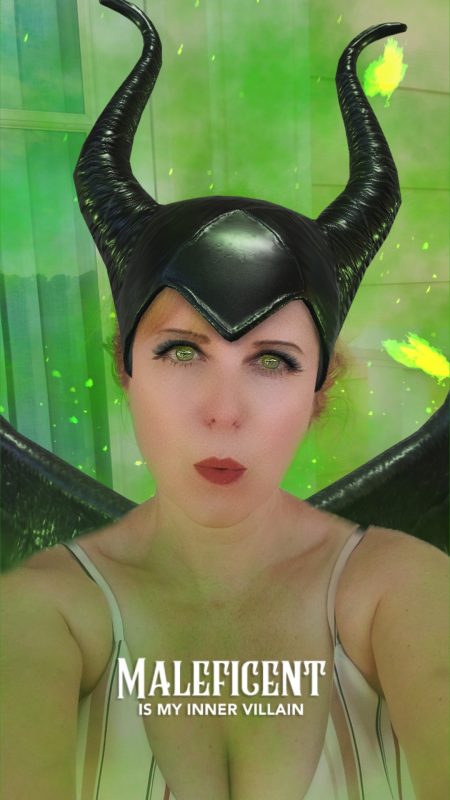 Conclusion
A week later, these are the things I'm still thinking about after my experience testing Genie+. Do I think it's worth it? That remains to be seen. Will the standby lines stay short? If so, then no, I don't see any reason to purchase Genie+. But if those lines start to creep up, then you'll probably find me using Genie+ in the future. And if you're someone that doesn't care if you ride that many rides, then go ahead and skip it. You'll be fine.
It's important to note that all of the details above were accurate at the time of writing this, but as with all things Disney they can change at any time. This is specifically about the Genie+ system at Walt Disney World – NOT Disneyland (which currently isn't available). Genie+ costs $15 per person, per day.
P.S. Now that you've found us, be sure to subscribe to our newsletter below or in the link on the side! You can also check us out on YouTube, Facebook, and Instagram!