"It's beginning to look a lot like Christmas…" Or Hanukkah, Thanksgiving, etc. Check out our favorite Disney holiday décor items from Amazon! 
It's November and you know what that means, right?! It's basically Christmas! Well, at least at the Disney parks. Yes, I am one of those people who lump "the holidays" into one giant span from Halloween to New Year's Eve. I get it from Disney, where it magically turns from Halloween to Christmas overnight!
I am a HUGE fan of the holidays and my family has to physically restrain me from putting up Christmas décor on November 1. So to keep myself from getting out ornaments, I began browsing on Amazon. Hoo boy – there is a lot of great stuff!
Let's get some business out of the way! This post contains Amazon affiliate links. What does that mean? It means that Disney Park Princess receives a small percentage of the proceeds of anything you purchase through our links. For more details check out our affiliate disclosure! 
Hannukah Holiday Items
Before you come for me in the comments, yes, I understand that Hanukkah is not a "major" holiday in the Jewish calendar. And that other than a menorah, many families do not necessarily "decorate" for Hanukkah. But representation matters!! And I'm happy to see Disney responding to the pleas of my friends for new Hanukkah-themed merchandise.
First up, this Stitch sweatshirt is too cute! Although, can you imagine playing dreidel with Stitch?
Speaking of dreidels, this book is great for explaining Hanukkah to little ones!
And I love this Mickey and Minnie.
Thanksgiving
If my family is going to insist that I not put up my Christmas holiday decorations until after Thanksgiving, then CLEARLY I need this Minnie Thanksgiving inflatable from Amazon!
And this Tigger one…
And obviously you can't have Minnie without Mickey!!
What's that? Inflatables aren't your thing or not compatible with your home? I got you!!
Kwanzaa
Sadly, I could not find any Disney-themed Kwanzaa decor on Amazon. (Do better Disney and Amazon!)  But I did fall in love with these Kwanzaa window clings! Perfect to decorate your hotel room if you will be at Disney for Kwanzaa this year!
Christmas
Here, of course, is where we hit the mother lode of Disney holiday décor on Amazon!
Stay cozy under this adorable blanket.
No snow where you live? (Lucky you!) That's ok – Mickey and Minnie bring their own!
This is the PERFECT train set to put around the base of your tree! (We have the monorail set in our house and it entertains the cats for hours!)
I actually already own this and it is one of my favorite yard decorations!
I need a new tree skirt and this one is a contender! (I asked a family member who quilts about making me a new tree skirt and she said, "No quilter wants to spend hours on a quilt, just to have to cut a whole on it so it can go on the ground!" LOL)
Ok this next one is definitely a splurge but I collect Nutcrackers, especially Steinbach Nutcrackers. And this Mickey caroler nutcracker is too cute!! (Dear Santa…)
Conclusion
Which holiday decorations are your favorites? Let us know what you order in the comments! And want to share photos of your holiday masterpieces? Be sure to join the Disney Park Princess Facebook Group to post photos!
P.S. Now that you've found us, be sure to subscribe to our newsletter below or in the link on the side! You can also check us out on YouTube, Facebook, and Instagram!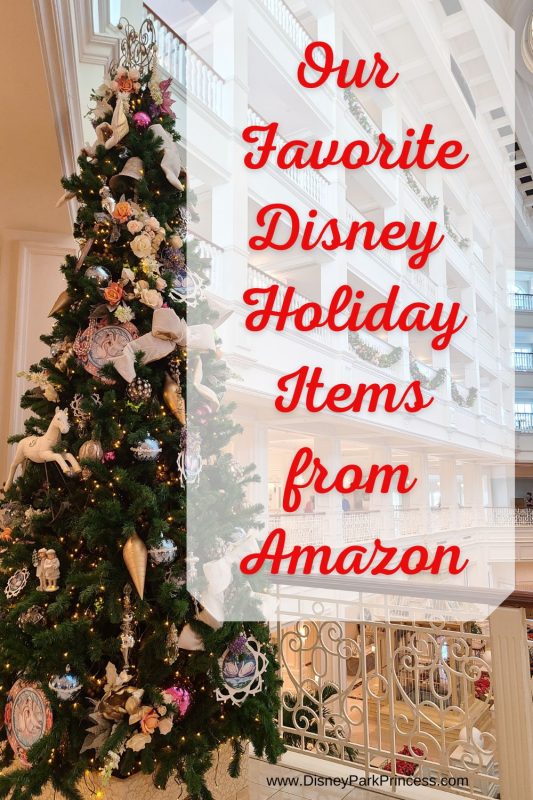 Save this post on Pinterest!