When Walt Disney World reopened in the summer of 2020, they planned a slow, phased reopening to allow for the safety of their cast and guests. Part of that phased reopening saw hotels reopening in a staggered timeline – and missing from those hotels were a lot of the amenities we all came accustomed to. So are the Good Neighbor Hotels now a better option? Let's see!
It's been almost two years since that reopening, and a lot of those amenities are still missing which leaves guests wondering if it's even worth it to stay on property anymore. With hotel rates through the roof and no more Magical Express, complimentary Magic Bands, Extra Magic Hours or package delivery and having to pay for parking, it's pretty hard to justify spending all that money when you're getting significantly less.
As a certified Disney travel planner, I've had a hard time explaining to my clients why they should stay on property. After all, telling people about the 'magical atmosphere' and proximity to the parks only goes so far when the gap between Pop Century and a Good Neighbor Hotel is in the thousands.
So exactly what perks do you get by staying in a Disney Resort? And how does that compare to the Good Neighbor Hotels? I'm going to break it all down for you so you can make an informed decision for your next Disney vacation!
DISNEY RESORT PERKS
Let's be honest – a lot went missing with the pandemic and we haven't seen their return. So long, Magical Express, complimentary Magic Bands, Extra Magic Hours and package delivery (PLEASE bring this back, Disney!).
But there are still a few perks that make staying on property worth it. For example, as a replacement for Extra Magic Hours (EMH) Disney introduced Early Theme Park Entry. Instead of one theme park being open an hour early or up to three hours late each day, now every day ALL the theme parks are open 30 minutes early. Do I wish it was still a full hour? Yes! But I love not having to plan my schedule around what park has EMH. I can just head to whatever park I want on any day.
Miss those evening Extra Magic Hours? Fear not! If you stay at a Deluxe Resort or Deluxe Villa resort you can have extra evening hours certain nights each week. Just ask the front desk of your resort for a schedule.
Another great perk? The ability to make your dining reservations for the length of your stay is a big one – especially if you want a spot at a popular restaurant. Starting 60 days before your check in date you can make your dining reservations for up to 10 days of your stay. That means there's no daily scramble to check each day of your trip, you can get it all taken care of at once.
The proximity of the Disney resorts really can't be overlooked, either. Being able to walk to the parks from certain hotels, or having only a 15 minute boat, bus, monorail or Skyliner ride gets you to the parks and on with your day faster. But that's even more important when you're heading to the Magic Kingdom. Staying at a Disney resort allows you to bypass the giant parking lot and following boat or monorail ride, putting you directly outside of the turnstiles and saving you 20 minutes. Plus, at the other parks, the bus stops are located right outside the entrances, instead of off to the side with a 10 minute walk. Less time commuting to the fun is everything!
Don't forget – you also have the ability to make your Genie+ and Lightning Lane selections starting daily at 7 am. A full two hours before some non-Disney resort guests. If you want to get on Rise of the Resistance or Seven Dwarfs Mine Train, this is key!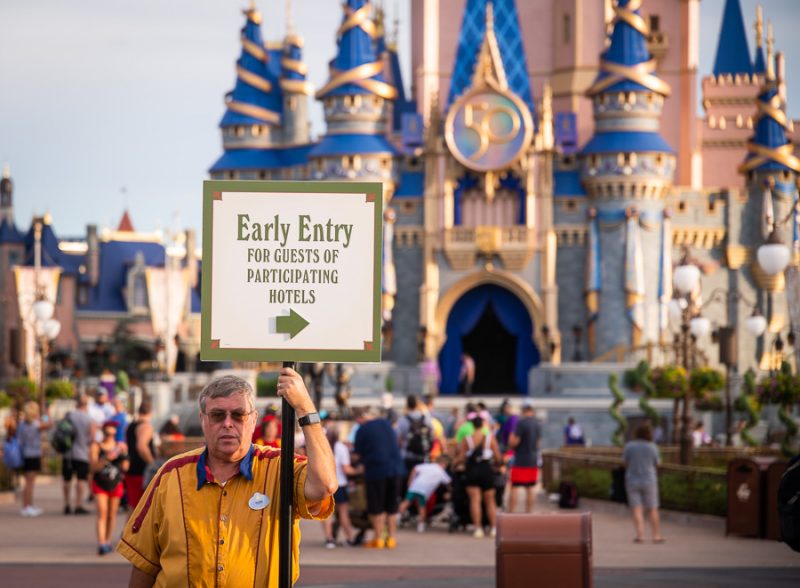 HOTEL BOULEVARD GOOD NEIGHBOR HOTELS
But what if that just doesn't equal enough to justify the cost of a Disney resort? What perks do you get if you're staying at a Good Neighbor Hotel? The answer is – that depends. So let's take a look at the hotels near Disney Springs on Hotel Boulevard.
If you stay at one of these properties, you still have the ability to make your Lightning Lane and Genie+ selections at 7 am – provided that you've booked a Walt Disney Travel Company package that includes your hotel and tickets. But if you booked your hotel and tickets separately, you won't be able to make either of those until 9:00 am each day, putting you a full two hours behind the Disney resort guests.
You also have the ability to make your dining reservations for up to 10 days of your stay starting 60 days in advance, just like the Disney resort guests can.
Some of the hotels also receive Early Morning Entry! At time of writing those include B Resort & Spa, Double Tree Suites, Hilton Buena Vista Palace, Hilton Lake Buena Vista, Holiday Inn Orlando, Wyndham Garden Lake Buena Vista, Wyndham Lake Buena Vista, Four Seasons Orlando, Signia Bonnet Creek, Waldorf Astoria Orlando and the Drury Plaza Hotel. But none of these receive evening entry – that's exclusively for the Disney Deluxe & Villa resorts.
Here's where it starts to turn. Disney doesn't operate transportation from these hotels to the theme parks. That means any transportation is run by the different hotels, and they don't run constantly like the Disney buses do. Instead, transportation operates on a set schedule that you'll have to stick to. And these buses are parked further back in the parking lots (and across the lake if we're talking Magic Kingdom), so your walk will be further.
Theme Park parking also isn't included like it is for guests staying at a Disney resort. So, if you'd rather drive to the parks instead of taking your hotels' transportation, you'll be responsible for paying the parking fee at the parks each day. At the time of writing, that's $25 a day.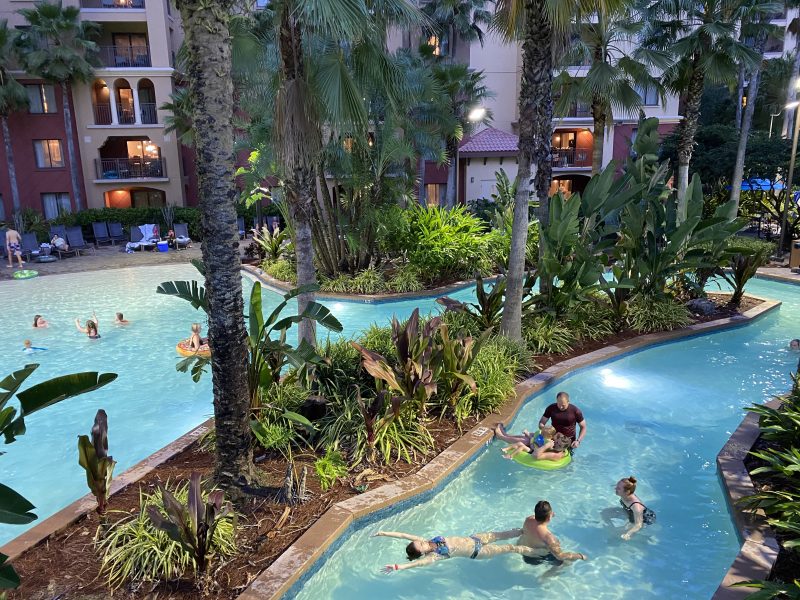 WALT DISNEY WORLD SWAN & DOLPHIN
The Swan & Dolphin aren't Disney-owned resorts, but you wouldn't know it based on their location and all of the perks they receive. They receive almost all of the same perks as the Disney resorts do – early morning entry, evening extra hours (!!!), the ability to reserve dining for length of stay and the ability to start Genie+ and Lightning Lane selections at 7 am each day.
Considering these resorts usually come in a couple thousand dollars cheaper than their Crescent Lake neighbors owned by Disney, why WOULDN'T you choose to stay here instead? It's definitely hard to argue against the perks and the cost (even if the atmosphere at the Beach Club is so much more fun!).
But there are a few things to consider before you jump at the Swan and Dolphin. Because they aren't owned by Disney, there is a delay with all the technological aspects of planning for your vacation. It can take up to four days for your park tickets and hotel reservation to show on your My Disney Experience. That can be frustrating when you're ready to make your Park Pass reservations. A lot of times it may take a phone call to the Disney IT help desk to correct the problem. I should also mention this is the case for the other Good Neighbor Hotels, too, as they also aren't owned by Disney.
Do you love the Memory Maker photo package? If you stay at one of these resorts, you won't be able to add the Memory Maker to your resort package. Instead, you'll need to purchase it separately and pay the fee up front, rather than adding it into your room/ticket cost. A minor inconvenience, but still, something to be aware of.
Finally, the theme park buses for the Swan and Dolphin have changed slightly since the reopening. Now, buses from these resorts don't always go to the same drop off locations at the Disney resorts. For example, they now drop you off at the Transportation & Ticket Center when heading to the Magic Kingdom, which means you'll need to take a boat or Monorail to the park instead of being dropped off at the entrance. And over at Disney Springs you'll be dropped off near the Cirque du Soleil theater instead of the middle of the complex like the Disney resort hotels.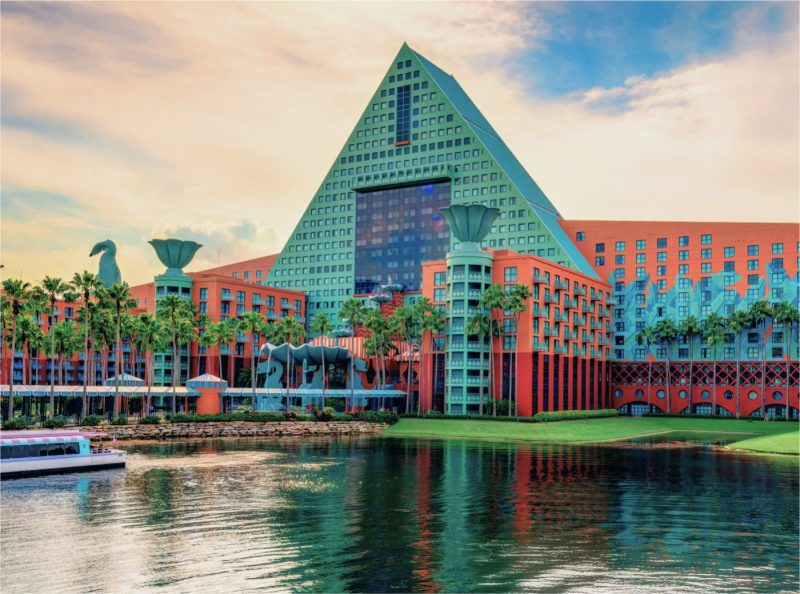 Conclusion
So, do these perks make it worth the cost to stay on Disney property? Or is there not enough difference to justify the cost? Only you can answer that! But at least now you'll be able to make an informed decision. Please know that these perks are subject to change at any time, so be sure to check Disney's website or with your travel agent before you book your reservation.
P.S. Now that you've found us, be sure to subscribe to our newsletter below or in the link on the side! You can also check us out on YouTube, Facebook, and Instagram!