I love to shop. On a recent trip to London, Harrod's was one of my first stops. In Paris, I dragged Heather and Sharla through the Latin Quarter, in the rain, to find a tiny consignment shop that sells vintage Chanel and Hermés. So it should come as no surprise to anyone that as far as I am concerned, Disney Springs is Walt Disney World's fifth theme park! A theme park dedicated to shopping and food. Heaven…
Shopping
With over 110 shopping locations. Disney Springs truly offers something for everyone. It is a mix of Disney shops and other retailers such as Zara, Anthropologie, UGG, and more. Whether you are looking for the perfect gift to bring home for the family pet (Happy Hound or Disney Tails), or an incredible piece of artwork to commemorate a special trip (Pop Gallery or Wonderground Gallery), it can be found at Disney Springs.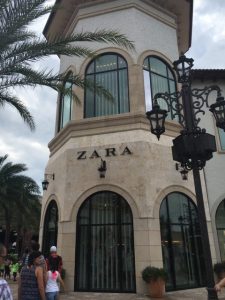 But my favorite thing to shop for at Disney Springs is the exclusive Disney merchandise sold at non-Disney retailers. Keep a close eye out at shops such as UGG, Kate Spade, Alex & Ani, and more. Many stores offer special merchandise with a Disney twist! My favorites are the UGG boots with Swarovski Crystal Minnie Mouse bows on the back, and the (far more affordable) Alex & Ani bracelets. As you can see, I have quite the collection going!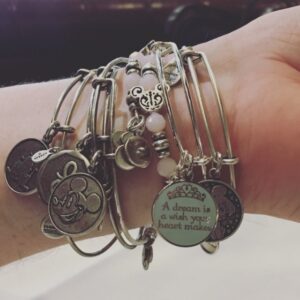 Maybe you aren't shopping for souvenirs! Maybe the weather is warmer or colder than anticipated, or you forgot a favorite face cream at home. There are stores for that too! Sephora, Havaianas, Origins, and even Under Armour can help you out with forgotten essentials. (I have made many a run to Sephora for a forgotten item!)
And no trip to Disney Springs is complete without visiting the World's Largest Disney Store – World of Disney! Recently remodeled, this store is the ultimate destination for Disney shopping. Everything Disney from A(laddin) to Z(azu) can be found here. Did you see something in a park and forgot to buy it or thought you would go back and didn't? Don't worry – chances are World of Disney has it.
Dining
Shopping is hard work! After all that shopping, I know I need a good meal. Lucky for me, Disney Springs is home to some of the best food in all of Walt Disney World! There are 62 dining locations at Disney Springs ranging from snack carts to restaurants from famous celebrity chefs. José Andrés, Rick Bayless, Morimoto, Guy Fieri, and Art Smith all have restaurants at Disney Springs! It's a veritable Food Network Who's Who.
Earl of Sandwich is my go-to location if I want a quick sandwich. (The Original 1762® is my favorite!) For a meal there are so many great options but The Boathouse® has become my favorite. I love seafood (I am from New England after all) and The Boathouse has it in abundance! And don't worry, there is a huge selection for land lubbers as well. And if I just want a quick snack? Aristocrepes or Amorette's Patisserie has exactly the sweet treat I need to keep shopping.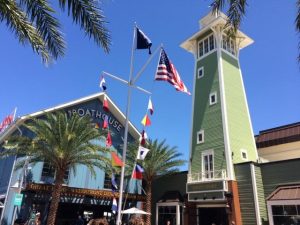 Entertainment
There is so much more to Disney Springs than even shopping and dining. The entertainment options could easily keep you busy every night of your vacation! Love music? House of Blues has concerts and live music. Looking for a little friendly family competition? Splitsville Luxury Lanes has not only bowling but also fantastic food. Dying to see the latest movie release? AMC Movies at Disney Springs 24 not only has all of the latest movies, but they even have Fork & Screen® Dine-In Theaters where you can enjoy your meal during the movie!
Getting to Disney Springs
Disney Springs is easily accessible from your Walt Disney World Resort. There are buses running continuously during operating hours. (Disney Springs is open typically from 10:00 am – Midnight, but hours vary by season.) If you are staying at Disney's Port Orleans Riverside, Disney's Port Orleans French Quarter, Disney's Old Key West, or Disney's Saratoga Springs Resorts, there is boat service to Disney Springs. You can even walk from Disney's Saratoga Springs Resort! And of course, Minnie Vans are always an option. If you will be driving, self-parking is free in most locations. Preferred parking and valet parking do have a fee.
What is your favorite part about Disney Springs? Let us know in the comments!