Disney Park Princess Heather has just returned from a preview cruise on Disney Cruise Line's newest ship, the Disney Wish! She is sharing her top 5 secrets to help you make the most of your sailing on this gorgeous new ship! 
I was lucky enough to be invited on a showcase cruise of Disney Cruise Line's newest ship, the Disney Wish. My mind is still reeling from how gorgeous she is and all of the incredible things I got to see and do.
If you listen to our podcast, we'll be doing a review of the ship, but I wanted to get you information fast that may be overlooked in all of your planning. That's why I'm giving you the five secrets I learned that are going to help you make the most out of your cruise on the Wish.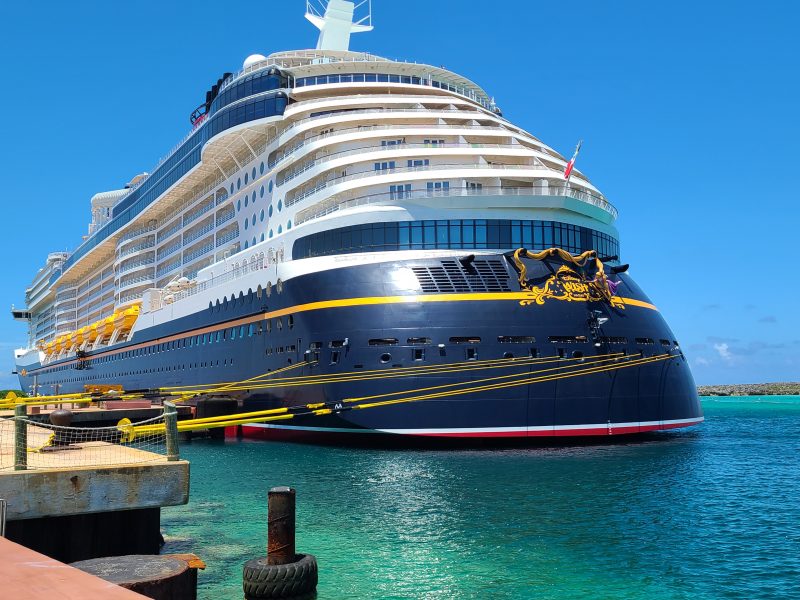 1. Disney Cruise Line Adult Only Dining – Enchante
This may be the single best tip I'll give you. If you're interested at all in eating at Enchante (and you should be – the food and service were SENSATIONAL) book EARLY. This is the hottest ticket in all of the Disney universe, so the earlier you can book, the better shot you'll have at getting a reservation.
If you're unfamiliar with Enchante, this is one of two adults-only restaurants aboard the Wish. It's a high-end French restaurant that pays homage to everyone's favorite candelabra, Lumiere from Beauty & the Beast. The restaurant itself is stunning (be sure to book reservations for around sunset), but the food and service are next level. They offer prix fixe and a la carte menus.
But here's where it gets tricky. There are just 16 tables in Enchante, and only one dinner service per night. That means only 16 parties get to dine there every evening, so if this is something you want to do, be sure to be up at 12:01 am on your booking window day to try and score a reservation.
If you aren't lucky and can't score a reservation? Despair not! When you board the ship make a beeline (and I mean – do not go to lunch, do not stop and take photos, just GO) right to the dining reservation location (when I was on the Wish this was at Keg & Compass lounge, but it might also be in Triton's Lounge so be sure to ask) and get in line to see if there is availability. Usually Disney Cruise Line will hold some back for guests to book onboard, so you might get lucky!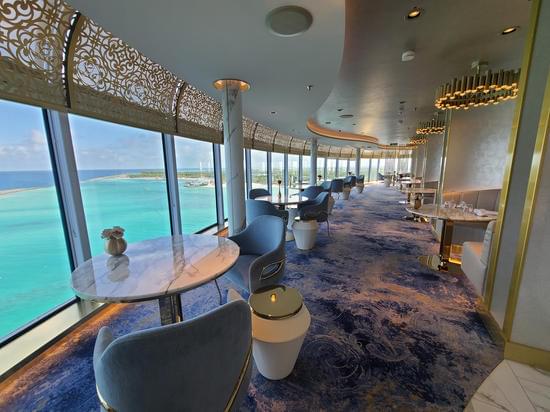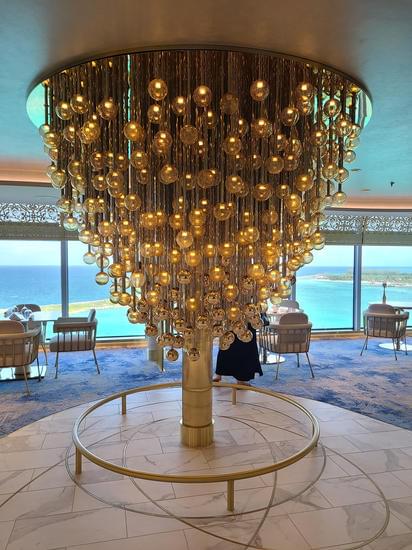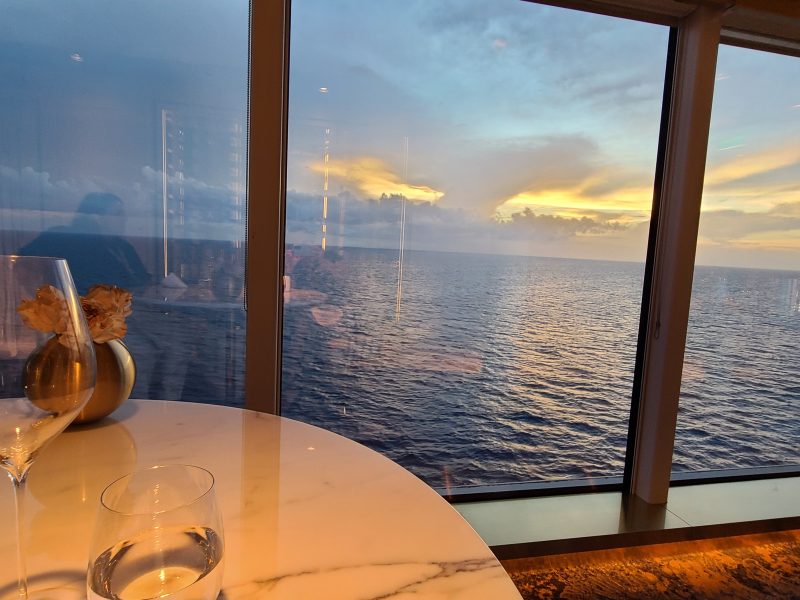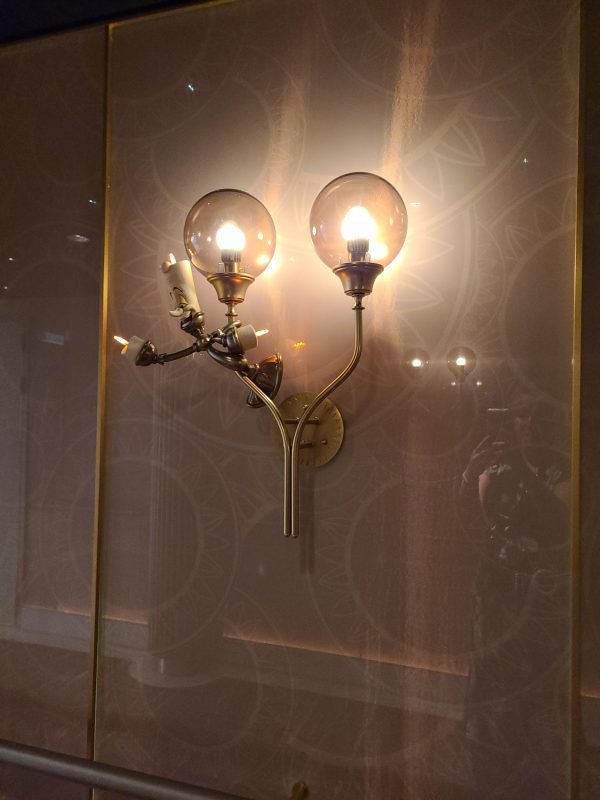 2. A Secret Slide That You Can Ride on Disney Wish
We've all heard about the fun 'secret' entrance into the Oceaneer's Club, right? If not, there's a one story slide that starts in the grand atrium and brings you down to the floor below, right into the check in area of the kids' club. I know, kids get all the cool stuff, am I right?
But here's my tip – on the first day of the cruise, before you've even left port, the kids clubs are open for adults to go tour them. And tour you must! These spaces are so much fun with activities dedicated to the princesses, Star Wars, Avengers and even becoming and Imagineer! It's worth your time.
However, that's not why we're here, is it? We're here for the slide! During these open house hours adults are allowed to ride the slide down into the club! So head to that atrium, look for a cast member standing at a podium, and get on down that slide! I promise it's so much fun, and where can you act like a kid again if it's not on a Disney cruise?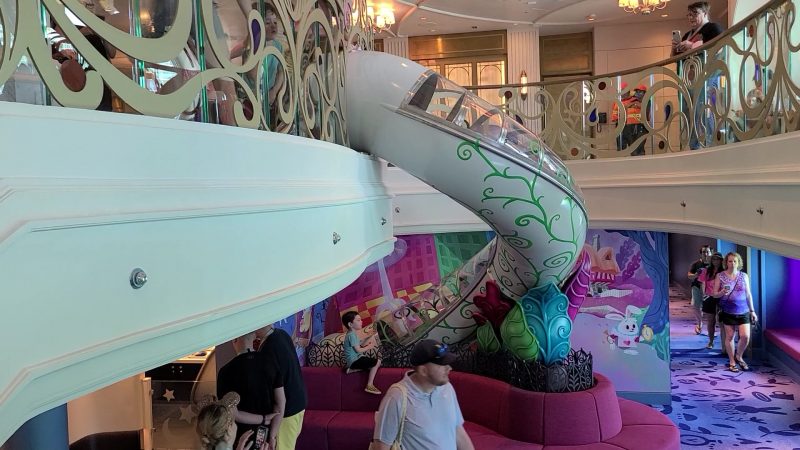 3. The Spa Onboard the Disney Wish
Obviously! If you're a Disney Park Princess fan then we know you're here for some self-care and pampering. On a cruise that means heading to the spa for a little R&R. And where do we all love to do that? The Rainforest Room of course!
The Rainforest Room is a special relaxation area that includes a sauna, steam room, running water and those famous heated tile lounge chairs that make you just melt into them and never want to leave. We all have wished we could spend entire days there, haven't we? The Rainforest Room on the Wish is next level, though, with a frigidarium (cold room) and an OUTDOOR pool deck with two hot tubs, day beds, and loungers. The space is huge and you really could spend days there, which leads me to my secret tip.
On the first day of your cruise, the spa will only be selling length of cruise Rainforest passes (access to the Rainforest Room is included with any spa treatment you book, but if you just want access to the space you'll need to purchase a pass). Which is great if you plan on spending all of your time there – no judgement! Just lots of jealousy! But if you only really want to spend one day there, what to do?
I was tipped off by the spa staff that if they do not sell all of their length of stay passes, they'll open up daily passes during the cruise. So all you need to do is head to the spa right when it opens on the day you'd like your pass for and ask if they have any passes available for just that day. If they do, purchase one and head on in to bliss!
Want a second secret Rainforest Room tip? Of course you do, you believe in pampering! The room on the Wish allows you to bring in adult beverages! So go purchase that bottle of champagne, bring it to the private Rainforest Room sundeck, and get your vacation life on! The Rainforest Room is even open until 10 pm each night, with fun lighting effects, so you could even head out there with a cocktail (plastic glasses only!) for a little party.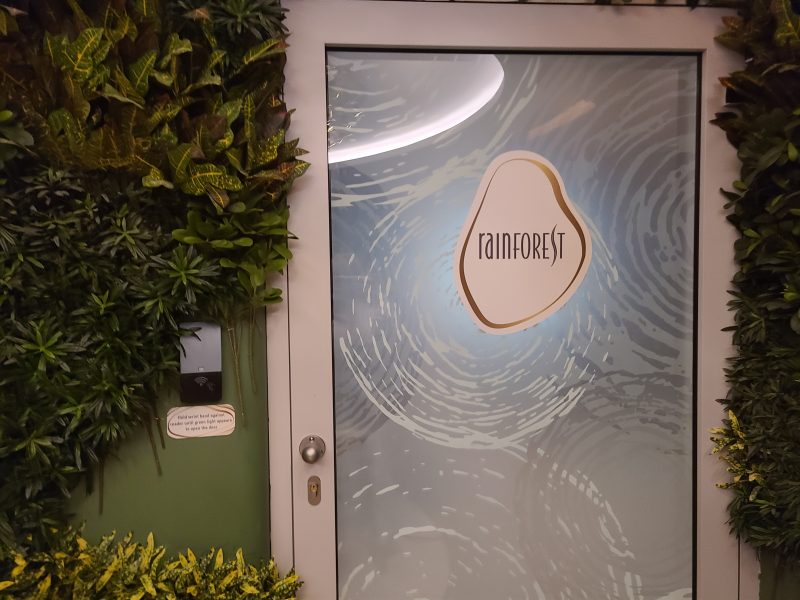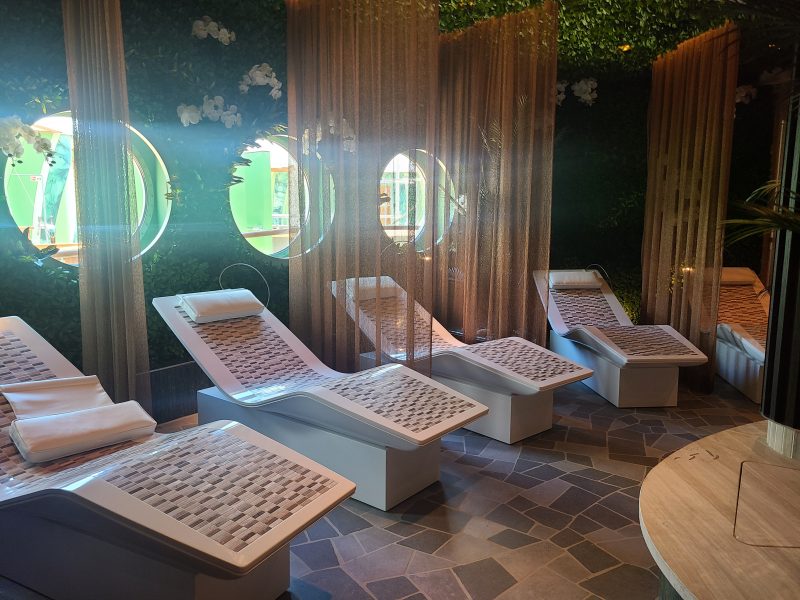 4. Shave and a Haircut…
Separate from the spa the Wish also has a salon and barber shop, themed to Rapunzel and Captain Hook respectively. Here's where I think the men have us beat though, ladies. Hook's Barbery may be the coolest barber shop I have ever seen!
It's all deep grays and woods and does the traditional services like hair cuts and shaves, but here's my secret tip: it also has a full bar with a mixologist present in the evenings! WHAT!? That's right, in the evenings a mixologist comes in and serves whiskey, old fashions and other manly-type cocktails to those who are getting services AND for those just stopping by. There's a fantastic seating area where you can sit, chat, and just soak in the atmosphere. I told Justin all about it and he was so jealous that he almost had me booking a cruise for him then and there so he could experience it.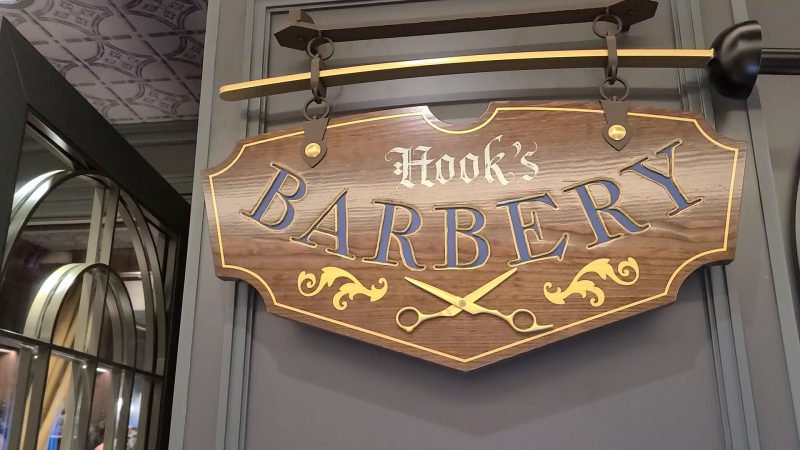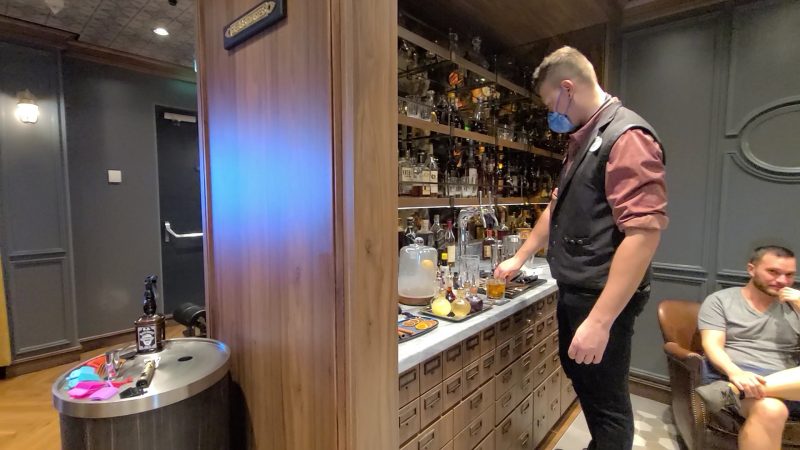 4. Stay Up Until Midnight
This is hard for me, considering 9 pm is what I think of as staying up late. It was so worth it, though. You've heard of a 'Goodnight Kiss' in the Magic Kingdom, right? Where when the park is nearly empty and most guests have left for the evening, there's a special moment on Main Street? Guess what? The Wish has a Goodnight Kiss, too!
I won't give you too many details, because I want you to discover it for yourselves, but it is one of the cutest things I've ever seen. Get there 10 minutes before, go to deck 3, and lay on the ground. Yes, it sounds weird. Yes, you'll get weird looks. But just do it – you can thank me later!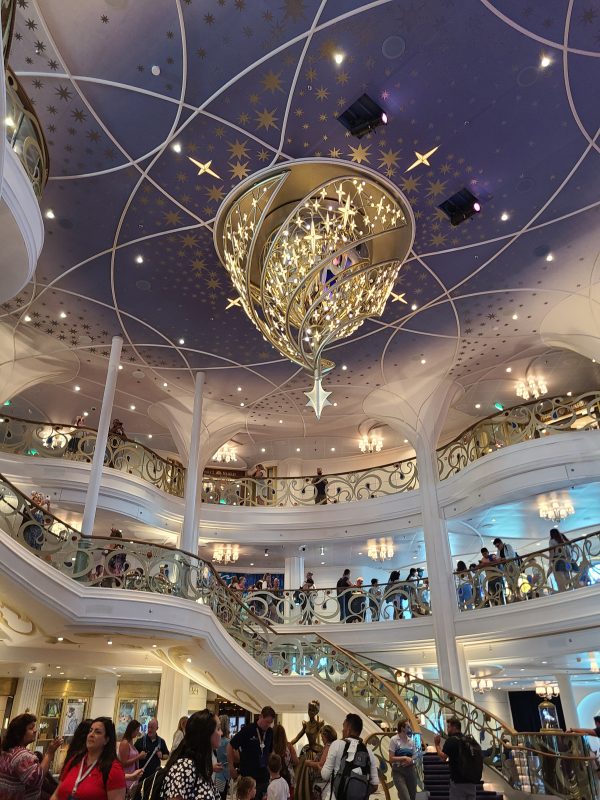 Conclusion
There you have them! My five secret tips to help you make the most of your cruise on the Disney Wish! These little tidbits are going to make you look like a pro to your family when you get on the ship. And you can just smile and take all the credit for helping them plus up their cruise that much more!