UPDATED: California has released new theme park reopening guidelines. Disneyland (and other "large" theme parks) will be able to reopen when their county reaches "yellow" status. See below for more details! 
Update as of October 20, 2020:
California has announced their guidelines for theme park reopening. The bottom line? Guests will likely need to wait a bit longer for Disneyland to reopen. (The Downtown Disney District has reopened already. It is just the theme parks and resorts that are closed.)
California has a color coded system for counties. Purple indicates a "widespread" infection rate of more than 8% positive COVID tests. Red indicates "substantial" infection rates of 5-5% positive COVID tests. Orange indicates "moderate" infection rates of 2 – 4.9% positive COVID tests. And yellow indicates "minimal" infection rates of less than 2%.
Disneyland is located in Anaheim, which is in Orange County. Orange County is currently (as of October 20, 2020) in red status, or "substantial." Orange County would need to drop from red to yellow in order for Disneyland to be allowed to reopen.
Large theme parks such as Disneyland will be restricted to 25% capacity when they reopen. Reservations will be required to visit the park.
Disneyland has added an "Experience Updates" page to their website with reopening FAQ.
Statement from Disneyland Resort President, Ken Potrock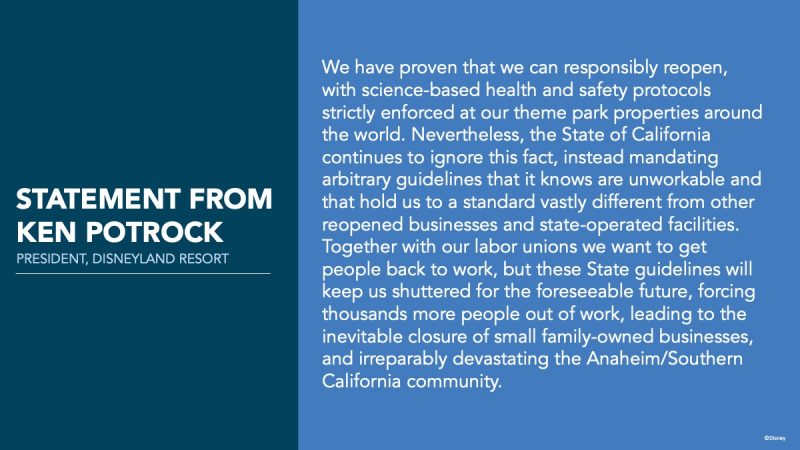 Disneyland Theme Park Reservation System
Potentially the biggest change we see to how guests will experience Disneyland going forward will be the theme park reservation system. In addition to park admission, guests will be required to have a reservation to visit a theme park. We do not have much information on this right now but will update as we learn more!
Walt Disney World has been using the Park Pass reservation system since they reopened in July, so it is safe to say it will be similar.
Safety and Social Distancing When Disneyland Reopens
From the Disneyland website:
"We recognize that the COVID-19 situation is constantly evolving, which is why our reopening approach is deliberately fluid and phased, and there are many factors that are helping us determine the timing of when various aspects of our business will reopen in a responsible way. In addition to following existing state and local guidelines, which continue to evolve, we currently are working with our unions to responsibly and thoughtfully implement new health and safety measures for Cast Members. These enhanced health and safety measures include:
Enhanced Protective Measures: We will require mandatory face coverings for both Cast Members and Guests, ages 2 and older, with the addition of hand-washing stations and physical barriers, where appropriate.
Physical Distancing: We will reduce theme park capacity to enable physical distancing and add appropriate signs to help Guests move responsibly throughout the property.
Temperature Checks: All Guests will undergo temperature screenings prior to entering the Downtown Disney District or the theme parks; in addition, health screenings and temperature checks will be required daily for Cast Members.
Limited-Contact Enhancements: We are recommending cashless transactions and we will reduce Cast Member and Guest interactions with helpful technology, including the expansion of Mobile Order in our Disneyland app, Apple Pay and more.
Enhanced Cleaning and Sanitation: We will build upon our existing standards of cleaning with heightened protocols.
While it may be a bit different from the last time you visited, we've come up with new ways to create magical moments together—and memories to treasure forever."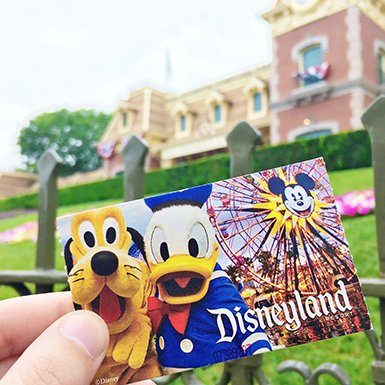 Will these changes affect your Disney vacation? Let us know in the comments! We will continue to update this post as more news is released.
P.S. Now that you've found us, be sure to subscribe to our newsletter below or in the link on the side! You can also check us out on YouTube, Facebook, and Instagram!
LOVE DISNEY VACATIONS?
Don't miss any of our DPP vacation tips. Plus get a free gift instantly!