This past weekend I was at the Disneyland Resort to experience this year's California Adventure Food & Wine Festival. Everyone knows how much I love Disney food – the Epcot International Food & Wine Festival is basically my happiest time of the year. So of course I needed to check out California's version this year.
2019 Disney's California Adventure Food & Wine Festival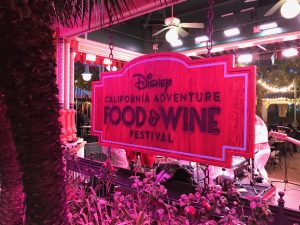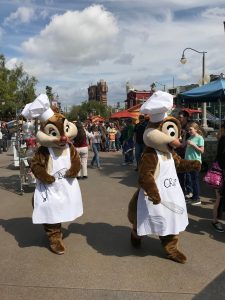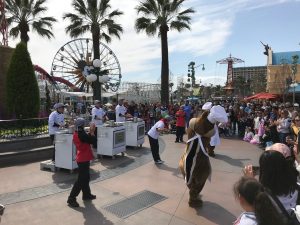 The festival at California Adventure is like Epcot's baby sister – much smaller and shorter in duration, but it's still so much fun. This year's festival runs for a month and a half – from March 1st to April 23rd – and where Epcot has foods from all over the globe, the festival at California Adventure focuses and different foods and beverages from throughout the state of California, and the quality of the foods is outstanding. There was absolutely nothing that was just 'okay' – all the foods were delicious. And the portions are much bigger than what we're used to at Epcot. Of course, that translates into it being more expensive, but I found it was worth every penny!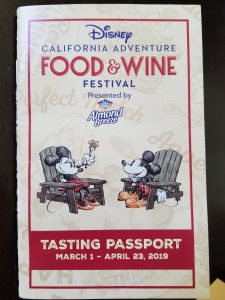 Just like in Epcot, the main focus here were the Festival Marketplaces – the food kiosks dotted around the park that offer tapas sized servings of different foods. This year there were 16 different marketplaces, and I ate at almost all of them. For research. You know.
I could go on and on about every booth because they were really all fantastic. In the interest of not boring you (or making your stomach growl), I'll note my top bites. The Asian-style Beef Barbocoa Tacos with Pickled Ginger from the LA Style booth were out of this world. This was the first thing I tried and it set the tone for the rest of the day.
I also adored the Fiscalini White Cheddar Lager Soup served in a mini Boudin Sourdough bread bowl at the Nuts About Cheese Marketplace. The soup was SO creamy and it tasted like eating white cheddar Cheese Its. The Artichoke Toast with California Olive Tapenade from the I Love Artichokes Marketplace.
Another Marketplace that was exceptional was the Peppers Cali-ente – stand outs here were both the Ghost Pepper Mac & Cheese and the Jalapeno-Lime Margarita. Just beware – the Mac & Cheese is SO spicy that your mouth is going to be on fire for at least an hour after (just grab an ice cream or that White Cheddar Lager. Both will cool the heat.).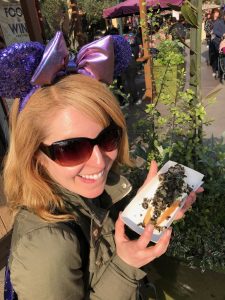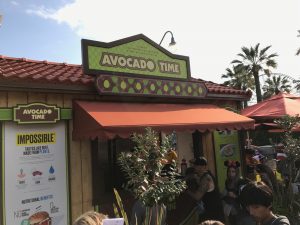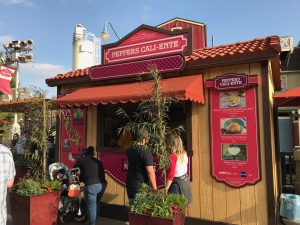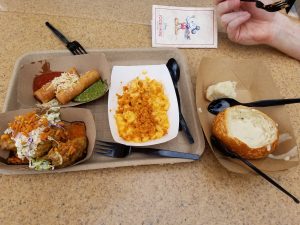 Food at California Adventure Food & Wine Festival
I could go on and on about the food – the Tropical Mimosa from Uncork California, the Anaheim Chile Relleno Bites with Salsa Verde and the Chocolate-Peanut-Caramel Parfait from Golden Dreams, or the Impossible No "Meat" Ball Sub and Buffalo-style Roasted Turkey Leg from Paradise Garden Grill's special festival menu – seriously, I loved it all. But by now my stomach is growling and I bet yours is, too.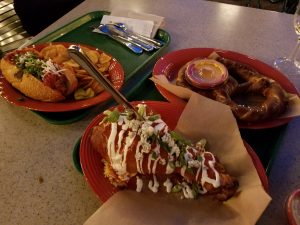 But beyond just strolling and eating at the Marketplaces, another major part of the California Adventure Food & Wine Festival is the Signature Events. This is where you get to be schooled by celebrity chefs and wine makers about all things food & beverage. There are some demonstrations included in your theme park admission, such as Discover California that introduces you to the farmers and ranchers who grow the food we eat.
There are also culinary demonstrations with visiting chefs on one of the outdoor stages. On the other end are the premium events such as Dinner with the Disney Chefs where you enjoy a four-course meal prepared by Disney chefs accompanied by a beverage pairing menu curated by a Disney sommelier. There's the Carthay Circle Winemaker Receptions which takes place in the restaurant where a celebrated winemaker regales you with tales of their wine as you sip the vintages and enjoy hors d'oeuvres. Even Guy Fieri made an appearance to cook some favorite dishes and then guests got to attend an after-party to sample the dishes he just made!
But easily my favorite options are the Wine, Beer and Mixology seminars. These are offered every Friday, Saturday and Sunday of the festival and they're completely affordable at just $20 per person. In these 45-minute seminars you get to learn from industry experts. Each one includes a guided tasting selected by the presenter, and Mixology seminars include the opportunity to make your own cocktail!
I did two this year, and I had a great time. I did a Wine Tasting Seminar with Kat MacMurray from MacMurray Ranch Vineyards. First, I love her father (The Happiest Millionaire is one of my favorites!). Second, I love her wines – the Pinot Gris is so great on a sunny day!
Over the 45 minutes Kate brought 3 wines for us to taste (including the pinot gris!), and taught us about her wine making process, the different animals they use to protect the grapes (they bring in falconers to help control the insect population), and she even taught us how we drink the wine alters the taste. I may have slightly freaked out when she told me that I had a great palate, mentioning it at every chance for the rest of the day.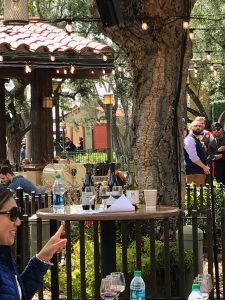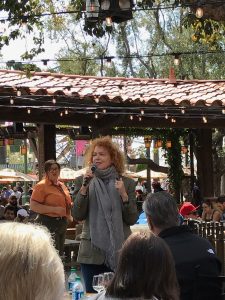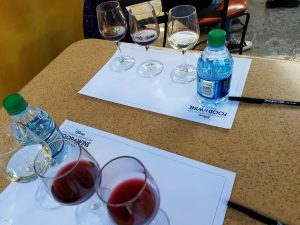 Later in the afternoon I attended a Mixology class with Blinking Owl Distillery. Mixology classes are fun, and this was no exception. We were in the Vineyard Room at Golden Vine Winery, which is open air and had a great view over the park. Blinking Owl was featuring their gin, which is a spirit I'm not really a fan of, but I still had a great time learning how to make an herbal gin & tonic.
Even though I didn't love the drink, I loved learning how to blend different herbs to bring out different flavors, as well as learning about the different herbs this particular distillery uses in making their different spirits. Plus, the drink was just pretty! 45 minutes sitting down and enjoying the gorgeous California weather is a fantastic way to relax at the festival, which is of course otherwise crowded!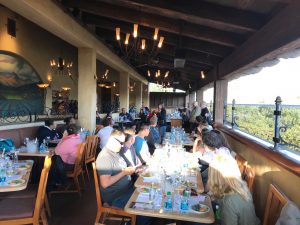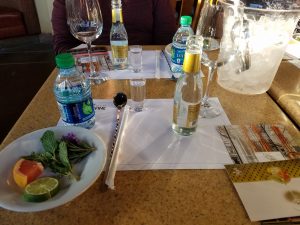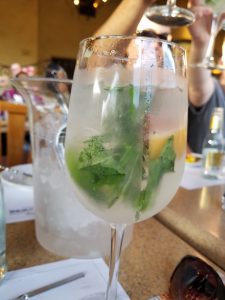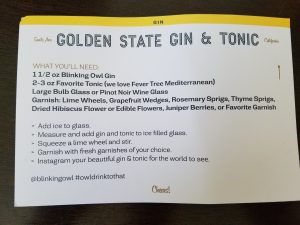 There's still time for you to head over to the California Food & Wine Festival to enjoy all the great tastes. If you've been, I'd love to hear what your favorite foods were! I'll bet your list is about as long as mine is.