This past weekend I visited Disney California Adventure with a group of friends. Heading to the parks with a big group is one of the perks of living nearby and this time our focus was to experience the Festival of the Holidays.
If you're not sure what the festival is, every December California Adventure opens Festive Foods marketplaces with tasting size portions of holiday favorites – kind of like a mini Food & Wine Festival. But in addition to traditional bites, there are also twists on favorites, different cocktails, and PLENTY of desserts, all celebrating, Christmas, Hanukkah, Kwanzaa, and Diwali.
If you love food, you're in for a treat, because I'm going to share my favorites from this weekend. Warning: Do NOT read this post hungry!
Hands down my favorite booth was Winter Sliderland with a turkey slider that's basically Thanksgiving dinner on a roll – roasted turkey, stuffing, gravy and cranberry sauce. But the best thing at the booth? The Stuffing Mac & Cheese. Yeah, you read that right. Macaroni and Cheese with dried stuffing crumbled on top. I'm drooling just thinking about it!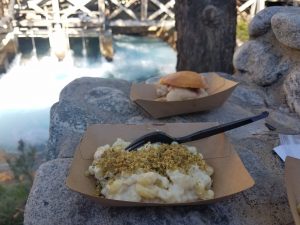 Next up I made a stop at Award Wieners to get my favorite treat of the whole festival. These are returning from last year and I wait all year for them – Gingerbread Funnel Cake Fries. Bite size funnel cakes smothered in gingerbread spice and caramel sauce topped with whipped cream. Get these immediately!!!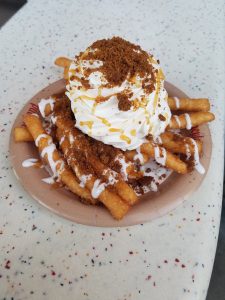 Also at Award Wieners, the new Stocking Stuffer Funnel Cake Fries – peppermint icing, candy coated chocolates, Oreos & whipped cream. Also delicious!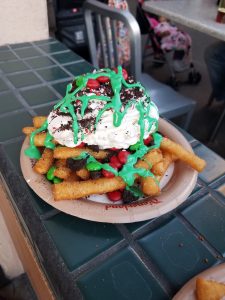 At the Merry Mashups booth we all tried the Turkey and Stuffing tamales. A Mexican twist on traditional American flavors. Wow!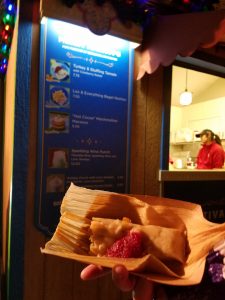 And then I had to head over to Boardwalk Pizza & Pasta and try their special holiday offering – Holiday Dinner Pizza: roasted turkey, mashed potatoes, turkey gravy, bacon, veggies and cranberry sauce. It sounds a little weird, and honestly, when you first take a bite it's odd. But then you take a second and you're hooked – this was surprisingly good!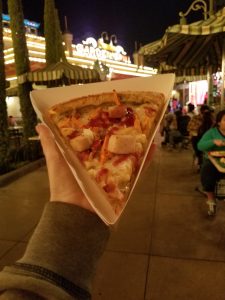 Okay, this wasn't ALL about the food. I made sure to stop by Cars Land to take in the holiday decorations. Even Mater has his junkyard all done up!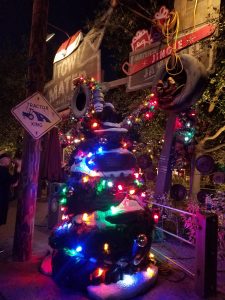 The last stop of the evening was the Visions of Sugarplums booth, where we got EVERYTHING on the menu. There was a white chocolate cranberry blondie, a warm sticky toffee pudding, an eggnog wreath éclair and a warm bourbon cider. These were all great, but the absolute best was the sticky toffee pudding. I'm pretty sure we fought over the last bite!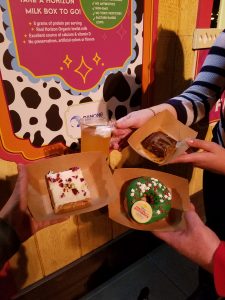 Have you been to the festival this year? What was your favorite holiday treat? Let us know in the comment below!