Disney's Polynesian Village Resort is closed until Summer 2021. Disney will be making some updates to the resort during this time. We cannot wait to see the improvements when it reopens! 
On a recent trip to Walt Disney World I had the opportunity to stay at Disney's Polynesian Village Resort, in the Club Level. The Polynesian is one of the Deluxe Resorts at Walt Disney World. It opened with the Magic Kingdom in October 1971. It is in a perfect location because it's just a short monorail ride away from the Magic Kingdom. It's also a quick walk (or monorail ride) to the Transportation and Ticket Center to get to Epcot.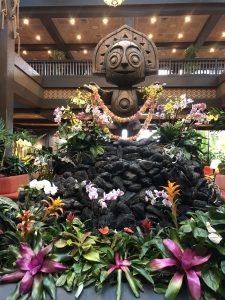 Disney's Polynesian Village Resort is a large resort with many buildings (called longhouses). Some are closer to the Great Ceremonial House and pool, and some are closer to the beach/ lagoon. The resort is pretty spread out, but with the tropical plants and décor it's a fantastic resort to stay or even just walk around.
Amenities/Lounge
There are several benefits to upgrading to Club Level (Concierge) services for your trip. The Concierge can help with just about anything, from Dining and FastPass+ reservations to adding the little special touches to your reservation. Think of them as your own personal travel planner, but with a little extra magic. They work for Disney and have more "pull" than some of the Cast Members or travel agents. You can email them or call them to make your plans for you any time before your trip. Club Level guests can also pay an additional fee to select FastPass+ at 90 days out instead of 60 days out.

The Lounge is open 7 am until 10 pm daily, with food offerings most of the day as well. Continental breakfast is available until 10 am. Afternoon service is from noon until 4 pm. Evening service is 5-7 pm. Late evening service is from 7-10 pm. Sodas, beer, wine, cordials, and juices are available all day as well. The wine was out with the evening services. We asked if it was available any time and it is, you just have to ask. Beer and sodas are in a mini-fridge and the juices are in self-serve dispensers. Coffee/tea/hot chocolate are also there in self-serve makers. The food ranged from chips and salsa to chicken drumettes, most in a Hawaiian or South Pacific style and was all delicious. The food was different every day.
One of the main benefits to the Club-Level lounge at the Polynesian is that it has a theme park view and in the evenings you can watch the fireworks from inside the lounge or walk just outside. They pipe in the music so you don't miss out on anything.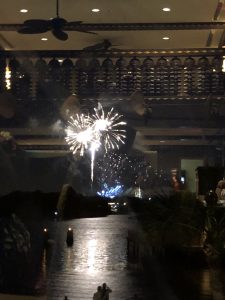 Our Experience
When we arrived at the Great Ceremonial House, they took our name and since we were staying Club Level, a Cast Member walked us through the lobby and over to the Hawaii building, which houses all of the Club Level Rooms and the lounge. Because you must swipe a Magic Band to even get into the building they helped by showing us that and by introducing us to the Club Level staff. They then completed the check-in process there in the Club Level lobby, where they gave us drinks and snacks while they made sure everything was ready for us! Our room wasn't quite ready when we checked in so we decided to hang out in the lounge for a bit before heading to the parks.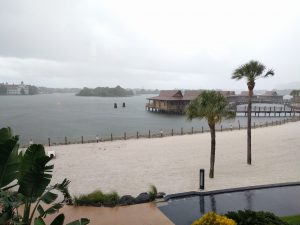 The lounge itself had some of the best Cast Members I have encountered at Walt Disney World. They knew what kind of food and wine we enjoyed and made sure to check on us when we were there.
Is Club Level Worth It?
A Club Level room at about $200 more per night than a standard room at the Polynesian. You likely won't "break even" with the food and amenities from the lounge, even if you stayed in there all day and ate every meal in there. With the Concierge help for dining and FastPass+, and with the private lounge and Fireworks viewing, it's an amazing splurge. To me it's well worth it! We had a great time and I loved everything about the experience.