Disney's Aulani Resort & Spa in Ko Olina Hawaii is an incredible vacation destination. Learn all of the Do's and Don'ts of visiting this gorgeous resort! 
When you see photos of Disney's Aulani Resort and Spa, it looks beautiful, right? And you might think that you want to go one day. But it can be intimidating. It's far away! It's Hawaii! It's so expensive! So I'm here with my Do's and Don'ts of visiting Aulani – keep these in mind and your trip there will be as perfect as you dreamed it would be!
DO BOOK A VILLA AT AULANI
At Aulani there are standard hotel rooms, but then there are also vacation villas. If you can afford it, I recommend booking a one- or two-bedroom villa. Not only are you going to have more space to spread out, but there are so many amenities that are going to make your trip so much more pleasant.
These villas come with a full kitchen, and before you go 'It's vacation, I don't want to cook!' I can't tell you how many times this came in handy. Food in Hawaii is expensive! So having a kitchen was fantastic for me to make bacon and eggs in the morning, and to store my wine in the fridge for cocktails in the evening. I had a coffee maker and tea kettle for morning sips on the balcony. And it was easy to run back upstairs and throw a sandwich and chips together for lunch and bring them back down to the pool deck. Just having this kitchen saved me so much money! I definitely wouldn't visit Aulani without having one.
Beyond the kitchen, there's a washer/dryer in these villas, which is fantastic for families with little ones. But even if you're just two adults traveling alone, having the washer/dryer lets you pack lighter. It's so easy to throw a load or two of laundry in one night while you're out to dinner. That way, you save room in your suitcase for more souvenirs!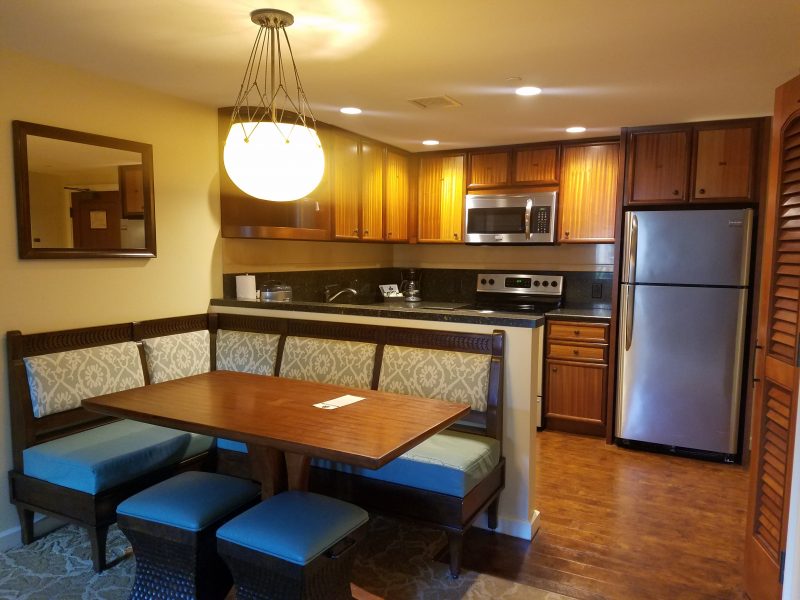 DON'T SKIMP ON THE VIEW AT AULANI
I know, I know – the ocean view is more expensive. But you're in Hawaii! You're there for the scenery! So don't limit yourself on the view. It might be tempting to book the standard view, but you're going to be overlooking the parking garage. You don't come to a tropical island for that, you come to see the ocean! That view is what's going to trigger your brain to relax, slow down, and enjoy your vacation. So, do yourself a favor and book at least a partial ocean view or above – you'll thank yourself while enjoying a glass of wine looking out over the Pacific while palm trees sway on the beach.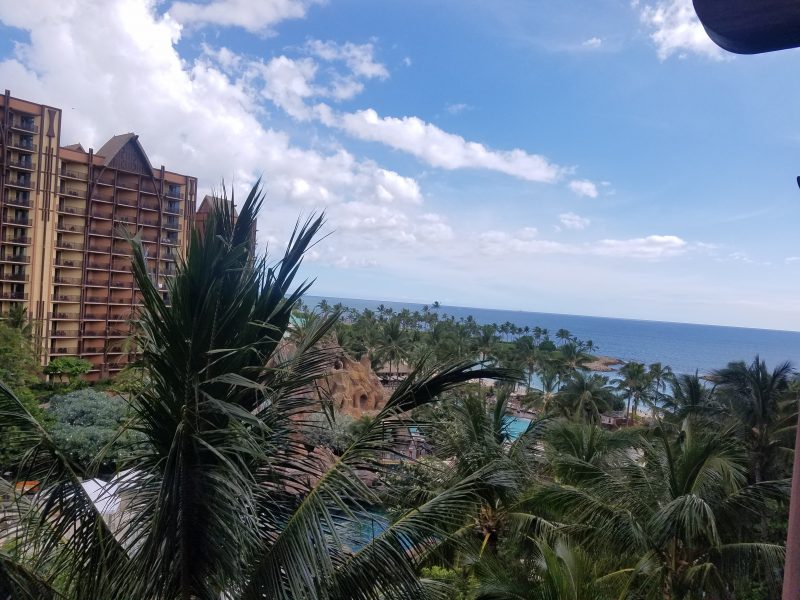 DO GET OUT ON OAHU
It may be tempting for us Disney fans to only visit Aulani and forget everything else there is to do on Oahu – the resort is fantastic and it's the brand we love! But that would be a mistake. There is so much to do on Oahu that you'll want to make time to take it all in. There's the Pearl Harbor memorial, sleepy surf towns on the North Shore, the activity down on Waikiki Beach, hiking Diamond Head, a visit to the Dole Plantation – I could go on for hours! You need to get out onto the island to speak to the locals and get immersed in Hawaiian culture. There are wonderful hole in the wall restaurants to try and people to chat with.
As beautiful as Aulani is, you didn't fly half way across the world to sit by a pool for a week. So get out and see how beautiful this island is. I don't know about you, but I don't have volcanoes and tropical jungles where I live, so I want to make sure I get to experience that while I'm in Hawaii!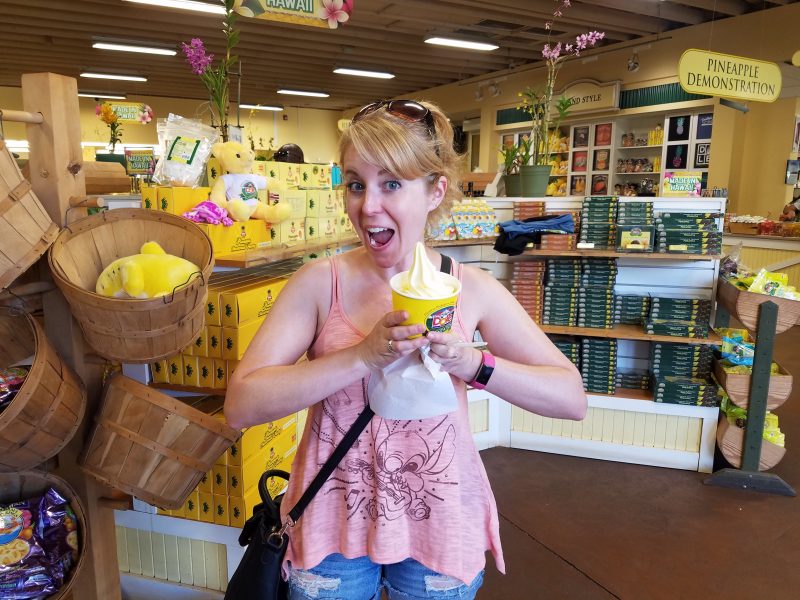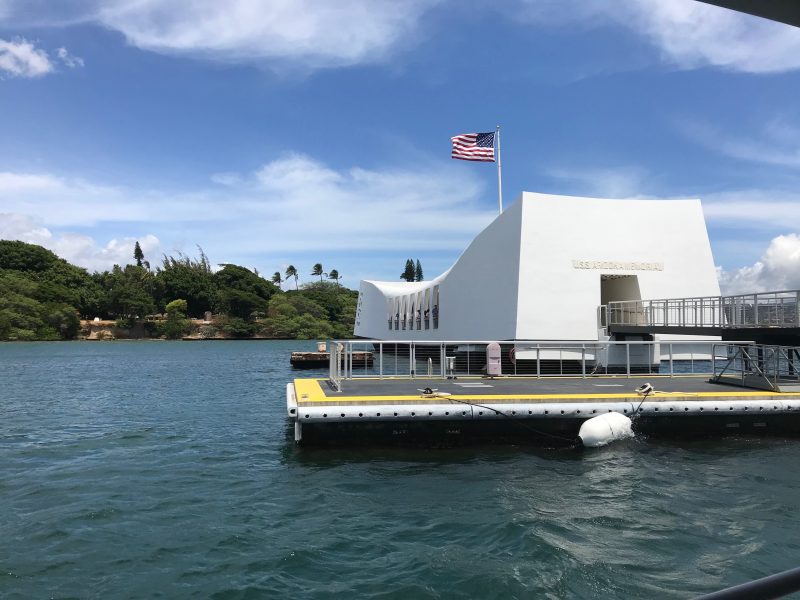 DON'T CUT THE TRIP TOO SHORT
Just to add on to above, there's so much to do both at Aulani and the entire island that you want to make sure you leave yourself enough time. I'd recommend no less than seven days for your first visit. That's going to give you enough time to have days laying by the pool, doing activities around the resort, and still more time to get out into Oahu and see all it has to offer. Any less and you're going to feel like you missed a lot and come home from your vacation exhausted from trying to fit it all in, and no one wants that!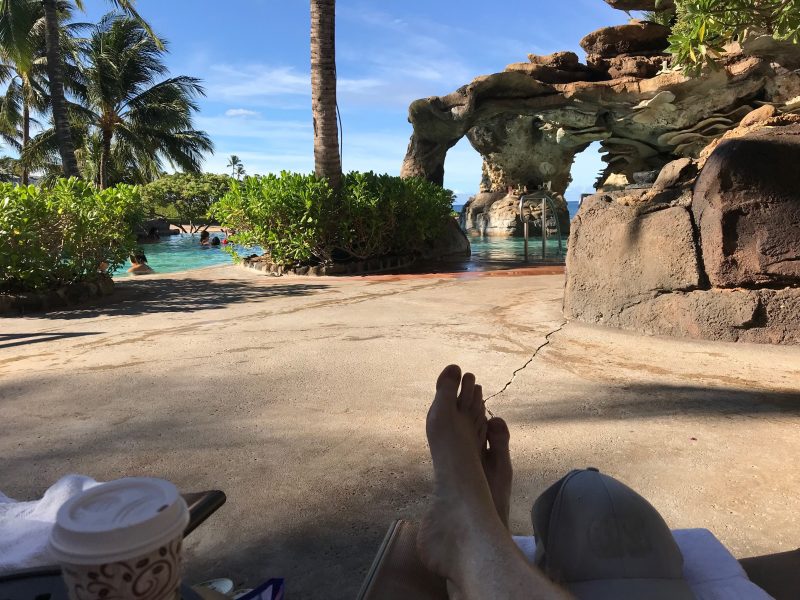 DO THE ACTIVITIES!
There are SO MANY things to do at Aulani! And while it's definitely tempting to spend an entire week laying around the pool (because let's face it, the Waikolohe Valley is pretty remarkable), you'd be missing out on so much of what Aulani has to offer.
There are fitness classes, art tours, Hawaiian cultural tours, ukulele lessons, snorkeling, character meet and greets, star gazing classes, Hawaiian folklore storytelling, arts and crafts, the Menehune Adventure trail scavenger hunts – the list is endless. But see what I mean? There are so many options besides just lounging poolside (though I'm not knocking that. There's something to be said for a day or two of lounging with an umbrella cocktail in between lazy river sessions.).
So do yourself a favor and pick up the Daily Iwa (activities schedule) every day and make an effort to participate in something. You won't regret it and you'll make lasting memories!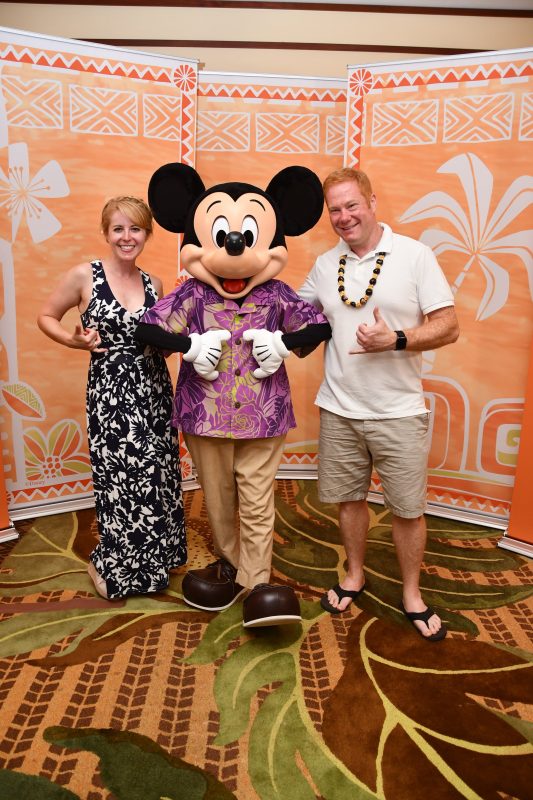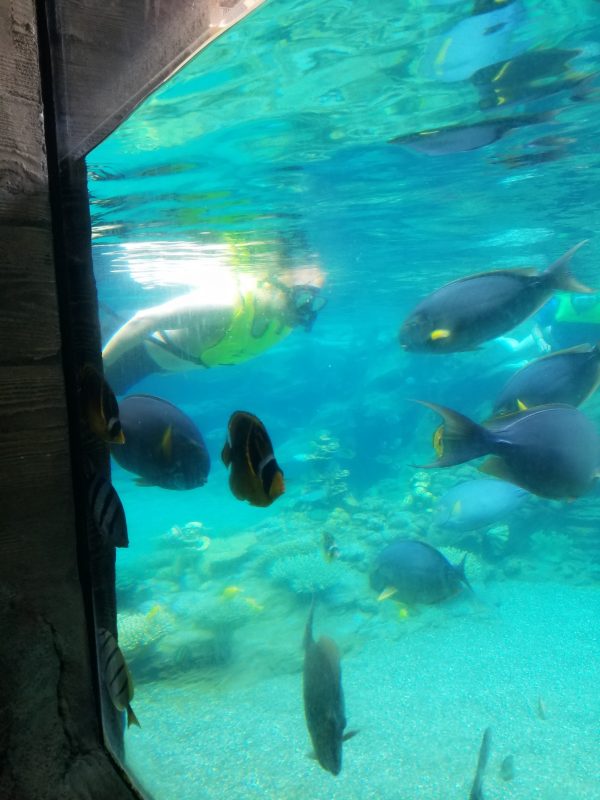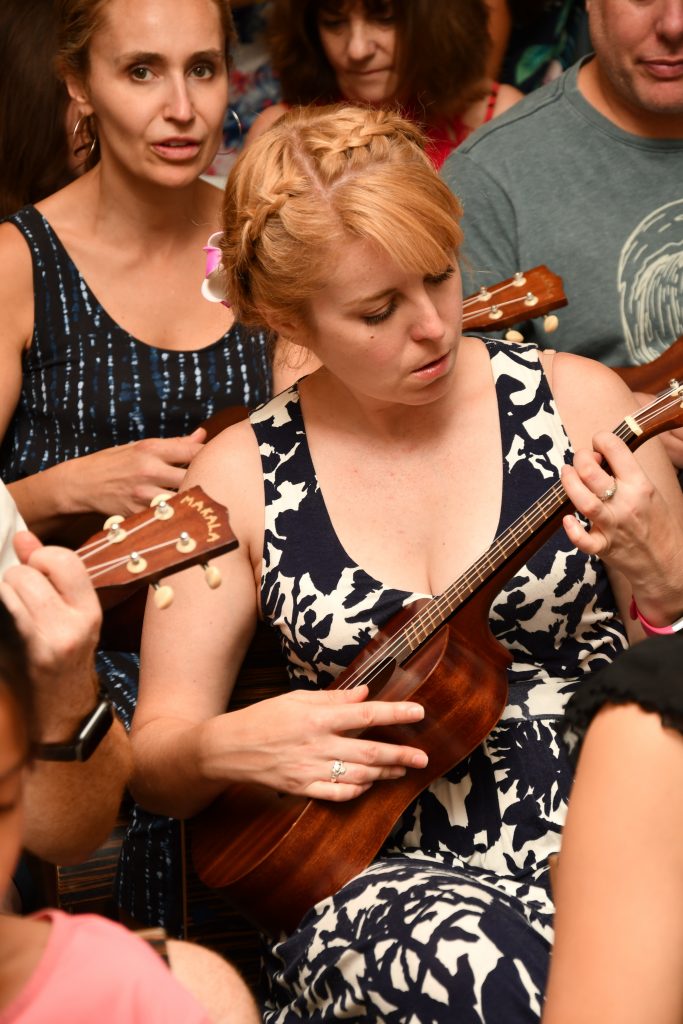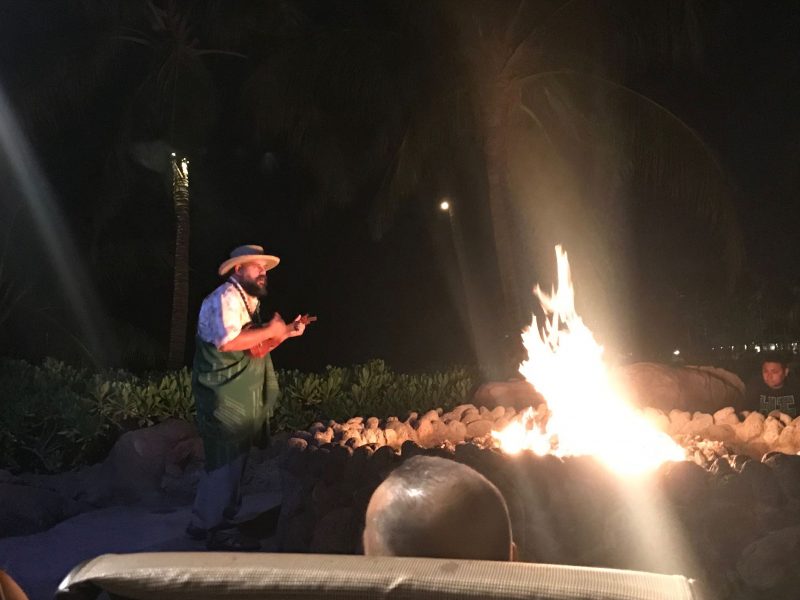 DON'T SLEEP IN
Didn't you read above!? There's so much to do! So up and at 'em!
Seriously, though. Sleeping in on vacation is a joy. But so is having coffee or tea on your balcony watching the ocean while the resort is so peaceful. Or take advantage of the sunrise yoga class. It was my favorite morning stretching peacefully as the sun rose up to warm us. If you have more energy, take one of the beach boot camp or ocean yoga classes. You'll feel so energized by the time you're done and everyone else is just dragging themselves out of bed.
One of my favorite mornings was spent walking along the path connecting all of the Ko'Olina resorts and stumbling upon a group of locals who had been meeting every day for 30 years to play ukuleles and other instruments and sing Hawaiian songs together. They even pulled a bunch of spectators from the gathering crowd to teach us all a hula!
At the very least, you can head to the coffee bar and beat the long lines – then sit near at empty pool and enjoy the ocean breezes and scent of plumeria!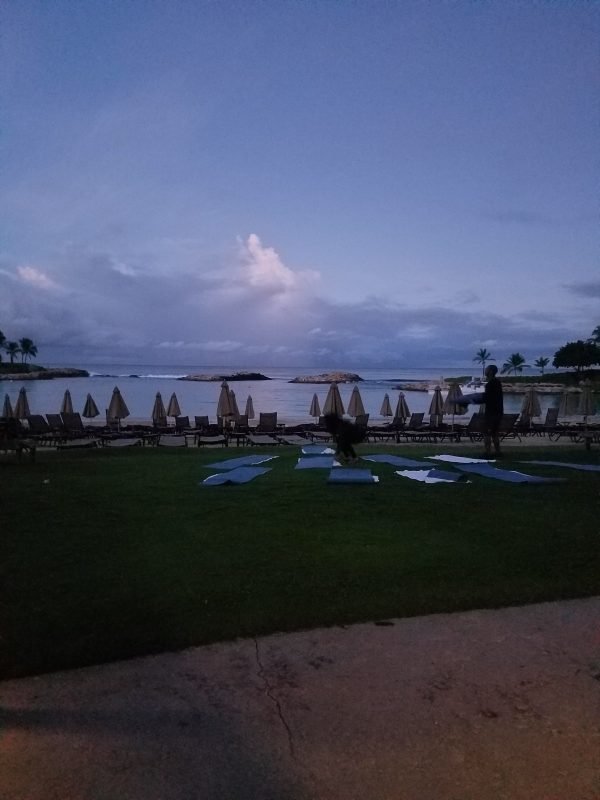 DO GO TO THE LANI WAI SPA AT AULANI
If you read MY BLOG POST on the Lani Wai spa, you'll know how amazing it is. It's a perfect little slice of heaven, so you'd be doing yourself a disservice if you miss the chance to experience it. Take some time out for yourself – this IS vacation – and book a massage or a facial, or any other treatment. Then spend a few hours in the Kula Wai gardens going from soaking tub to soaking tub wondering why you waited so long into your trip to do this. And then quickly see if they have any more spots available for the rest of your stay so you can do this all over again…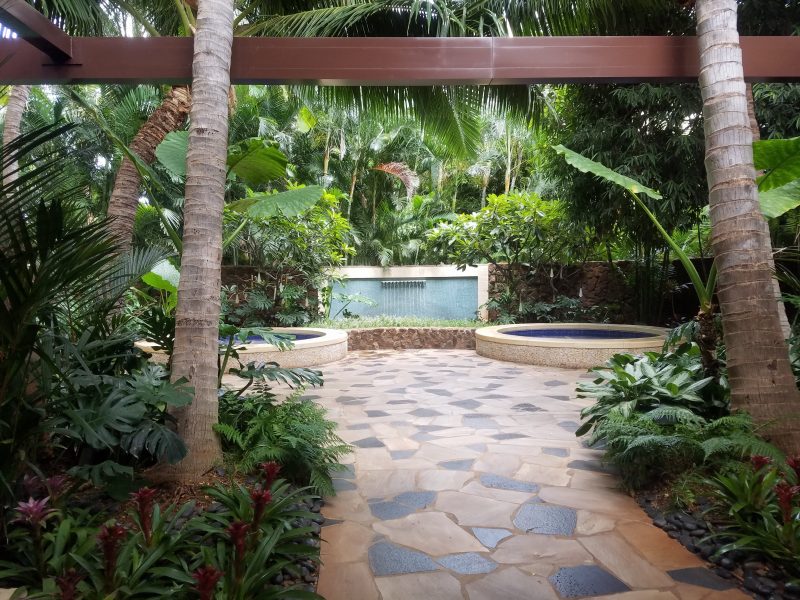 DON'T WAIT TO MAKE RESERVATIONS
Much like a visit to Walt Disney World, you don't want to wait to make reservations for things you want to do at Aulani. It's better to get that taken care of as early as possible, so you won't be disappointed when you arrive.
You can make your dining reservations and spa treatments approximately 6 months in advance. And while you might think you won't know that early what you'd like to do or where you'd like to eat, remember – there's only one spa and a handful of restaurants at Aulani. So if you know you'd like to have a nice dinner at Ama Ama to watch the sunset, get that reservation booked ASAP because it's incredibly popular and everyone else is going to want to do it, too!
Did you know your child must be pre-registered at Aunty's Beach House kids club? Most people don't, and that's a bummer because then their kids miss out on a lot of the activities! Starting at 90 days prior to your arrival date (but no less than 2 days before you leave!!!) you can submit the online pre-registration form. Then when you arrive, stop by the Beach House to complete your registration. Even more important – once you complete your pre-registration you'll want to call ahead and book any Premium Experiences your child might want to do. They are super popular and fill up in advance!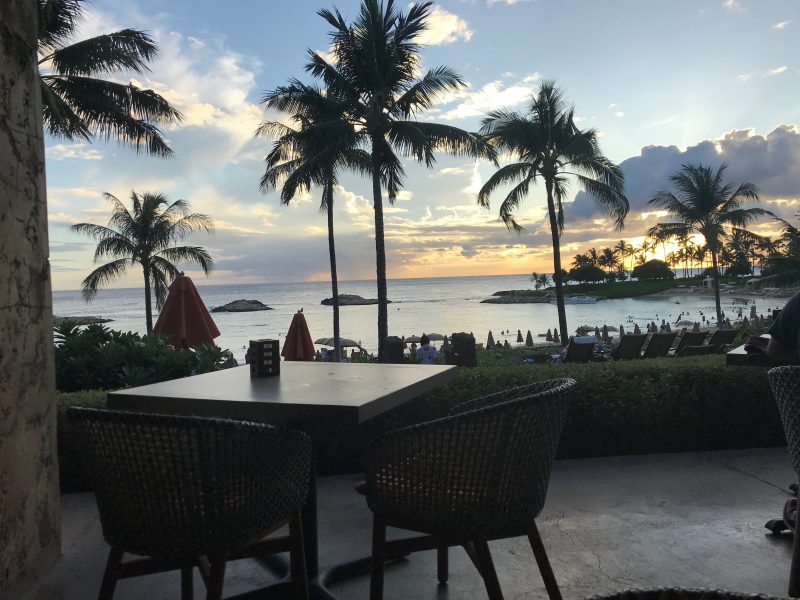 There you have it! My ultimate recommendations to make your trip to Disney's Aulani Resort & Spa the perfect tropical getaway. What do you think? Did I miss any? Or are these inspiring you to make your reservations there ASAP? Let me know in the comments!
P.S. Now that you've found us, be sure to subscribe to our newsletter below or in the link on the side! You can also check us out on YouTube, Facebook, and Instagram!