Have you heard? The Downtown Disney District is open in Anaheim! And while the theme parks aren't open yet in California, I had to head down to the Disneyland resort and see how they're handling safety protocols and what the crowd levels are like. Because when else am I going to get to experience Disneyland with so few crowds!? Here are the things I took away from my recent visit.
PARKING
At the time of my visit there was only one lot open – the Simba lot. This is located just behind the Disneyland Hotel, which makes it SUPER convenient to walk into Downtown Disney. It's maybe a one minute walk, and best of all – parking is currently FREE! That's a big change from the usual parking charge that is in effect when the parks are open. That's a big draw to entice locals in for dinner or a quick browse in the shops.
Once you exit the freeway there is plenty of signage that directs you to the lot. It's important to pay attention to those signs because if Downtown Disney begins to get a bit crowded the Simba lot will be temporarily shut down until the capacity lessens.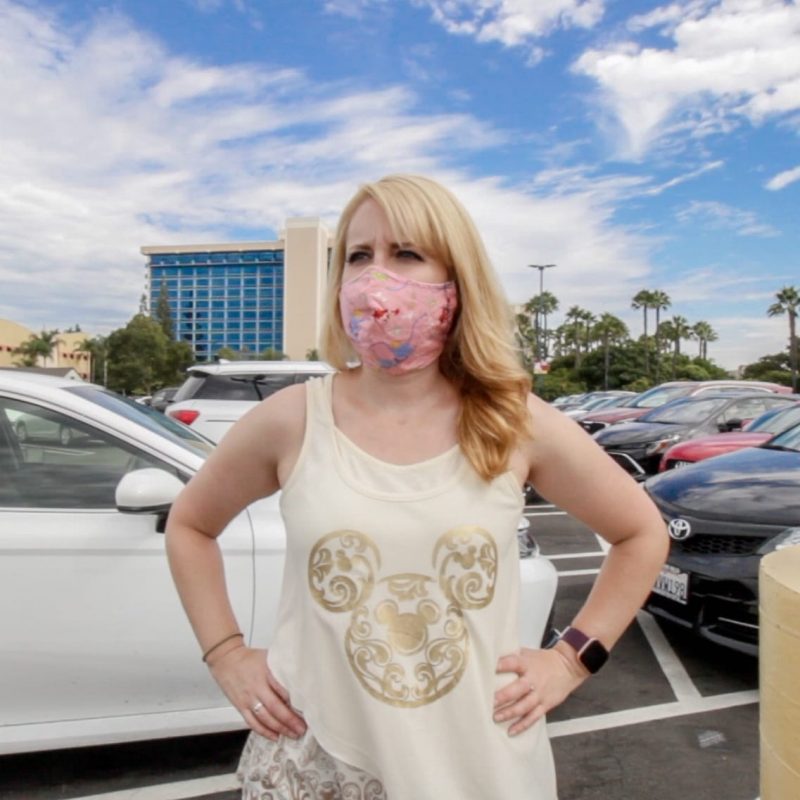 SAFETY PROTOCOLS
The new protocols start with the security check point. Now, there are three separate check points to go through, starting with a temperature check. Just past the temperature check you'll walk through a tent with a dog sniffing to make sure nothing illegal is brought into the district. And then finally you will be directed by a cast member into a line for bag check. Here, cast members are stationed behind plexiglass to check your bags and you're spaced out to walk through a metal detector.
If that all sounds like it takes a long time, don't worry! It definitely didn't. All in all, I think it took us two and a half minutes to make it through the screening, which is actually a lot faster than it used to be!
Once you're through security and wandering around Downtown Disney you'll notice all sorts of safety protocols in place. I couldn't count the number of hand sanitizers I saw, not to mention pop up hand washing stations everywhere. I also noticed signage on all of the seating areas that clearly marked where you can and cannot sit so as to keep plenty of distance between your party and another.
All shops had lines set up and clearly marked with 6 foot place markers to keep you socially distanced from the next group. What I really love is the virtual line option. If lines get too long and start to jut out into the promenade, Disney Cast Members will take your cell phone number and send you a text message when it's your turn to return and shop! This isn't always in effect, so be sure to ask if it's something you're interested in.
For payment at any location touchless options are very much preferred over cash. You'll see cashiers behind plexiglass barriers, and you can swipe or tap your card and be on your way! The touch pads are sanitized after every guest.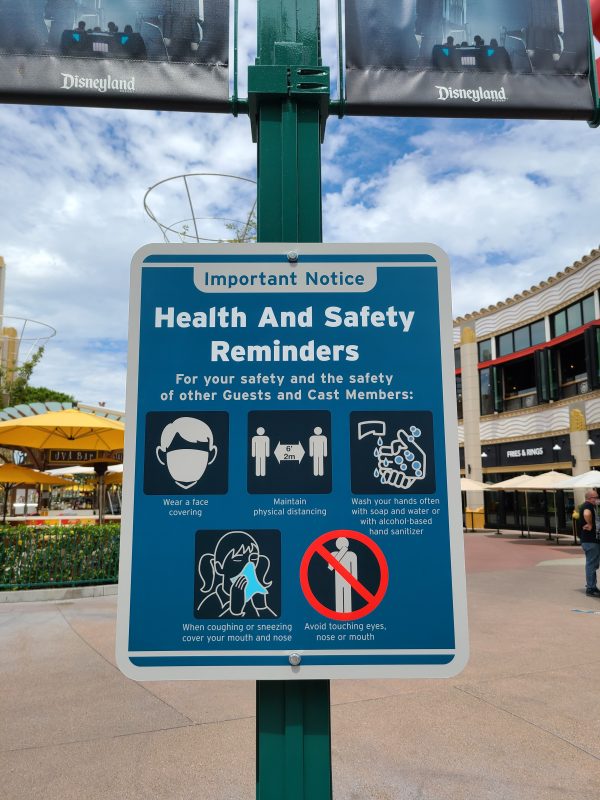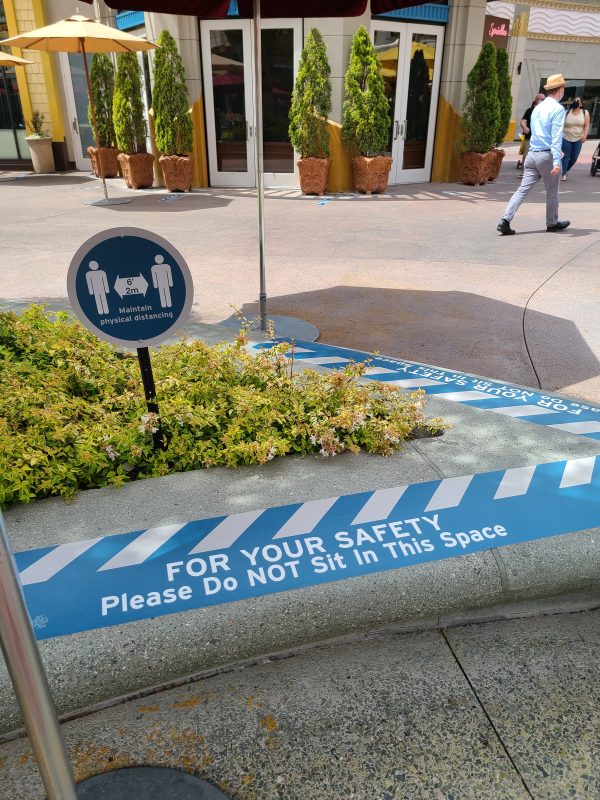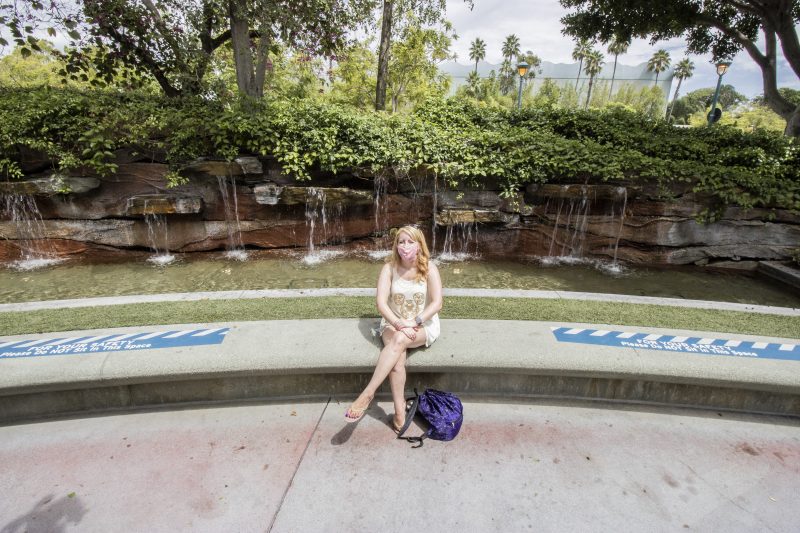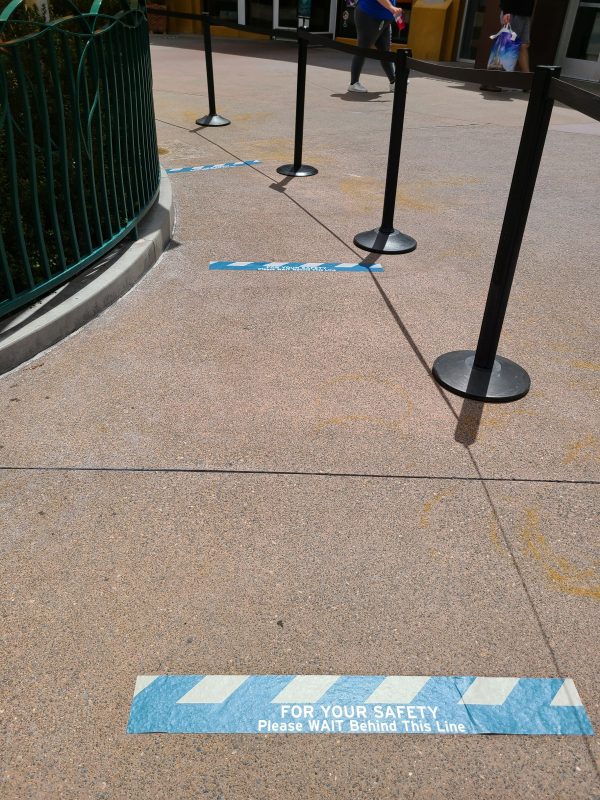 CROWDS
While Downtown Disney certainly wasn't empty when I was there, it was MUCH less crowded than on a 'normal' day when the parks and resorts would be open. I had so much room to walk around and never had to look for a place to sit and relax.
The only lines I noticed were to get into the 'big' Disney stores – World of Disney, Disney Home, and Disney Dress Shop. But those moved so quickly. The longest I waited was 7 minutes, and all the lines are either in the shade or have plenty of umbrellas along the way so you're not baking in the sun.
I did go at 10 am on Thursday morning during the summer, so of course the crowds will be increased over the weekend or on a holiday, but attendance is limited so even then it won't come near a 'normal' operating day!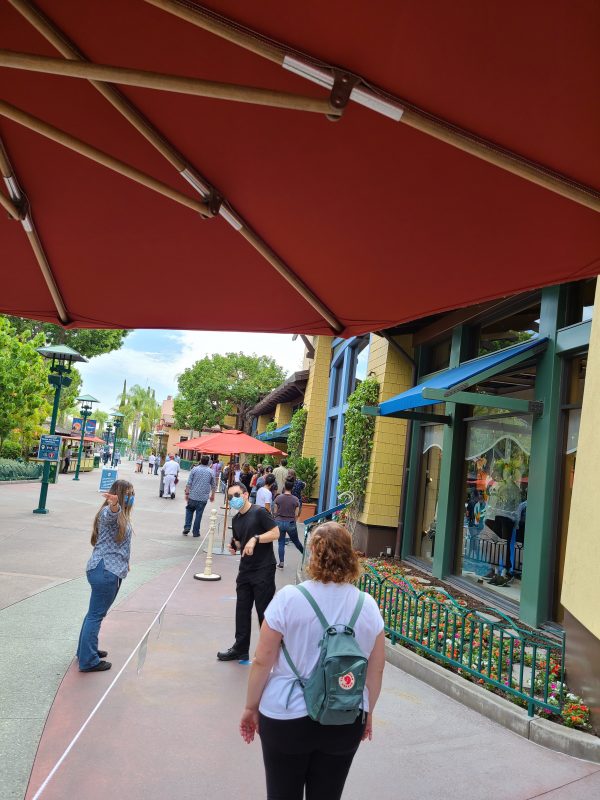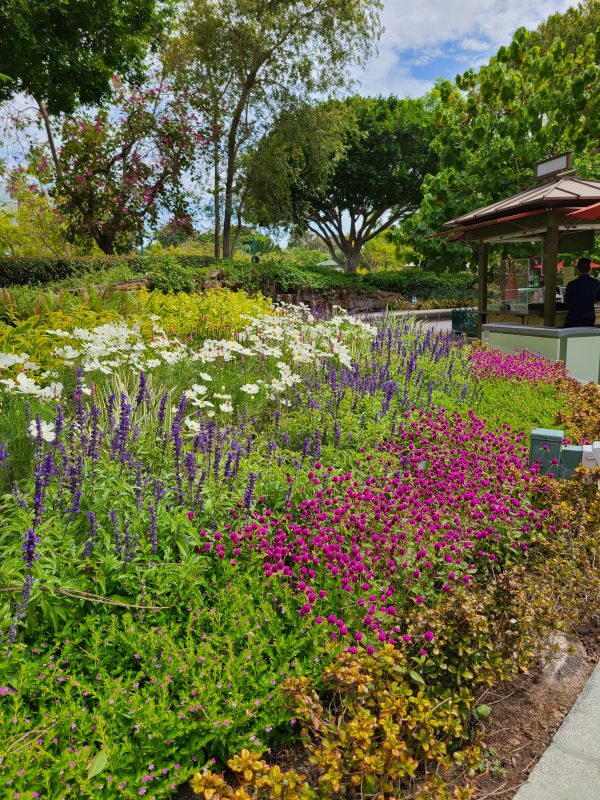 WHAT'S OPEN
I think a better question would be, what ISN'T open?, as most shops and restaurants are in full swing. Sure, there are distancing measures in place and limits on the amount of guests in each space, but it felt pretty normal in terms of what you could access.
Of course, all of the Disney-owned shops are open and I couldn't resist hitting every single one to see what merchandise I had to have. The coral mouse ears are the answer, in case you are wondering!
The Void – the virtual reality experience – wasn't open, and neither was Jamba Juice or the second Starbucks (don't stress! You can still get your caffeine fix as Downtown Disney has TWO Starbucks locations and the one in the middle of the district is currently open.). Splitsville is open for dining, but not bowling right now. Rinse, a bath and body shop, is open, but also put an outdoor cart in the middle of the district so they can serve more guests.
I was so happy that the list of things that are open far outweighs the list of things that are closed. A new sandal shop even opened recently! But if there's a specific store you're interested in be sure to look up their particular operating hours. Some of the non-Disney-owned locations have operating hours different than Downtown Disney itself.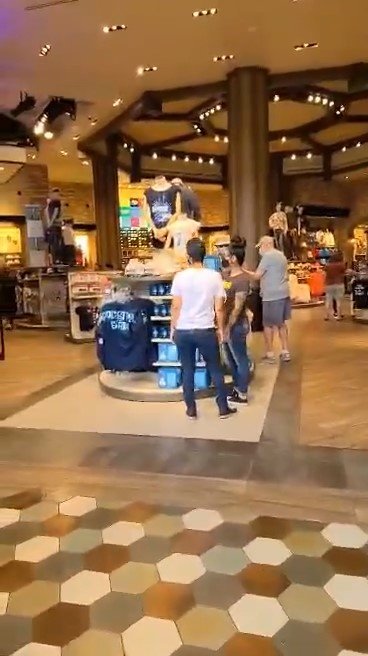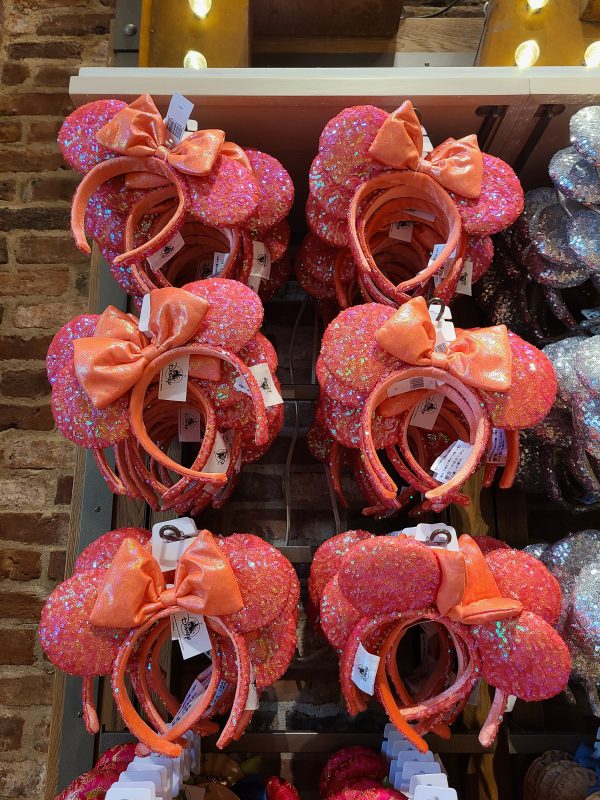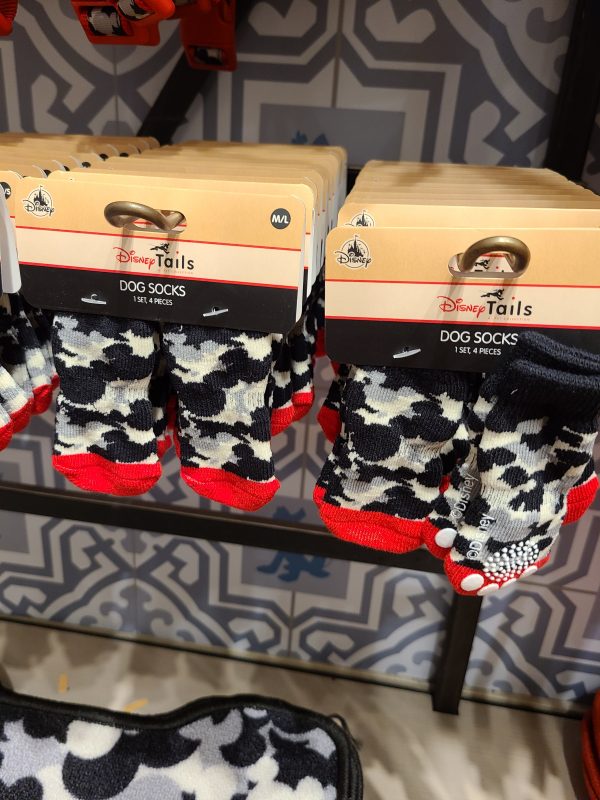 DINING
The sit down restaurants in California right now are directed to be outdoor only, so you won't find any indoor dining at Downtown Disney. Luckily, this is Southern California and it rarely rains, so all of the restaurants have set up little patios where you can enjoy your meals. Who doesn't love dining alfresco?
Reservations are recommended, but not required, and I walked right up to Uva Bar (the round restaurant right in the middle of Downtown Disney) and was seated within minutes. Tables are spaced 6 feet apart or more, sanitized in between guests, and everyone is required to wear their mask unless they are sitting at their table eating.
For quick service locations, lines are clearly marked with distancing in place. You'll walk up, place your order, and then find a seat on that destinations outdoor patio.
All restaurants, whether sit down or take away, are using QR code menus. Simply scan the code with your phone's camera and the menu will open right away for you. Places like Starbucks and Salt & Straw ice cream parlor even let you order directly from your phone!
Bars are not currently open, so there's no sitting/standing along the bar to order a drink. You must order your adult beverages along with a meal at a table. But who doesn't want to sit down and enjoy their drinks? It's important to note that Downtown Disney's currently food & beverage policy requires you to be seated while consuming your food or drinks. You cannot be walking around with that churro or ice cream cone. If you're moving around you MUST be wearing a face mask.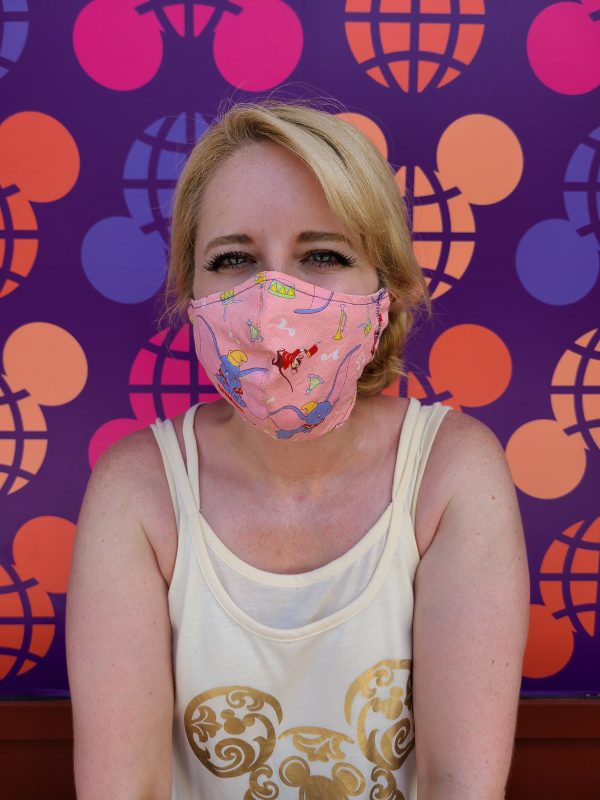 It felt SO GOOD to get back to a little bit of Disney! Sure, it's not the same as walking down Main Street, USA or having lunch at the Lamplight Lounge. But just hearing the Disney background music brightened my day. Seeing guests wearing mouse ears brought a smile to my face. And, hey, they even let you walk up to the gates of both parks so you can gaze in and dream about when you'll get to visit again.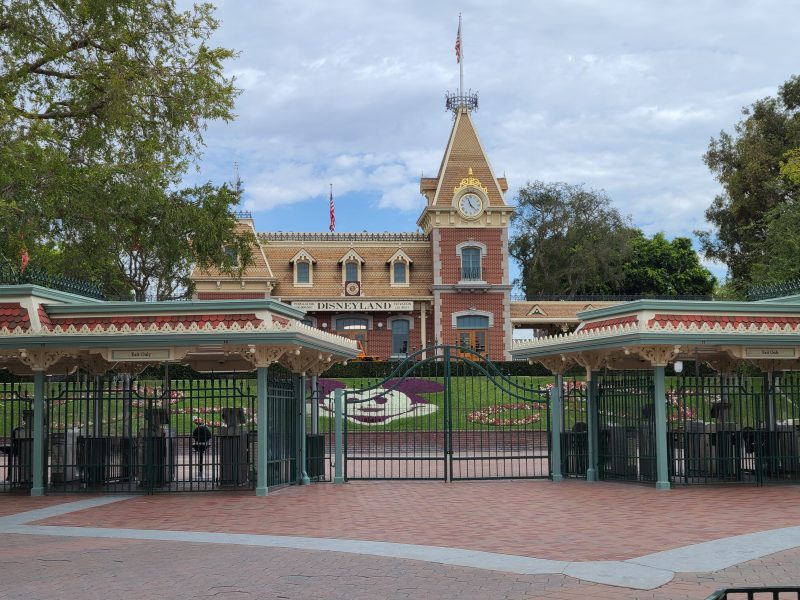 This was a much needed 'Disney fix' for me, and it felt great getting back out there again. The crowds were very low and I felt there was plenty of space for my party to move around and not be on top of other guests. It was pretty hot the day I was there, but I found it very easy to breathe in my mask, and now I know that when the parks DO open it won't be overwhelming for me to wear my mask for the full day. Disney handled the safety of their guests so well, and there were so many cast members around to answer questions and offer some happy words. I wouldn't hesitate to go back – and I might, because I still have my eye on those mouse ears!
Currently, the Downtown Disney District is open daily from 10 am – 8 pm. However, before your visit please visit their Know Before You Go page for current hours, protocols and what is open!