One of the best things about Walt Disney World is the Magic Kingdom. The sights and sounds (and smells) of each attraction and restaurant just makes me happy every time I am there. There are so many attractions at the Magic Kingdom it's hard to narrow down my favorites, but I've done it anyway! (And coming soon- posts about dining and shopping at the Magic Kingdom!)
Pirates of the Caribbean
This classic attraction takes you by boat through the town fraught with cannon fire, booty stealing, and all around madness as the Pirates cause distress on the townsfolk. You'll also catch a few glimpses of Captain Jack Sparrow himself as he seeks a legendary treasure.
The first few minutes of this attraction could be a bit scary for young children.
Height Requirement: none
Fastpass+ Available
Peter Pan's Flight
How else but with Disney magic can you fly over London and Neverland in a pirate ship? Join Peter Pan and the Darlings as they leave the nursery and go past Big Ben, London Bridge, and the moon and make it to Neverland, where they encounter mermaids, Lost Boys, and, of course, pirates! Led by the nefarious Captain Hook, the pirates capture our heroes and Peter Pan must come to the rescue. Listen carefully and you just might hear the tick-tock of the crocodile waiting to feast on Captain Hook! Fastpass+ is available but the recently remodeled queue allows you to play in the children's nursery before you board your boat to Neverland.
Height Requirement: none
Fastpass+ Available
Splash Mountain
If you've ever wanted to jump into the feet of Brer Rabbit and foil Brer Fox and Brer Bear, then Splash Mountain is perfect for you! Splash Mountain lets you ride a log through the Fishin' Hole, Chick-a-Pin Hill, the Laughing Place, and of course the Briar Patch where you'll plummet 50 feet down to a show boat full of singing chickens. (Update! Disney has announced that Splash Mountain will be re-imagined as a Princess and the Frog-themed ride. We cannot wait to see what they have planned!) 
Splash Mountain has the perfect amount of fantasy, adventure, and fun for every Disney fan!
Height Requirement: 40 inches
Fastpass+ Available
Buzz Lightyear's Space Ranger Spin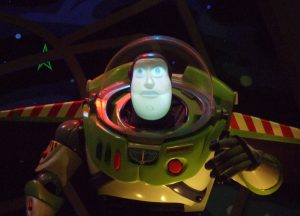 Calling all Space Rangers! The evil emperor Zurg is at it again and Buzz Lightyear needs your help! In Tomorrowland at the Magic Kingdom, Shoot Zurg's symbols with the laser blaster that comes equipped in your vehicle, an XP-37 Space Cruiser. As you ride along, you can spin the vehicle around to get better aim on the Z's. Try riding several times to try and improve your score. (Want to know how to get crazy high scores on this attraction? Become a Patreon Supporter! Sharla shared all of her secrets in a podcast extra!)
Height Requirement: none
Fastpass+ Available
Peoplemover (Tomorrowland Transit Authority)
The TTA is your "blue line in the sky," a nice, quiet ride through Tomorrowland. Board a tram and ride through Space Mountain, Buzz Lightyear's Space Ranger Spin, and other areas to get a unique view of Tomorrowland. Along the way listen to the announcements, as you'll hear several clever puns and see the "City of Tomorrow" model. It also offers a great view of Cinderella Castle.
The TTA is a great way to relax and get off your feet as the queue is not usually very long, but it does move quickly.
Height Requirement: none
Haunted Mansion
The Haunted Mansion is undoubtedly one of the most famous attractions in all of Walt Disney World. It opened with the park in 1971, and, while it has undergone a few changes over the years, the Haunted Mansion remains beloved by Disney fans worldwide.
The home of your "Ghost Host" is open for all "foolish mortals" to come in and tour. First, you'll enter the infamous stretching room while the Ghost Host welcomes you. The chamber has no windows and no doors, but it does have a sense of humor and foreboding at the same time. After you exit the stretching room, a "doom buggy" is waiting for you in the hallway to take you through the rest of the eerie Mansion.
The creaks and moans of the rest of the mansion won't be spoiled here, but be sure to keep looking around you because the details are too good to miss out on!
Use caution with small children as it might be frightening, but the whimsy of the Mansion might make up for it.
Be sure to notice (by sight and sound) the area surrounding the Haunted Mansion- the horseless carriage as you enter the queue, the queue offers a few puzzles and interactive elements, and the mausoleum and pet cemetery on the left as you exit.
Height Requirement: none
Fastpass+ Available
If you have a favorite attraction at Magic Kingdom let us know in the comments! Want to hear more about our favorite Magic Kingdom attractions? Check out this episode of the Disney Park Princess Podcast!
LOVE DISNEY VACATIONS?
Don't miss any of our DPP vacation tips. Plus get a free gift instantly!