If you're reading this, then I know you're like me and missing the Disney parks something fierce during this pandemic. While I've been (not so) patiently waiting to get back to the parks, I find myself dreaming constantly about being back there. And while you might think I'm dreaming of the atmosphere or riding the attractions, you would be very, very wrong. I almost always find myself dreaming of the food! I've said a million times, the food is my favorite part of a Disney trip!
Then I realized I've never done a blog post on my favorite table service restaurants at the parks. How is this possible!? I've done my favorite snacks, my favorite counter service locations, but never table service. It's time to rectify that! This week I'm starting with my favorite table service restaurants at the Disneyland Resort. Read on to find out if yours made the list!
5. Café Orleans
I love this little restaurant tucked in New Orleans Square at Disneyland Park. There's a small inside dining room, but my favorite is to ask for a table on the patio if it's a beautiful day. I like to watch people rush by on their way to Haunted Mansion or Splash Mountain, take in the sounds of the canoes, pirate ship and riverboat on the Rivers of America, and just enjoy some gorgeous weather. Getting to eat in the atmosphere of the park is such a special treat.
But of course you come here for the food! Café Orleans has something of a cult favorite dish among Disneyland guests. It's common knowledge that you come here for the Monte Cristo and Pommes Frites. My mouth is watering just thinking about them. The Monte Cristo is a ham and cheese sandwich deep fried in this light and airy batter, then sprinkled with powdered sugar and dipped in a berry jam. The result is a (non-greasy) wonder – simultaneously savory and sweet. But beware – the portion is HUGE so if you're a light eater you'll want to share. The frites come sprinkled with garlic and parmesan and dipped in a little ketchup they are the perfect side dish.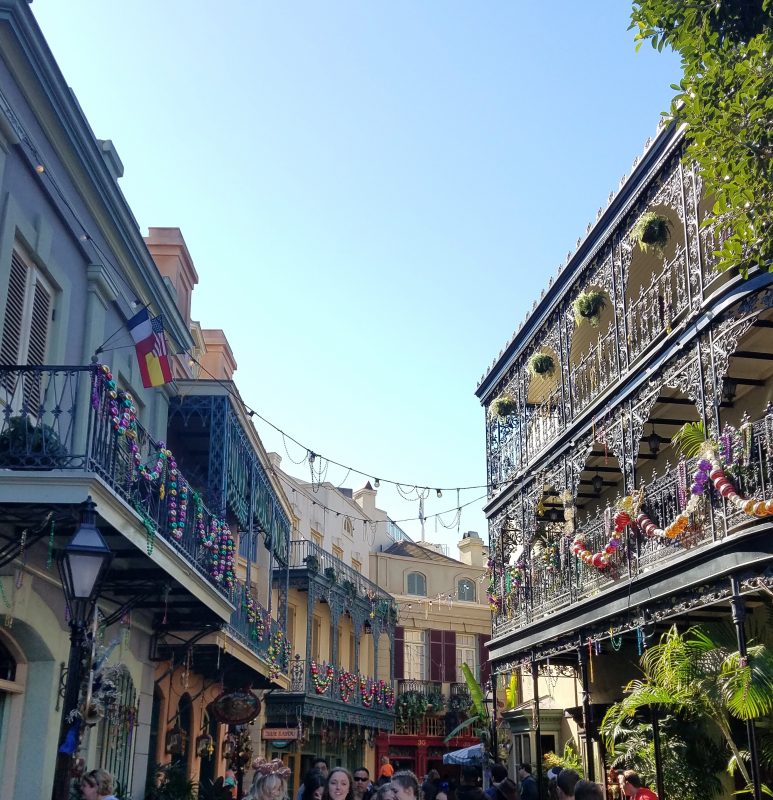 4. Naples
This restaurant is located in Downtown Disney, just across from the Grand Californian Hotel. I love it for the gorgeous outdoor space. There's a massive patio with trees shading out the sun. In the evenings lights twinkle in the branches and reminds you of dining alfresco in Italy. There's a giant outdoor bar as well that serves up great wines and even better martinis. At night the bar lights up and lends an ethereal glow over the adjacent patio.
Maybe the name gives it away, but the specialty here is pizza! It is named after the birthplace of the dish after all. Sure, there are salads and pastas and they're all good. But you want to order one of the giant pizzas here. I always go for the classic margherita, but any of the toppings are amazing. It's as close to the real thing as you can hope to get in Southern California, so if you're craving a slice, do not hesitate to stop in!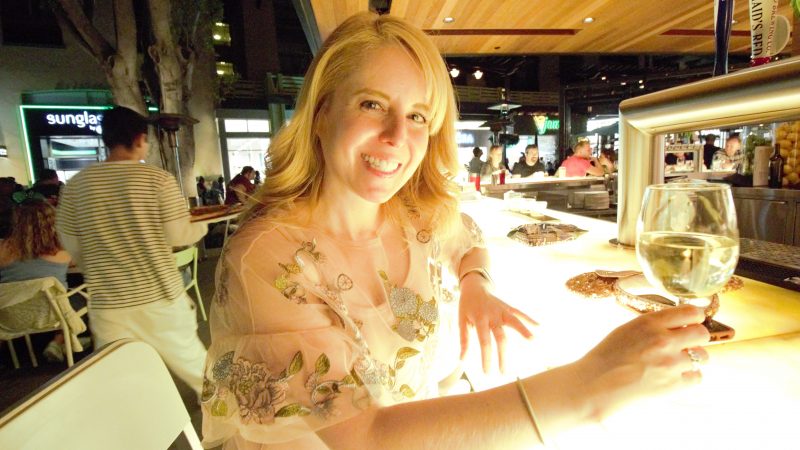 3. Goofy's Kitchen
I'm not a huge fan of character meals. It's not that I don't love giving Mickey and the gang a squeeze, because I do. It's just that when I go to a restaurant I'm there to get down to eating – I don't need to be interrupted every five minutes for a photo op. I just like to eat in peace! I tend not to do character meals unless I'm in a huge group for that above reason.
Goofy's Kitchen is an exception to my rule. The food there is just so incredible that I cannot help myself from making a reservation. Located at the Disneyland Hotel, this buffet-style restaurant has the most massive spread of food I have ever seen. There's an entire five-foot-long table with desserts alone! AT BREAKFAST! I prefer breakfast here because you'll find all types of cuisines. Ultimately, you'll see me loading my plate with their iconic peanut butter and jelly pizza, which I promise is phenomenal!
Note: I'm not sure how the restaurant will operate once they open from the pandemic as buffet restaurants may not be available for quite awhile.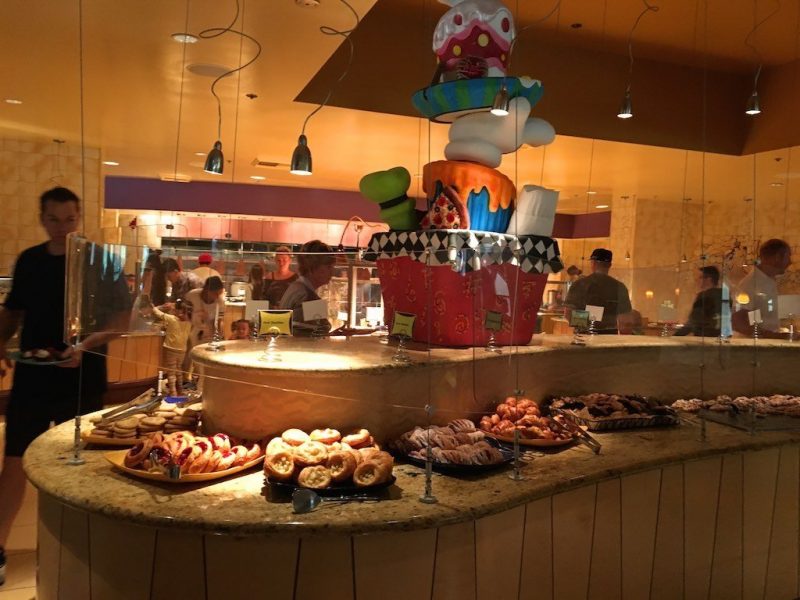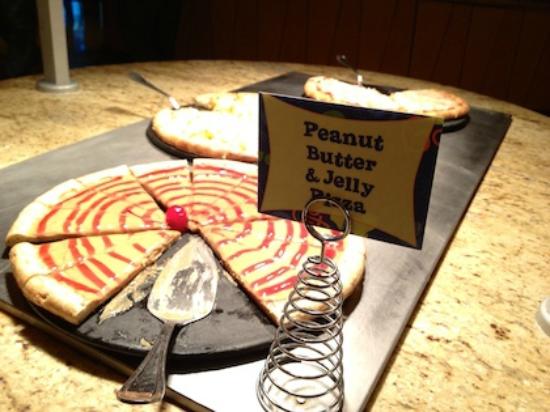 2. Napa Rose
This is the grand dame of Disneyland dining. The ultimate Signature Dining experience, this is definitely a more upscale restaurant, so be sure to dress up when you dine here. The menu changes seasonally and focuses on California cuisine. That means you'll find tons of in-season ingredients with delectable sauces and seasonings. I always look forward to the seasonal flatbreads – a California take on a pizza. Everything here is so fresh and tasty, and the service is amazing. They even brought me a shawl for my shoulders one evening when I was so cold from the air conditioning!
There are so many ways to dine here, too. In the mornings there is a (super pricey) character meal with the Disney princesses. In the evenings you can make a reservation in the restaurant, and be sure to ask for a table on the small outdoor patio. It's so romantic dining out there at night! There's even a chef's counter option where you can reserve a special tasting menu experience right in front of the open kitchen. For foodies, this is what you want to do – you'll get to ask the culinary team questions as you watch them work their magic.
Here's my favorite tip. If you aren't able to score a reservation at the restaurant, you can walk up to the lounge area and ask to be seated in there. You'll be able to order off a special lounge menu, or ask for the full restaurant menu as well!
1. Lamplight Lounge
Without a doubt, this is my very favorite restaurant at the Disneyland Resort. It's also the newest. Located at Disney's California Adventure park, Lamplight Lounge took over the former Ariel's Grotto space. It's themed after all things Pixar, and please make sure you take some time to walk around to look at all of the fun Easter eggs hidden throughout. You'll see a ton of hidden details from all of your favorite Pixar movies!
I love, love, LOVE the atmosphere here. The restaurant itself is open air, with two walls opening out onto the lagoon. There's a pretty sizeable outdoor patio with tables, sofas for lounging, and fire pits galore. This is where you'll find me, usually taking a leisurely two hour lunch, because the views of Pixar Pier are everything! I will never get tired of seeing the IncrediCoaster taking off as I'm enjoying my food.
Speaking of the food, it's incredible! There is literally nothing on the menu I have ever not loved. From the deviled eggs appetizer to the PLT (pancetta, lettuce, tomato) salmon sandwich I leave stuffed and happy and satiated. Don't even get me started on the cocktails. The bartenders here really take their craft seriously – there are no less than three dozen options for every taste. Plus, they're BEAUTIFUL and perfect to post on your Instagram!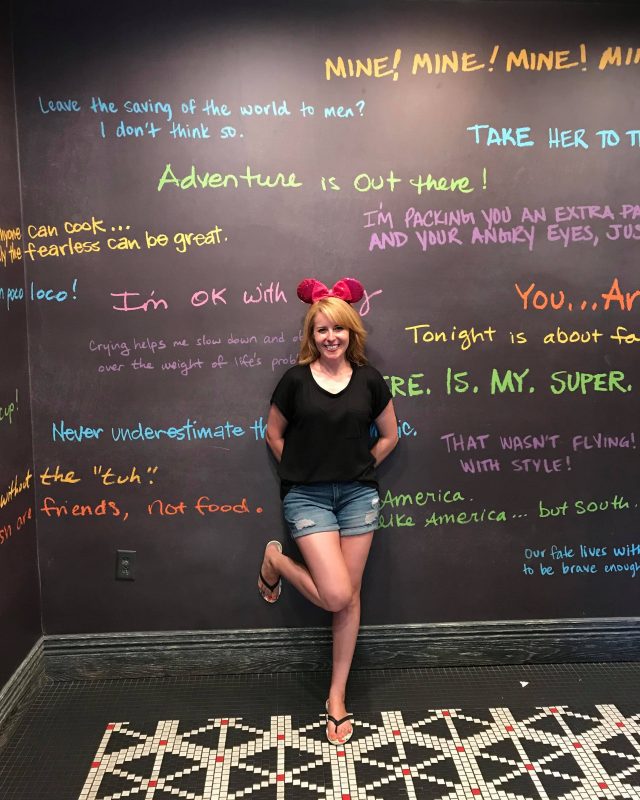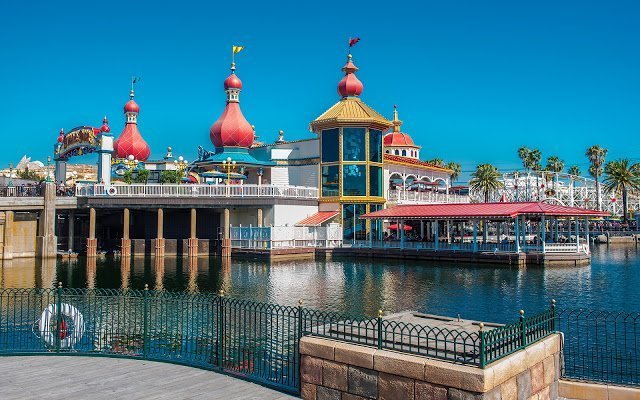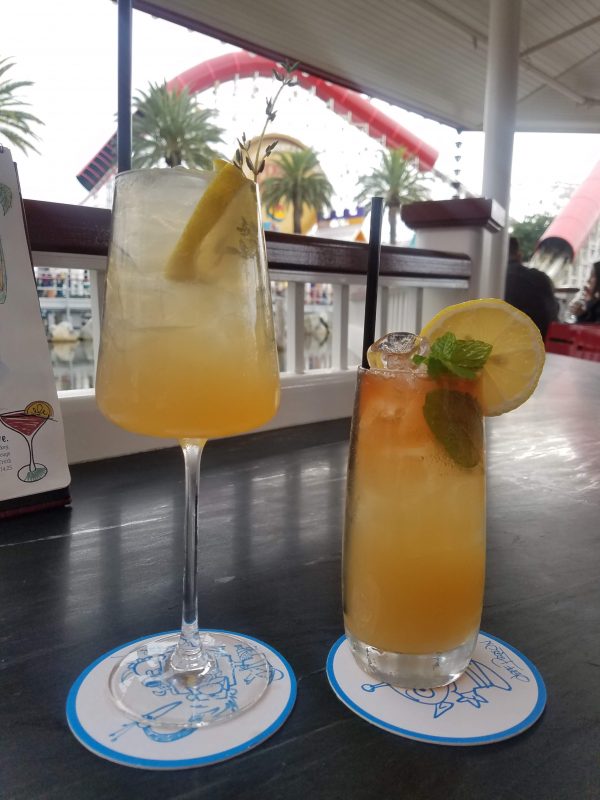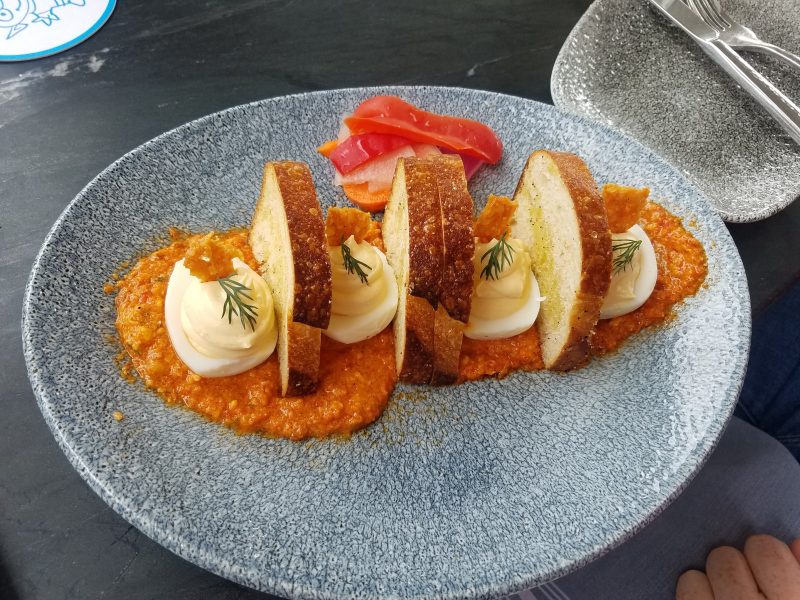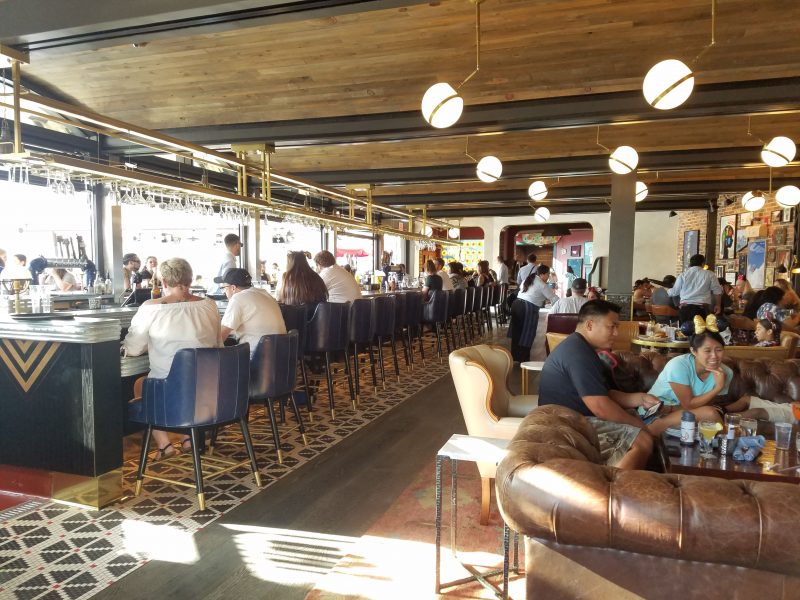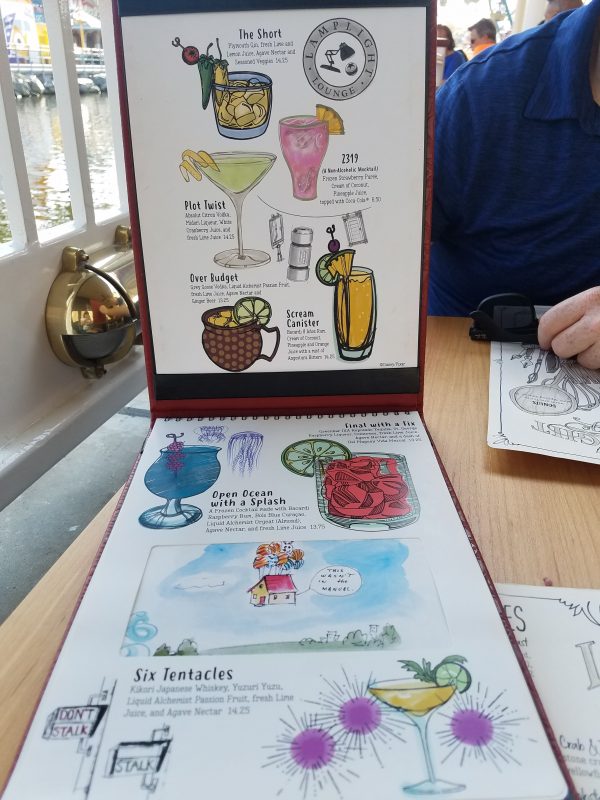 So those are my top 5 favorite table service restaurants at the Disneyland Resort! What do you think? Did I mention yours? If not, what is your favorite and why do you love it? Leave me a comment because I'm always looking for more food to try while I'm at Disneyland!