If you listen to our podcast, you'll have heard me rave about my recent trip to Aulani, a Disney Resort and Spa in Ko Olina. And for good reason. The resort is amazing! But possibly my very favorite place at Aulani is Laniwai, the spa. Read on to find out why!
THE TREATMENTS AT LANIWAI SPA
This is pretty important to a spa, right? If the treatments aren't good, it doesn't matter how pretty the inside looks! But I've been to Laniwai Spa three times now, and every time I go, I leave feeling incredibly relaxed and happy. And what higher praise is there?
Treatment One
This visit, I booked two treatments. The first was the Signature Lomi Lomi Couples Massage. And I made sure to book the longer option at 80 minutes, because this is vacation and I deserve it! The treatment started by our therapists asking us to each pick one of the four scented lotions we'd like them to use. I went with lavender (it's my favorite), and Justin went with coconut. And they even let us pick what music we wanted to listen to!
Over the next 80 minutes we were massaged, stretched, heated with the hot stones and rolled with the lomi lomi sticks. I have honestly never felt so great in my life. My therapist worked out every kink I had, and she didn't even need to ask me where I wanted her to concentrate. She put her hands on a few places on my body to asses, then went to work. Those 80 minutes went so quickly that I was actually shocked when she told me time was up. Justin proclaimed it to be the best massage of his life and was still talking about it a week later!
Treatment Two
My second treatment was a Skin Fitness Facial, where the esthetician analyzes your skin and then gets to work on the best treatment for you. My only directive – make my skin glow. And she did. My skin felt so hydrated and happy when she was done. Not to mention how relaxed I felt lying on the table while she massaged my scalp, arms and hands. If you've never had a facial, I highly recommend one! My only 'complaint' is that Laniwai has switched from my very favorite Elemis brand of products to others, which isn't awful. And at least it prevented me from buying a ton of products which is usually my weakness after a facial!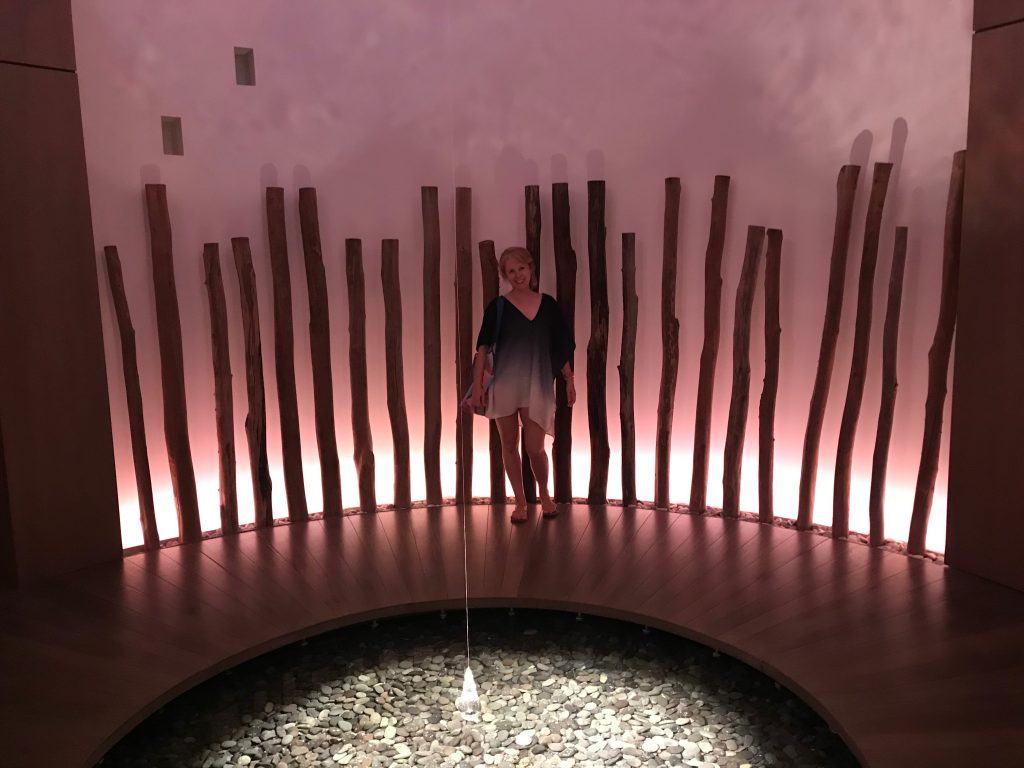 THE RELAXATION ROOM
Before and after your treatments you'll don a robe and wait in the relaxation room to either wait to be called for your appointment or to gently come back into the real world afterwards. Laniwai actually has three relaxation rooms – one for women, one for men, and a co ed room. The co ed relaxation room is my favorite.
It seems silly to rank the relaxation room as a reason to love a spa, but this one is special! Not only is it big and airy, but the music they play is so peaceful and there's a beautiful view out into the Kula Wai gardens beckoning you (more on those later). You can find me cozied up on the cushy loungers dozing under the fluffy blankets.
Plus, there are wonderful attendants that come in and out to check on you and see if you need anything. They are super quick to bring you a warm neck wrap and a hot cup of tea while you float into oblivion. Did I mention the snacks? Of course there are snacks! You can find water (both regular and fruit-infused), fresh fruit and yummy mini muffins (this past trip they had little macarons on top!).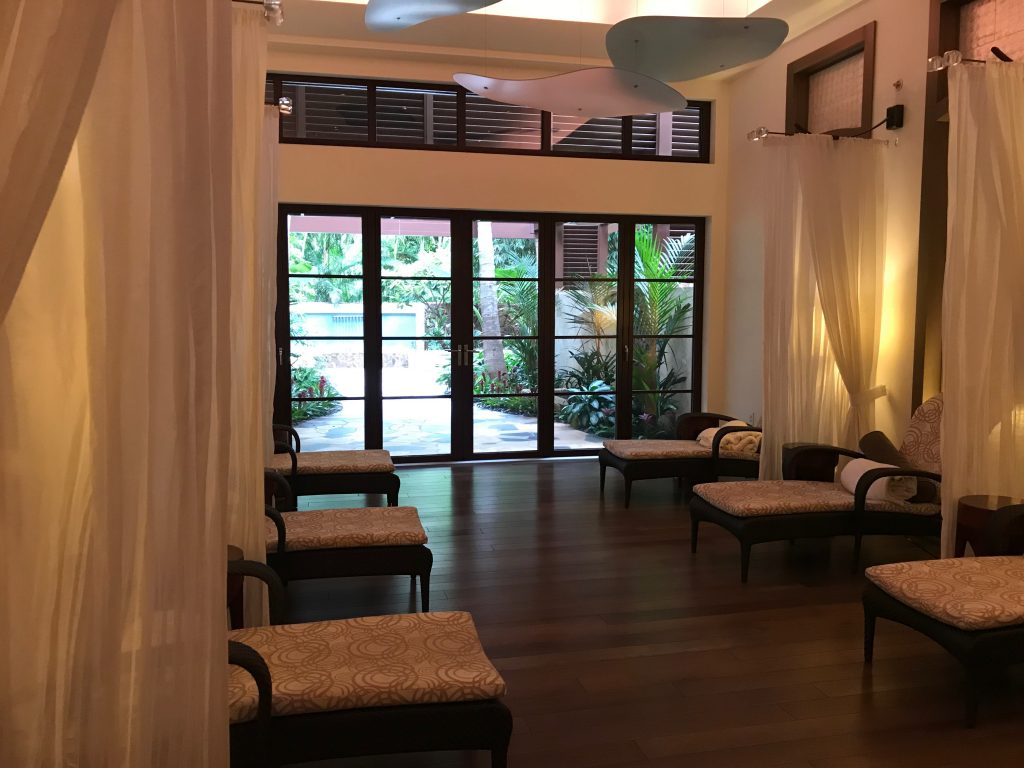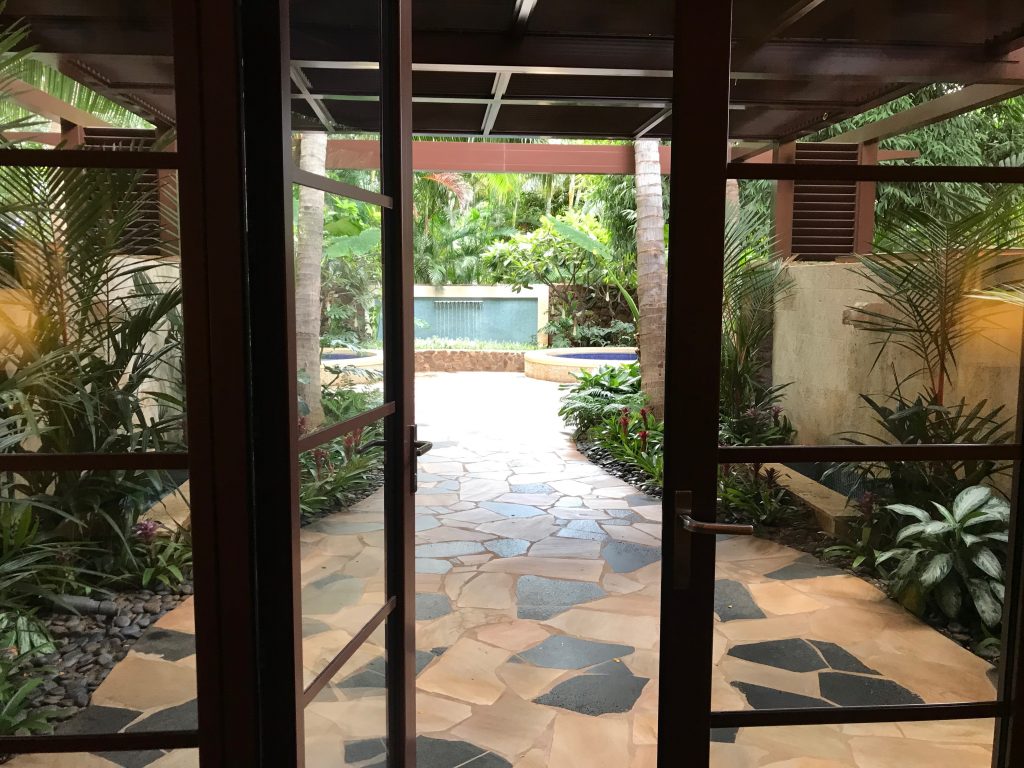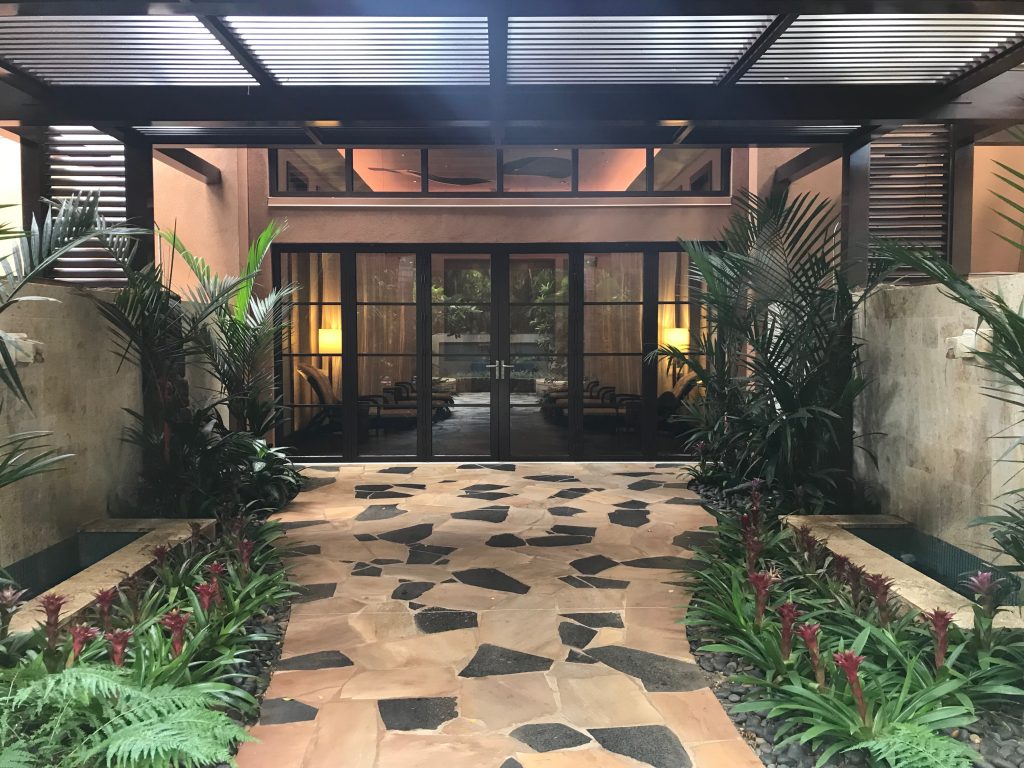 KULA WAI GARDENS
Remember I mentioned the gardens above? Welcome to Eden. These gardens are easily my happy place at Aulani. There are mineral soaking tubs to help soothe your muscles, in addition to hot and cold plunge pools and a beautiful jacuzzi with a waterfall. The gardens are completely surrounded by lush foliage that make you feel like you're in a tropical jungle, with the sounds of flowing water all around you.
Take a walk along the reflexology path of river stones imbedded in the floor – I may have spent a good 10 minutes walking back and forth myself, letting the stones work their magic on my feet. Bring a magazine, or just close your eyes and relax on a cushioned lounge chair as you reminisce about the fantastic spa treatment you just had.
And when you're ready to get a little more active, take in the outdoor hydrotherapy circuit, which are a collection of outdoor showers with differing pressures and water flow type that are designed to massage your back, shoulders and feet and really let you relax with the healing power of water. This is especially fantastic on a hot day!
You can only access the Kula Wai gardens if you've booked yourself a spa treatment, and be sure to pack a bathing suit to take advantage of them as they are co-ed. And you WILL want to take advantage of them. So plan to arrive 30 minutes prior to your treatment, or plan to stay for a while after (I stayed two hours. Told you – my happy place!).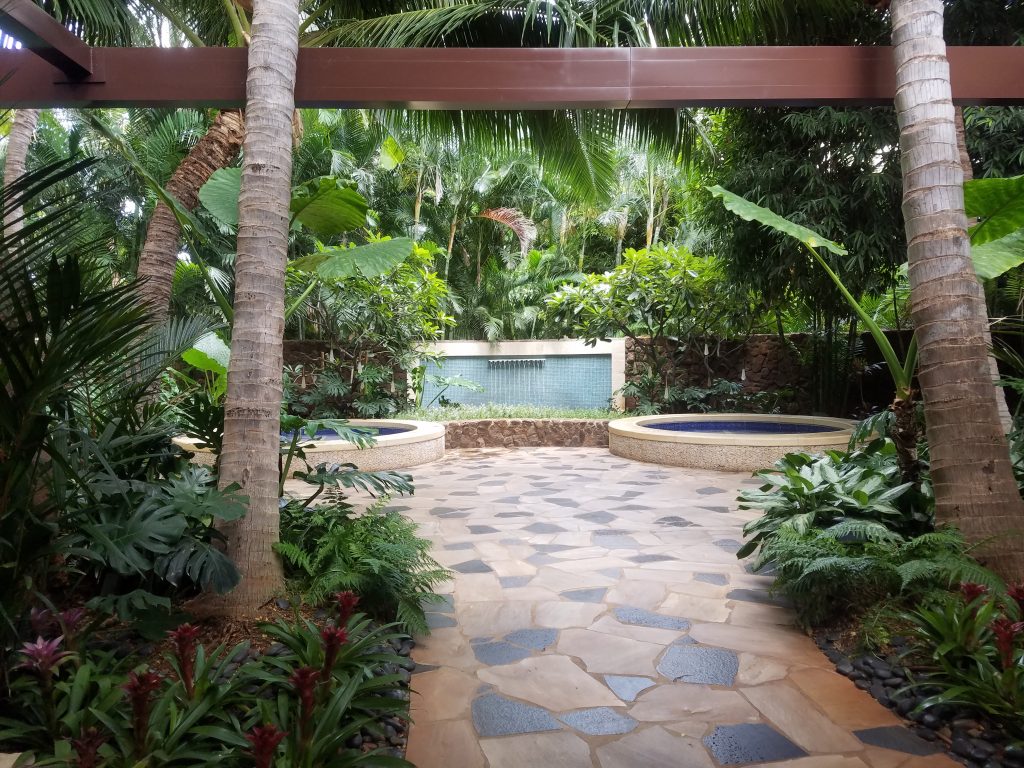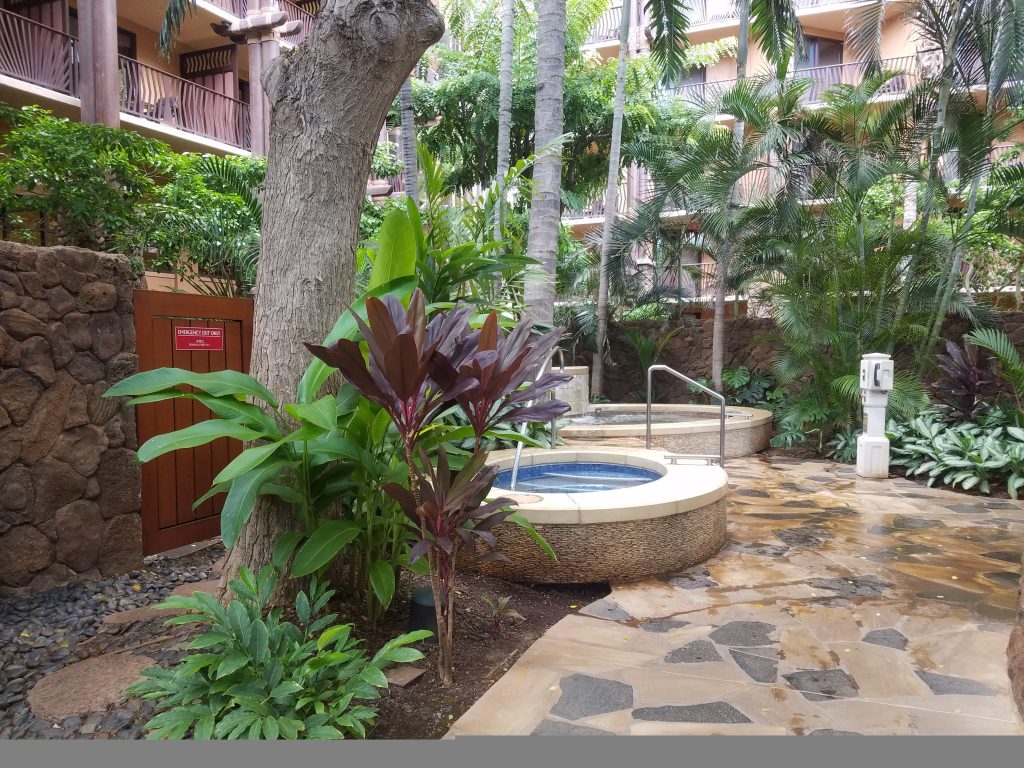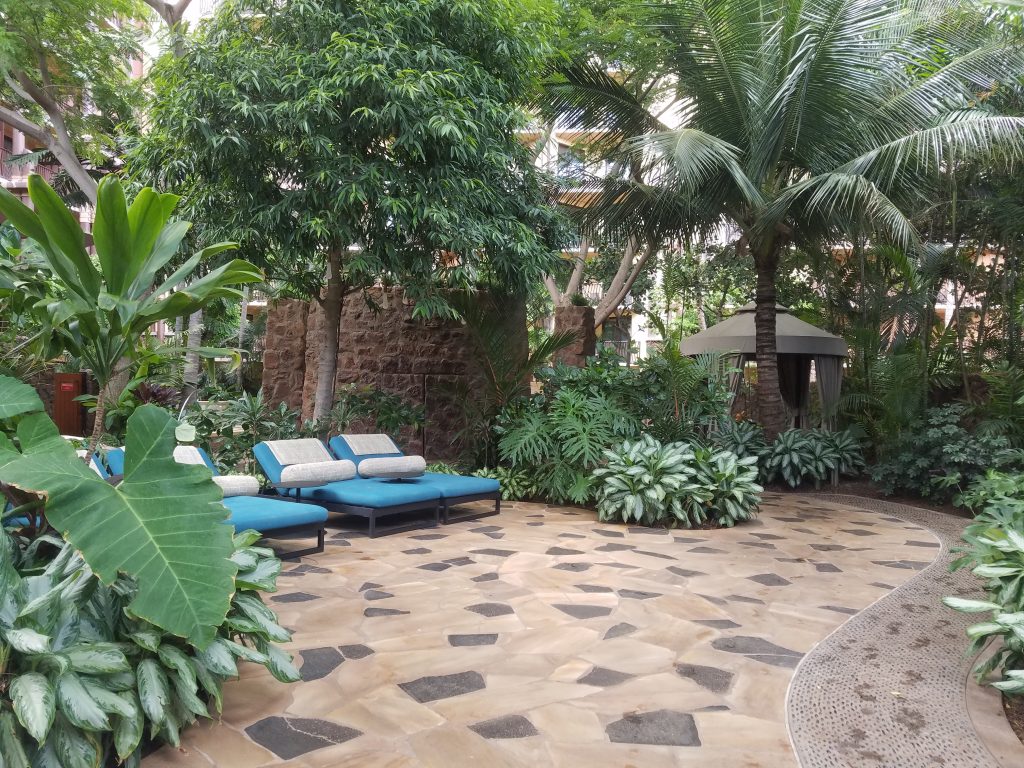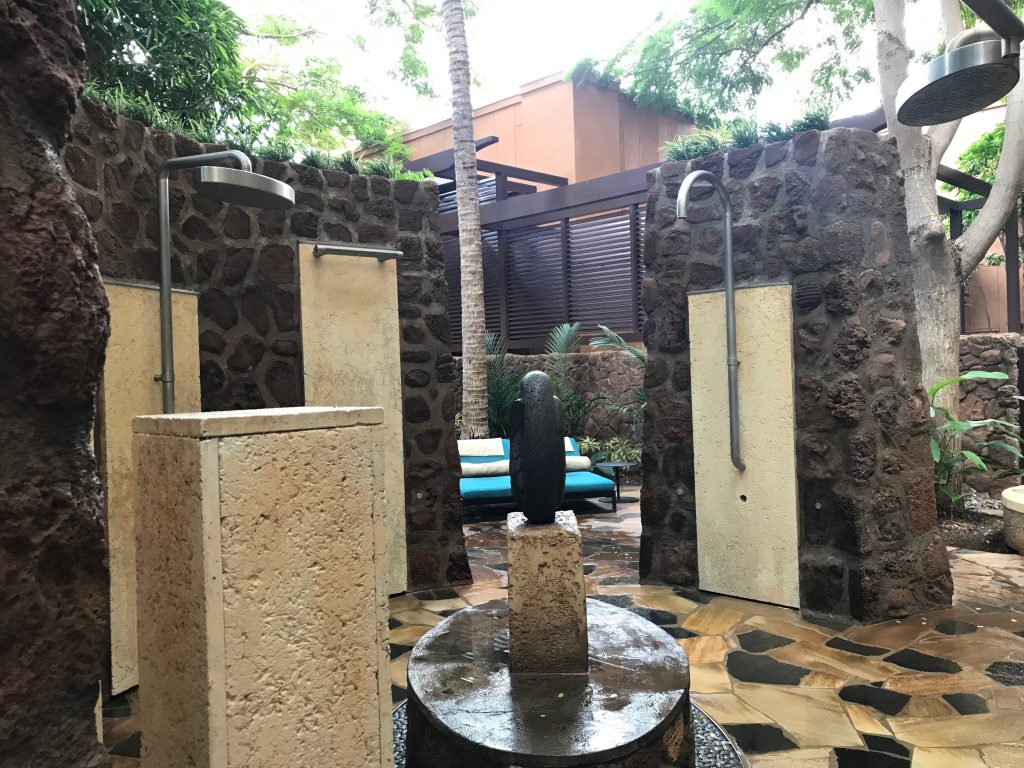 PULU BAR SPA MIXOLOGY STATION
This is such a small detail, but those small details are really what set Disney apart from everyone else, so of course the spa is no exception! Once you are taken into the back for your appointment, after you've set your attention and been given a tour of the facilities, your spa attendant will lead you to the Pulu Bar mixology station. This is where the fun happens!
Here you can create a personalized body scrub – either to take home, or to use in those outdoor hydrotherapy showers I was telling you about. You can choose between a sugar or salt base, and then add in different Hawaiian fragrances (the Maile is my favorite!), Hawaiian herbs, and moisturizing oils. Once you make your decisions your spa assistant will mix it all up and hand you your very special body scrub. Best of all? It's totally complimentary with any full-service spa treatment!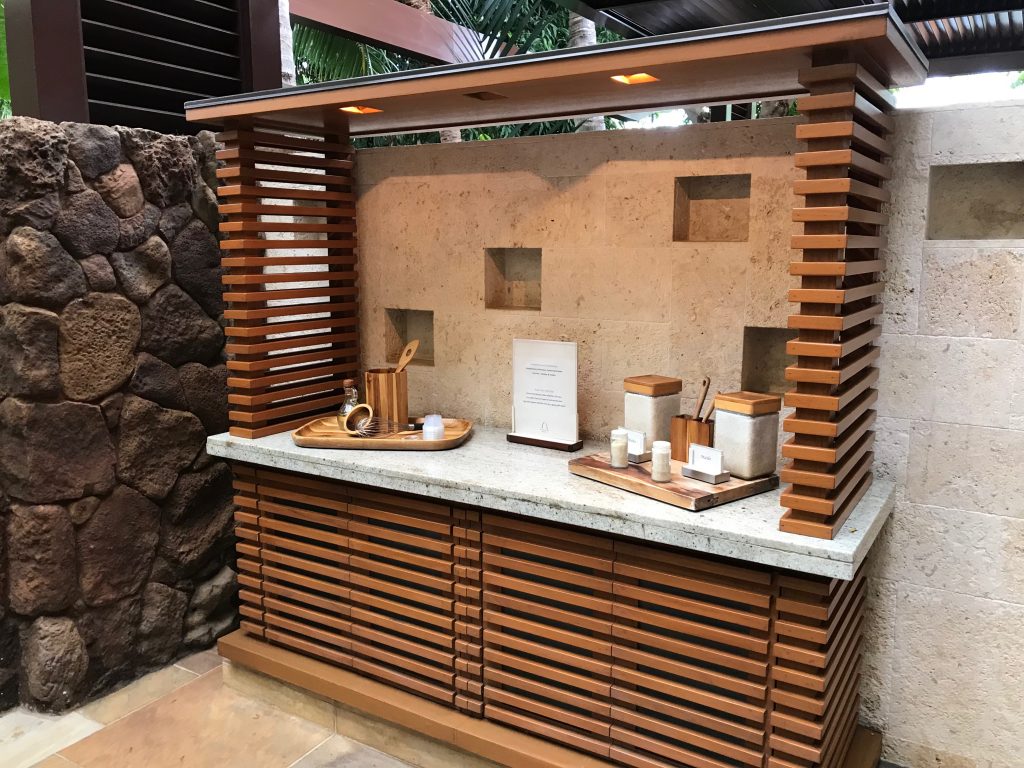 LOCKER ROOMS AT LANIWAI SPA
You'd think that the locker rooms would be the most boring part of any spa, right? Well, then you've never been to Laniwai. These locker rooms are beautiful, gigantic, and come with every luxury you can possibly imagine.
You'll be lead in and given your own locker, where you can change into a robe and slippers. From there, feel free to use the eucalyptus steam room or the sauna, treat yourself to some iced tea or a cold towel, and eventually make your way to one of the relaxation areas to await your treatment.
Once you're done at the spa, don't rush off so quickly. I love taking a shower in the locker room – the shampoo, conditioner and body wash are Laniwai's own scent and it's heavenly! Plus, when you're done, they have brushes and combs, body lotion, fact lotion, sun block, deodorant, q-tips, blow dryers – essentially everything you could possibly need to get ready for the rest of your day. And there's so much space to do it in, the process feels just a tiny bit more luxurious and special.
So there you have it! All of my favorite things about the Laniwai Spa at Aulani. I am so ready to go back – I'm already thinking about what treatment I'll try next time! If you've visited Laniwai, let me know how much you loved it in the comments below!