A Disney Cruise is an investment. An investment of time, of money, and an investment in your family. So how do you make the most of your first Disney Cruise? Read on to learn our "Top 10 Tips to Make the Most of Your First Disney Cruise."
And don't forget to check out our previous articles in this series – Why Castaway Cay Is the Best Part of Any Disney Cruise, How to Choose An Itinerary, How to Choose a Stateroom, What to Expect When You Arrive at the Port on Embarkation Day, and What to Expect When You Board the Ship on Embarkation Day.
1) Learn to Love the Disney Cruise Line Website
DisneyCruise.com is where most of your pre-cruise planning will take place. Whether it is learning more about the Port Adventures (Disney Cruise Line-speak for shore excursions), completing your Online Check-In, or booking your Palo reservation, all of this is done online. First time cruisers can begin Online Check In 75 days prior to sailing. For the best results, I highly recommend getting familiar with the website ahead of time. Spend some time exploring the site, and familiarizing yourself with how the website works and looks. Then when your booking window opens at 12:01 am eastern, 75 days prior to sailing, you will be ready to go!
2) What to Pack For Your First Disney Cruise
Disney Cruise Line has a packing list on their website that includes the basic items you will need for your cruise. Disney Park Princess Sharla has written a fantastic post on "Our Must Have Items for a Disney Cruise" that expands on the basic list with items such as a cork screw, magnetic hooks, and beach toys! (Post contains affiliate links!)
3) Check Your Passport
Most Disney Cruise itineraries will require guests to have a passport. And even the few itineraries that do not require a passport for US Citizens (Bahamas sailings), still recommend a passport. Take our word for it – GET THE PASSPORT. And if you already have a passport – check the expiration date! Some ports require your passport to be valid for at least six months AFTER your visit. So if your passport expires within six months of your cruise – renew it now! You do not need to wait for it to expire, you can renew at any time. Boarding will be denied to guests without proper identification, don't let the ship leave you behind!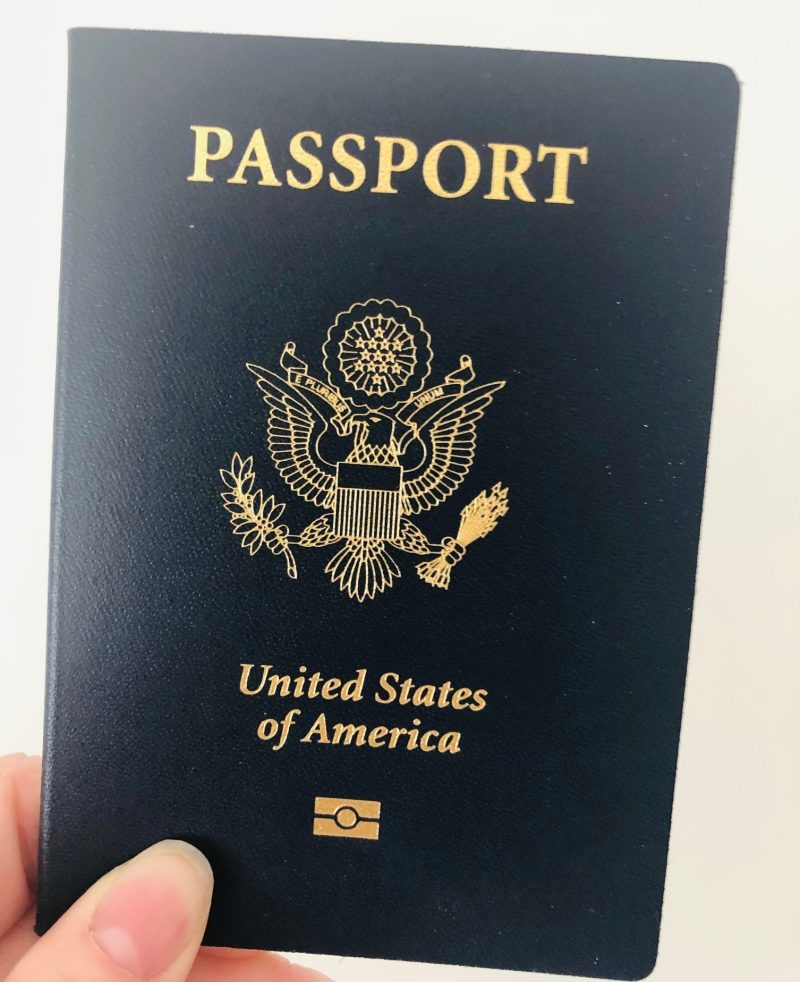 4) Make a Reservation at Palo
Palo is the adults-only restaurant on all four of Disney Cruise Line's ships. Featuring incredible gourmet Italian cuisine, it is a must-do! Palo serves dinner nightly, and brunch on days at sea. Some parents balk at the idea of dining without their kids on what is meant to be a family vacation but I encourage you to go for it! The atmosphere is elegant, the service attentive, and the food delicious.
If you don't want to miss family meal-time, consider scheduling your Palo reservation for later in the evening, and joining your kids for dinner in the Main Dining room and just ordering an appetizer or soup. Or better yet – make a reservation for brunch when they are busy in the kids clubs! They won't even notice you are gone.

5) Check out Senses Spa On Your First Day of Your Disney Cruise
Senses Spa on board the Disney Cruise Line is one of my favorite places on board the ship. But did you know that if you visit the spa on embarkation day and take a tour, there may be a discount for booking services at the end? Guests who book one or more spa treatments at the end of their tour can save 10% or more!
6) Prohibited Items
There are a number of items that are forbidden on Disney Cruise Line for safety reasons. Some of them are easy to understand such as anything that would be a fire hazard such as candles, other items are not as obvious to the lay person. (No irons – even travel sized!) You can find the complete list on Disney Cruise Line's website. And they do check! Any prohibited items will be removed from your luggage and returned to you at the end of the cruise.
7) Fish Extender Groups For Your First Disney Cruise
If you are on Facebook, consider joining a Fish Extender Group! What is a fish extender? Outside the stateroom door, is a metal fish or seahorse (depending on what side of the ship you are on). These clips are used for communications from the cruise line. Many guests purchase "fish extenders" which are hanging fabric pockets that are hung over the fish.
Families or fish extender groups then place small gifts or fun items in the pockets throughout the cruise! It is a great way to meet new people and a fun surprise every day when you return to your room to find a new trinket. To find a fish extender group for your sailing, just type your date and ship into the search engine on Facebook. For example, "Disney Fantasy June 22 2019" will bring up a group just for your sailing!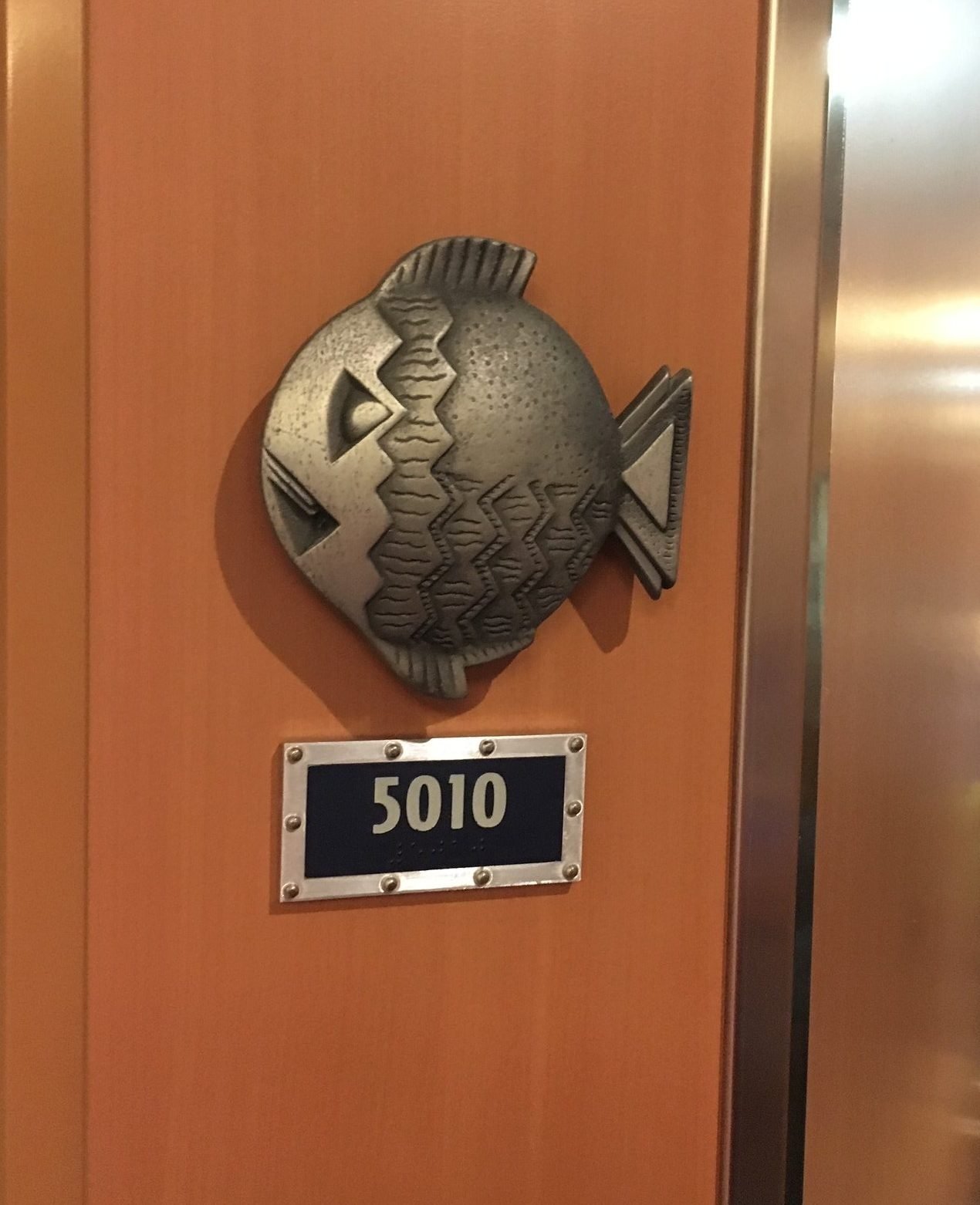 8) Talk to Your Servers and Stateroom Hosts
The Cast Members onboard Disney Cruise Line are truly the stars of the show. They work incredibly hard and do their best to make your cruise more magical. You will have the most interactions with your stateroom hosts and dining room servers as these are the Cast Members you will see every day. Be sure to get to know them! Besides being from all over the world and speaking multiple languages, they are a wealth of knowledge about the entire ship. Want to know where to find the best fireworks viewing spot or what is the best thing on the menu? Just ask!
9) When In Doubt, Visit Guest Services
The Guest Services desk in the lobby atrium is the source of all knowledge on board Disney Cruise Line. Have a question or an issue? Guest Services. Want to compliment a Cast Member on a job well done? Guest Services. Want to get on the wait list for a Cabana on Castaway Cay? Guest Services! The bottom line is, when in doubt, call or go to Guest Services. They will either be able to assist or get you pointed in the right direction!
10) Future Cruise Bookings
Now that you have fallen in love with Disney Cruise Line, you can't wait to sail again, right? Well good news. The best way to book your next cruise, is on your current cruise! Guests who book a future cruise while onboard get perks including savings, onboard credits, and reduced deposits. (The perks vary by what itinerary you book for your next cruise. Terms and conditions subject to change!)
Visit the Future Cruise Desk or fill out the card in your stateroom to get started. Don't know when you want to cruise next? That's ok! Guests can book a "Placeholder" cruise for just $250. The Placeholder cruise gives you two years to sail from the date you book and still take advantage of the onboard booking perks.
Have you been on a Disney Cruise? Share your tips for first time cruisers in the comments!
P.S. Now that you've found us, be sure to subscribe to our newsletter by taking our quiz or in the link on the side! You can also check us out on YouTube, Facebook, and Instagram!