Flying Fish Cafe at the Boardwalk in Walt Disney World is the perfect option for seafood lovers. Check out our review of Flying Fish Cafe! 
Just last week I was in Walt Disney World to celebrate my boyfriend's birthday. I wanted to treat him to a nice dinner on his actual birthday – somewhere close to our hotel because after a long day of flying I knew we wouldn't want to be trekking far. Plus, Sharla and her family were joining us, so it had to be festive enough for a celebration! We decided on Flying Fish, a restaurant that was new to all of us. If you listened to the podcast last week, you'll know we had some mixed reviews. Read on to see what we thought of our experience!
THE DECOR at the Flying Fish Cafe
Flying Fish is located at Disney's Boardwalk Inn & Villas, so of course there's going to be a seaside theme here. If you don't have a seafood restaurant near the "sea", are you even doing it right? Flying Fish underwent a complete refurbishment not too long ago, and the decor is stunning. This is one of Disney's Signature restaurants, so it's expected to be more upscale than other restaurants found around the resort.
The restaurant itself is warm and welcoming, with shades of navy and dark brown. But instead of feeling dark, there are high ceilings with chandeliers made to resemble bubbles floating through the air. Walls shimmer with silver tiles meant to look like fish scales.
When you first enter the dining room, you'll notice the massive open kitchen. I love being able to watch the chefs do their thing. If you're lucky, you may be seated at the bar so you can watch the magic happen. But make sure you look up. There's another giant chandelier made up of hundreds of 'flying' glass fish.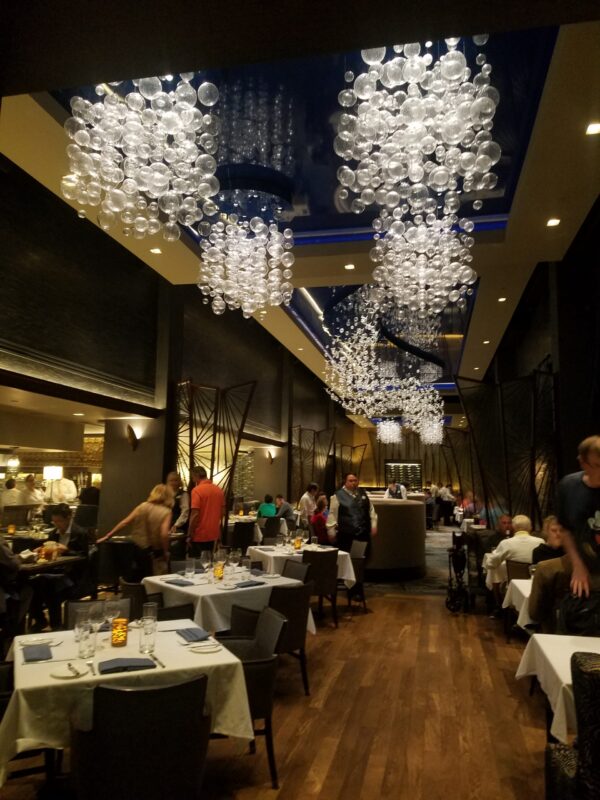 The tables are set elegantly and simply – but not without a touch of that Disney whimsy. Check out the silverware! I know it's supposed to be fish, but the fork has a bit of a mermaid vibe if you ask me!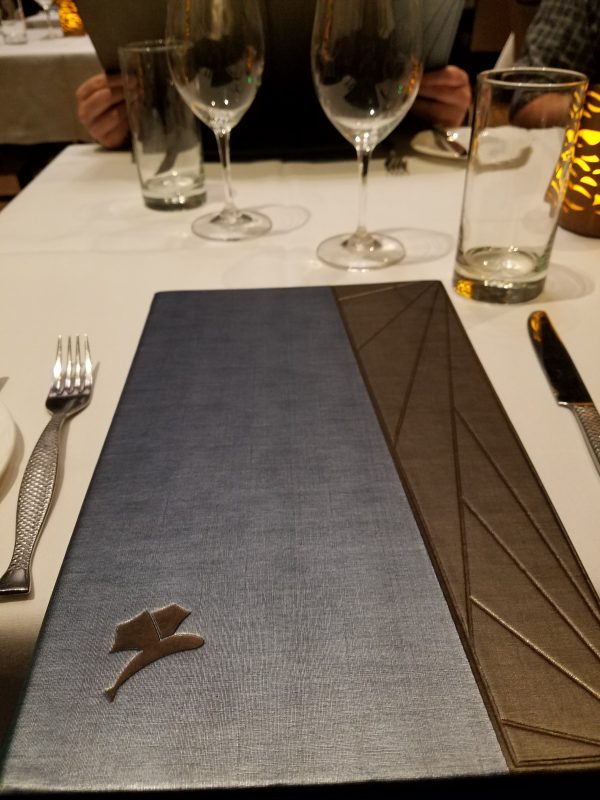 THE SERVICE at the Flying Fish Cafe
Because Flying Fish is considered a Signature Restaurant, the service expectations are high and they most definitely exceeded our expectations. Here you have a serving team – not just one server. It's very much like Disney Cruise Line, where one server is taking care of your drink orders and making sure you have enough bread and silverware on the table, while the other is taking food orders and bringing everything to the table.
Our servers Erika (and I feel awful because I forget the other servers name, but he was awesome and talked TV with us for the entire night!) were INCREDIBLE! They were on it with my food allergies and made sure I knew what was in every dish. Beyond that, they were wonderful with Sharla's daughter, Nora, making sure she was entertained and even brought her a surprise dessert.
They took such great care of us the entire evening. However, I did feel that service was on the slow side. There were big gaps in time between ordering and our first course being brought out, and then again between the appetizer and the entree. The restaurants wasn't particularly busy that night, so I'm not sure why everything took so long. It was beginning to drag on much too long for my taste in meals, but our serving team were delightful and attentive, so just something to be aware of!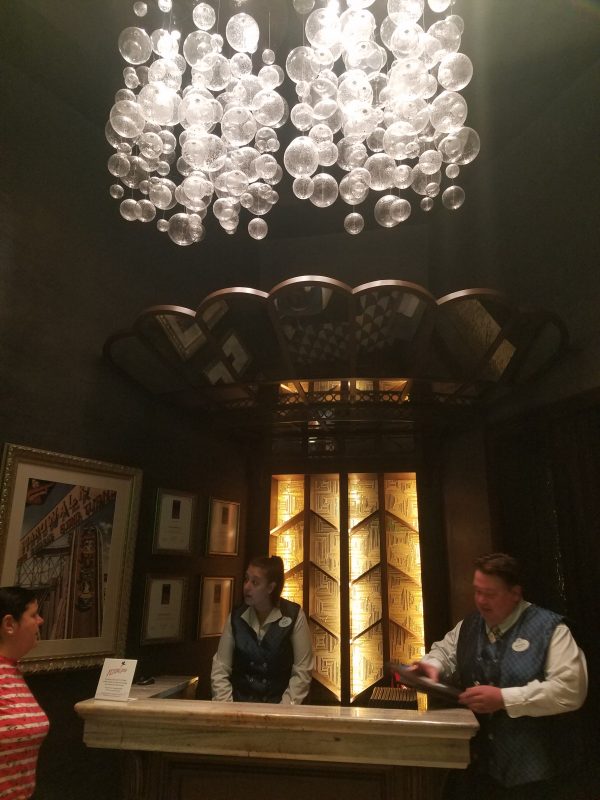 THE FOOD at Flying Fish Cafe
Now for the good part! Sadly, we were really torn on the quality of the food. For the most part, everything was excellent, but there was ONE dish that was flat out awful.
We started with a bunch of appetizers. The Lobster Bisque was so creamy, and just a hint on the sweet side. There were many big chunks of lobster in the soup, which I appreciate because some restaurants tend to skimp on that.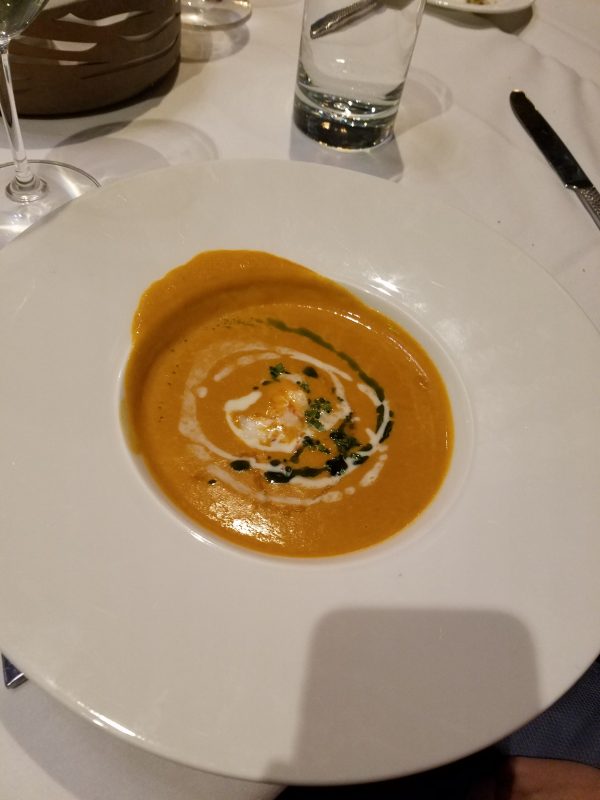 The Snow Crab Croquette was a favorite at the table, with a slight blood orange taste. It comes with tarragon and piquant coulis. This was NOT your average crab cake. It was dense and flavorful, and the sauce really added spicy, zesty kick.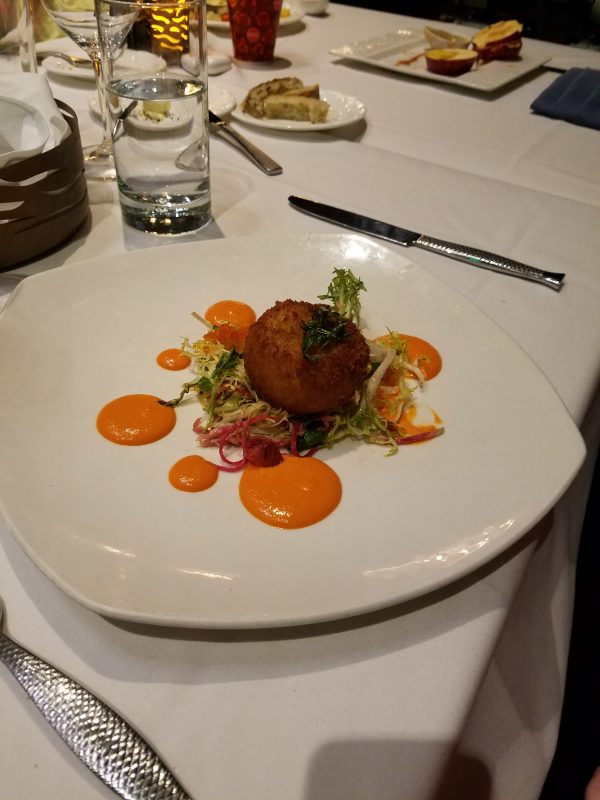 The Wisconsin Burrata Salad was delicious. There's just something about that creamy, runny cheese that makes everything around it stand out. This salad comes with pears, marcona almonds, and a blueberry-lavender vinaigrette, which happen to be two of my very favorite flavors. The sweetness of the fruit and dressing combined with the saltiness of the cheese and almonds was delightful. This may have been my favorite of the appetizers, but it was so hard to get Justin to share more than one or two bites. I had to forgive him because it was his birthday, but the next time we go back, that salad is all mine!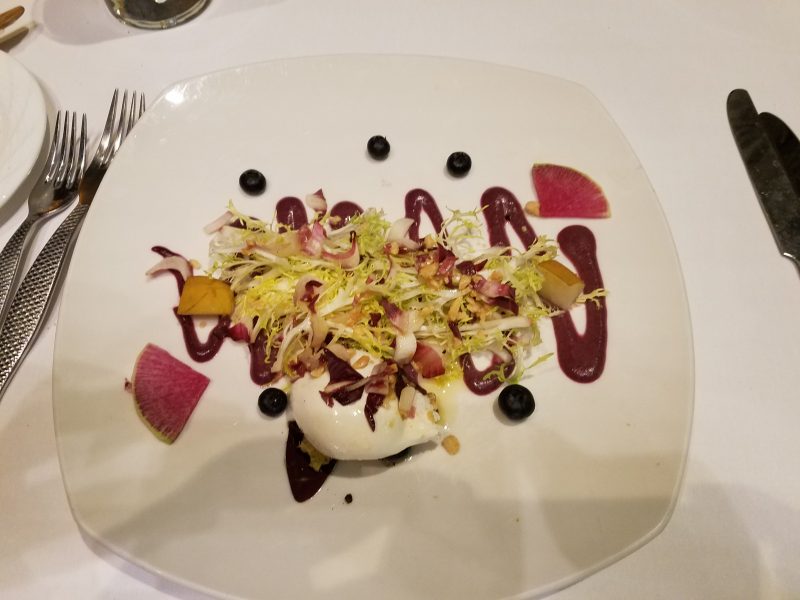 Sharla's husband, Lou, tried the Tasting of Artisan Cheeses, and let me tell you, this was a beautiful dish! It comes with Robiola Bosina, Crottin, Thomasville Tomme, Smokey Blue, and Reypenaer V.S.O.P. Gouda – plus breads and honeycomb and other enhancements. He LOVED this dish! If you're a cheese fan (and how could you NOT be!?), this is your go to.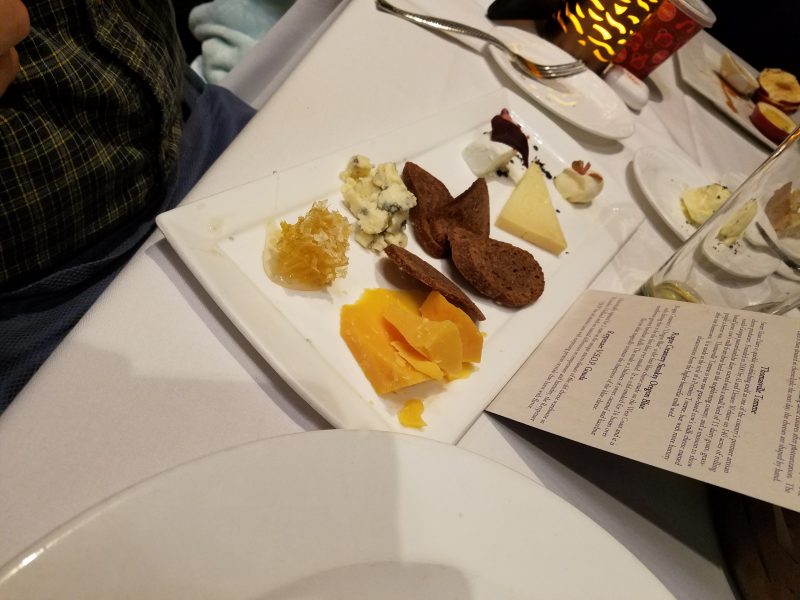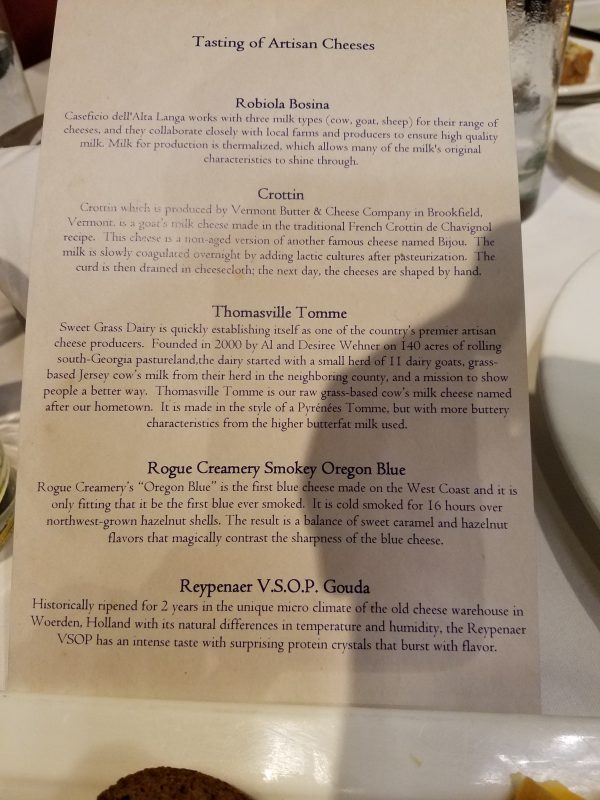 When it came time for entrees there were so many different options. And believe it or not, there were as many 'land' choices on the menu as there were seafood options! Nora got the kid's Mickey pasta with butter and carrots on the side, and she devoured it! It's hard not to clean your plate when it's as adorable as this.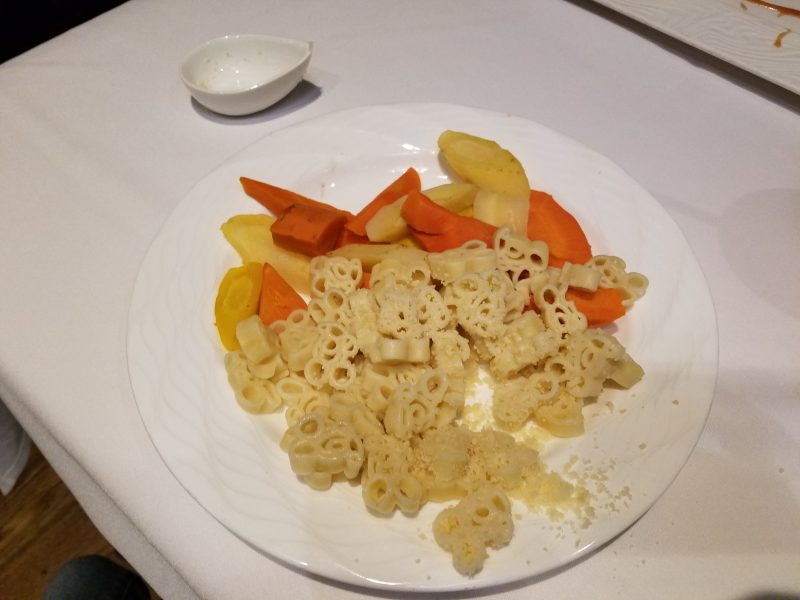 Lou had the Kurobuta Pork Belly, and loved it. It was super tender, but slightly crunchy on the outside.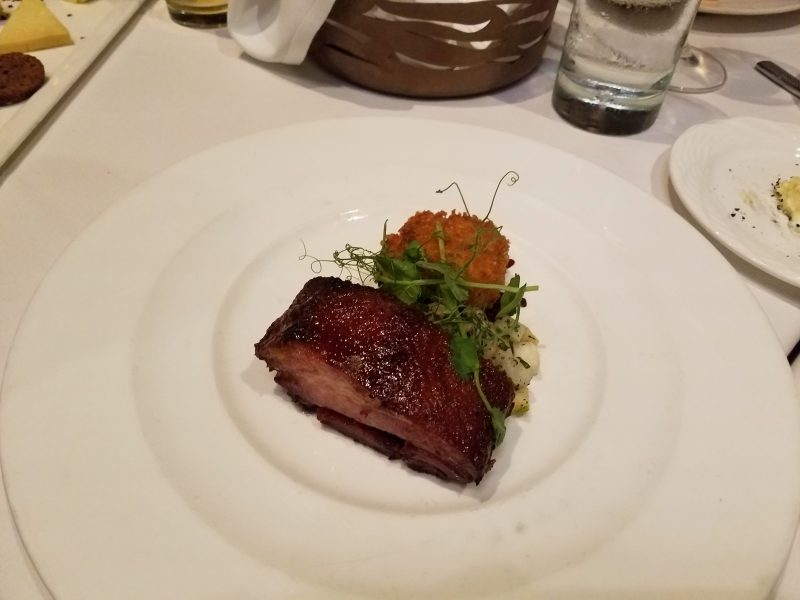 Birthday Boy Justin had the swordfish, which comes with a vegetable melange and a potato beurre blanc. He was a little underwhelmed with this dish, saying it was slightly dry and 'just okay'. I can't confirm, since the veggies it comes with were colorful little cauliflowers, which I happen to be allergic to.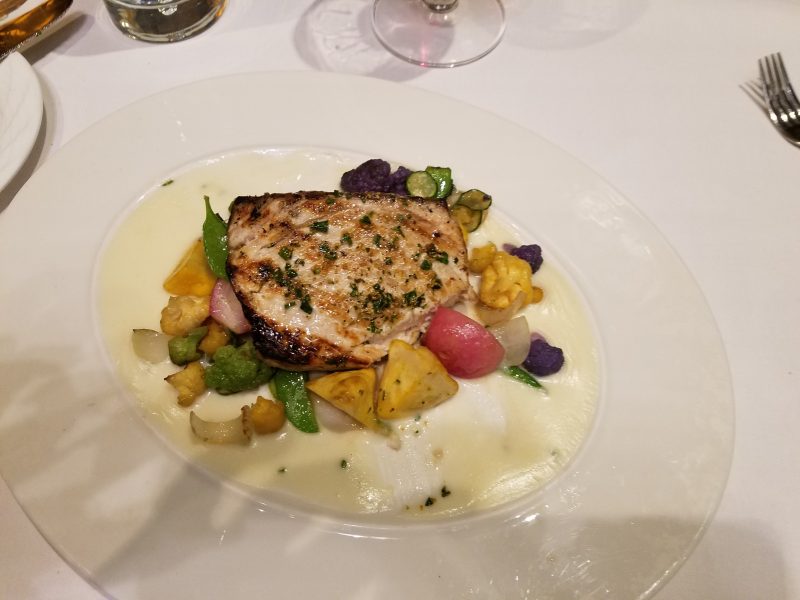 I decided to go with the Roasted Tofu, which I have to be honest, was completely awful. Remember my cauliflower allergy? The actual dish comes with Holland pepper coulis and vegetable fricassee – which sounds great, but is all broccoli and cauliflower. So to modify the dish for my allergy, the restaurant just gave me steamed vegetables. No sauce. No flavor. Nothing. Both the veggies and the tofu were bland – I could honestly make better tasting food at home. The tofu was squishy and tasteless. Not at all what I would expect from a Disney Signature restaurant.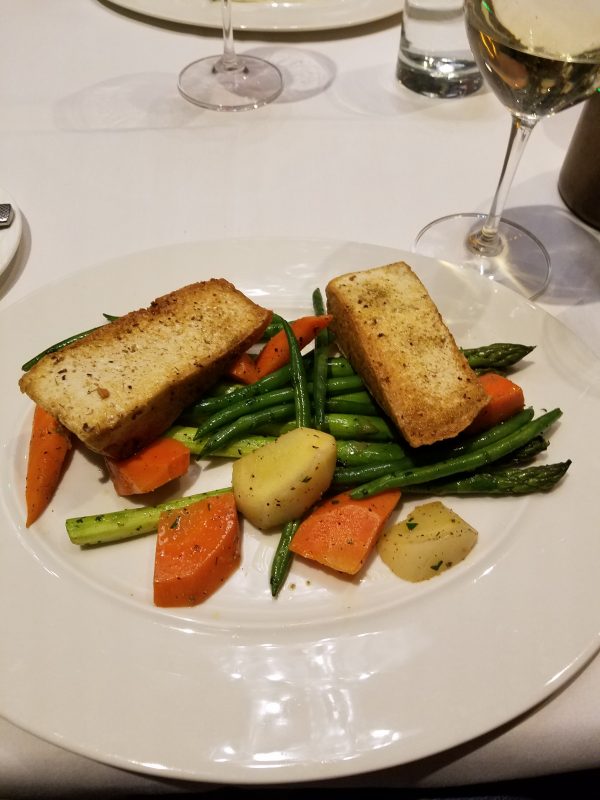 To say I was disappointed was an understatement. I asked for sauce to be brought, which our servers did, but even that didn't help. Now, I know what you're thinking! You're saying, who goes to a seafood restaurant and orders the vegan dish!? Well, maybe if Disney had a vegan restaurant or two, I could go there to order my veggies, but since they don't, the vegan options they DO have should be pretty fantastic. Especially since they just started the new plant based initiative. If I can make better tasting tofu and veggies at home, then there's a problem.
Now, the servers and staff at Flying Fish were beyond accommodating in this situation. They offered to bring me anything else, create a whole new dish, asked a billion times if there was anything they could do. They were truly wonderful. But my table mates were already done with their dinners, so I chose to just eat my steamed veggies and call it a night. They did comp my meal which was generous and unexpected. Hopefully, by the time you dine at Flying Fish there will be a new, improved vegan option on the menu!
At this point, everyone was pretty full so we decided to forgo dessert. Besides, Ample Hills is just a few feet down the Boardwalk, so you KNOW we had to go there! But you know Disney loves to celebrate a birthday, so they couldn't let us leave without bringing Justin a sweet treat for his special day. This was a super sweet, much appreciated gesture, and it made Justin aware of how seriously Disney takes birthdays!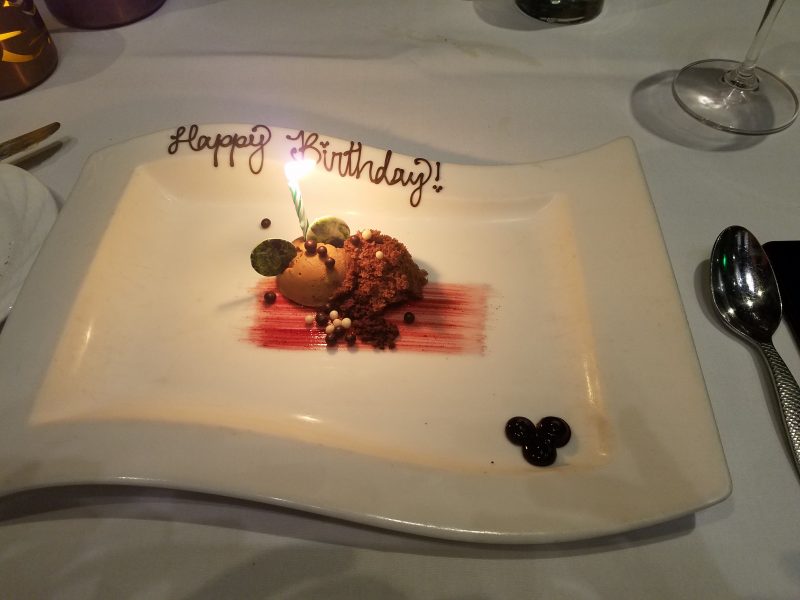 All in all, I would say Flying Fish was a great choice to celebrate Justin's birthday – AND his first foray into Walt Disney World dining. The appetizers were honestly much better than the entrees here, which is disappointing, so maybe order two or three of those for your dinner. That way, you won't be let down. Flying Fish is 2 table service credits if you're using one of the Disney Dining Plans.
If you've had the opportunity to dine here, I'd love to hear your thoughts. Did your experience line up with ours? Let me know in the comments below!