I just got back last week from another great vacation to Disney's Aulani Resort and Spa in Hawaii. This was my third visit there, and every time I go I come home having had a fantastic trip. Every time I go, though, I always have a different experience. So this time, here are this highlights of this particular visit
'OLELO ROOM
One of my favorite 'traditions' on my Aulani vacations is to get all checked into my room, unpacked, and then head down to the lobby. I take a moment to survey the gorgeous Waikolohe Valley from the balcony of the lobby and then head right downstairs to the 'Olelo Room for happy hour. This bar celebrates the Hawaiian language, with little statues all over telling you how to say that item in Hawaiian. And fun fact – every server and bartender here must speak Hawaiian! On this visit, my server taught me how to say 'awesome' in Hawaiian, and then spoke to us in English while immediately following up her words with the Hawaiian for what she just said.
I always head right outside to grab a couch and watch the sunset and the koi in the fishpond. There is something so relaxing about sitting down and watching people walk by that relaxes me and makes me feel like I'm finally on vacation. But where my experience is different every time is with the musicians. Each night the 'Olelo Room has different Hawaiian musicians that bring in the sounds of the islands. It's so tropical and so peaceful and makes you feel like you're in an entirely different world – which of course, you are!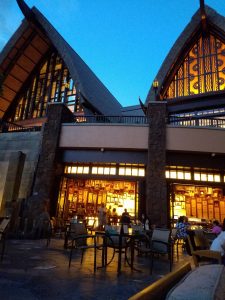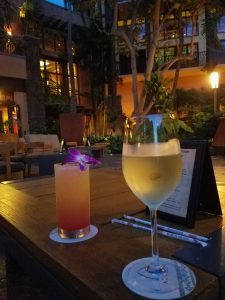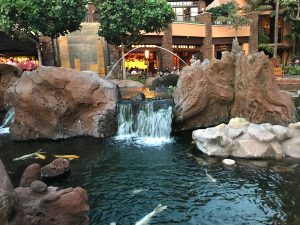 LANI WAI SPA
If I had to name my happy place, this would be it. There is literally no place on earth I love more than this spa. I won't go into too many details here, because I'm going to be writing a whole review of it soon, but I'll just let you know it's heaven on earth. From the second you arrive until when you depart – hours later, if you've done it right – you forget that life outside this little Eden exists. There are SO many treatments to try that I have yet to repeat the same one twice.
This time, I treated myself to a facial, which was lovely. But the highlight was the Signature Lomi Lomi massage. Oh. Em. Gee. This was 80 minutes of pure bliss with hot stones and lomi sticks and beautiful scented oils. I didn't even have to tell my masseuse where I needed her to focus – she just got to work and managed to work out every sore muscle in my body. I practically floated off the table. I probably should have just booked another right there…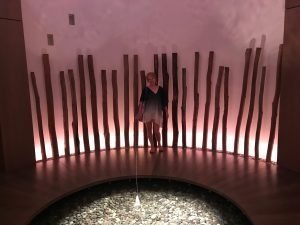 UKULELE LESSONS
Raise your hands – how many of you knew Aulani did ukulele lessons? Well, they do – and they're free! I finally took one this visit and despite never having played any type of stringed instrument in my life, I had the best time!
There were about 40 people in the Pau Hana room and somehow at the end of an hour our cast member had all 40 of us playing chords that we somehow strung into 4 different songs. Impressive! Sure, the class is super basic. You won't walk out of there being a rock star. But you learn about different Hawaiian instruments, you learn to play some music, and best of all – you have a GREAT time! Even better, there are PhotoPass photographers walking around to capture your musical genius as it happens.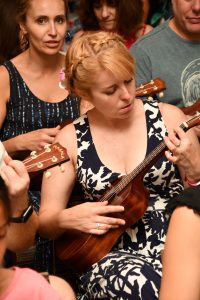 STORYTELLING WITH UNCLE
Admittedly, I'm a big fan of the bedtime story. Even as an adult I still ask for one sometimes. So it's easy to see why I love heading to the fire pit overlooking the ocean at Aulani, where on most nights, Uncle regales us with different Hawaiian folklore.
There's something so magical (literally) about him lighting the fire and gathering us all around like we're old friends. You never know what fable he's going to tell, but they're always entertaining and there's always a lesson. A lot of times, there's even a dance or song that goes along with his stories. I'm still doing this little hula I learned about two lovers who couldn't be together so the gods turned them into two halves of one flower – one growing near the ocean and one growing in the mountains. I fail to see how that's fair to them, but the story was wonderful!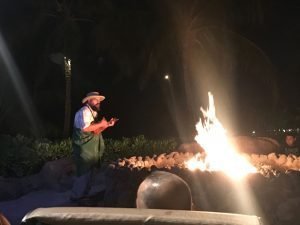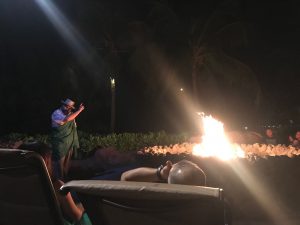 AMA AMA
This is Aulani's more upscale restaurant, and I always make sure to grab a reservation here. But this time, I tried breakfast for the first time and all I can say is WOW. I am honestly still thinking about the macadamia nut pancakes with Tahitian vanilla sauce I got. It sounds heavy, but they were so light and fluffy and I didn't feel weighed down after I got them. Pro tip: ask for the guava sauce on the side to try! It's not as good as the vanilla sauce, but it's still really great, and who doesn't love options?
We also tried the Hawaiian pastry basket and the egg white frittata that came with goat cheese and pesto and was so amazing I may have stole at least half of it off the plate. And then add in some 100% Kona coffee? I dare you to find a better breakfast!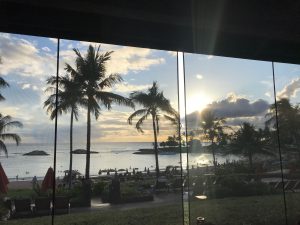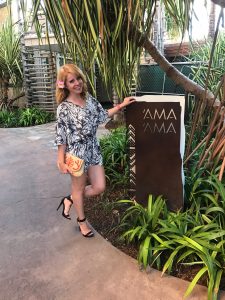 I know the next time I go to Aulani I'll have an entirely different experience. Sure, I'll still spend a day by the pool and go to the spa and have my welcome meal at the O'Lelo Room. But maybe next time I'll finally get to the Star Gazing or art tours. What about you? What is your favorite experience at Aulani?