Whether you're an elite runner or a beginner, or someone in between who likes to run but isn't very quick (like me!), runDisney has plenty of options for the runner in all of us. From 5K races all the way up to a full marathon, you can pick your favorites and head down to WDW and run several times throughout the year. They even have shorter kids races so the whole family can get involved!
(This post contains affiliate links for Amazon and shopDisney. Disney Park Princess may receive a portion of your sales when purchased through these links. This is a way to help offset the costs of running this site. for more information please visit our Privacy Policy and Affiliate Disclosure. Thank you for your support! #affiliatelinks)
So let's say you've found yourself registered for a runDisney event and want to make the most of your experience. Running a half marathon or a marathon is hard- so kudos for even trying! You know that your Disney Park Princesses love to be pampered, even if that means we have to run to the finish line!
Where You Stay
The first way you can make the most of your race experience is by booking a fabulous place to stay! Because most races begin and end at Epcot, my favorite place to stay is at the Beach Club! But that's not your only option- another great place is anywhere on the monorail line, meaning Polynesian, Contemporary, or Grand Floridian. Of course I say to stay Club Level for the ultimate pre- and post-race pampering at your resort, but even if that is not in the cards a standard room is fantastic too. The most important thing here is proximity to the race course. This is good for your cheering squad too- we stayed at the Grand Floridian for a race, and it was perfect for my family to come out and cheer for me mid-race.
runDisney Race Retreat
The Race Retreat is a terrific option if you want to be pampered before and after the races. If you sign up for this, you not only get early entry to shopping at the Expo and a runDisney keepsake, you also get snacks, private restrooms, bag check, and changing tents. After the race, you get a catered lunch!
Spa Treatment
You're tired, you're sore, and you need a massage! After your race I highly recommend heading over to the Senses Spa and easing your troubles with a massage or a foot treatment. If you're staying in the Epcot area, you can even try the Mandara Spa at the Dolphin hotel. Regular massage treatments do a body good, especially a runner's body!
Food
Don't forget to celebrate your accomplishment! Have a fantastic dinner out at a signature restaurant such as Sanaa, Citrico's, the Boathouse, or maybe even Victoria and Albert's! Wear your medal for all sorts of fun acknowledgements too. While it's never guaranteed, one time I got a celebration certificate, and another time I got a free dessert (which I didn't share with anyone because they didn't go out and run a race)! A celebratory drink is in order too, just don't have too much because your body might still be a little dehydrated so you'll want to take things slowly with the alcohol. And it's ok to go to Beaches and Cream and have a giant sundae, too!
Merchandise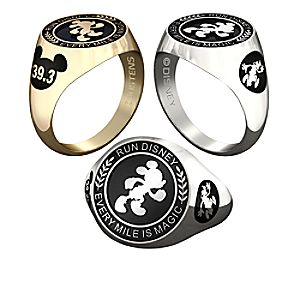 So if you think you have what it takes to take on a really fun race at Walt Disney World, head over to runDIsney to sign up! Let us know if you do and we will cheer you on!