Welcome to Hurricane Season. As I write this, the 2020 Hurricane Season is predicted to be one of the busiest storm seasons in years. (As if we didn't have enough going on…) If you still have a trip planned (lucky you!), how could a hurricane affect your vacation?
So why would anyone even book a trip during Hurricane Season? And what happens if a hurricane does affect your trip?
Disney Cruise Line During Hurricane Season
For some reason, cruises get the most attention during Hurricane Season. I am frequently asked by clients, "But what about Hurricane Season? Is it safe to sail then?" Oddly enough, that is almost never a question for Walt Disney World.
While hurricanes can have a major impact on the ports that you may visit during your cruise, in some ways, it has less impact on the Disney Cruise Line ships than it does on say, a Walt Disney World resort. After all, Disney Cruise Line can move the ships! In fact, itinerary changes are the first line of defense by cruise lines during hurricane season. When in doubt, simply send the ship out of harm's way.
Other options for Disney Cruise Line ships can include extending or shortening itineraries (as happened this week during Dorian), and even cancelling cruises. The safety of the guests and crew is of paramount importance.  For official information and updates on sailings, check out the Disney Cruise Line website.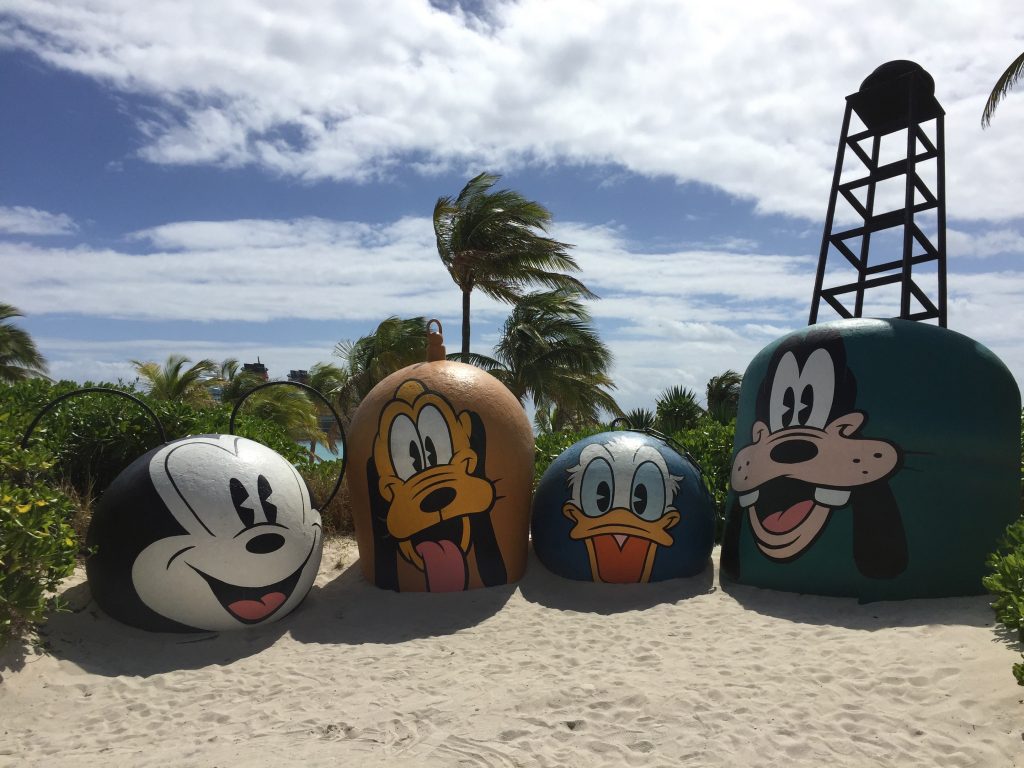 Walt Disney World During Hurricane Season
Unlike Disney Cruise Line, Walt Disney World cannot simply move to a new location during a hurricane. So what happens if a hurricane is predicted to happen during your trip?
If a Hurricane Warning is issued by the National Hurricane Center within 7 days of your check in, Walt Disney World will typically waive any change or cancel fees. This allows guests to reschedule their trips to new dates (subject to new rates and availability).
But what if you are already at Walt Disney World? Guests have the option to depart early to avoid the storm, or may be able to extend their stay if your flight home is cancelled, based on availability. Park hours may be modified, or parks may even close entirely.
The resorts do their best to keep guests safe but also entertained! You may discover games and entertainment in the lobby of your hotel. And there is no better time to be staying at a Deluxe Resort than during a storm! The interior hallways mean you can get from your room to the lobby without going outside in most cases. Value and Moderate Resorts have exterior walk ways meaning getting to the lobby or the food court means getting wet!
For up to date information on storm related issues, check out the Walt Disney World website.
Disneyland
"Ummmm, Sara? What does Hurricane Season have to do with Disneyland? Anaheim doesn't get hurricanes!" Hang in there with me. While it is true that Anaheim is wildly unlikely to be affected by a hurricane, YOU may be!
I live in New England, where hurricanes are very much a reality. And if I am planning a trip to Disneyland during Hurricane Season, there is a trip that I may have to change or cancel my plans. Not because Disneyland is affected, but because my local airport is. After all, you have to be able to GET to Disneyland in order to enjoy your vacation! (This is of course for when Disneyland reopens.)
Why You Should Still Consider Booking a Disney Vacation in Hurricane Season
So after all of that, why would anyone plan a Disney vacation during Hurricane Season?! I have two words – Food and Wine. Did you know that the Epcot International Food & Wine Festival essentially started as a way to increase traffic at Walt Disney World during the "slow" hurricane season? It's true!
Fall can be a fantastic time to visit Walt Disney World not only for the Food & Wine Festival but also for all the (When there is no pandemic) Halloween festivities, the slightly cooler temperatures, and often discounts on your vacation.
On the Disney Cruise Line, fall is one of the least expensive times to sail! There can be great rates to be had on cruises. And when there isn't a storm, the weather in the Bahamas and the Caribbean can be gorgeous!
But if you are going to plan a trip during this season, we highly recommend the next item…
Insurance
I personally never travel without trip insurance any more. But it is even more critical during Hurricane Season! Coverage can be purchased through your supplier (aka Walt Disney World, Disney Cruise Line, etc.) or through a trip insurance provider. You may even be covered by your credit card company! While insurance is non-refundable, it is better to "lose" the cost of the insurance, rather than the far larger cost of your vacation.
It may seem crazy to think about planning a trip at all right now during the COVID-19 pandemic but hopefully we will all be traveling soon. And personally, I cannot WAIT to book a cruise for next Fall!
Has a hurricane affected your Disney vacation? What did you do? Let us know in the comments!