Last week I got to do something very few 'civilians' get to do. I was able to infiltrate a team (and by 'infiltrate', I mean I was invited) of cast members to participate in Minnie's Moonlit Madness. For those of you who might not know what this is – each year cast members take over Disneyland Resort for an after hours scavenger hunt. I've always wanted to do this, and I cannot tell you how excited I was to finally be able to participate. Read on for all the craziness that is 'Minnie's Moonlit Madness'!
THE PREPARATION
The whole event starts off with registration. A cast member must choose a team of four – with at least two cast members – and register for the event. This sounds easy, right? But you'd be wrong! The event is so popular that registrations fill up fast, so once it's announced you have to pounce right on it.
First, you select your team. Second, pick your time. There are always two start times, either 9:00 pm or 10:00 pm, and the event is three hours long. We were a little too late to the game and got into the late hunt – which means it was a SUPER long night, but so much fun!
A lot of teams go all out with costumes. Some have matching t-shirts, others go all out. We saw the cutest team with trench coats and mouse ears with lightbulbs glued onto their hats! We thought about it, but it was going to be so cold out that night that our costumes would just be covered up, so we were 'boring' and just came in street clothes.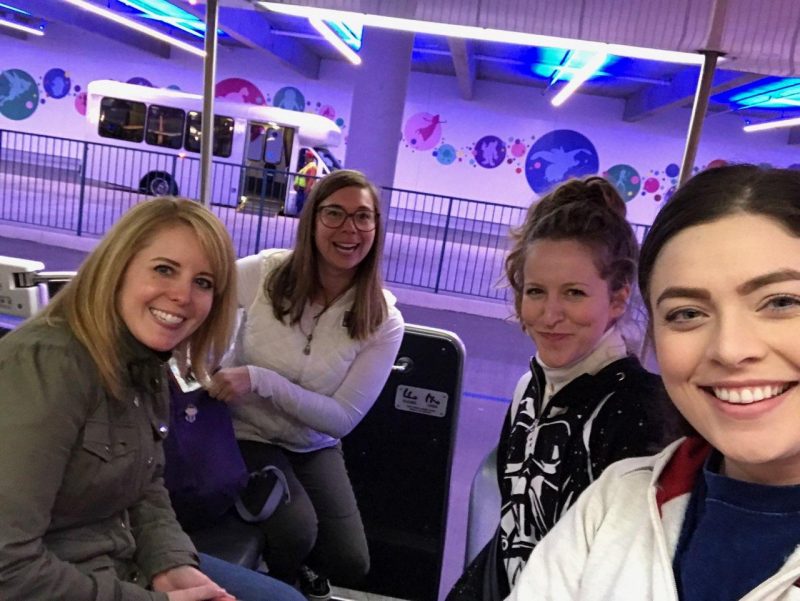 ARRIVAL FOR MINNIE'S MOONLIT MADNESS
On the night of Minnie's Moonlit Madness we made our way to Disneyland. We were scheduled to check in at 8:40 pm, so we arrived in the early evening and went to Tortilla Jo's for sustenance. We knew we were going to be running all over the park, so we definitely needed full stomachs!
While we were eating we talked strategy. Let's be clear – this is a fun event, but we were there for total domination! There was no taking it easy for us! We discussed who would be handling what type of clues, who was in charge of what props, how we'd walk around the park. You read that last part right. Once the scavenger hunt starts you're given a rope and you must all be tied together, which makes walking around a little tricky. This is why we practice!!!
After dinner, there was a (very) necessary stop at Starbucks for some fancy coffee (lattes to everyone else). We weren't even getting started until 10 pm, so there was no way we were making it through without a little caffeine!
Once we were all properly caffeinated we made our way to Disney's California Adventure where we got in line to pick up our event packets. Inside we found park maps (like we needed those!), event rules, our team number, two bonus clues, and that all important rope.
With our packet in hand and event wristbands on our arms we headed off for the Hyperion Theater to get in line and wait for the start!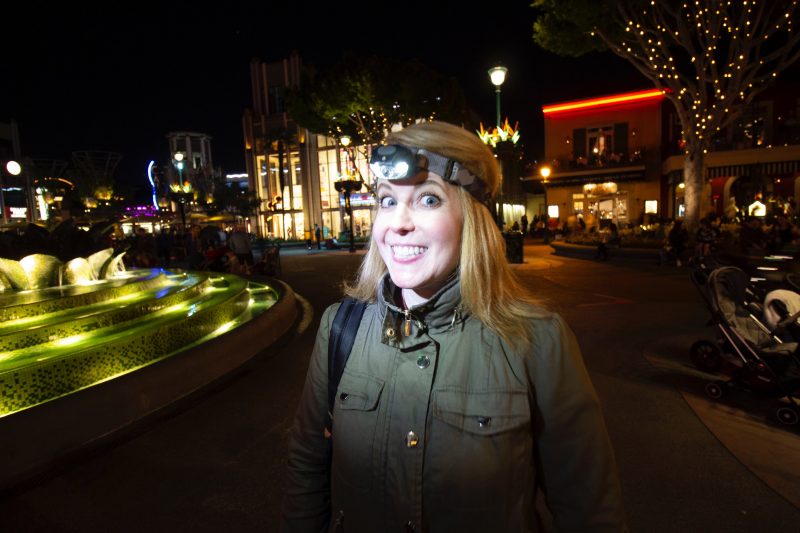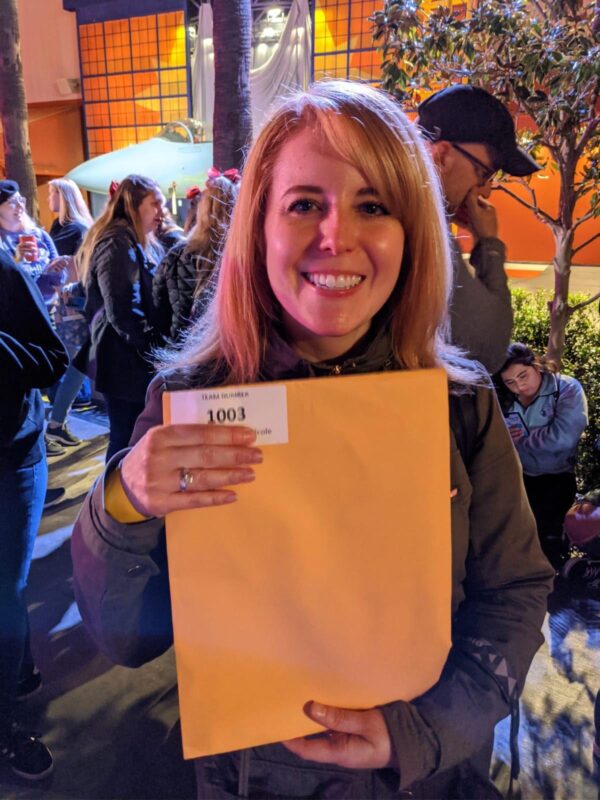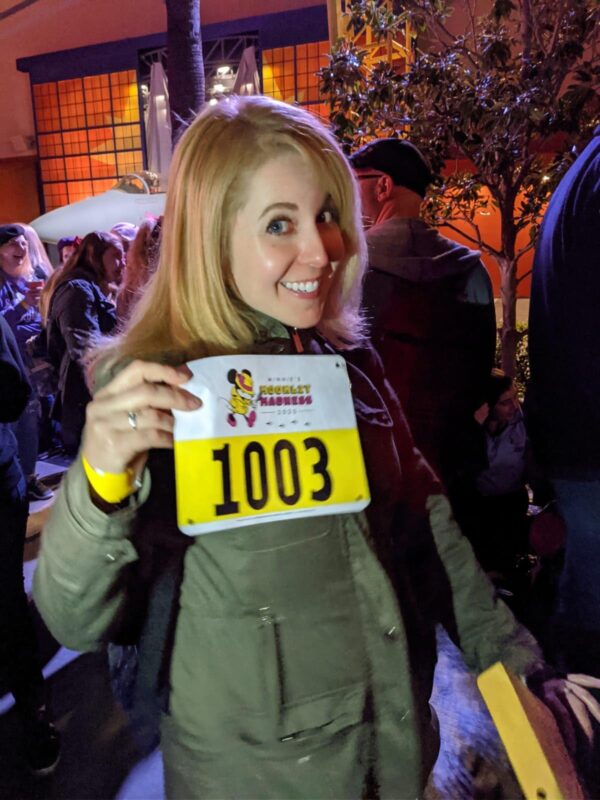 OFF TO THE RACES
At 10 pm sharp we were lead into the theater where we sat through a little comedy show and Minnie Mouse herself came out to wish us luck. After hearing the rules of the game we were led out into the theater courtyard, scanned our special code and began the trivia portion of the game!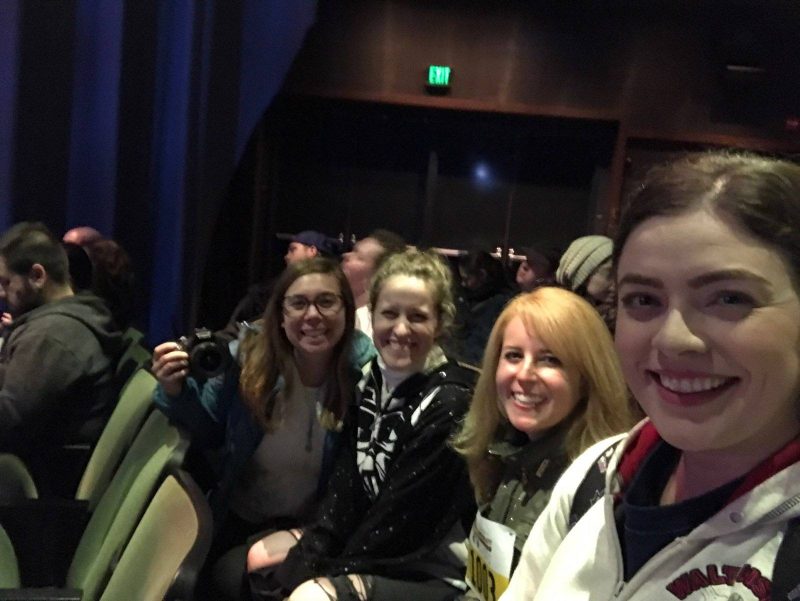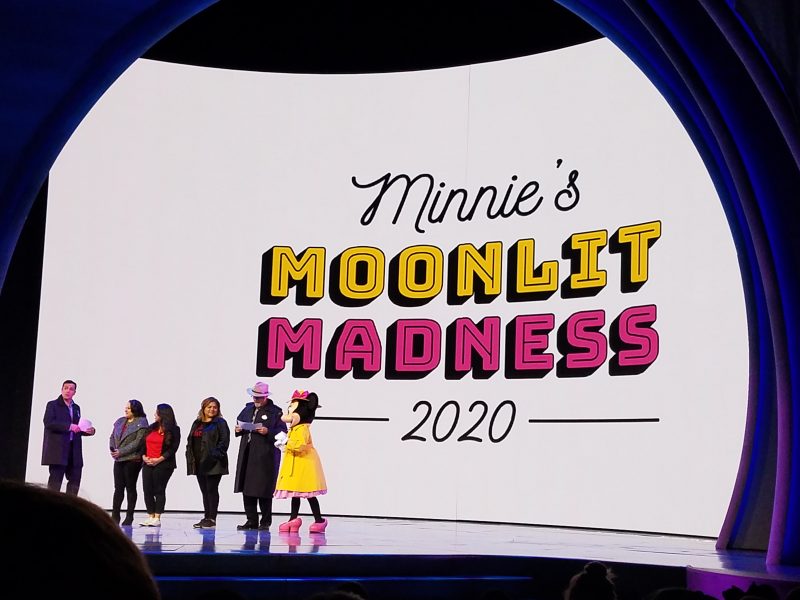 Teams are given up to 30 minutes to complete the trivia, which is comprised of about 50 timed questions which you answer on your phone. You only have about 20 seconds to answer each question, and the topics are anything and everything Disney. Movies, parks, history, Star Wars, Marvel, Disney+ – it's all fair game, so it's great to have teammates that all know about different parts of Disney.
We found the best strategy was to have one team member be in charge of reading and answering the questions, while the other three frantically Googled the answers. The few times where we just KNEW the answers with no searching needed was the greatest feeling. After about 10 or 15 minutes our trivia was complete, so that meant we got to start the actual scavenger hunt.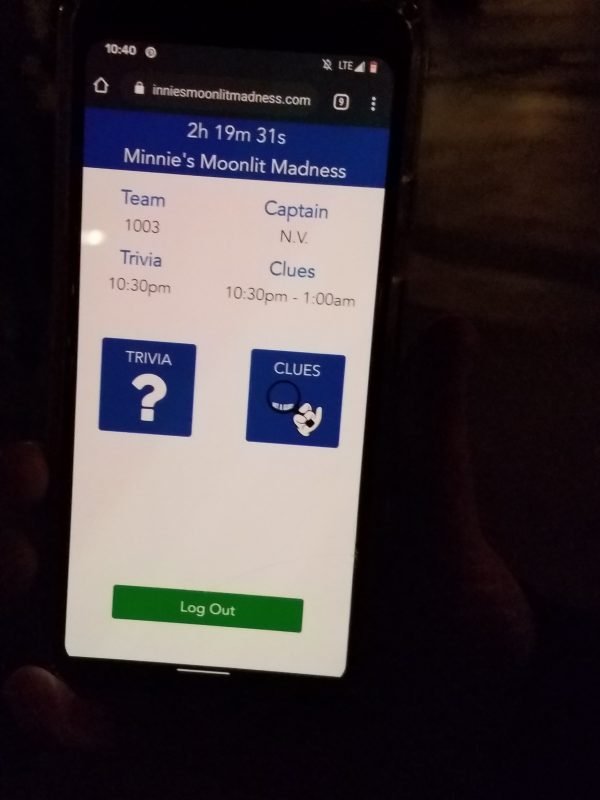 This is where we clipped on the rope, got checked in by event volunteers and made our way down Hollywood Boulevard to Clue Central, just in front of Carthay Circle. This year, for every clue we had to run to either Clue Central or some other designated spot around the park to pick up our next task. All the answers were put into our special site on the phone, which made it SO easy.
I won't bore you with a play by play of every clue we answered, but I will tell you the highlights! When you register, you're asked to pick a mix of hard, medium, or easy tasks. The harder the task, the higher the point value but the more time it takes to complete. That's why you want a mix of all three levels. Each team is given 10 clues, plus 2 bonus clues so not every team is working on the same task – which is important because you don't want anyone overhearing you and taking your answer! You have exactly two hours to complete all clues.
Remember, this is all taking place after park close so it's dark and only cast members in the park running around tied together trying to get answers. Some of our clues required going to certain areas of the park and observing what's around – like when we had to pick certain building details and correlate them to a number on our sheet to come up with a secret phrase. Or on a different clue when we had to math (EEW!) and help Scrooge McDuck determine what restaurant would be cheapest to eat at based on the cost of each of his family's orders.
Other clues had us being more active, like when we had to unmix emotions from Inside Out. There were basically four posts and four different colored balls on each post all mixed up. We had to unmix them so that there was only one color on each post – but the 'catch' is that only one team member could touch one color and we could only do it one at a time. I am VERY proud to say that we were told we completed this faster than any team she had seen all night.
One of the bonus tasks had us searching out cast members wearing little frogs on their shirts. We were simply told to visit as many as we could and say "Ribbit!". When you found a frog wearing cast member and gave the code word, we were given a random statement back. Eventually, we got enough parts of a phrase to put together a complete sentence, which was the answer to the second bonus question. Nothing like going around the park with a bunch of people sounding like frogs!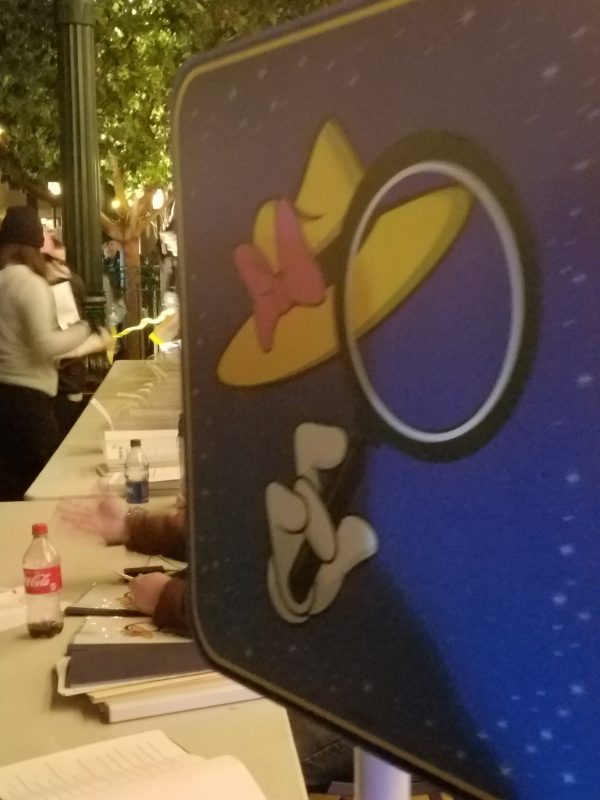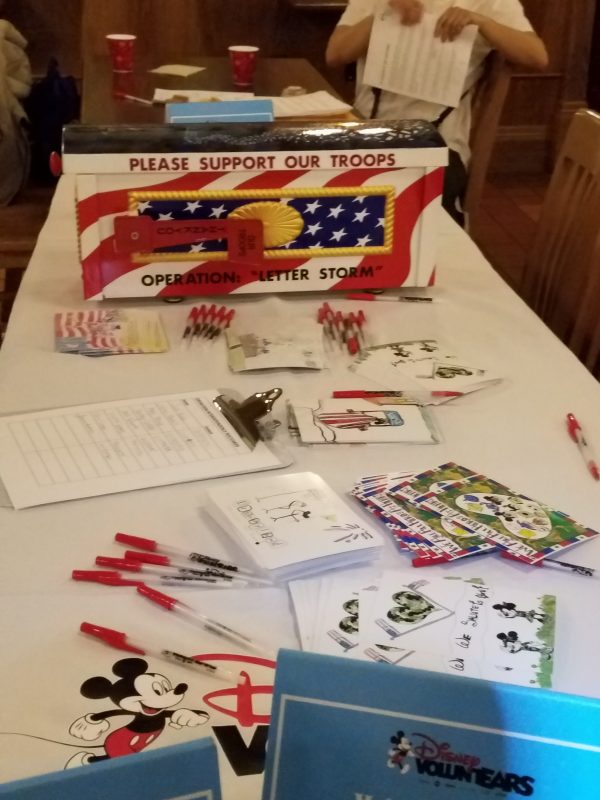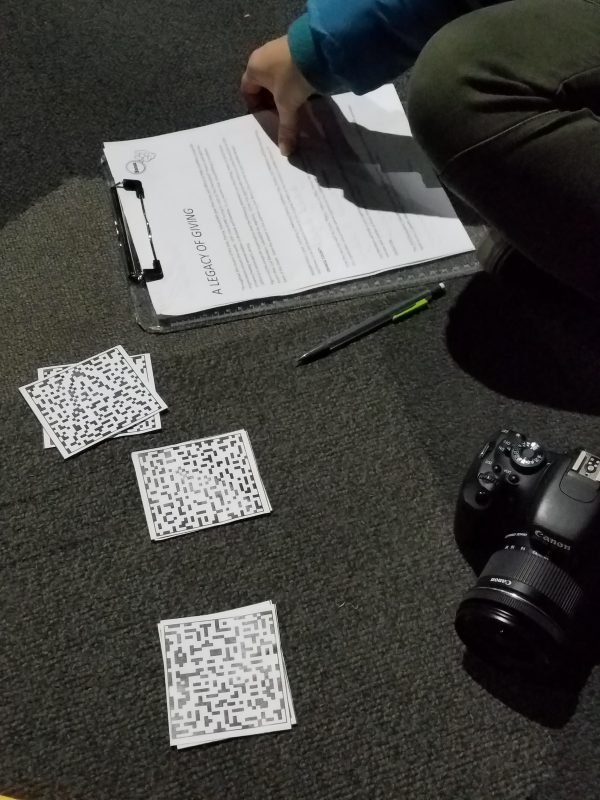 THE RESULTS OF MINNIE'S MOONLIT MADNESS
We left the park completely exhausted at 1 am. Funnily enough, none of us were tired while we were actually competing! But the second we stopped and exited the park we could barely keep our eyes open.
A week after Minnie's Moonlit Madness we got the results emailed. Don't mind my bragging, but we did pretty great! We placed 43rd out of 194 teams – I'll take it! We got 84% on the trivia portion, and 925 on activity (whatever that means!).
I can honestly say this was as much fun as I imagined. I LIVE for scavenger hunts, and the fact that this one was all about Disney had me over the moon. We all agreed we would do this again in a heartbeat. (Though I can certainly do without the lack of sleep and crankiness the next day!)
What do you think? Would you participate in Minnie's Moonlit Madness if you could? I'd love to hear in the comments below!