Resident Disney Park Princess introvert Sara is sharing her favorite spots at Walt Disney World to take an "introvert break." Fellow introverts, make note of these places so you can be ready on your next trip! 
"Hi, my name is Sara and I am an introvert!" Before I go too much further, let's clearly define what I mean by introvert. I am a person who finds social situations and a lot of stimulation draining. I lose energy from these activities and need what I call "introvert breaks" to recharge. So it's not that I dislike people or places like theme parks, it's just that I need time to recover from them! And given that 44% of Americans would describe themselves as introverts, I am definitely not alone!
So what is an introvert break? For me, it typically means somewhere that is away from the hustle and bustle of the thoroughfares of the parks. The ultimate break of course is heading back to my resort room for a nap, which is why I always stay on-site. (And typically at a Deluxe Resort I can walk to to maximize efficiency!)
But it can also be a quiet spot within the parks, or even an attraction that is a bit low-key. And now, in no particular order, my favorite spots for an introvert break around Walt Disney World!
Introvert Break Spots at Magic Kingdom
The Magic Kingdom has a wealth of options for an introvert break! Which is super helpful because as much as I love the Magic Kingdom, I also find it the most overwhelming in terms of stimulation. The sounds, the scents, the transitions from land to land, all make it feel a bit chaotic to me.
Hall of Presidents – The Hall of Presidents was off-limits to me for a few years (ahem… IYKYK) but I am happy to say I can now enjoy it's dim lighting and air conditioning again! Centrally located, Hall of Presidents a great for a mid-day break!
Carousel of Progress – This is one of my favorite attractions! And yes, part of the reason is it is the perfect excuse to sit and enjoy a/c for about 20 minutes. Add the charming script and theme song and by the time it is time to exit, I am singing along and ready to tackle my next attraction!
Tomorrowland Transit Authority PeopleMover – It is a not a trip to Walt Disney World until I have ridden this! A cool breeze, a chance to not only sit but put my feet up on the opposite bench, and "Paging Mr. Morrow… Mr. Tom Morrow," and I am a happy girl!
Liberty Square Riverboat  – This attraction is often overlooked, but for the introverts among us, this is a great option! It is a 17-minute trip around Tom Sawyer Island. There are plenty of places to sit both inside and out.
Tom Sawyer Island – Speaking of Tom Sawyer Island, this is another great spot! This one is not of the "rest in a/c" category but it is somewhere you can move at your own place with plenty of shade and much lower crowds.
Walt Disney World Railroad – Last but not least, the Walt Disney World Railroad is finally open again after a lengthy refurbishment! Sit and enjoy the breeze and not-at-all intrusive narration as you circle the park aboard the train. There are a few stops if you are just looking for a relaxing ride to Fantasyland or Frontierland or just ride it all the way around the park!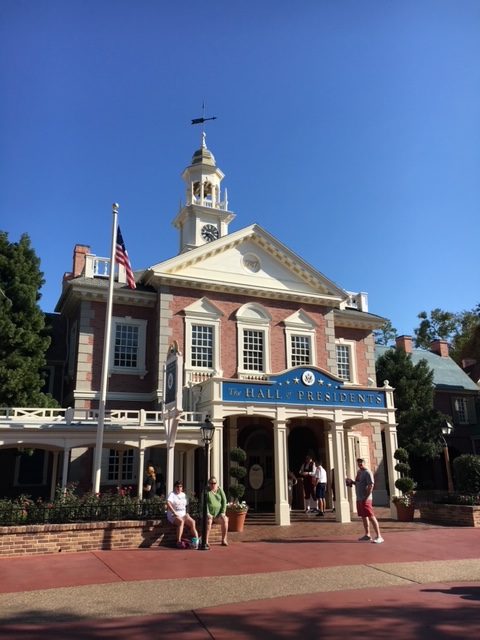 Epcot
Epcot is my favorite Walt Disney World theme park! And to be honest, if I need a real break while here, I usually walk back to my room at the Beach Club. But sometimes you just need a quick recharge and Epcot has plenty of options for that!
Living with The Land – This peaceful boat ride through the greenhouses of The Land pavilion is sheer perfection. Slow paced, peaceful, and all indoors! An introvert's dream for a few minutes of peace and quiet.
The American Adventure – This attraction/show in the America pavilion is not only enjoyable in and of itself, but also offers comfy seats and strong air conditioning!
Spaceship Earth – What could be more relaxing than a trip through time narrated by Dame Judi Dench?! This attraction is not only indoors (yay air conditioning!) but also dark. While there is an interactive screen, I typically choose not to participate but to just sit and enjoy. (And occasionally nap.)
Impressions de France – This beautiful film in the France pavilion offers comfy seating, a gorgeous soundtrack, and stunning footage of France.
SeaBase Alpha – What?! But Sara, there are no chairs in SeaBase Alpha! Believe it or not, chairs are not mandatory for an introvert break. (Though they are helpful!) There is something so peaceful about watching the sea creatures in the aquarium section of The Seas with Nemo & Friends. While you can ride the Nemo-themed attraction to get to SeaBase Alpha, I actually prefer the back entrance that lead directly into the Aquarium section.
Katsura Grill Garden – Want a spot for an introvert break that ISN'T an attraction? I've got you! This counter service location in the Japan pavilion has a beautiful garden behind it with koi ponds, waterfalls, and beautiful lanterns.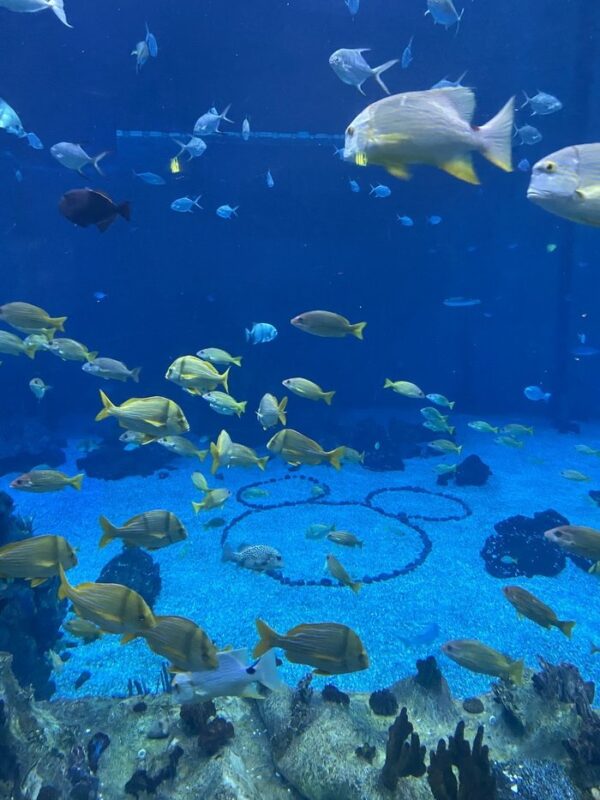 Hollywood Studios
Maybe the lack of quiet spots to take a break is why Hollywood Studios is my least favorite park? We may have cracked a long-time mystery here!
Brown Derby Lounge – Brown Derby Lounge is my favorite oasis from the chaos of Hollywood Studios. While it is located right near busy walkways, the seating just slightly lower and separated from the walkway by a wrought iron fence. This is just enough separation to make me feel removed from it!
My favorite thing to do at Brown Derby Lounge to relax is grab a table, order a cocktail or one of the yummy cocktail flights with a Cobb Salad, and just people watch. An hour or so of this and I am ready to head back into Galaxy's Edge!
Animal Kingdom
In some ways, Animal Kingdom was designed for introverts! In order to create a peaceful environment for the animal residents, the park was designed with many quiet spots, varied foliage, and a much more subdued sound design that other Walt Disney World parks.
Affection Section/Wildlife Express Train to Conservation Station – One thing that centers me when I am feeling a bit overwhelmed is animals! And Animal Kingdom has the perfect place to spend some quiet time to some very well-fed animals. Take the relaxing train ride out to Conservation Station, meander the paths that lead to Rafiki's Planet Watch and hang left at the Affection Section! Here you will find goats that are wider than they are tall. Then go inside to check out the Veterinarians at work. You can observe while they take amazing care of the residents!
Tree of Life walking paths – Surrounding the Tree of Life are the walking paths. Around every curve you may encounter gorgeous foliage, small animals, or exotic birds. Shaded by the tree itself, the paths offer an escape and a chance to relax and take in the environment without the crush of people trying to get onto Flights of Passage!
Na'vi River Journey – Located in Pandora, Flights of Passage is definitely the e-Ticket attraction. But don't overlook the Na'Vi River Journey! A gorgeous boat ride through the rainforests of the fictional Pandora, this attraction is simply stunning. The audio-animatronics are among the most advanced Disney Imagineers have ever created!
Nomad Lounge – This popular lounge is located near the entrance to Pandora, attached to Tiffins restaurant. Nomad Lounge has both indoor and outdoor seating that is very comfortable. A great menu of cocktails and small plates makes this the perfect spot to relax, unwind, and recharge!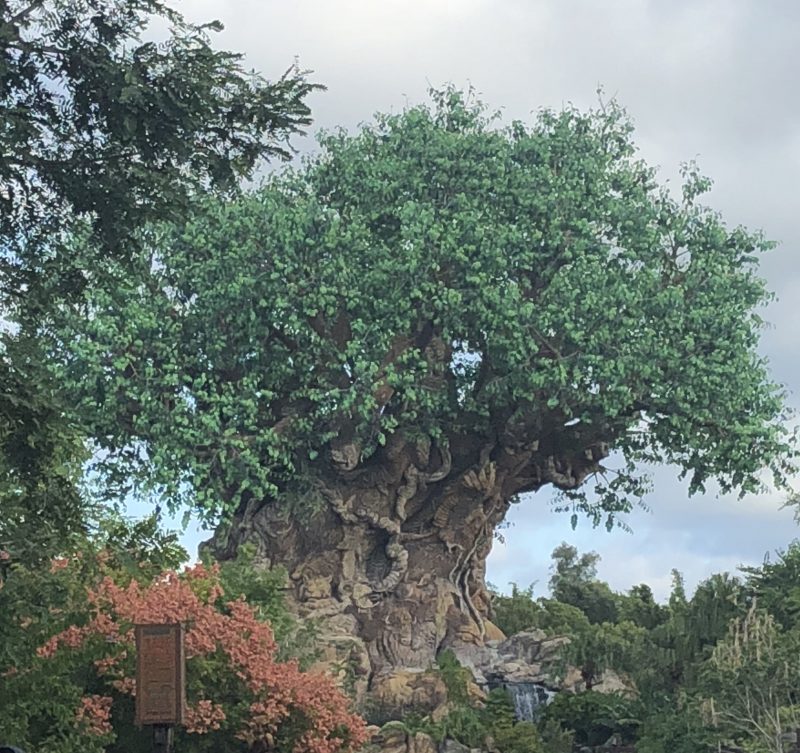 Conclusion
While Walt Disney World can be overwhelming, the Imagineers have done a fantastic job of providing quiet spots for those of us who need them. Whether you are an introvert like me, or just done with your family for a while, check out these spots for a chance to regroup!
What are your favorite spots in the park for an introvert break? Let us know in the comments!
P.S. Now that you've found us, be sure to subscribe to our newsletter below or in the link on the side! You can also check us out on YouTube, Facebook, and Instagram!