I've been home for almost two months now and I still can't stop thinking about my Danube River Cruise. I keep thinking about the amazing sites I got to see – places I didn't think I'd get to for a long time – and all of the friends I met on the cruise. I can go on forever about the Adventures by Disney difference and why booking a river cruise with them is unlike any other, and maybe I'll do a future post on that, but today I'm just going to talk about my favorite moments that make me smile every time I remember this trip.
Thanksgiving Day Cruising on An Adventures by Disney Danube River Cruise
When I think of Thanksgiving I think of family, tons of food, and being cozy in cold weather while you catch up with your favorite people. Being on this Adventure I thought I'd miss out on that, but I was pleasantly surprised by how perfect this Thanksgiving turned out. After a morning excursion into Durnstein, Austria I spent the afternoon with my fellow Adventurers up on deck sailing down the Danube as mountains dotted with fairy tale villages and castles sailed past.
It was so peaceful, snuggled under blankets, sharing local libations everyone purchased in port, and even tossing around a football with an amazing group of Adventurers who at this point felt like extended family. It was simultaneously new and exciting while being cozy and familiar. When I think of the cruise this is the number one memory that pops into my head, and I'd give anything to be back on that deck under my blanket feeling like the luckiest girl in the world.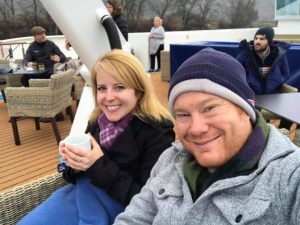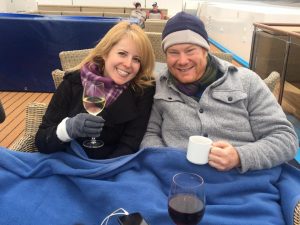 Salzburg
I don't know about you, but I'm a Sound of Music fan. Like, I wanted to be Maria and twirl on top of the mountain singing The Hills are Alive. Do Rey Me and So Long, Farewell are on pretty steady repeat in my head (I absolutely performed the latter for my Adventure Guides when I left the ship on our last night).
So getting to visit Salzburg, Austria – where a lot of the movie was filmed – was a dream come true. There was no twirling on mountain tops, but I got to visit Mirabell Palace, where Do Rey Me was filmed and have only a billion pictures and videos of me dancing around the massive fountain and up those famous steps. And then I toured a beautiful cemetery that inspired the last scene of the movie when Maria and the kids are escaping from the Nazis. But beyond all of the Sound of Music photo ops (can you BELIEVE Austrians don't even know this movie!?), the city of Salzburg was stunning.
The air is crisp underneath the massive mountains and Hohensalzburg Fortress. Wandering down cobblestoned alleys, you can stumble across Mozart's birthplace and his first home as an adult. Can you imagine seeing in person one of Mozart's pianos? I couldn't, either, but then I did, and it was as mind blowing as you think it would be! I ate fancy chocolates, including the original Mozartkugel – look for the silver wrapper (those in the know understand that the ones in gold wrappers are imposters!)!
I shopped at a massive Christmas market (where I bought a watercolor from a local artist that's now hanging in my dining room), AND I ate at the oldest restaurant in Europe. Seriously – this place has been in operation since the year 803(!!!???!!!), and the food was so upscale my mouth is watering just thinking about it – I'm talking truffle fettuccini, pumpkin soup and prime rib with an apple horseradish sauce. It is experiences like these that make travel so rewarding!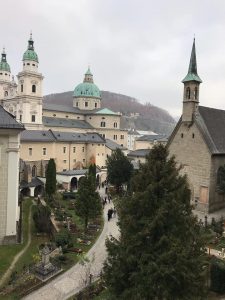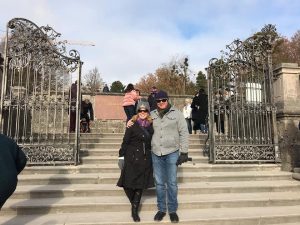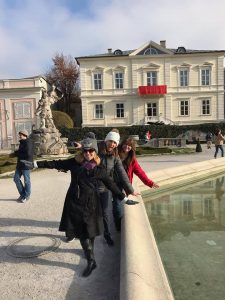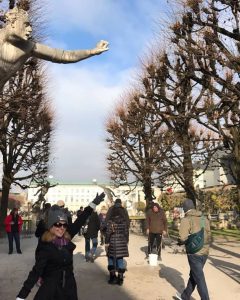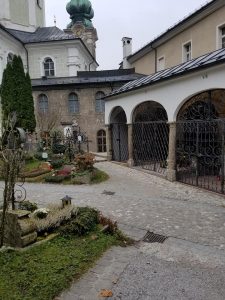 Adventure Guides
I know you've all heard me say it before, and I'm probably going to say it a million times again, but what makes an Adventures by Disney trip out of this world is the Adventure Guides. Somehow Disney manages to find people that are knowledgeable in these destinations, while being personable, friendly, charismatic and funny. But it's really the personal connections you make with the guides that makes these trips out of this world. I still joke about my guide, Joshua, who was so vibrant and funny that I started calling him JOSH UA (insert Rachel from Friends voice here) in full "jazz hands".
For the rest of the cruise, he would just walk by me and give me jazz hands until I returned the gesture. Or Betty, who taught me that dachshunds are actually called Dackels in German because they 'dackel dackel dackel' – and now I exclusively call my dachshund mix a Dackel. And then there's Daniel who had the deepest voice in a German accent that Justin imitates when he wants to sound authoritative. Your guides somehow make you feel like they're your best friends who you're sad to leave (I may or may not shed tears at the end of every Adventure), despite this being 'just' their job.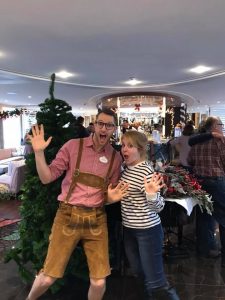 Vienna Christmas Markets
When I found out I was able to take a Danube River cruise, the number one thing on my list was to visit Christmas markets. It is literally the only thing I cared about doing. And I got to visit a bunch – tiny local ones in Hungary, massive ones in Germany. But in Vienna I visited two authentic Christmas markets that created such special memories.
At one market I ate garlic soup out of a bread bowl whilst deliberating over the perfect ornament for my tree this year (I will NOT forget when Justin picked one out for the tree with absolutely no consultation from me, super proud that he just took care of the issue at hand and I no longer had to 'worry' about it. Fear not, I get to pick out ALL the art when we visit Italy later this year to make up for it).
At the second market, which was housed around City Hall (in Vienna that means an actual palace) there were magical photo ops and Christmas tree tableaus that came to life with a push of a button. But there was an ice skating rink here that not only had two 'rinks', but several dozen pathways that allowed you to skate around and in between the market stalls. I had so much fun skating with the Viennese people in this winter wonderland even though I fell twice (I cannot confirm nor deny there's video of one of these spills)!
With city blocks blanketed with Christmas lights, the scent of Glühwein and strains holiday music in the air, you really can't help but feel the Christmas spirit in this truly magical town. And bonus, I found my very favorite souvenir at this market – a marzipan flavored tea called Mozarttee that I am obsessed with.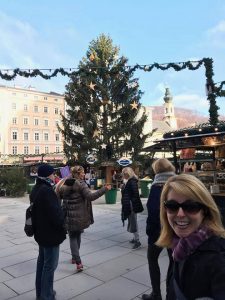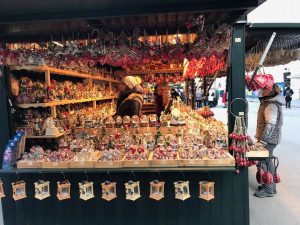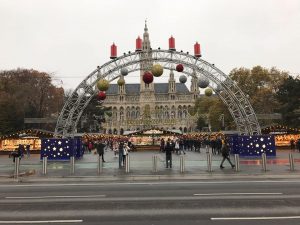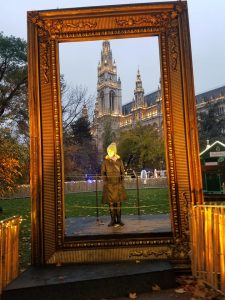 Thanks for letting me relive my favorite vacation memories from my Danube River Cruise. Because isn't that one of the best parts? Thinking about all the fun you had? If this has you thinking that you should do a Danube (or any!) river cruise, my response is YES! Do it! You won't regret it. It was such a magical way to explore. I hope everyone gets to experience this once in their lifetime!